Experiencing Mount Ngauruhoe
To come to the very foot of the volcano, you need to start the usual Tongariro Alpine Crossing at Mangatepopo road end and then make your way up the Mangatepopo Valley to the saddle between Mount Tongariro and Mount Ngauruhoe. The summit climb is not really formed or marked, so climbing this volcano is open to your improvisation. Take it as you wish.
Generally, you'll want to go with one of the routes that people in front of you have chosen, which will mostly be all good. I noticed that more and more people are deciding to climb Mount Ngauruhoe (aka Mount Doom, Mordor) whenever I am doing the Tongariro Alpine Crossing. It's definitely gained a lot of popularity with Peter Jackson's Lord of the Ring movies, but be extra cautious of the loose cinders, rolling rocks and stones that increased number of climbers dislodge while climbing towards the summit.
The climb to Mount Ngauruhoe does require some level of fitness. If I would try to compare the climbing difficulty, this one is up there with North Island's Mount Taranaki, but shorter and not as challenging. I found myself on all fours from time to time, especially in places where the volcano became extra steep. The slope angle can reach up to 45°. Nevertheless, it's all doable.
The top of the mountain was amazing. I checked out and stopped on both, outer and inner crater rims, experiencing the steam, red rocks and the smell of sulphur. Sitting next to steam vents on the outer rim and having been given the breathtaking panoramic view of most of the New Zealand's North Island (Mount Ruapehu, Lake Taupo and even Mount Taranaki) on a sunny summer day has been one of the most memorable and powerful experiences in my life so far. For me it was quite a unique feeling, knowing that I've just climbed up the old lava flow and red scoria of one of the most active volcanoes in New Zealand. It was definitely nothing I had dared to imagine before climbing one of the most striking features in the Tongariro National Park.
I recommend going at your own pace, but again, do watch out for the loose rocks and scree (!), and stay safe. The way down was quick and pretty easy, as I dig my hiking shoes into the scree in a semi-running motion. I was back down at the foot of the mountain in no time.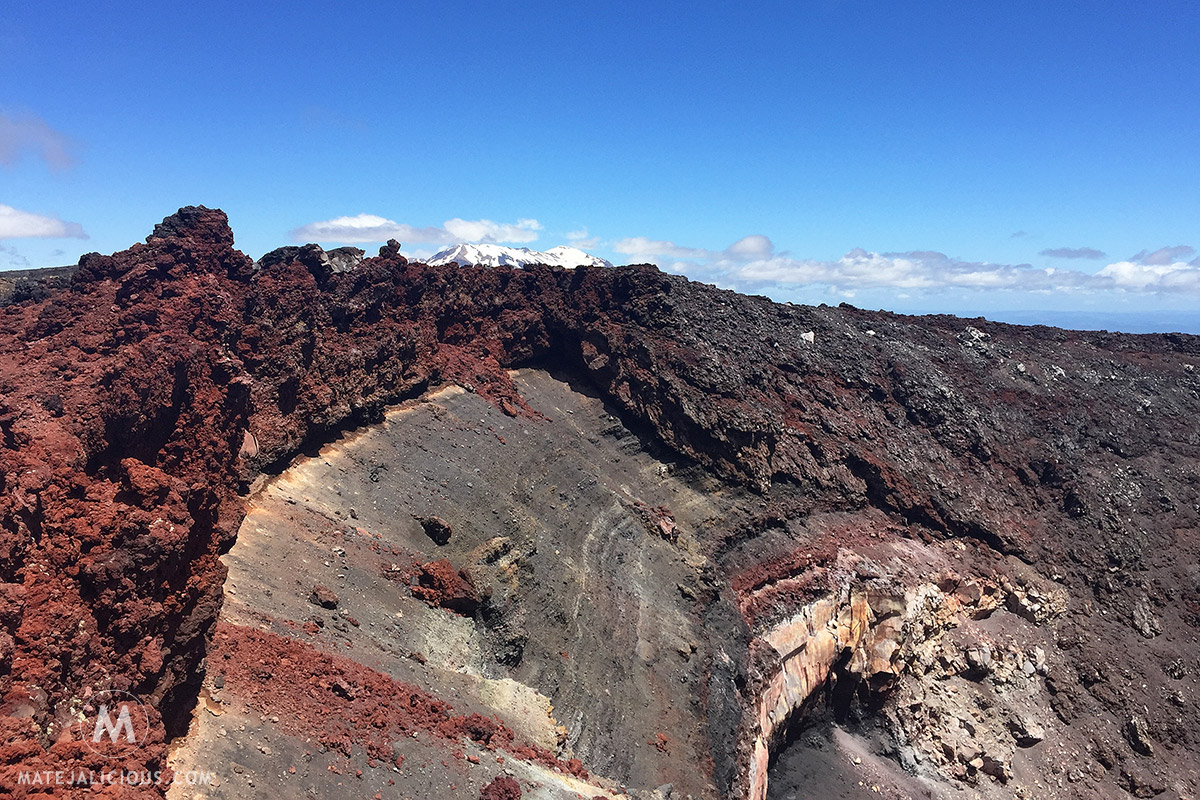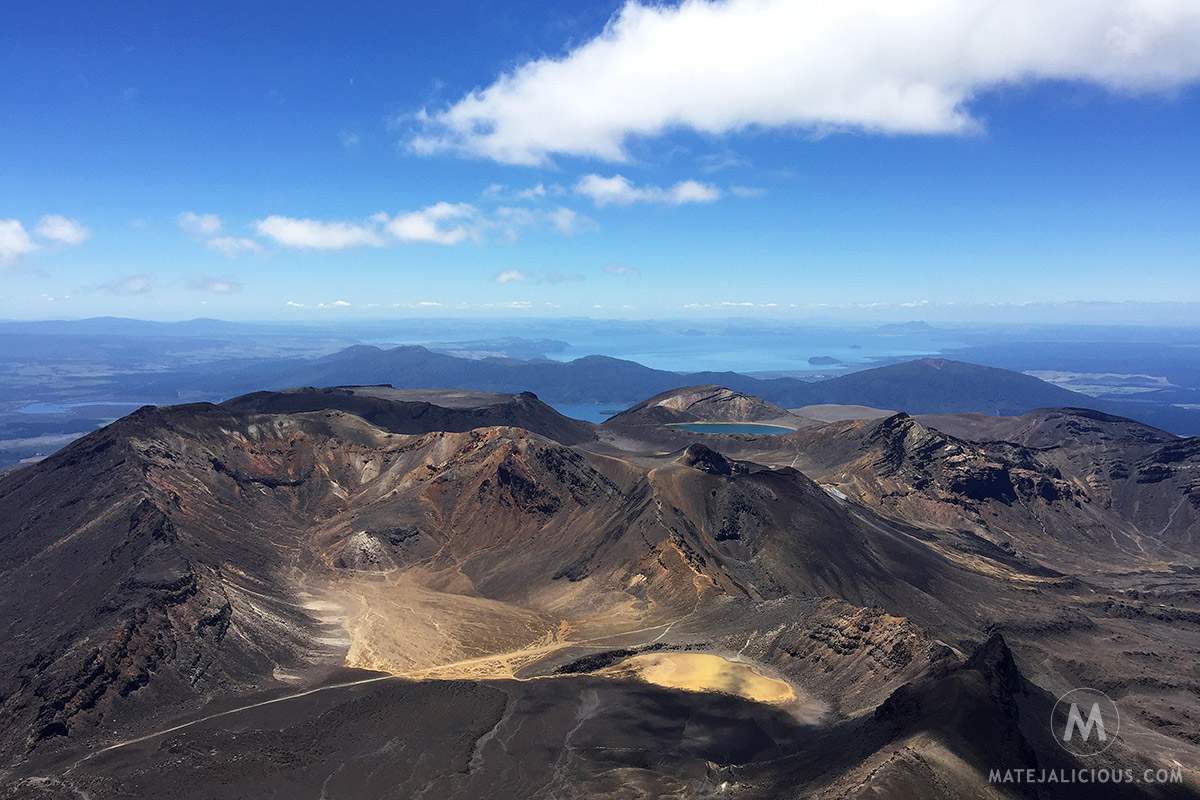 Experiencing Mount Ruapehu
I didn't do any research on Mount Ruapehu before heading to its summit on my second climbing day. So I didn't really know what to expect. I only knew it was a popular alpine location. Just imagine skiing on the slopes of an active volcano! It must be amazing.
I had seen (just a month before) the summit of Mount Ruapehu from a nearby HW1 for the first time (it was unfortunately captured in low cloud formations all other times I was around here). On such a clear day I realized that the mountain top didn't look anything like a symmetrical cone, but was rather unevenly stretched under the white snow blanket.
With no mental preparation whatsoever, I decided to just wing it. Things looked quite promising in the morning: clear summer sky and not a single cloud. Taking the chairlift ride to the 2020 m point above sea level was a decision that saved me 2 km of vertical climb (around 2 hours). This way I was left with more time for exploring the wide summit area. I highly recommend doing this, especially if there is still some snow scattered on the top. You'll want to explore glacial valleys and have some fun on such a summer playground.
The climb did require some level of fitness, just like the one I completed the day before. My biggest concern was icy and snowy patches on the upper mountain, but I somehow didn't find it difficult once being amongst it all. The terrain is quite uneven and I came across carved out ancient lava flows, lots of scoria, many ridges, a dome shelter and extremely beautiful crater lake. There is no marked route on Mount Ruapehu and you have to find your own safe way up and down this steep mountain.
360 degree views from Mount Ruapehu were fantastic. I was mostly impressed with the sight of Mount Ngauruhoe from the east side (Skyline Ridge), and how clearly I could see Mount Taranaki, another majestic volcano mountain that is located 130 km away. What I enjoyed the most was snow. I know, nothing special, but this girl hasn't seen or experienced it in quite a while. Sliding back down through the glacial valley was so much fun and a definite highlight of the day.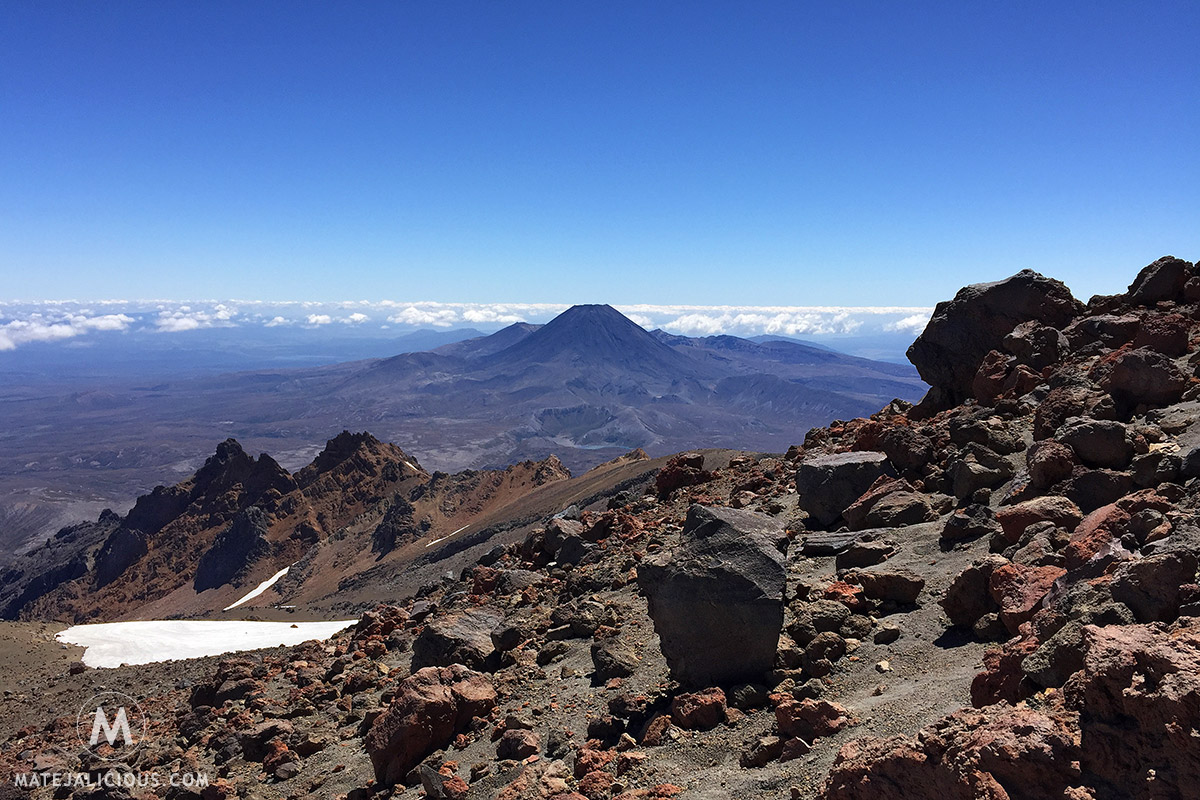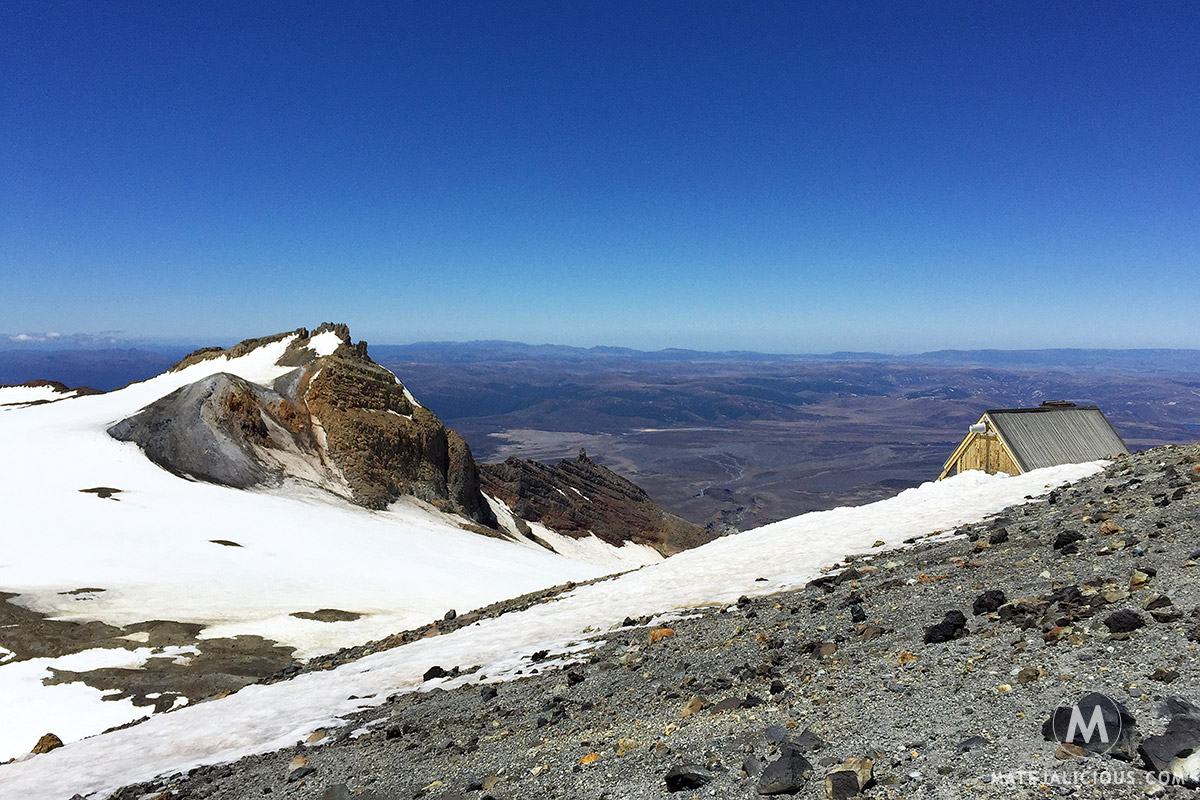 Both climbs are fantastic opportunities to experience the heart of two New Zealand's active volcanoes. In many ways these two volcanoes are similar, but because they are also very different and unique, I recommend eventually climbing them both. Maybe you're even convinced to climb them both in two days for an extra happiness kick, which I guarantee you won't leave these majestic volcanoes without.
CLIMBING TIP: The obvious recommendation for these 2 (summer) climbs would be to take the gaiters with you. They'll come very handy when you slide down the Mount Ngauruhoe's scree. Good sturdy hiking shoes are another must for these two climbs. Mount Ruapehu's top is fully covered in snow even during the first couple of summer months, and moving on these unformed routes is much easier with proper hiking shoes on your feet.