TRAVEL DESTINATION: Te Henga (Bethells Beach) Walkway, Auckland, North Island, New Zealand
TRAVEL DURATION: 1 day activity
Auckland's West Coast is known for some of the most amazing scenery in this part of New Zealand. Firstly, Waitakere Ranges transports you to a luscious rainforest reality, where you can get lost on numerous walking trails. In addition to that, West Coast beaches won't leave you ambivalent either. Surfers love them and many swimmers find them thrilling and exciting on those hot summer days.
The landscape here is rougher compared to the one on the Auckland's East Coast. Two different Oceans provide distinct experiences and big contrasts in natural features within short 40 km distance. I've been frequently visiting the Waitakere rainforest and West Coast beaches, but have never really taken longer walks or hikes that spread along this coastal area. I recently read about the 80 km long Hillary Trail that really got my intention, however, a multi-day tramping trip was not something I was able to do at this time.
ANZAC Day. I was determined to schedule a day of exploration and some physical activity for the long weekend. DOC came in handy again when sourcing the whole day hiking options in this coastal area. Te Henga Walkway is 8 km long (one way) and should take around 3-4 hours (one way) to complete according to the source. You'd need to have a vehicle or a pick up scheduled at the destination as this is not a loop track.
However, a return hike seemed more appealing to me. The weather forecast for the day was quite promising and I figured it was doable. I started the hike from the Constable Road, which means that Te Henga (Bethells Beach) would be a halfway / returning point for me. Few raindrops for the start in the late morning almost discouraged me as I was contemplating the escape back home until I remembered that this time I was prepared for a sudden weather change. So, all good and let's do this.
I was rewarded with magnificent views quite soon. It seemed to me as if I was transported to Australia's Great Ocean Road. Cliffs and formations along the coastline were just breathtaking. All these beautiful, diverse and dramatic coastal formations were shaped by thousands and thousands of years with the movement of Australian and Pacific tectonic plates.
Current landscape provides some incredible views and that was the biggest reward on this hike for me. I would often just stop and stare into the distance, observing how forces shaped the landscape around me. The Te Henga Walkway path is well marked, although some parts of the trail come quite close to the edge. Apart from a few eroded and steep areas, there really isn't anything extreme to overcome. However, wintertime does bring much more rain to the West Coast and the trail is apparently muddy and a bit more challenging.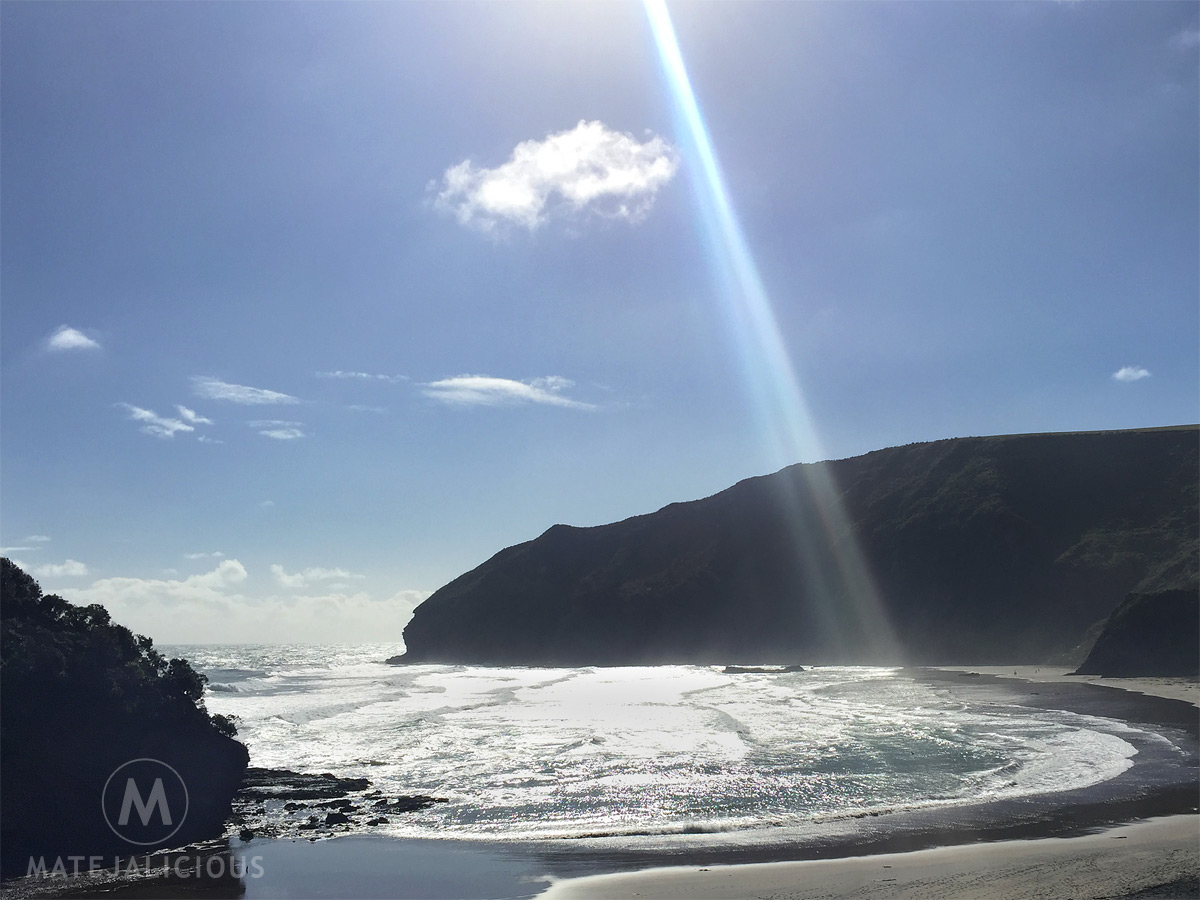 I noticed many people running along the narrow path of the Te Henga Trail and later realized that some of them might have been preparing for the 80 km Hillary Run event. It must be amazing to be able to complete such challenging endurance test. There are shorter running trail options available for runners and walkers on the event as well. I can't imagine a more invigorating and beautiful surroundings for such competition. In addition to all 'regular' hikers and runners, I also met many barefoot runners and hikers. Impressive!
One of the highlights for me was reaching the halfway point at O'Neills Bay, which I visited many times before when coming for a swim at Bethells Beach. It was such a different experience to reach the bay from the coastal hike direction instead of the usual way (past Bethells Beach). I decided just then I'd take 'scenic routes' more often in my future travels and adventures.
→ Do you normally take scenic routes when travelling, or do you prefer to stick with your usual, main and most direct paths? Please share in the comments.
TRAVEL TIP: Bring lots of water with you, especially if you're doing the return hike. Consider bringing even more during those hot summer days.