TRAVEL DESTINATION: Far Northland, North Island, New Zealand
TRAVEL DURATION: 1 Day Trip / Weekend Getaway
During these winter months, we're probably all thinking and dreaming about warmer north places. At least here in New Zealand. Unfortunately, it's not always possible to take a long break and travel to those countries and places that are currently under the hot summer weather. Far north part of Northland, New Zealand, is sometimes as crazy as we can go to come close to those exotic islands, Asia or even Europe.
I love returning to Far Northland. For me, it's sort of an escape. It certainly has something to do with being on the edge and also being a bit closer to my family and some of my dear people. Coming to far Northland is mostly a trip to nature and to myself. I discover something new and unexpected every time I visit this area of New Zealand. It is quite uninhabited and there are not many opportunities to make a living here.
Today I'm sharing 3 must do experiences if far Northland.
Sandboarding at giant Te Paki dunes
I remember when I first saw this magnificent giant Te Paki. It was nothing I encountered before. Such massive sediments of golden sand dunes that separate the beach from the mainland! Dreamy and different. New Zealand's own little desert. Standing at the foot, you get the sense of how big and beautiful this landscape is. A place to have some fun at, as well.
Dunes continue to the horizon and sand quickly heats up under a hot sun. You can hire a sandboard or you can bring your own, first climb those dunes and then slide down on the board. The activity is a thrill and quite addictive. Sliding back down to the foot of the dunes finishes quickly and it is great if you can take some footage on your GoPro. You won't want to stop sandboarding even when your legs hurt from all the climbing through the piles of fine sand.
However, bring some water, sunscreen, sunglasses (especially if you wear contacts) and try keeping your mouth closed while taking the ride. Last one might be a bit challenging though, as you'll surely want to scream from all the fun. You will get sandy either way. You can still have great experience even if you don't want to participate in the sand boarding and sliding activities. Just enjoy the spectacular nature. Go for a long walk to the edge of the sand dunes for the views! Explore the landscape and observe the continually moving sand.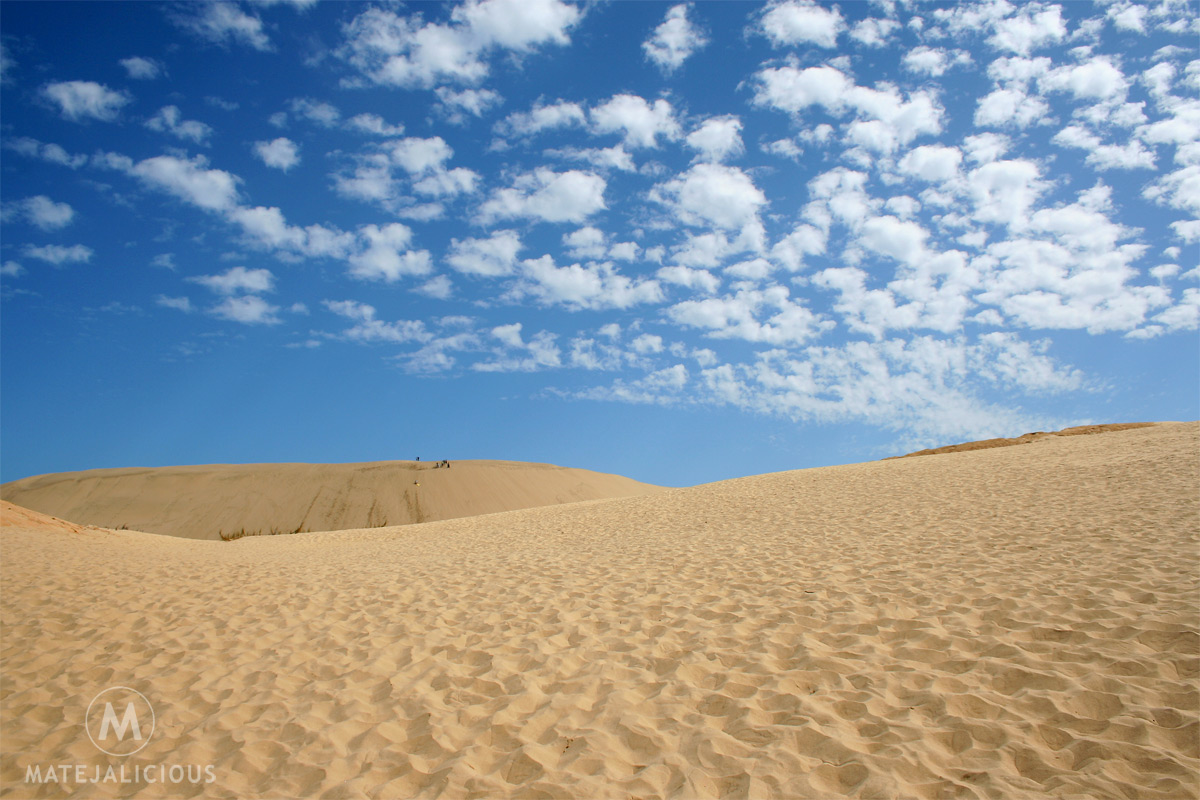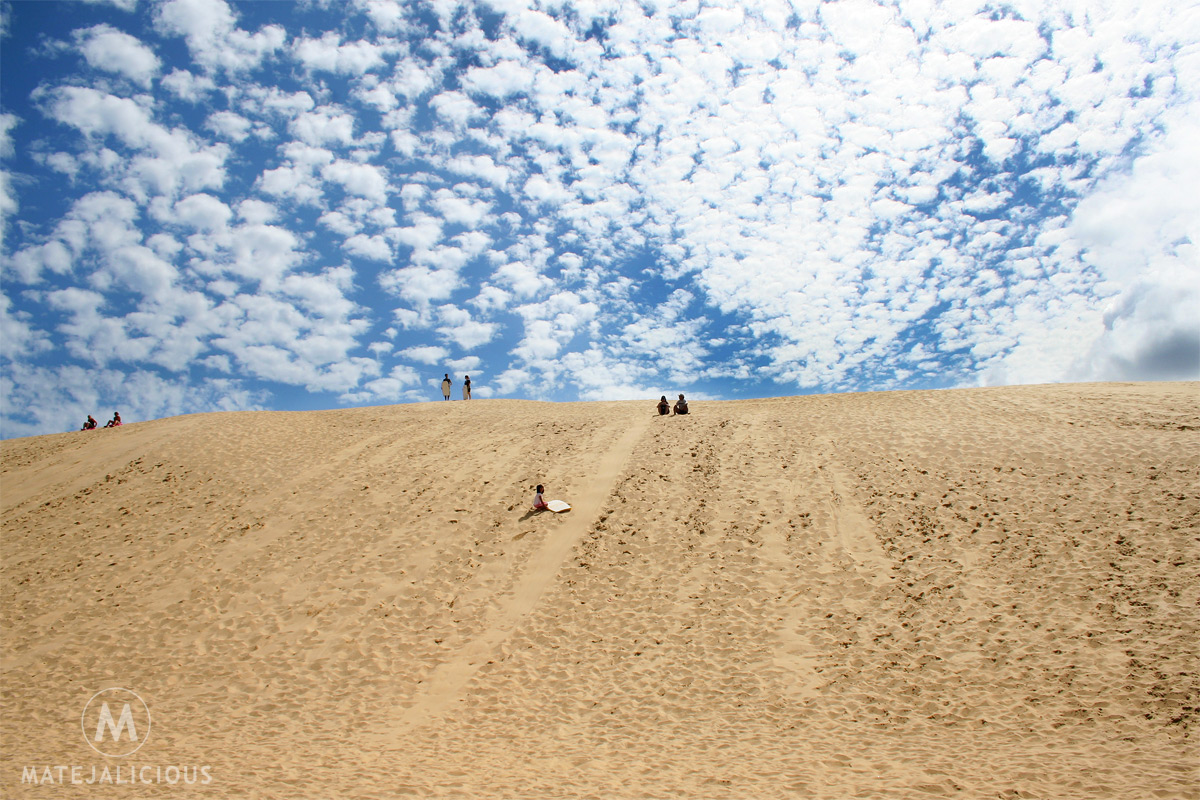 Cape Reinga (Te Rerenga Wairua)
Cape Reinga is a place of peace. It's a mystical part of Aotearoa, New Zealand, also called "the place of the leaping". It's a spiritual and sacred place from where, according to Maori tradition, spirits of the departed begin their final journey to their ancestral homeland of Hawaiki. It has become a popular tourist and a pilgrimage point for people to find peace while grieving and feeling the loss. I always find this place to be very peaceful and hopeful, whenever I visit.
Cape Reinga is the tip of New Zealand, the end of the road and the land. The edge. It's the place where the Tasman Sea and Atlantic Ocean meet, collide and merge in an impressive swirl of currents. The view of this collision is just remarkable and you can become mesmerized from the play of the water currents while trying to comprehend its magnitude. You are also able to see the Three Kings Islands in the distant horizon when the weather permits. Possibly even the beautiful Cape Maria van Diemen that was named by Abel Tasman.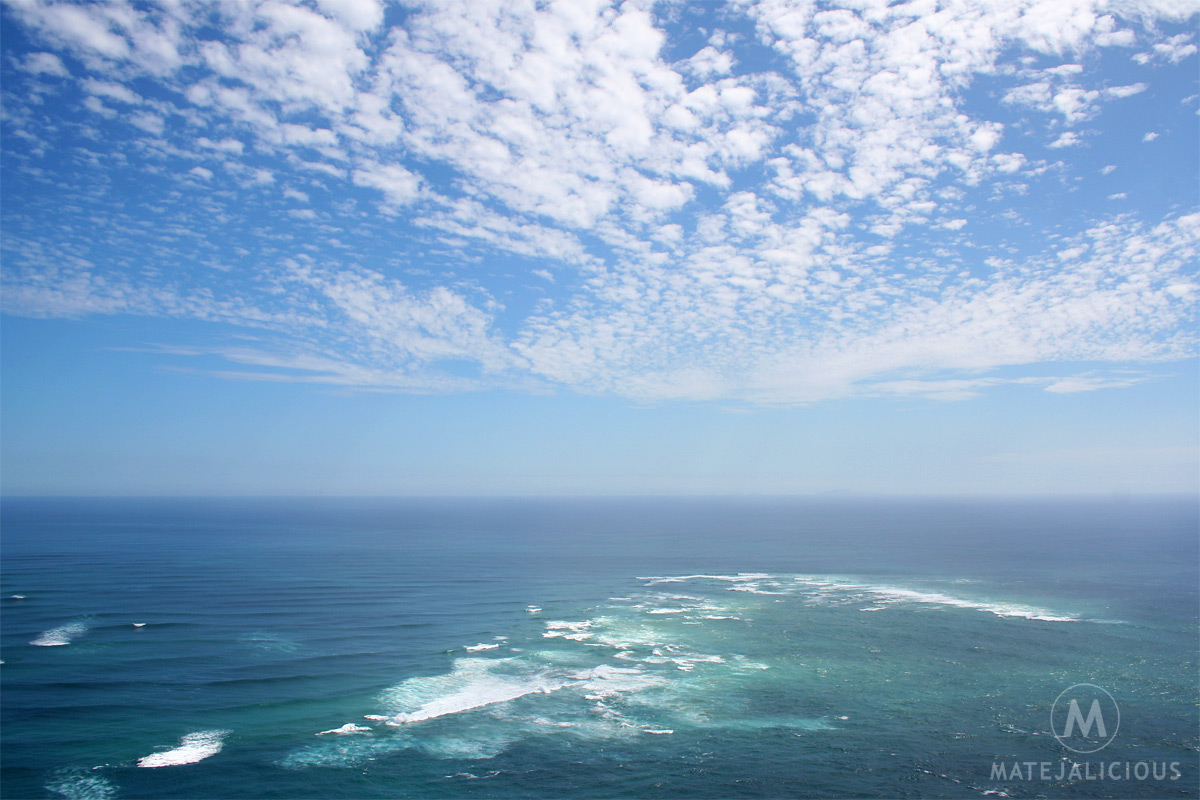 The lighthouse at the end of the steep edge is another feature and landmark of Cape Reinga. It seems perfectly positioned at the end of the road, where you can also find a signpost with distances to different places around the world. Lens system helps to magnify the 1000-watt light bulb, which then sends a signal up to 50 km out to the sea. So impressive. If you want to further explore the coastal area around Cape Reinga, then I would recommend you choose from many shorter and longer walking/hiking trails accessible from here. When visiting the area, sure spend some time on this northern tip of New Zealand, where the land ends.
90 mile beach
I was so excited to finally be able to drive on a 90 mile beach. Actually, on any beach for that matter. That was the main reason for buying a 4WD at the time. You can, of course, join a guided tour operator for the experience. You will spend a day exploring the far Northland and as a part of the tour also take a bus ride on a 90 mile beach.
But, if you want to experience the freedom of solo exploring the Northland and this beach, then it's for safety reasons advised you drive a 4WD. This far Northland stretch of white sandy coastline is officially a highway. Can you imagine? There is a long strip of sand dunes on one side, an ocean on the other, and misty endlessness in front and behind you. It truly is stunning.
I first thought it might get boring, but the feeling of excitement stayed with me right to the other end at Ahipara near Kaitaia. The beach is suitable for swimming, fishing, digging shellfish, enjoying a sunset and also ideal for photography.
It seems I can't get enough of this coastal ride. Since then I have done it a couple more times. Checking the specific tide times is essential and especially advised for the northern beach end track at the mouth of Te Paki Stream near the Te Paki dunes. 90 mile beach is in reality only about 55 miles long. The ride always ends too soon for me, as I'm leaving behind the magnificent Northland wilderness.
Far Northland is quite an untouched region of New Zealand. Whether you visit for a day or longer, you will definitely find exciting activities and places to visit. You will be surrounded by waters, beaches and oceans, rich Maori culture and legends, many hiking tracks and an abundance of white sand. On your journey, you will also come across the vastness, solitude, and peace. You will come to the tip where things get clearer and magnified by the sense of something more. I sure love returning to this part of New Zealand for these reasons. Every time welcoming and discovering new places and stories.
→ Also check: 5 Must Do's in the Coastal Tasman Region
Pin Me <3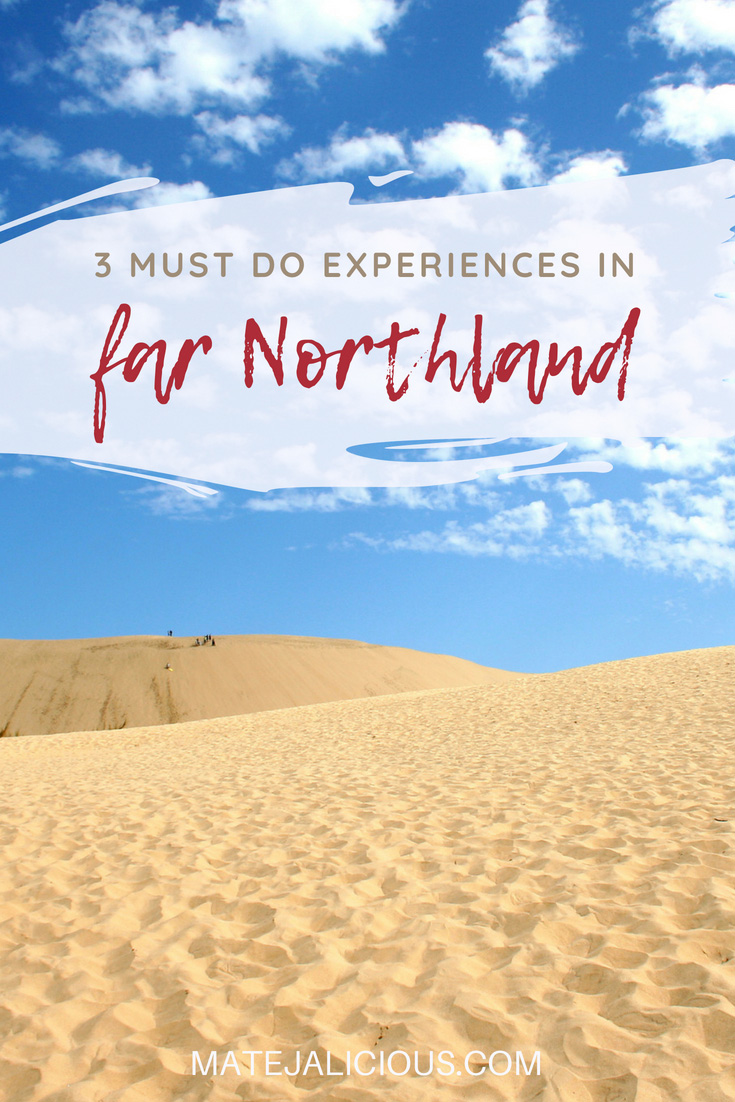 Leave a reply