By now it probably seems that I'm completely excited about every single place under the sun I get to visit and explore. And I honestly am blown away. With the majority of them anyway! Traveling, hiking, climbing and all these pursuits that get me out and exploring truly make such a big sense in my life.
Tasmania's been on top of my bucket list, so this post is no doubt biased because of that. However, all trails I walked and mountains I climbed there left me absolutely speechless and in complete awe. Tasmania is a hiker's paradise and I couldn't have come prepared for all that was waiting for me on the island.
I hope you get excited with me as I share my 5 top must do hikes in Tasmania (and bear with me as I get overly enthusiastic).
Cape Raoul
Location: Tasman National Park. The southernmost part of the Tasman Peninsula. Approximately 2-hour drive from Hobart.
Access: Hike starts at the end of Stormlea Road.
Distance: 14km circuit hike.
Time: 3-5 hours.
Entry Fee: National Park entry fees apply.
Right at the beginning of my 2-week long road trip, I was thrown in at the deep end. Cape Raoul has turned out to be my favourite hike in Tasmania I got to complete during that time.
The hike starts with the uphill part of the trail. As you reach the first coastal lookout point, the view opens up for you towards the Cape Raoul and you certainly won't want to turn back at this point. What you witness here is just the preview of what lies ahead: an immense scale of towering coastal cliffs, rocky platforms, and offshore islands.
The weather here can turn quickly just as I experienced on the day of the hike. You can either be rewarded with views out as far as Cape Pillar and Bruny Island, or be completely covered by a blanket of low clouds. However, don't let that discourage you from giving it a go because you'll most likely be able to witness one of the most beautiful coastal seascapes in Tasmania.
Fluted dolerite formations gradually appear in front of you as you move further out from the rainforest towards the shrub section of the trail, and close to the edge of the promontory. These unimaginably majestic and dramatic cliff columns got me questioning my eyesight and left me in complete awe as I was standing in front of them. Organ-piped pillar formations are rising 300m from the sea and are apparently the tallest sea cliffs in Australia and even in the southern hemisphere!
Cape Raoul is a definite must do hike and I'd return to Tasmania just for this experience. Any day.
Pros: You get a lot of bang for the buck. Not demanding.
Cons: None.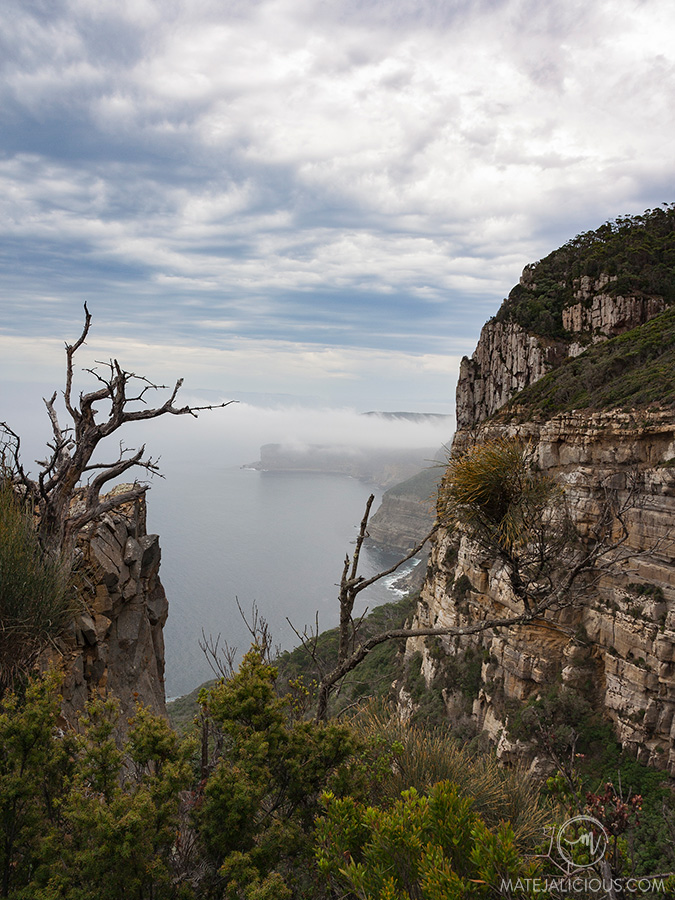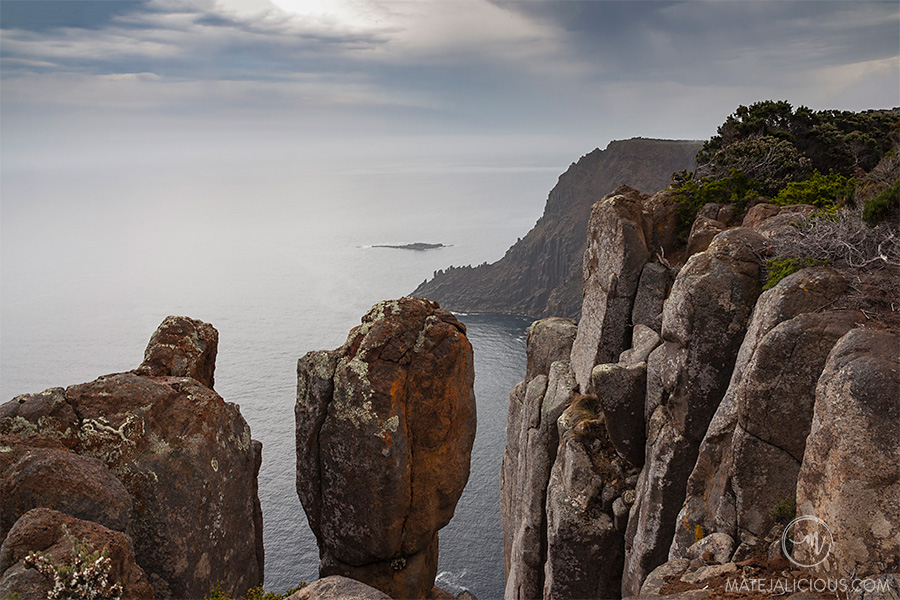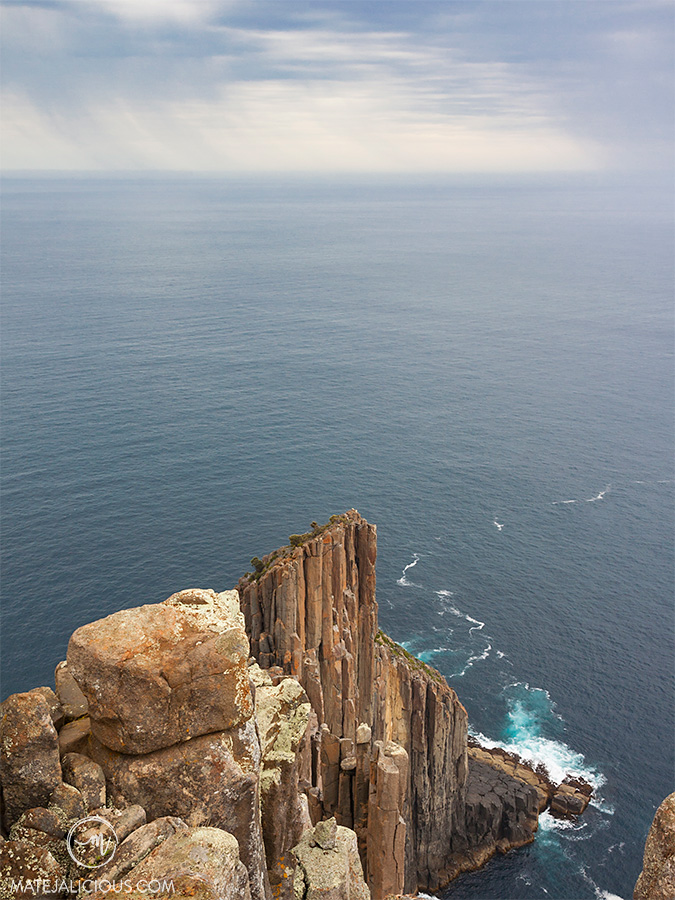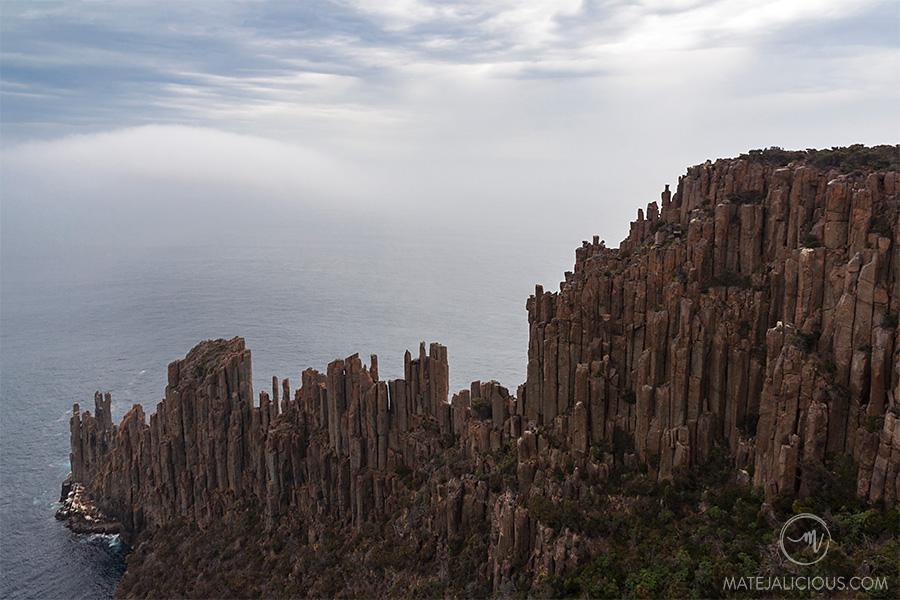 Mt Amos
Location: Freycinet National Park on the Freycinet Peninsula.
Access: Hike starts at the Wineglass Bay carpark.
Distance: 4.2km hike. Summit at 454m.
Time: 2.5-3 hours.
Entry Fee: National Park entry fees apply.
This is the hike I was looking forward to completing the most before I left for Tasmania and one of the rare itinerary items that were actually planned out on this trip. The one thing I've learned on hikes in Tasmania is that the markings and signposts prove to be pretty accurate. If there's a warning sign that the track (or a part of the track) is dangerous, it usually turns out to be true.
The rule definitely applies to Mt Amos. I can imagine how it can be quite dangerous to try tackling the slopes after the rain. It already proves to be a bit of a challenge on a good day. The first part of the hiking trail winds its way up through the forest and is easy to follow. Once you're above the trees you're already rewarded with such an amazing view of the landscape below. Gorgeous Coles Bay becomes a go-to focal point from now on. Every time I would need to catch my breath or get some motivation to continue I'd just look back to admire the view.
The way to follow the path from here on is by scouting out bright yellow arrows painted on rocks that mark the rough direction you are supposed to follow. These slopes are the part that can be hard to climb on a bad weather day. Be prepared to be on all fours most of the time here. You'll ideally have shoes with a good grip.
As I was making my progress towards the top I personally couldn't imagine how I would manage to come down the mountain. But once I scrambled past the toughest few gigantic rocks, I totally forgot about it and my attitude quickly shifted. It all seemed so worth it. Also, who wouldn't want to be stuck on such a gorgeous mountain, anyway?
Summit stretch with the killer wide open views of the Freycinet Peninsula and the entire national park (not to mention the gorgeous Wineglass Bay) was such an amazing reward! This is the spot where all you do is sit, take it all in and be astounded by the expansive 360-degree vista.
Pros: The views! Insta-worthy pic guaranteed.
Cons: Weather-dependent.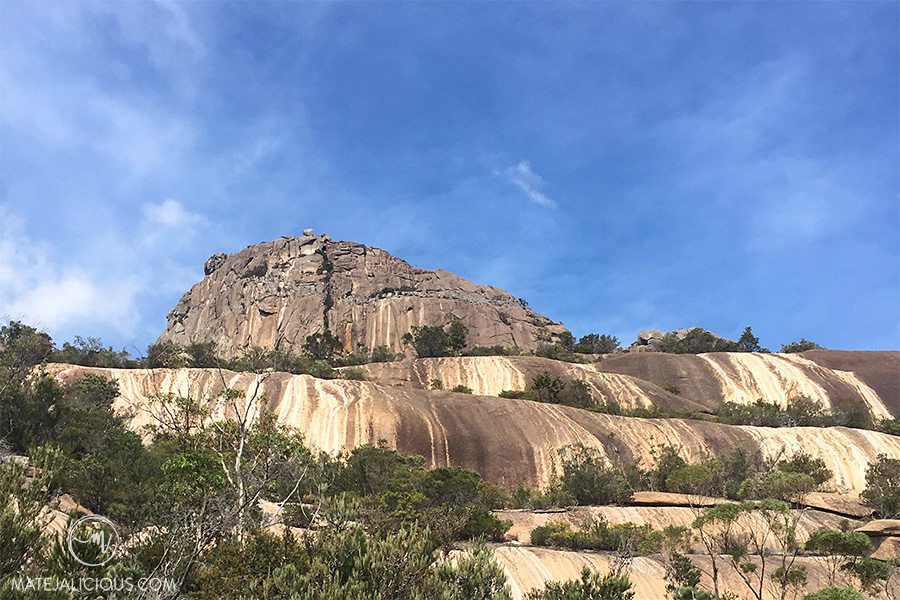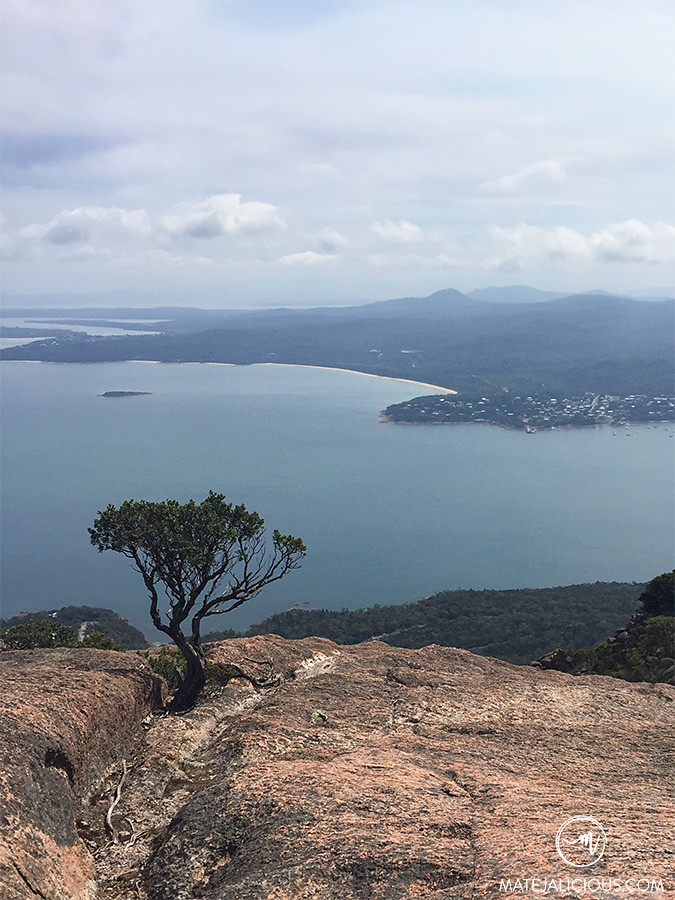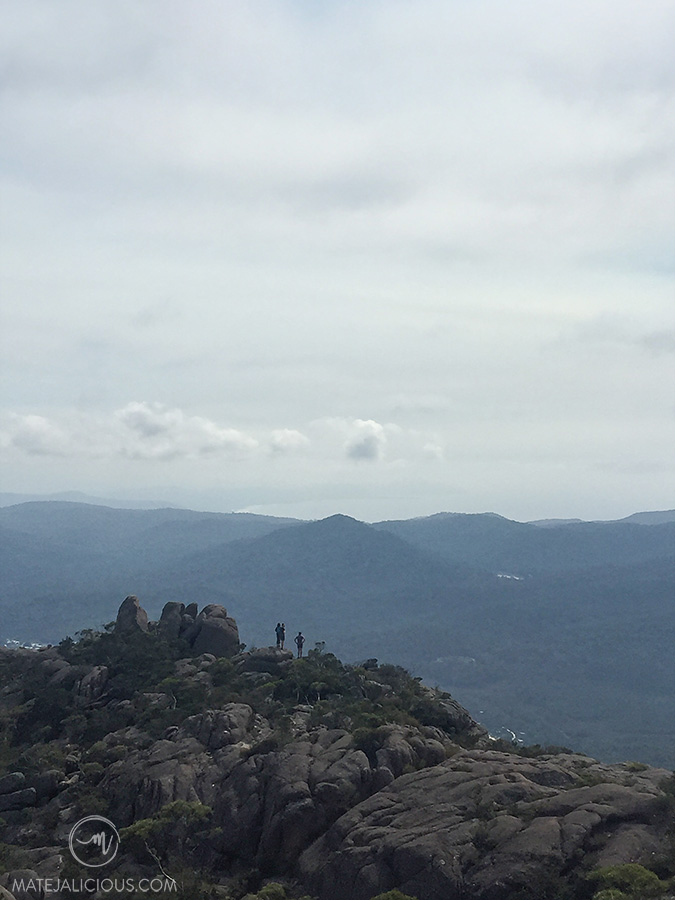 Cradle Mountain
Location: Northern end of Cradle Mountain – Lake St Clair National Park.
Access: Hike starts at either Dove Lake car park or Ronny Creek.
Distance: 13km hike. Summit at 1545m.
Time: 6-8 hours.
Entry Fee: National Park entry fees apply.
The Cradle Mountain area offers several hiking opportunities that range anywhere from very simple to more advanced options. Summit hike will get you occupied for the whole day. It is the longest and technically most challenging out of the ones mentioned in this post.
Trails in the Cradle Mountain area intertwine and mix, then separate and come together again. My advice is to plan according to the time you have available on the day and then stick with it. Make sure to print out the map or save it on your phone because it's quite easy to skip a turn or make one too many. I've found this one (page 7) from Tasmania Parks and Wildlife Service to be the most explicit and helpful.
The hike to the summit takes you along numerous lakes, unique alpine moorland, and lookout points, all sheltered under the gorgeous dolerite towers that dominate the landscape. Once you reach the Kitchen Hut, you're already facing tall rocky peaks. This is where the real fun begins. You'll be scrambling over huge boulders that get progressively bigger as you're closer to the summit.
This part is not only challenging, but can also be dangerous, especially in bad weather or when there's limited visibility. The weather was quite changeable on the day of the climb. Clouds kept moving real fast and visibility was randomly dropping. I stopped for a good 20 minutes just to make a decision whether I want to continue, especially as I haven't met any other hikers on this part of the trail. The only way is up, right? So I went.
I did meet a group of hikers close to the top. They gave me a few valuable pointers and basically told me I was crazy to be climbing this mountain alone in such conditions. This kind of weather brought out the most mystical impression of the glacier-sculpted summit. If you're lucky to climb the mountain on a fine day you'll be rewarded with some incredible views across the Tasmanian landscape.
TIP: Be extra cautious (!) when climbing over huge dolerite rocks towards the summit.
Pros: If you want a bit of a challenge then this place is perfect for you.
Cons: Weather may change quickly and there's no guarantee for the visibility at the summit.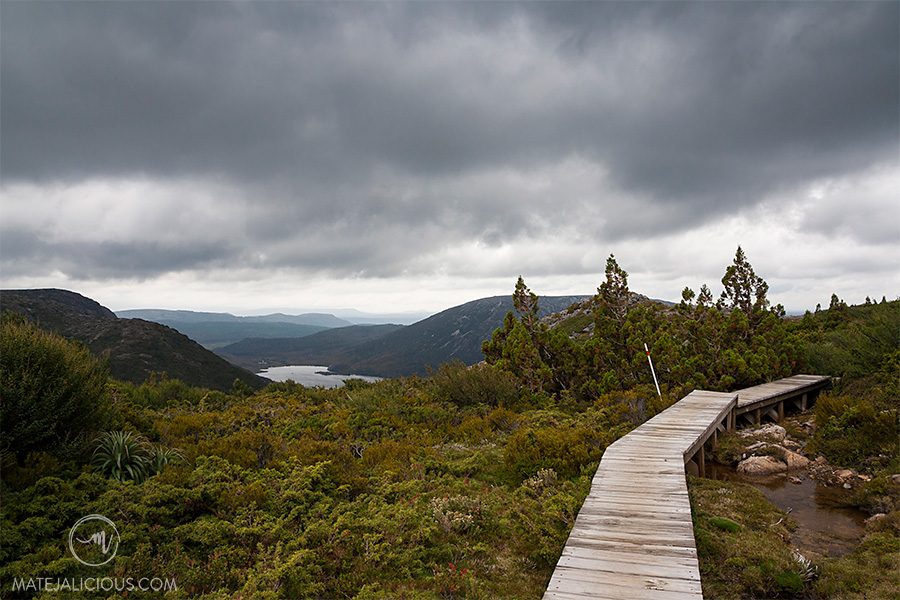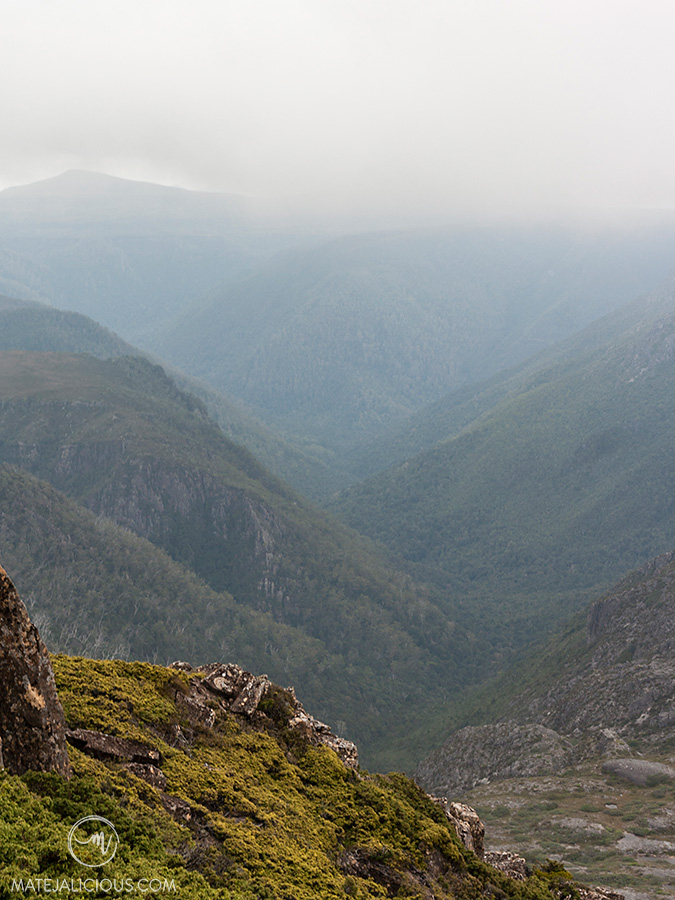 South Cape Bay
Location: Southwest National Park. 120km (2 hours) south from Hobart.
Access: Hike starts at Cockle Creek.
Distance: 16km return hike.
Time: 3-4 hours.
Entry Fee: National Park entry fees apply.
South Cape Bay may not receive all the hype some other trails in Tasmania do, but if you're attracted to geographical extremities like I am, then this hike's definitely the one you would want to check out. A half day walk will bring you to some of the most remote southerly bits of Tasmania. The track itself is reasonably easy. With gentle rocky hills and extended marshlands, it's perfect for families.
As I moved through this gorgeous and untouched landscape I was overwhelmed with a certain peace. The kind of peace that somehow always crawls to the surface whenever I move through a special place that holds inexplicably high energy. It's similar to being at the northern tip of New Zealand. There's an end, but there is also a sense of uncountable opportunities and belonging.
My heart skipped a beat when I first heard the deep ocean roar from a distance. I knew I was almost there! As I came closer to the waters and stood up on the cliff top I got rewarded with awesome panoramic views of the South Cape Bay and Lion Rock that emerges on the right side. The sea here is wild, unapologetic and mesmerizing, just like I expected it to be. You must absolutely make your way down the stairs to the beach and enjoy the full force of this unique coastal wilderness.
Pros: Ideal for families.
Cons: None.
Cape Hauy
Location: Tasman National Park, Tasman Peninsula. Approximately 1h 40min drive from Hobart.
Access: Hike starts in Fortescue Bay (12 km unsealed gravel road).
Distance: 9km return.
Time: 2.5-4 hours.
Entry Fee: National Park entry fees apply.
If you completed Cape Raoul Track then you'll definitely want to return to Tasman National Park for just as dramatic and awesome hiking adventure to Cape Hauy. The length of this hike can either be the final part of your multi-day Three Capes Track, but it can also be done on its own.
The trail starts in beautiful and sandy Fortescue Bay. It has the luring power, so beware, you might want to skip the whole hike and just jump in the water and stay camped here for the day. There's a bit of initial uphill hiking through the forest needed, however nothing extreme. There's nothing but joy once the extensive view starts to open towards the slopes of Cape Hauy and rocky coastline.
It's a standard in Tasmania that views just keep getting better and better as you're approaching the destination. You effortlessly pick up the pace just because you know the reward is about to be sensational. Cape Hauy delivers without a doubt. As you're standing on top of a rock formation with foaming waters below and large dolerite columns in front of you, you can't but feel small and a part of something incredible.
This is that point in time when you soak in the extensive surroundings, admire dazzling drop offs and let your thoughts go wild. What a natural beauty! If you stick around for long enough, you'll quite likely spot rock climbers or abseilers that pursue the top of either Totem Pole or Candlestick, just two of the dolerite sea stacks that rise from the water.
Pros: Amazing landscape with some astonishing rock formations and natural features!
Cons: No amount of Red Bull can transport and land you on top of the Totem Pole.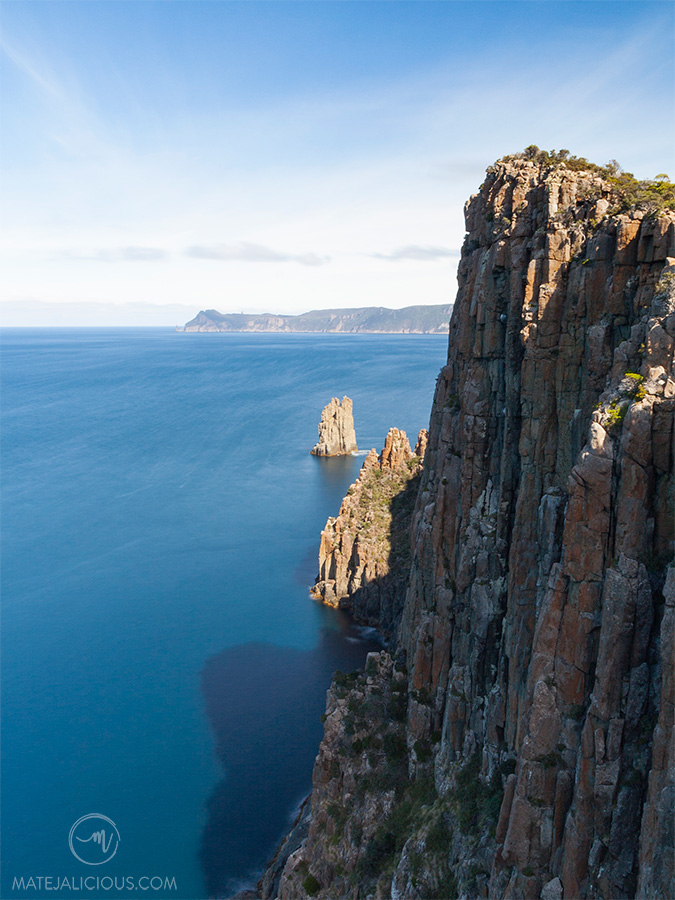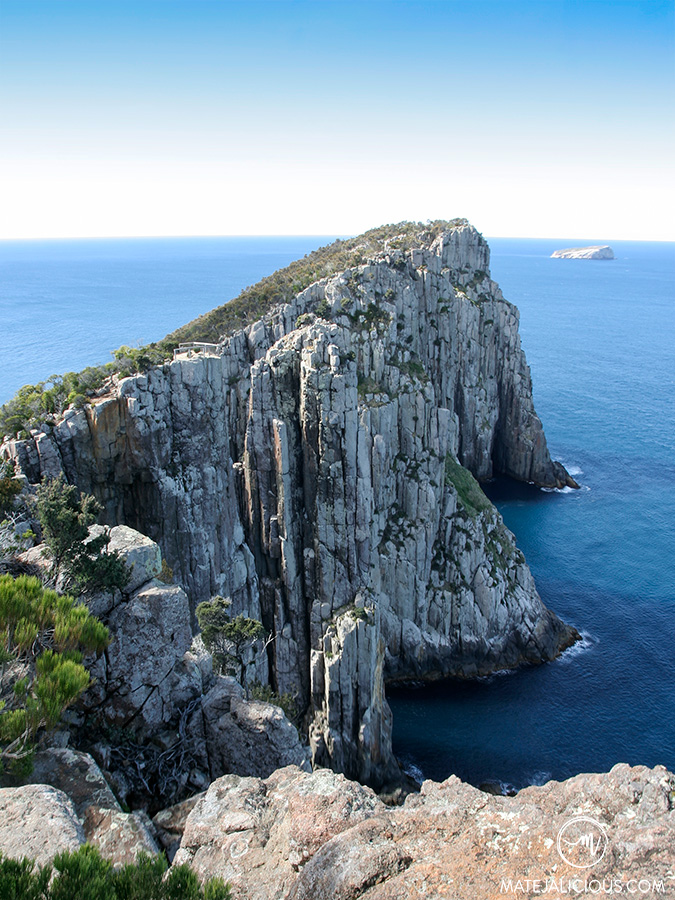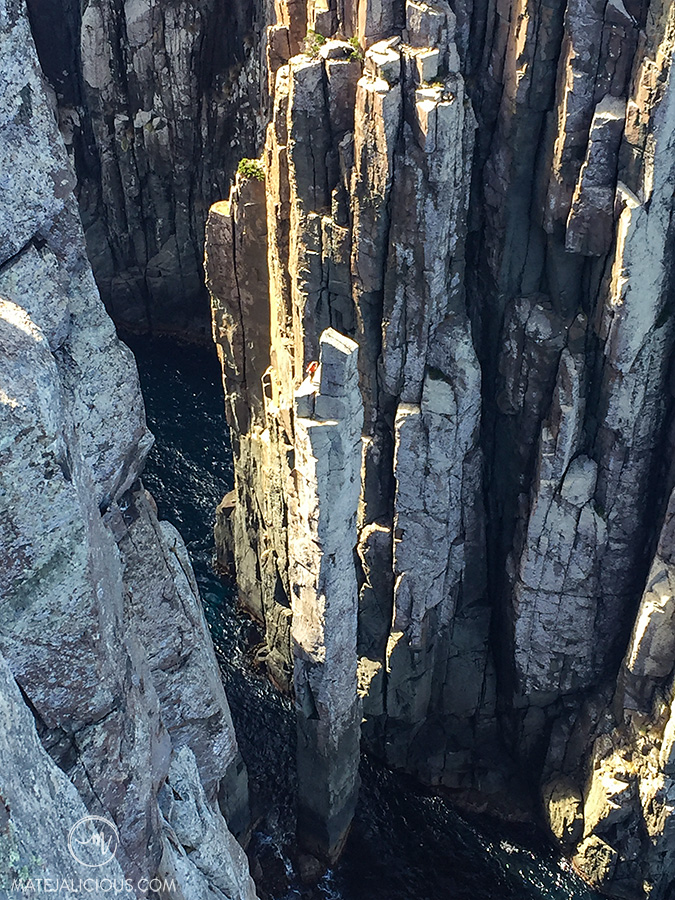 More Hiking Options
There's no limit to hiking options in Tasmania. No region comes without short and multi-day walks. Consider these hikes as well when you explore the island:
Multi-Day Hikes:
Overland Track in the Cradle Mountain-Lake St Clair National Park (65km)
3 Capes Track in the Tasman National Park (48km. Book way ahead.)
South Coast Track in the Southwest National Park (85km. The ultimate wilderness experience.)
Walls of Jerusalem in the Walls of Jerusalem National Park (34km)
Shorter/Day Hikes:
Fluted Cape on Bruny Island
St Patrick's Head Pinnacle
Mt Graham in the Freycinet National Park
Painted Cliffs, Honeycomb Rocks, Bishop and Clerk on Maria Island
Waterfall Bay Track with Devil's Kitchen and Tasman Arch (An ideal hike if you're short on time. You'll get the sense of the rugged coastal landscape similar to the Great Ocean Road)
Hansons Peak, Cradle Mountain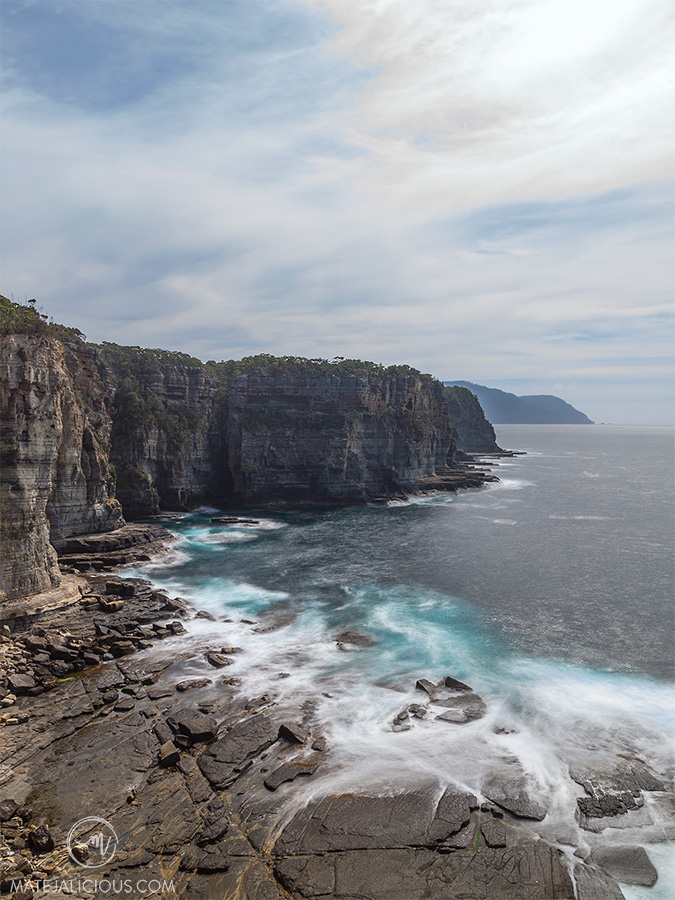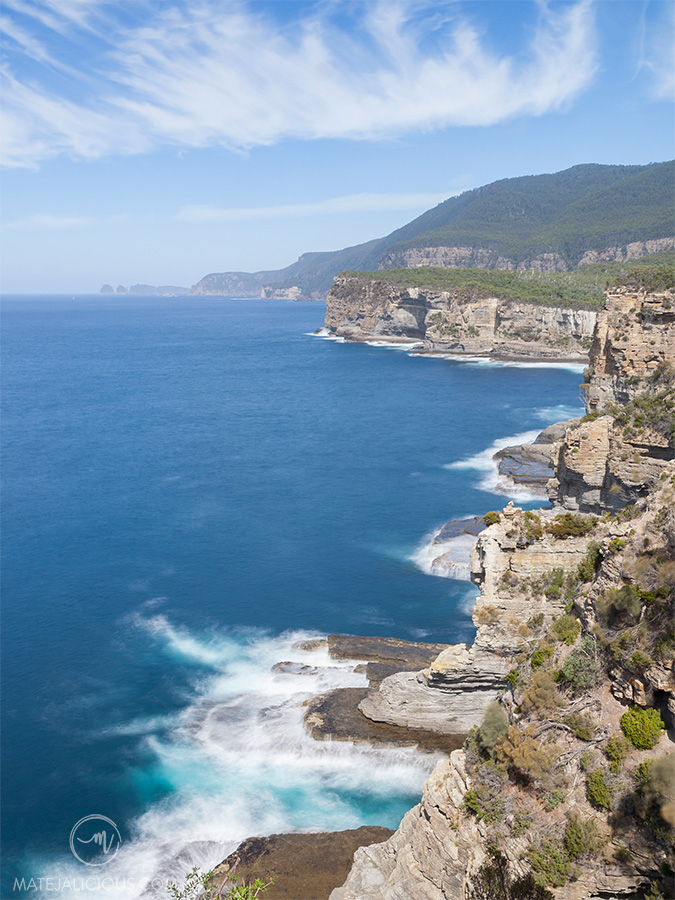 TIP: Most of the hikes in Tasmania are located in one of the many National Parks, which means that National Park entry fee applies to each of them. Do consider buying a Holiday Pass that covers all parks entries for up to 2 months per vehicle and up to 8 people (currently $60AUD).
Love for hiking is one of the reasons I set myself out to exploring Tasmania, the exciting island down south. While I feel I was quite lucky to experience some of the most gorgeous parts of this state on foot, I keep thinking of all the places I'd still want to see and visit. Tasmania, you're a beauty and I hope I've done you justice with this selection of my top 5 hiking and climbing suggestions.
→ Have you done any hiking in Tasmania? What place impressed you the most? And if you haven't – where would your hiking shoes take you first? Please let me know in the comments below <3
→ Also check: Climbing Mt Taranaki
Enjoyed this post? Why not share it!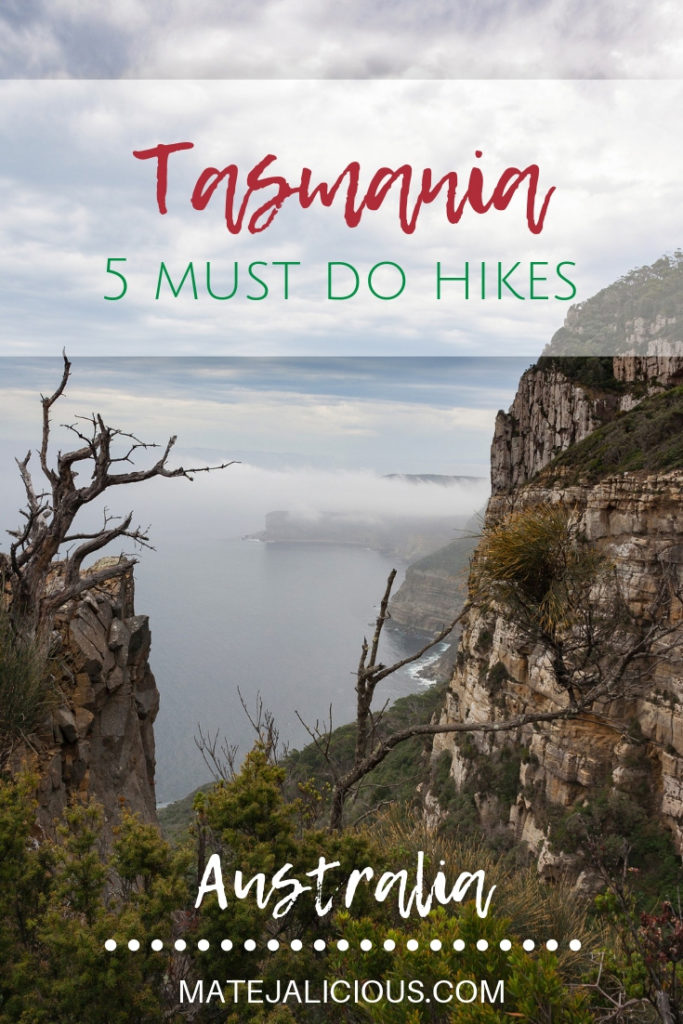 Leave a reply