TRAVEL DESTINATION: East Coast of Sardinia, Italy, Europe
TRAVEL DURATION: 1 Week
A week in Sardinia is not enough. That's something I realized when I started planning and pinning the map with all the places I would love to see and things I would like to do. Realistically, all those pins weren't going to happen in the time frame I had set aside for exploring the island.
Focusing on the east coast for my first trip to Sardinia seemed like an obvious choice when I took a closer look at all those dots on the map. I was for many reasons drawn to it more than other areas of the island. Eastern coastal stretch offers numerous opportunities for exploring, hiking, swimming and also getting lost in an amazing landscape.
Today I'll be sharing ideas and tips on how to spend your time on Sardinia as you travel through its versatile land and places. So let's do this, here are my top 5 things to do on Sardinia's east coast.
Rocce Rosse
Rocce Rosse (Red Rocks) are impressive rock formations located somewhat on the central eastern coast of Sardinia, near Arbatax in the province of Ogliastra. Dramatic cliffs and red rocks surge at the water's edge. It's amazing to witness them forming the most stunning reflections and contrast with deep blue and emerald green colors (depending on the weather) of the sea.
Rocks are composed of red granite porphyry that is quite unique to this picturesque coastal stretch in Arbatax. The rest of the island's coast is mostly formed by limestone or dark granite. Rocce Rosse are apparently rich in iron and were sculpted over the time by wind and waves.
Chiseled rock formations look to me like a natural cathedral and actually remind me of the Duomo, a Cathedral in Milano. There is even an opening (or window) sculpted in the middle of Rocce Rosse for that view to the other side. I can imagine this place is quite popular with photographers for the diversity of spectacular color contrasts that the rocks and the sea are creating. Do make a short stopover in Arbatax to see these unique rocks if you're in the area or passing by.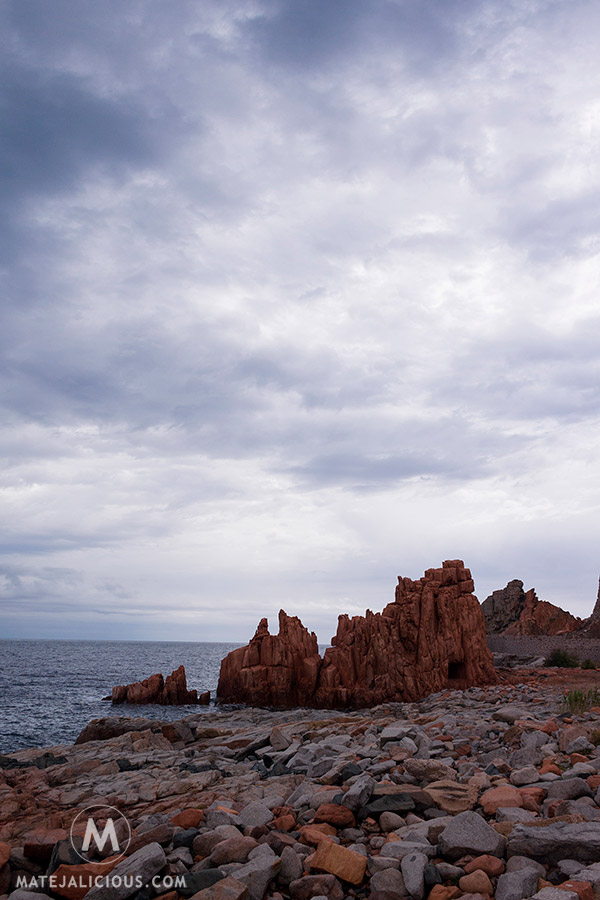 Domus De Janas Fund'e Monti
Discovering Domus de Janas Fund'e Monti was a totally unexpected thing while driving past Lotzorai towards the next destination. With no screaming signpost it can easily be overlooked (39°58'40″N, 9°37'59″E). This place is considered to be a necropolis (Fund'e Monti) from the Late Neolithic Era. Currently, there are 15 quite well preserved pre-Nuragic single and multi-chamber Domus de Janas (tombs cut in the rock) and poor remains of a single-towered Nuraghe on top of the Tracucu hill.
While exploring the area, you get to admire the breathtaking landscape that surrounds you. Just standing on this spot gave me the sense of the deep historical traces on the island and of many cultures that preceded the current one. You can easily spend hours and hours on this site and will most likely have it all to yourself. There's so much to explore and you will be blown away by how many visual parallels you can draw between this place and Sir Peter Jackson's Hobbiton.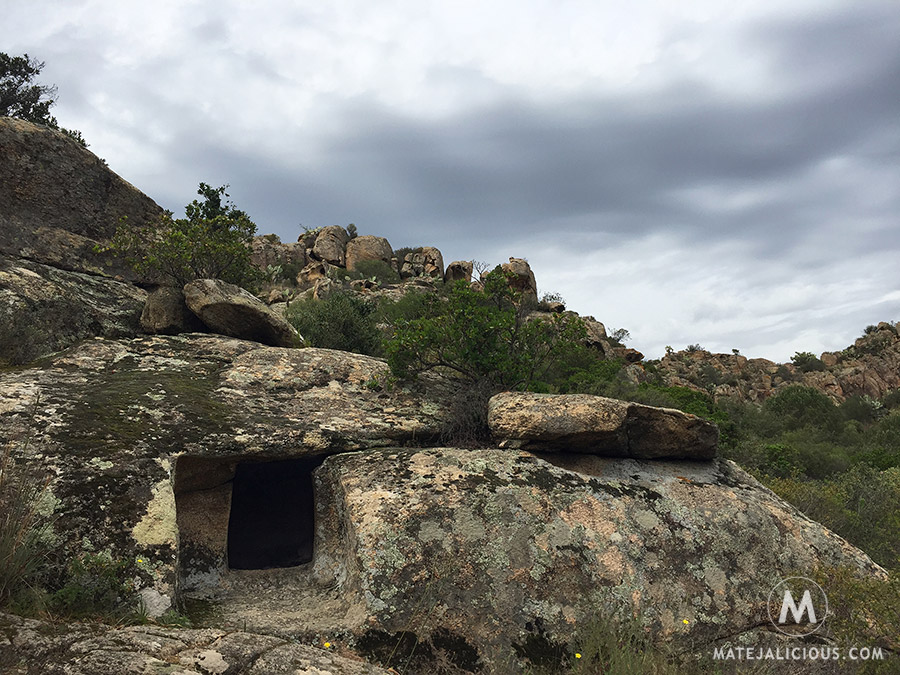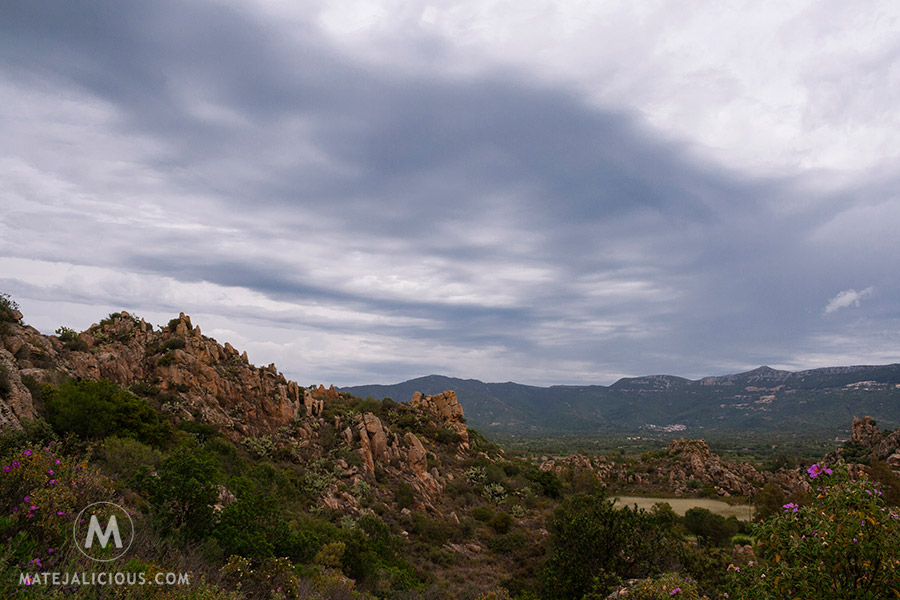 Hike to Cala Goloritzé
Golfo di Orosei quickly became my favorite area on the east coast to explore on my first visit to Sardinia. It's bestrewn with numerous gems. It's also quite versatile and unpredictable. Although I stayed around here the longest, I feel there are still so many undiscovered pieces of the whole puzzle left.
I really wanted to get the chance to visit one of the ultimate exotic summer beaches of Sardinia in this area that can often only be reached by boat. Cala Goloritzé was my top choice for a couple of reasons. First, it is always appealing to me when I have to put in a bit of the effort to reach the destination I want to visit. Hiking an hour and a half across the high plains of the Golgo Goloritzé to get rewarded with breathtaking views is what this place is all about. It can be such an amazing experience.
The second deciding factor for visiting this particular secluded cove was THE Needle (Aguglia di Goloritzé). The Needle is an amazing 143-meter tall rock formation that attracts many serious free-climbers from all corners of Europe and further to test their skills. The setting for this giant is nothing less than awesome and just standing in its shade feels amazing.
The atmosphere here was quite relaxed as I swam in the refreshing late April crystal blue waters. I spent most of the day settled down on one of the polished white rocks that are scattered around the beach. Being near the transparent green and blue hues of these waters is a definite must when traveling through the Sardinia's east coast.
TIP: Have some cash prepared at the start of the hike as there is an entry fee collection of 6€ at the car park. Also, head towards Cala Goloritzé early to catch the sun. High cliffs create the shade on the beach quite soon in the afternoon.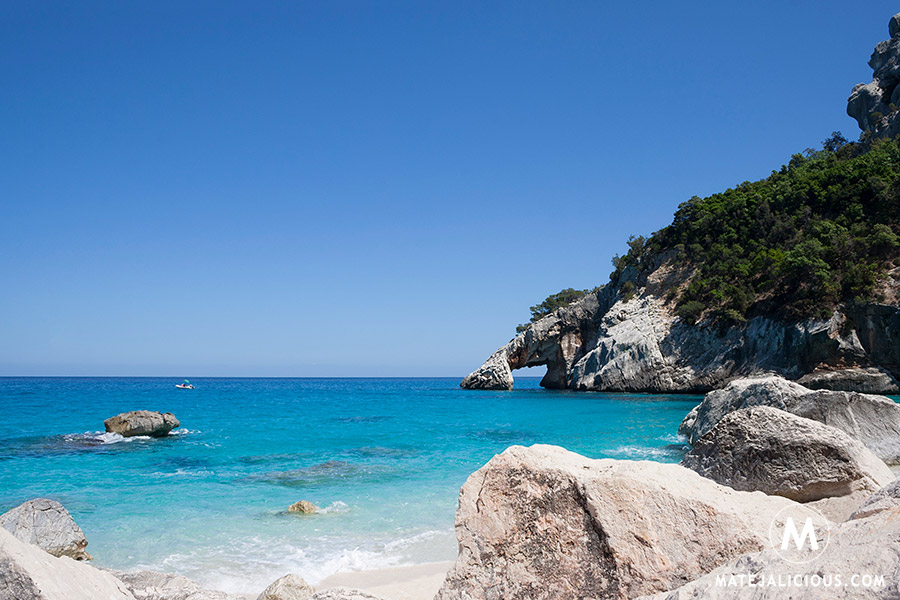 Gola Di Gorropu Gorge
Gola di Gorropu canyon was one of the best surprises I came across on the island's east side and would be my top hiking recommendation for you when traveling to Sardinia.
Same as hiking to Cala Goloritzé, there is an entry fee (5€) right at the entrance to the gorge. There is also an additional parking fee if you're starting the hike at the Ponte S'Abba Arva end. The best time to explore the gorge is early morning. You need to set aside a couple of hours to reach the entry point, then 2-3 hours to explore the canyon, and additional time for the return hike.
This place can make you feel quite small and at the same time extremely powerful. Limestone cliffs rise almost 500 meters high. The experience of standing at the bottom of such vertical wall of rock is beyond anything I had expected so far. I felt such a strong magnetic pull here at this place that's tucked deep inside the Supramonte limestone massif. It's an absolute gem.
TIP: Bring hiking shoes with a good grip for climbing huge polished white rocks. It helps to have a hiking partner to overcome some of these natural obstacles. You'll definitely be able to progress further into the gorge as a team.
→ Also Check: Gola di Gorropu Europe's deepest gorge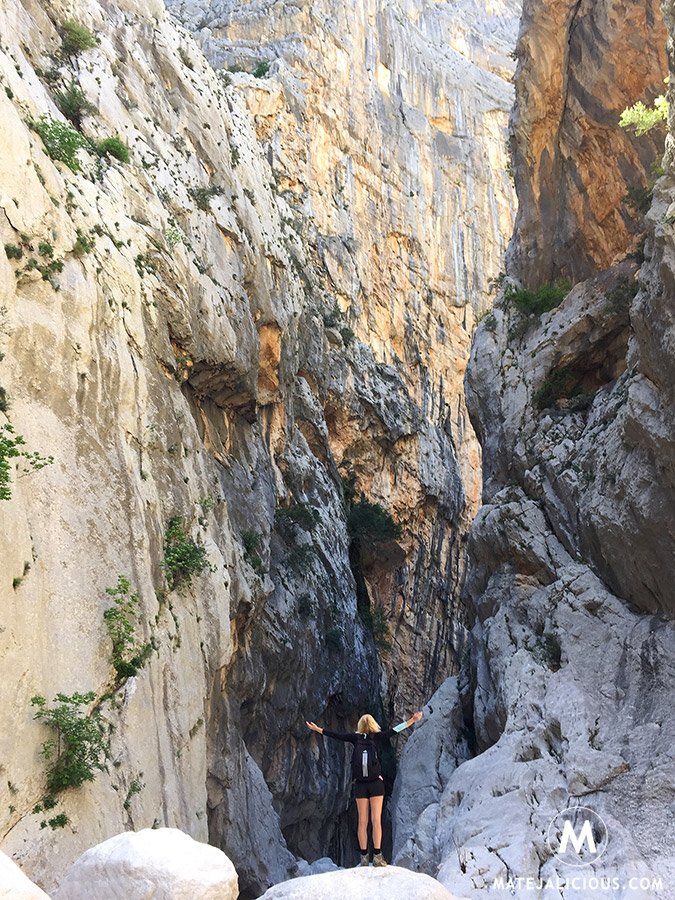 La Maddalena National Park
La Maddalena National Park sits just a couple of kilometers off the top of the main Sardegna island and can be accessed by boat only. This wider area of 7 major islands is a national park called Parco Nazionale Archipelago Di La Maddalena in Italian. It has been named a UNESCO World Heritage site. It is certainly a place where you can find unspoiled nature, clear blue waters, sandy coves and beaches, and some really stunning views.
Visiting the largest of the islands in this archipelago, La Maddalena, and taking the whole day off seems like a perfect plan if you want to explore the amazing landscape. You can either go for a swim or just want to stay and hang out at one of the many coffee places in La Maddalena town.
The island is by road connected with another equally beautiful island of the archipelago, Isola Caprera. Here you might want to visit the museum of Giuseppe Garibaldi or explore the uniquely wild landscape and animal species of this part of the Europe. Both islands have a relaxed feel to them and are a perfect choice for when you want to take some time off of your busy travel schedule.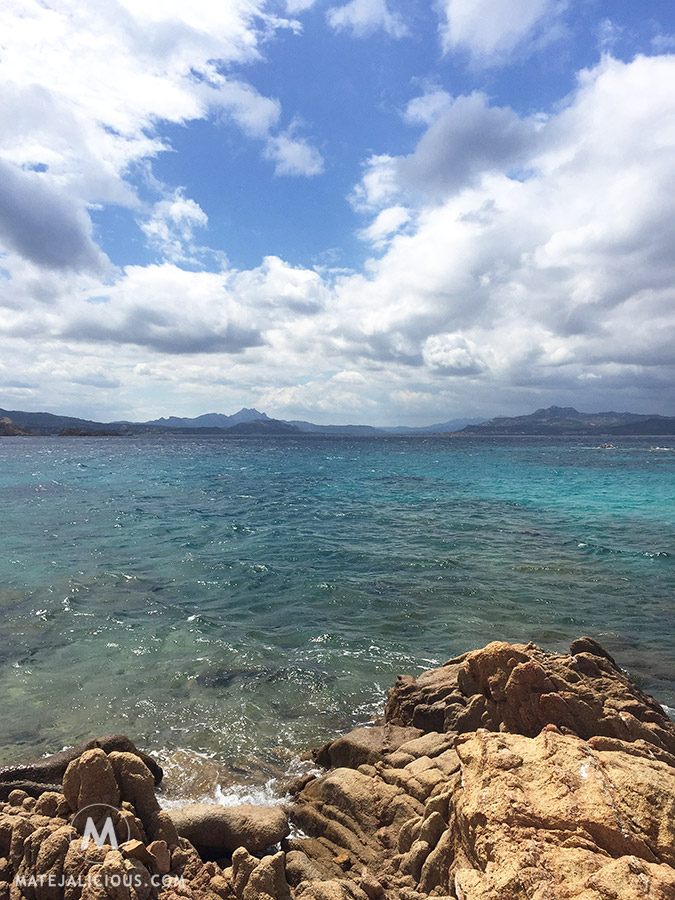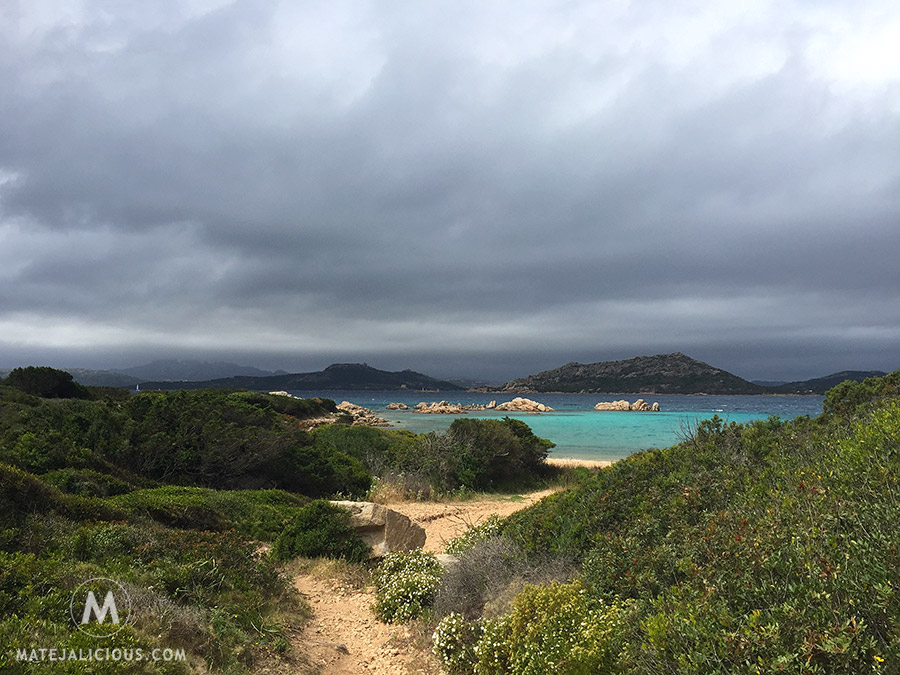 Sardinia has been high on my travel bucket list for a while. My roommate painted such a wonderful picture of this island to me during my uni years, that I just had to go and explore the island myself.
After the return, I can now instinctively recognize images of the places that belong to this part of the world just by seeing the unique emerald color of the ocean. Without a miss. How crazy is that? Sardegna certainly captured my attention as well as my heart. I guess special places do that to you.
With the bittersweet realization that there's just an overflow of goodness on this Italian island located in the Tyrrhenian Sea, I am determined to visit this beautiful destination again sometime in the future and discover those missing puzzles.
Pin This To Share On Pinterest!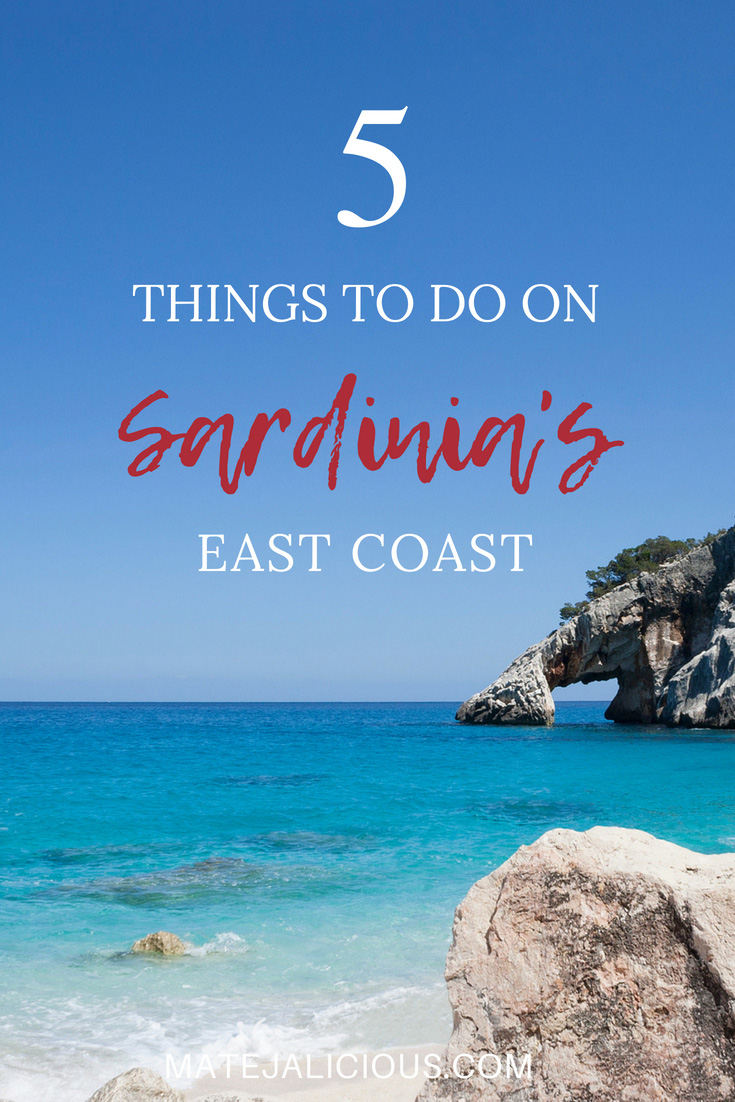 Leave a reply