We all know that feeling when our travel or vacation plans seem to go downhill. Pouring rain. Cold. Thunderstorm. Snow. Hail. Blizzard. It's finally our turn to take that time off work and responsibilities, and now it gets all ruined because of bad weather. It can happen whether you're planning your trip half a year upfront or traveling on a whim.
Sure, there are parts of the world, where the weather forecast is on point every single day due to the stable and predictable conditions. But there are also destinations where it's more or less a guessing game. Think tropics, Oceania, far North or South,… Bottom line, we can't control the weather. It just is. You can certainly do your homework and plan ahead to travel at the most convenient season, but as we all know, even that can't always turn out as it should.
I collected tips and ideas that can help you battle any weather. You can start incorporating them into your travels so those unpredictable weather conditions don't stop or wear you down. Here they are: my 7 travel tips for bad weather.
Embrace it
Ignore the weather. It's just the weather. Why not embrace it and make it a part of your experience? Just go with your plans as if. Umbrella, waterproof jacket, hat, warm layers of clothes,.. Do whatever you need, to feel as comfortable as possible in those conditions. Your experience of the day might not be a typical one, but it's your story. It's definitely different from the one you imagined and will one day be told from your unique angle.
So, embrace the situation and create the best possible experience, so you won't have any regrets. At the same time, be smart. Don't jeopardize your health or life. Stay safe and don't go out chasing lightning or driving on that icy road.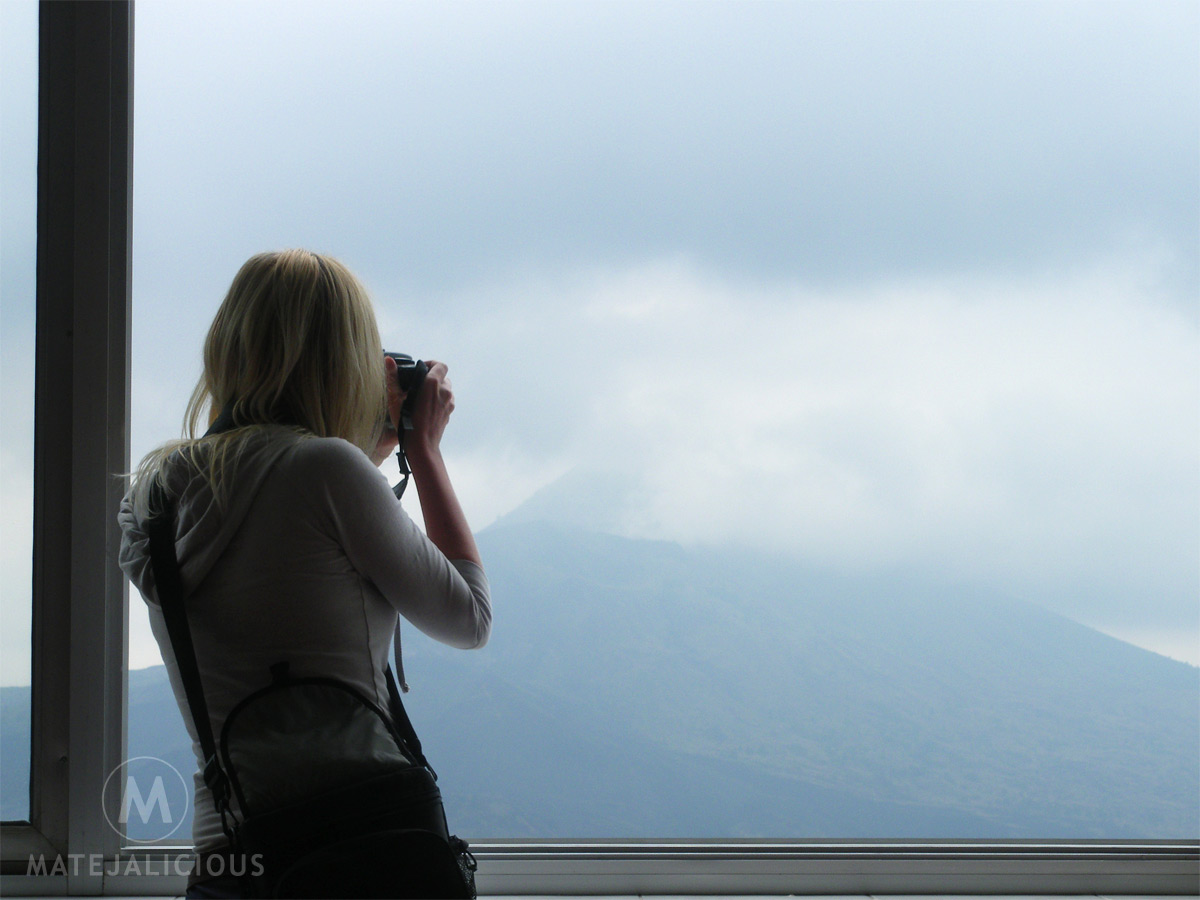 Move indoors
Here are the obvious ones – indoor activities like museums, art galleries, places of worship, planetariums, aquariums, music performances,… There is a chance you'll come out of it much smarter and educated. So go and learn something new about the history, people and culture of the place you're visiting.
Apart from that, there is also food and the opportunity for you to try local cuisine. This is the perfect time to truly explore it. Visit local markets, try street food, check out local coffee places, fancy restaurants or some other popular eating places in the area. Also, you could squeeze in a shopping spree that you've been saving for some other day of your travels. Now might be just the right time to go wild.
Go further
Sometimes it only takes short 50 kilometers and you find yourself in a totally different weather conditions. Checking those weather maps can save the day. A quick change of plans is a small price to pay when you are rewarded with new and unexpected experiences and destinations that you otherwise wouldn't consider or would exclude from your planned route.
Document it
Go out and take photographs for a day. Shoot those different angles of the famous sights, well-known places, landscapes, and buildings. Incorporate water reflections, mystical fog, distant lightning, snow, rainbows and other natural elements, and you'll come up with a selection of some pretty amazing photos.
Be flexible
Sometimes it pays off not to plan and define everything about your travels to the last possible detail. Leave some things open, so you can adjust to the situation. It might mean few last minute bookings, changing activity/itinerary days, staying longer in one place, leaving the place early,…
I often plan and pre-book just few initial days of travel and make other specific arrangements and plans along the way as I go. However, I do believe it's good to have a general idea of your trip outlined and planned while still keeping certain things loose and flexible.
Return
Bad weather might be the indication that you need to return and visit the place again in the future. I remember finally deciding to do the Tongariro Alpine Crossing a few years ago. I was so excited to do the hike and especially to see beautiful Emerald Lakes. Nothing went as expected on the day of the climb. The sky above us completely closed and there was no chance to see those turquoise lakes. I could hardly see half a meter in front of me. I left the mountain disappointed and discouraged.
When I was driving back home the next day, I saw the mountain summit in the distance bathing in an early autumn sun, as if the previous day drama never happened. Another slap in my face right there. It was hard to take it all in at the time, but that experience just gave me the push to climb the mountain again the following year, when conditions were on point.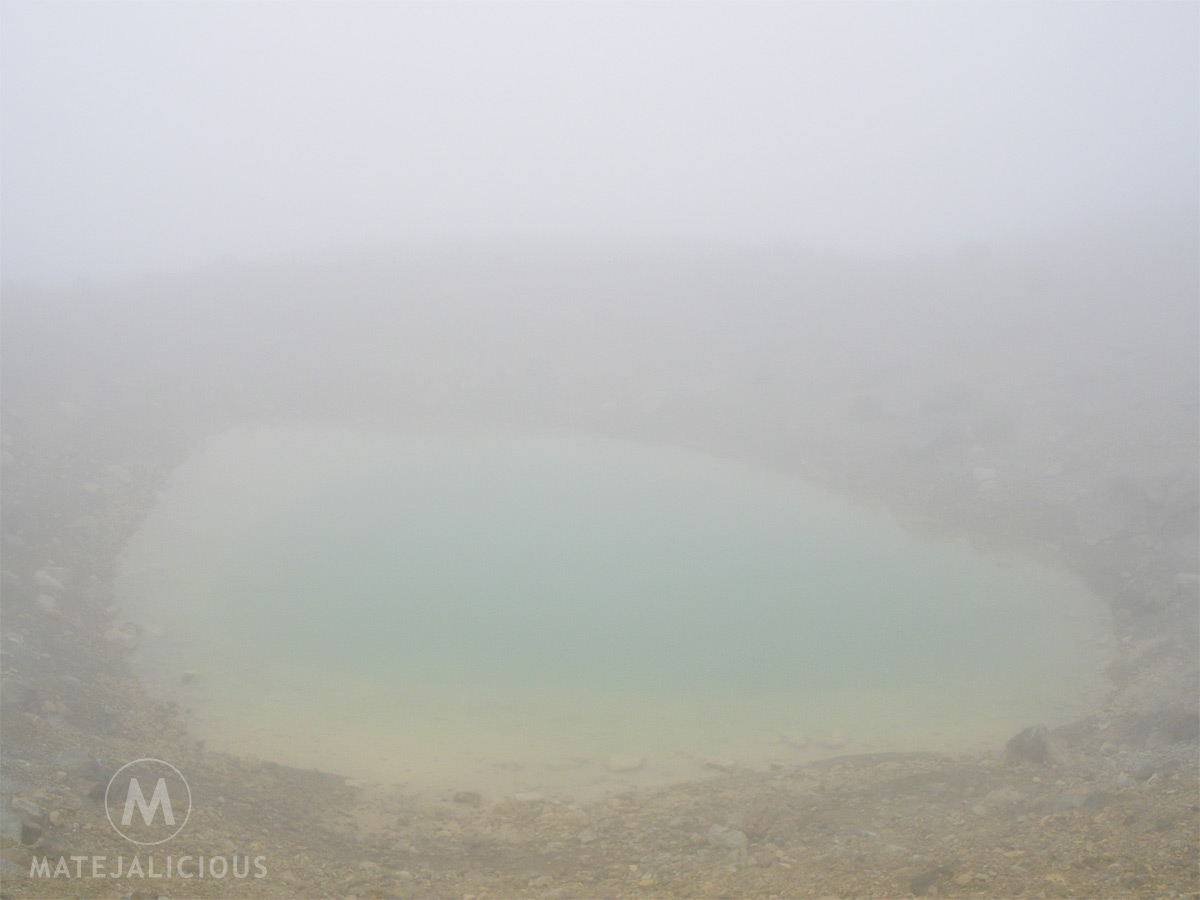 Plan future adventures
Bad weather might be the sign from the Universe to stay in your room or go to that wi-fi coffee place around the corner and start planning your next big adventure or travel. If you're like me, it will immediately put you in a good mood and you'll start buzzing just by exploring the possibilities. The spark will be back for sure. If you love traveling, you understand that the planning time can be just as important, precious and rewarding as the travel time itself.
→ How do you usually cope with difficult weather conditions when traveling? Please share in the comments below.
→ Also check: Do's and Don'ts of Hawai'i
Pin Me <3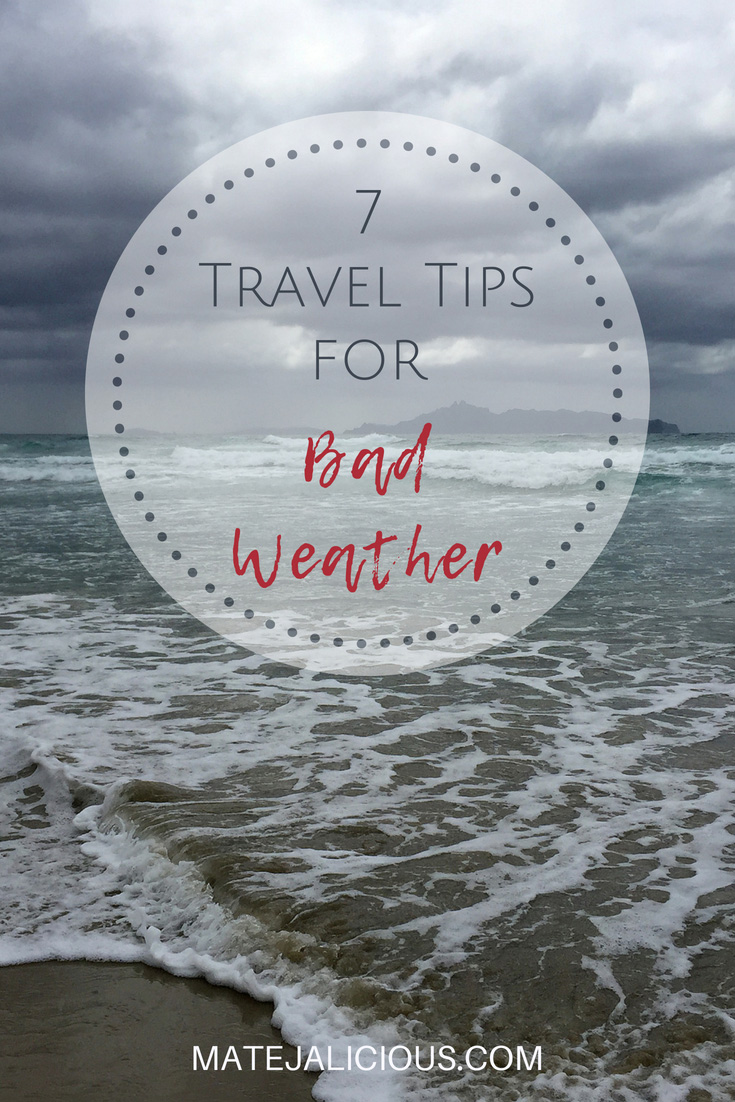 Leave a reply