Today I want to write about ruins – beautiful ruins of Pag Island. Europe is a perfect place to trace them and sense the history they carry within their (semi)preserved walls. And since this year I've been so far residing in Europe, it's something I've been completely drawn to. Traces of history, heritage, timeless stories. I've been craving all of it since relocating to New Zealand a short lifetime of 13 years ago and 18000km away.
Croatia's Otok Pag (Pag Island) might not be the greenest and lushest of them all, but the landscape here sure carries deep traces of worlds gone by. Together with bura winds it knows how to shake your soul to the very core.
All the ruins and heritage places I've come across on the island so far have made me feel curious and somewhat cozy to be around. You know, how you sometimes get that strange and ultra-mystical feeling when being near a place of history? Well, not here. These are all 'happy ruins', as I call them, vibrating at high energy. It must be from all the sunshine this island receives year-round.
I want to take you through some of the more notable ruins on Pag Island that have caught my attention (I might add more as I go). I will be starting at the northernmost point and move towards the south where Paški most (Pag Bridge) connects the island with mainland. While heritage monuments mentioned here haven't fully made it to this day, most of them still show the tiniest amount of life that resides in them. So, let's do this, this is my take on 'Beautiful Ruins of Pag Island'.
Sv. Martin (St. Martin), Lun
[Coordinates: 44.703733, 14.732794]
Lun is mostly known for ancient olive trees (lat. Olea Oleaster) and olive oil making tradition. However, at the tip of Lun Point (which is also the most northern point of Pag Island) stands a solitary ruin of what used to be the early Romanesque church of Sv. Martin.
There's not much left of the church which was at one point owned by residents of the near island of Rab. A marble Romanesque statue of St. Martin from the 12th – 13th century belonging to the church can today be found inside the Holy Guardian Angels Church in Lun.
The very tip of the Lun Point can be reached by foot only – by following the coast for about 700m. Right at the end, there's a gate you need to jump over. You'll be rewarded with some amazing views towards the northernmost Dalmatian island of Rab and further. Linger here for a moment and you could be greeted by some beautiful horses.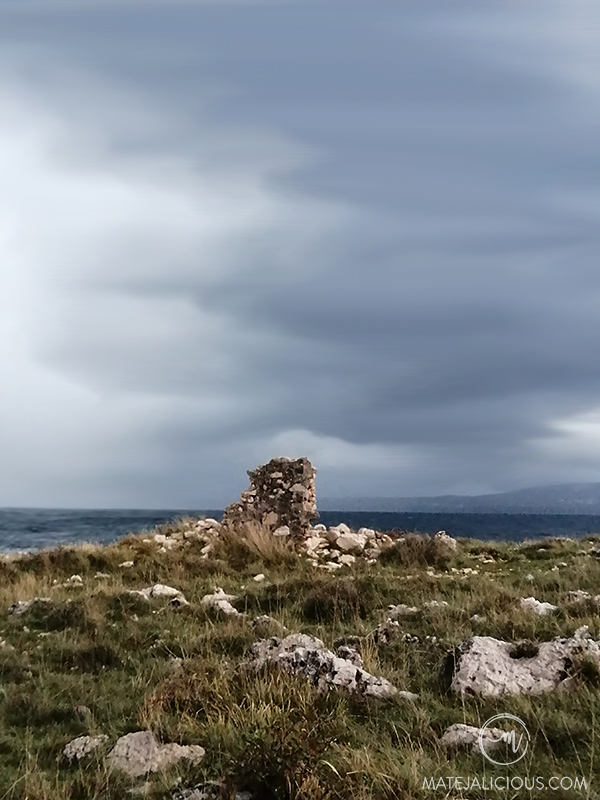 Utvrda Sv. Jurja (St. George Fortress), Caska
[Coordinates: 44.552060, 14.922101]
Utvrda Sv. Jurja further south is a unique place. It sits just above the village of Caska that is infused with pre-Roman heritage and is of great archeological importance. The church here is integrated inside a larger fortified defense complex that used to dominate this landscape.
St. George Fortress location offers an almost unobstructed 360° view. Most likely you won't be bothered by another soul around here, which is always a pretty awesome bonus. I personally loved discovering remnants of the fortification and church sitting above the village. The late afternoon light offered an extra special experience of soberness, mystycness, and gratitude. Definitely stop here when you're visiting the island.
Other than that, today we are able to witness parts of the old aqueduct that used to supply water to the village and further out to the port of Novalja. There is also a necropolis that can be found at the west end of the Caska beach. What's even more intriguing, are the underwater findings of the sunken ancient city Cissa, also located on Caska's main beach. Remnants are resting at the bottom of the sea, now covered in layers of sand, mud, and a veil of an enigma. All the archeological findings in Caska (a mythical Cissa – the largest Roman settlement on Pag Island), suggest this thriving settlement populated by thousands existed until the end of the 4th century.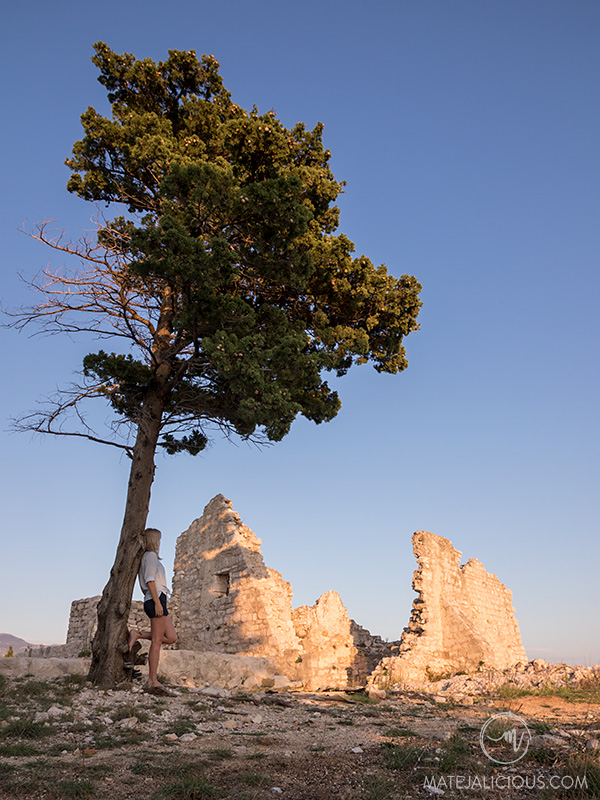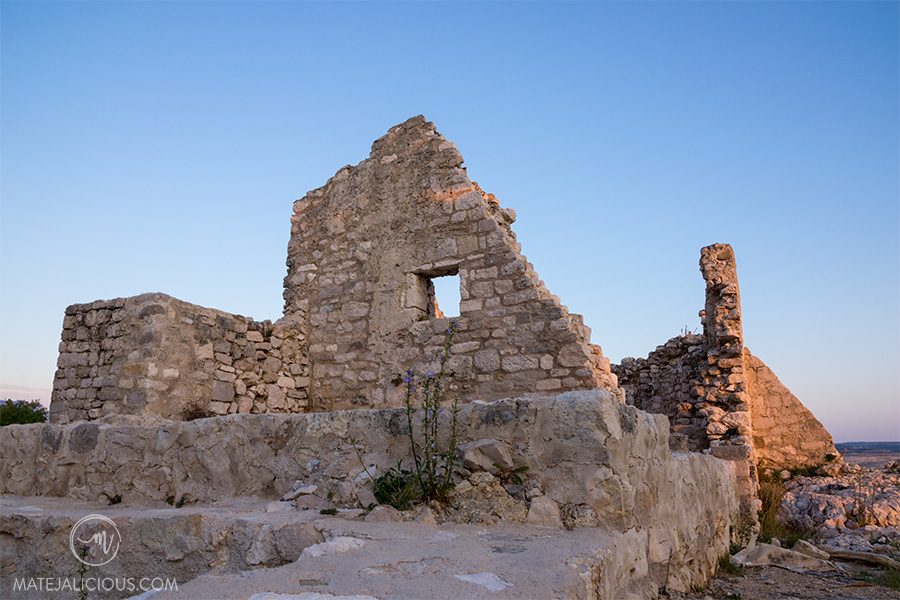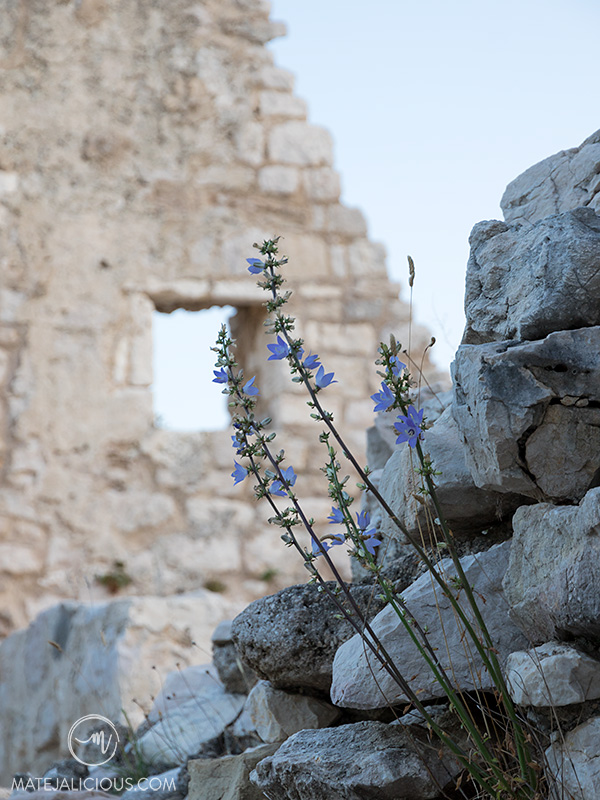 Sv. Vid (St. Guy), Kolan
Sv. Vid, the highest peak (348m) of Pag Island, has played an important role throughout the pre-Christian era up to modern times. The Illyrian tribe called the Liburni built a defensive fort at this elevated place. Later on, the old Slavs made it a sacral place and raised an altar to the pre-Christian deity 'Svetovid' after whom the peak was named. A Christian church consecrated to Sv. Vid was built here around the 11th century, but is today stripped of an apse, the roof, and walls. All these historical influences can be sensed when visiting this elevated point.
I just love this place! Not only for being located at the highest point of Pag Island but also for the truly magnificent 360° panoramic views out to the island's settlements, Pag saltpans, the neighbouring islands and majestic Velebit National Park. I can almost imagine how in the past people pilgrimaged here for offerings and these views.
Today, this elevated place can be accessed either from Sv. Marija (a more challenging route) or Kolan/Šimuni side of the island. Witnessing the sunset from here will immerse you in some unreal moments of magicness and joy. You absolutely have to make the ascent!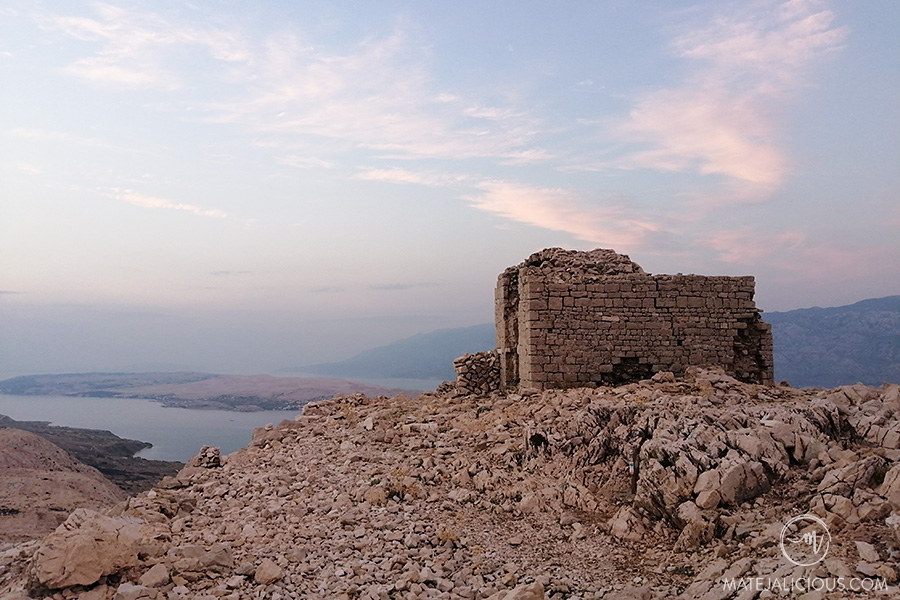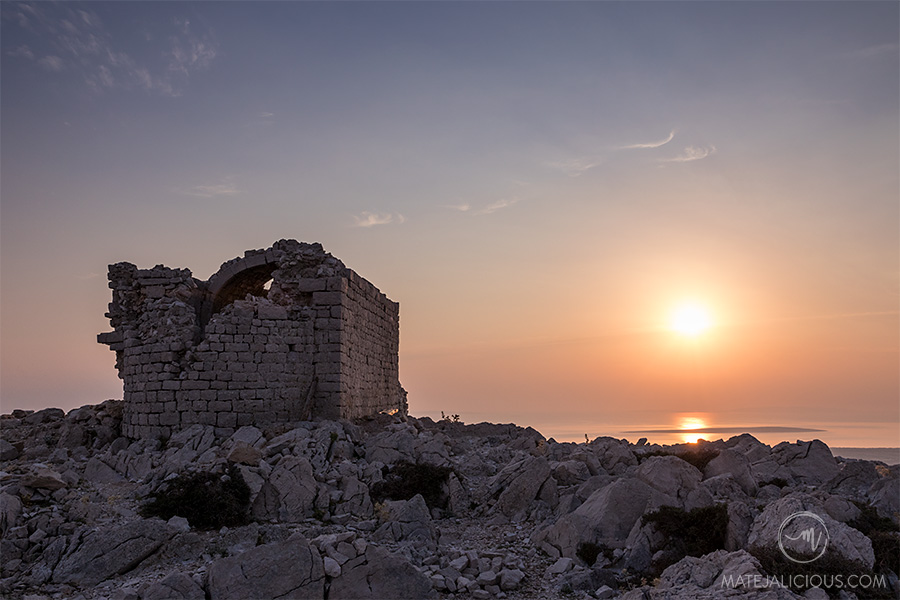 Sv. Nikola (St. Nicholas), Bay of Sv. Nikola
[Coordinates: 44.476173, 15.044969]
The ruins of small Sv. Nikola church, dating back to the 14th century, is located on the sheltered coastal spot north from the Paška Vrata viewpoint. Nearby residents used to come to the church every year on December 6th (the day of St. Nicholas) to attend the liturgical celebration. What's quite interesting today is that there have been archeological researches carried out in these bay waters and seabed, confirming the remains belong to the 14th-16th century.
As per me, I've wanted to give the ruins of Sv. Nikola (the patron saint of sailors) a visit for a while before I actually made the trip. I love exploring this part of the island just northeast of the Pag town. It's barren and raw. During the day, there's enough empty space to fill the soul with bura winds, while nights get you away from the artificial town's lights and closer to the stars.
A short hike over the white stony landscape is required to reach this spot (it can also be accessed from the sea). I suggest you bring hiking/sports shoes – jandals might not make it in one piece. While swimming in these sheltered coastal waters and spending a few hours under the church's remaining walls I sensed so much soulfulness and stories of the past times. Stopping at this spot gets my definite must-do.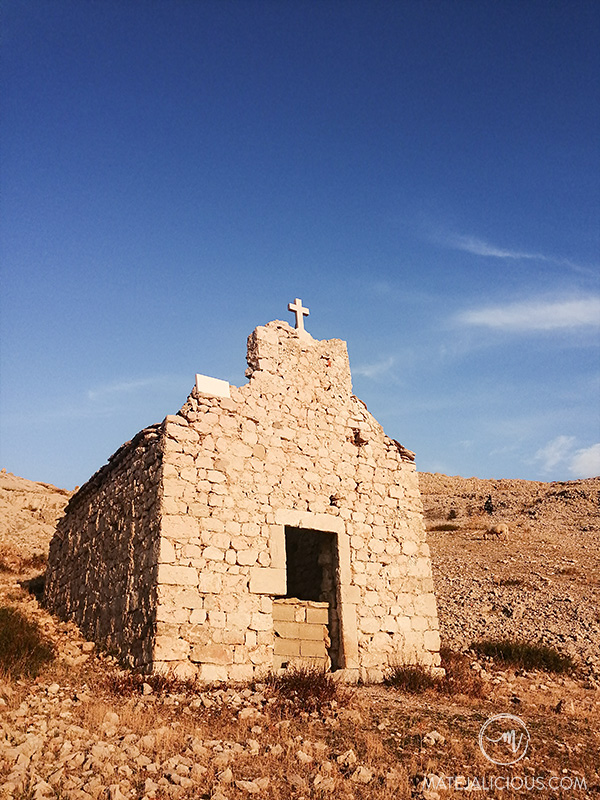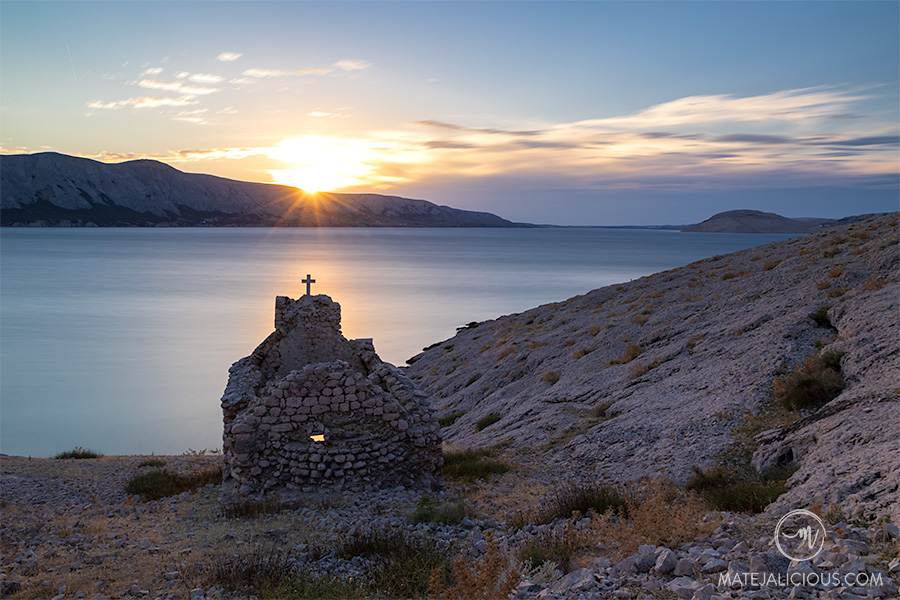 → Also check: How to Spend a Day in Piran
Sv. Juraj (St. George), Pag
[Coordinates: 44.456037, 15.062013]
I came across the ruins of Sv. Juraj church by chance while on the hike across the hills above the northern rim of the town of Pag. In addition to the pre-Romanesque sacral remains, there are traces of defense walls and towers, recognized as part of the earlier Antiquity fortifications. Located at this favorably dominant hilltop spot, it had the ideal strategic position across the Velebit Channel as well as the whole Bay of Pag.
I've completed a hike similar to this one – in case you're interested in exploring this part of the island and witness some craggy landscape. Be sure to equip yourself with hiking shoes and some water. Pag's pointy stone, although absolutely gorgeous to be surrounded with, can leave permanent traces on the soles of your shoes. This is quite a rewarding place to make it a part of your Pag adventures, though. I recommend including it into your itinerary.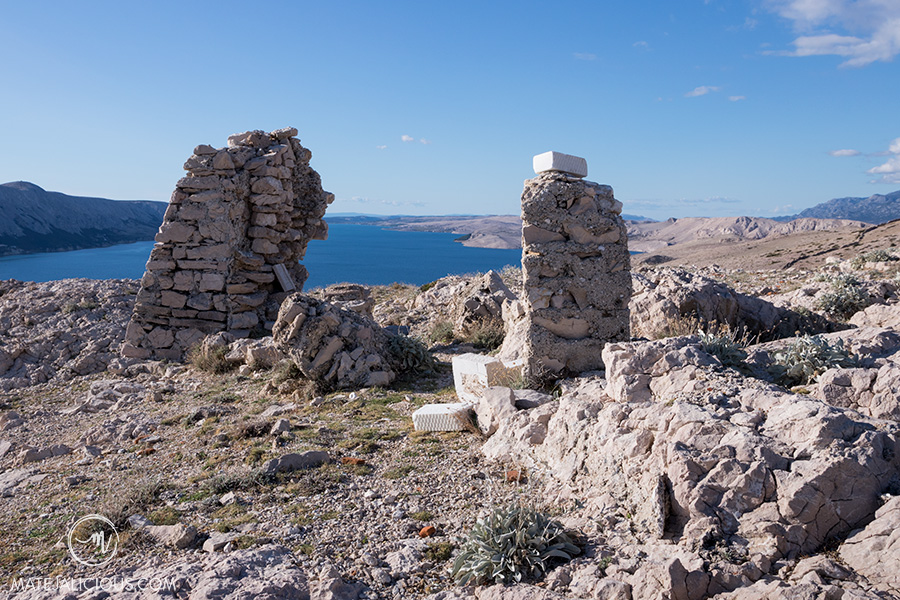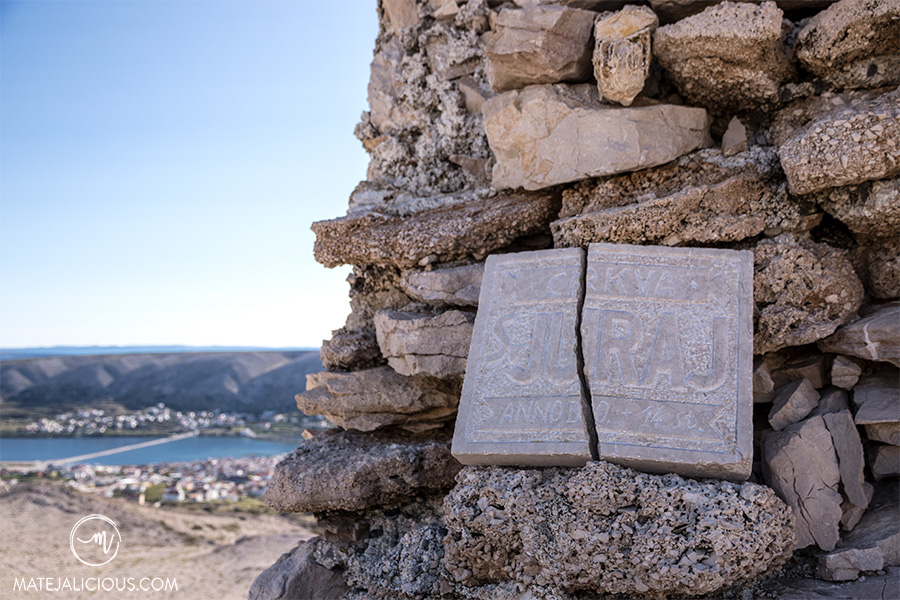 Sv. Mihovil (St. Michael), Gorica
[Coordinates: 44.404155, 15.110929]
There's not much recorded about this hidden spot that was a bit of a challenge to locate at first. Once I managed to find it on the Google Maps (check for coordinates above) I realized I would need to jump over some fences and cross a private land, which by now I've become an expert in. So, no biggie, hey?
The ruined remains of Sv. Mihovil suggests that the structure was built somewhere between the end of the 13th century and the first half of the 14th century. The single-naved rectangular church was on a smaller size and had a semicircular apse. At this sacral historical place, I've realized that I actually miss any kind of signage or near-site instructions indicating the existence of such 'forgotten' places on Pag Island. I would love to see them being acknowledged because they might still be of interest to visitors, tourists, or inquisitive souls like me.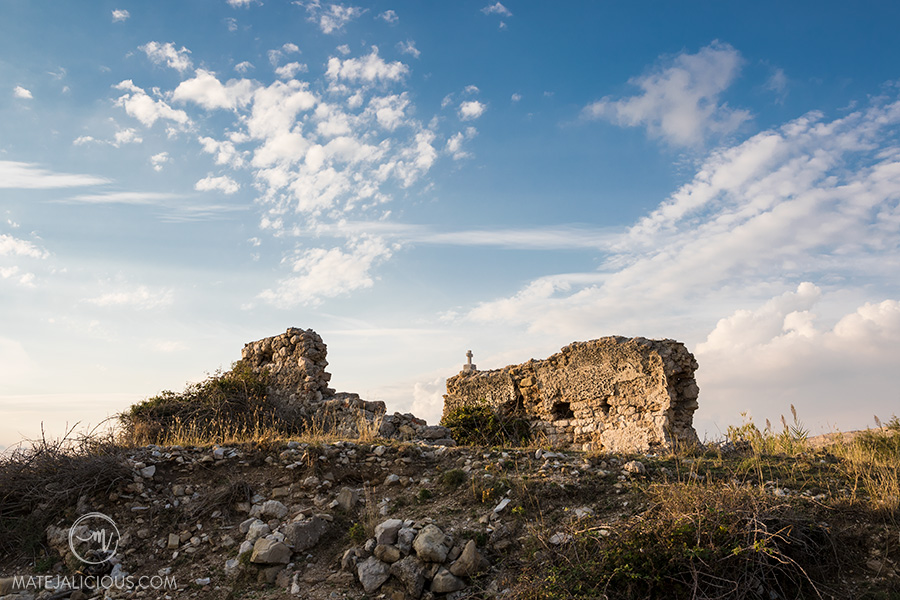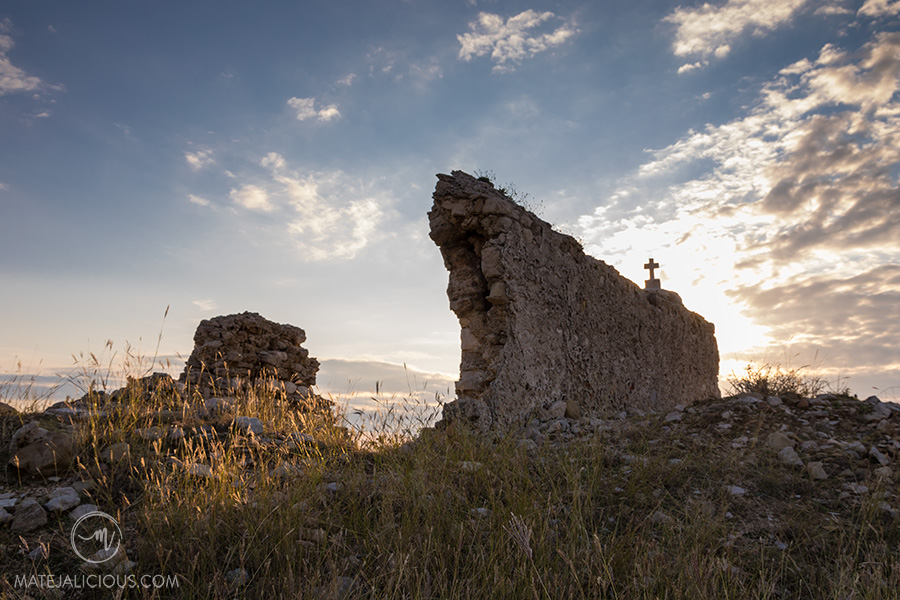 Sv. Martin (St. Martin), Stara Povljana
[Coordinates: 44.331910, 15.124022]
The ruins of Sv. Martin church is located near Stara Povljana. This is a 14th century church that was recently completely restored. It is one of the most prominent monuments of medieval architecture on the island. In front of the rectangular church with a semicircular apse, there is a small courtyard enclosed by a wall which gives it a special appeal.
Sv. Martin church is surrounded by vineyards, cultivated fields, and dreamy meadows. During the medieval times, these pastures were actually salt pans, the remnants of which can still be seen during very low tide. This place immediately grew under my skin – some spots just have this inexplicable power. Do stop here for an evening fairy tale when you visit the island.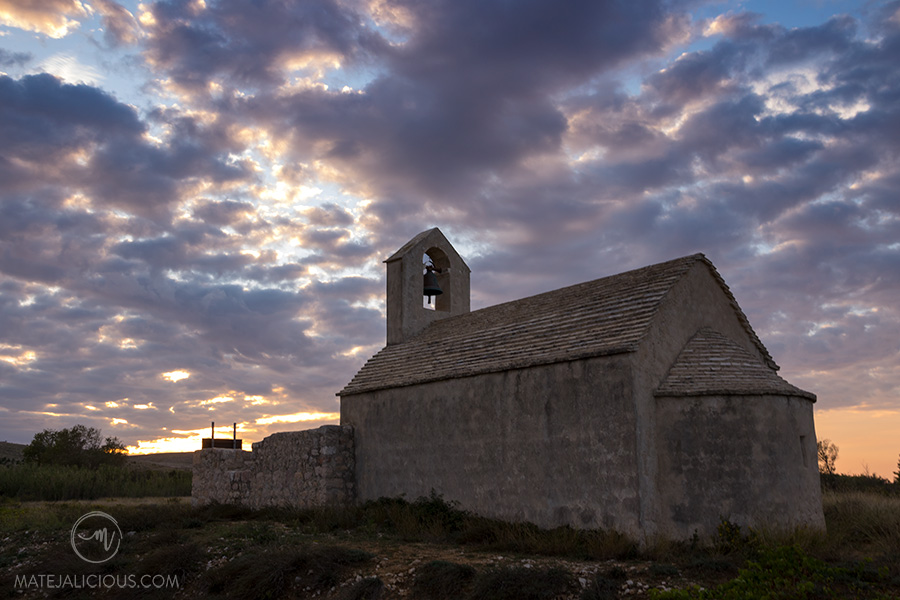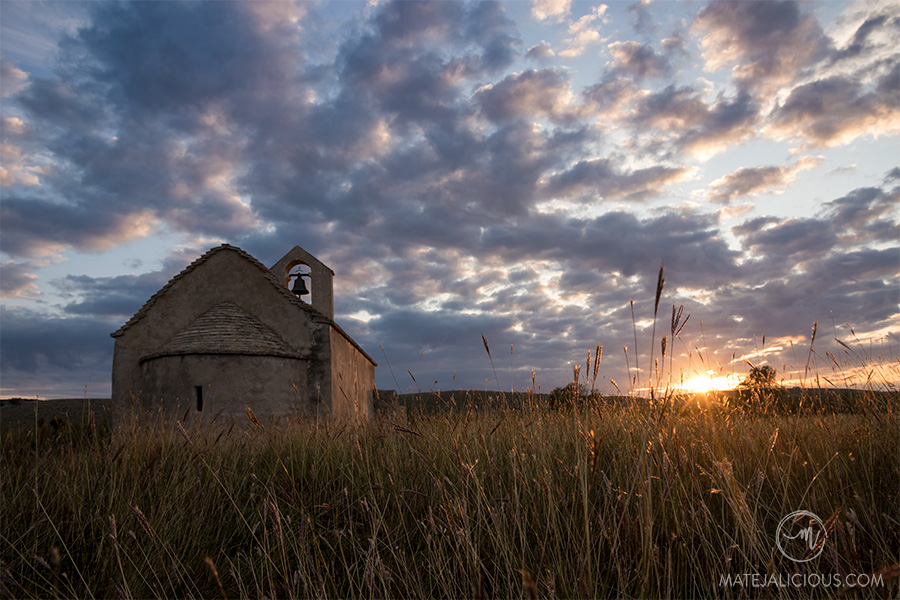 Fortica (Ruine Fortica)
[Coordinates: 44.322941, 15.255289]
And there it stands, right where Pag Island starts to open towards the north – Fortica. Beautifully powerful, matching the striking force of the surrounding landscape. Medieval Fortica ruins have been standing on the edge of the bare and rocky peninsula since the 17th century. In the past, this complex was an important point of monitoring and guarding the narrow strait between the mainland and Pag Island.
These days, Fortica could and should be your first stop as you cross the bridge to the island – that is if you want to start your visit with a bang. I personally love to stop here for the absolutely amazing views, a sense of history, and a moment of peacefulness. The early morning hours when the sun starts to peek behind the majestic Velebit can be especially magical and dreamy. Exploring the structure of this wonderful monument always leaves me in awe, awakening my curiosity about all the timeless stories that are kept inside its walls.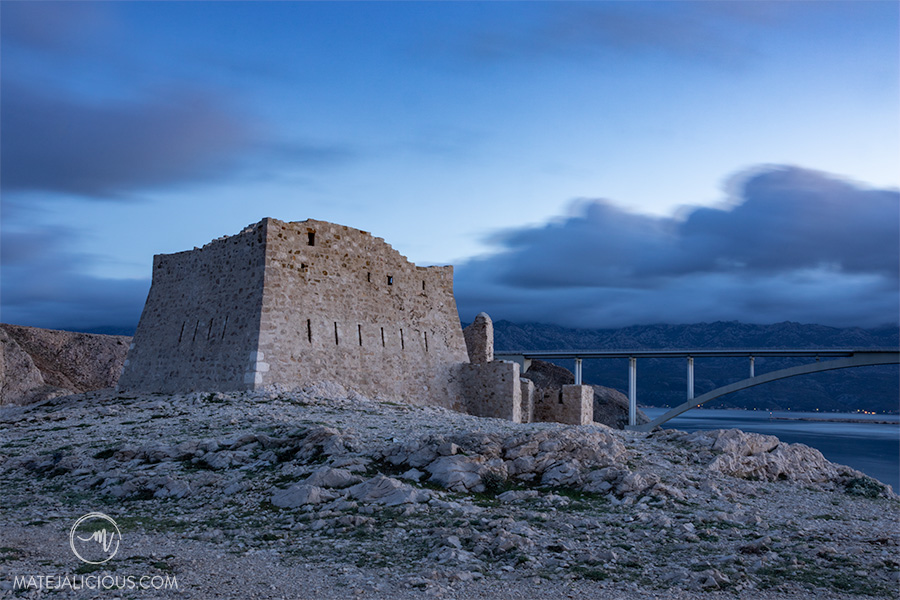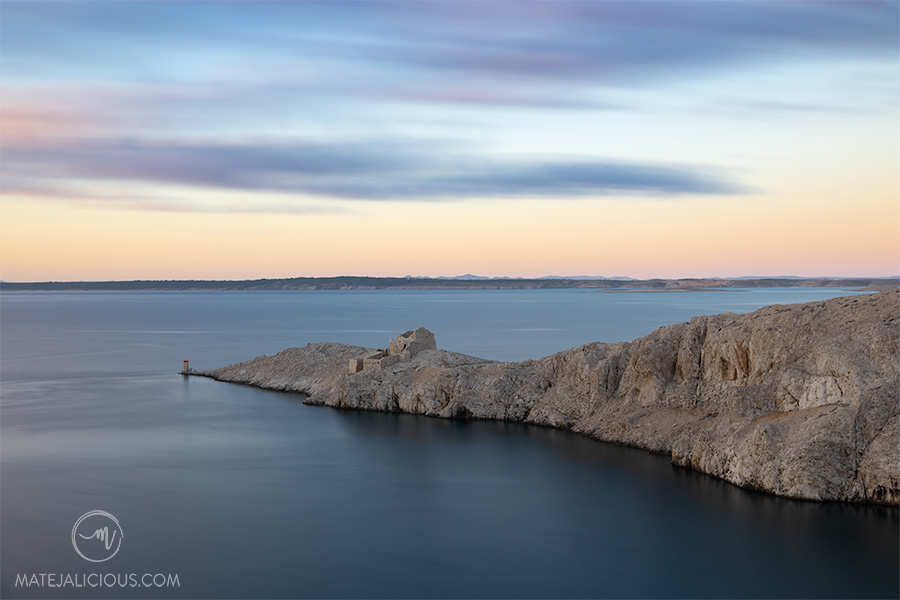 Conclusion
I've been to a few Adriatic islands in Croatia before, but Pag felt different right from the start. A good kind of different. What really pulled me in was "so much white rockiness" and history. The rugged and monotonous white relief here doesn't allow much greenery to peek through. The landscape somehow manages to emanate a sort of desert-y feel, but is at the same time being fortunate to be surrounded by the clearest turquoise sea.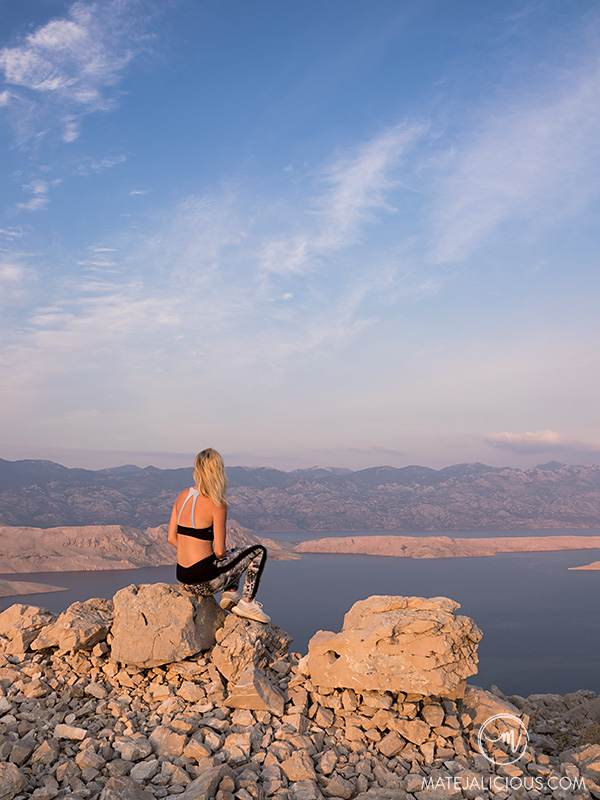 In this post, I am focusing on the surviving elements of the world that's long passé, and many might point out: "Hey, these are just old rocky ruins, and the island has no life, what's so special about it?" In my opinion, these exact elements give Pag island a soul, a sense of history, flavor, and depth.
Also, I've always felt Pag Island was radiating this high energy. If you google "Pag Island UFO sightings" (hello my extraterrestrial friends), you might find this place even more fascinating. For me, it means only more frequent sky and stargazing, while connecting ancient history with an unimaginable future.
Love it? Pin it!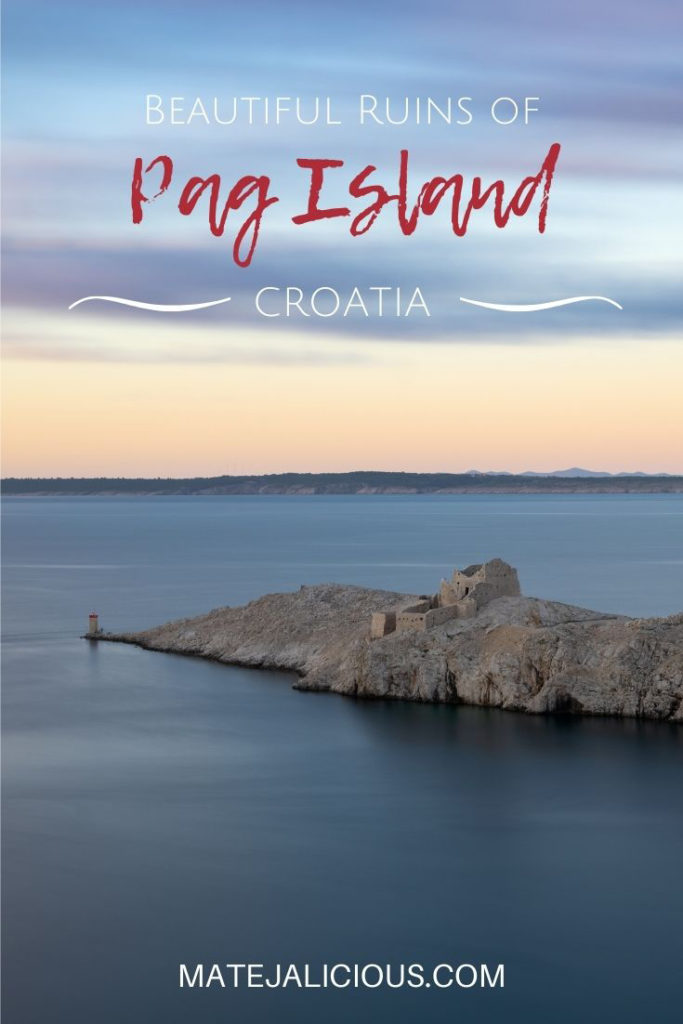 Leave a reply