Over the last couple of years, Kaipara's become one of the regions close to Auckland I love returning to. Not only for the proximity, but for all the new spots and places I keep discovering here. And that's what makes it so interesting! It never disappoints and always delivers.
What's amazing is that it's rarely crowded and it's so easy to make the connection with the land here. I've come across some pretty awesome hiking tracks, landscapes, waterfalls, vistas and everything in between. And that's exactly why I believe Kaipara needs to be your next New Zealand's travel destination.
It's definitely an underrated region here in New Zealand that doesn't get enough exposure and hype. If you need some convincing to go and explore Kaipara then keep reading as I focus on some amazing hiking trails that'll potentially make you fall in love with this part of New Zealand, just like I did.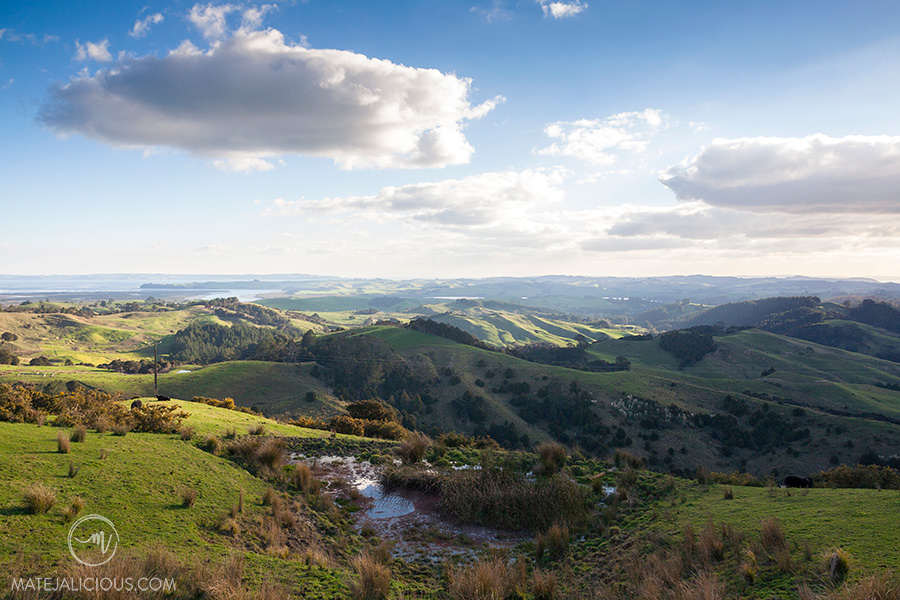 Let's begin with some of my favorite places and peaks that bashfully rule this landscape. So, here they are: Best Kaipara Hikes.
Tokatoka Peak
Iconic Tokatoka Peak cuts distinctively through the landscape near Wairoa River as you approach Dargaville from the south. It's impossible to overlook it. The climb is short (gratification is almost immediate) and becomes a bit steeper close to the summit. On a clear day, you'll have amazing 360° views laid under your feet. You'll also be able to spot all other high points in the area that you'll probably want to climb afterward. I have seen families climbing it, so no excuses!
Why I like it: Easy, fast, straightforward – all my favorite adjectives found in one peak!
Starting point: -36.058519, 173.977140
Elevation: 180m
Time: 20min one way
Maungaraho Rock
Maungaraho can easily be spotted from Tokatoka Peak. They're located quite close to each other and you could and should climb them both on the same day. Maungaraho stands out from the surrounding farmland as well, just a few kilometres inland from the Wairoa River.
Climbing Maungaraho Rock was a bit tricky for me. I got lost. Twice. If that's even possible. I actually missed the turn and then got stuck on a polished rock face. One of my proud blonde moments. Anyway, be sure not to miss the initial sign and make the right turn at the base of the mountain soon after the hike starts. The path should be obvious and quite clear all along, and if you have to search for it at any point, then that's not it – something (or someone) most likely went wrong.
Top views are awesome and so worth the climb! You'll quickly forget all the chains and ladders when you reach the top – in case that's something you dread tackling. Also, there's a base track around the rock that can be done if you're looking for an easier walking option.
Why I like it: Climb can be a bit complex, but I welcome a good challenge.
Starting point: -36.020382, 173.975878
Elevation: 221m
Time: 30min one way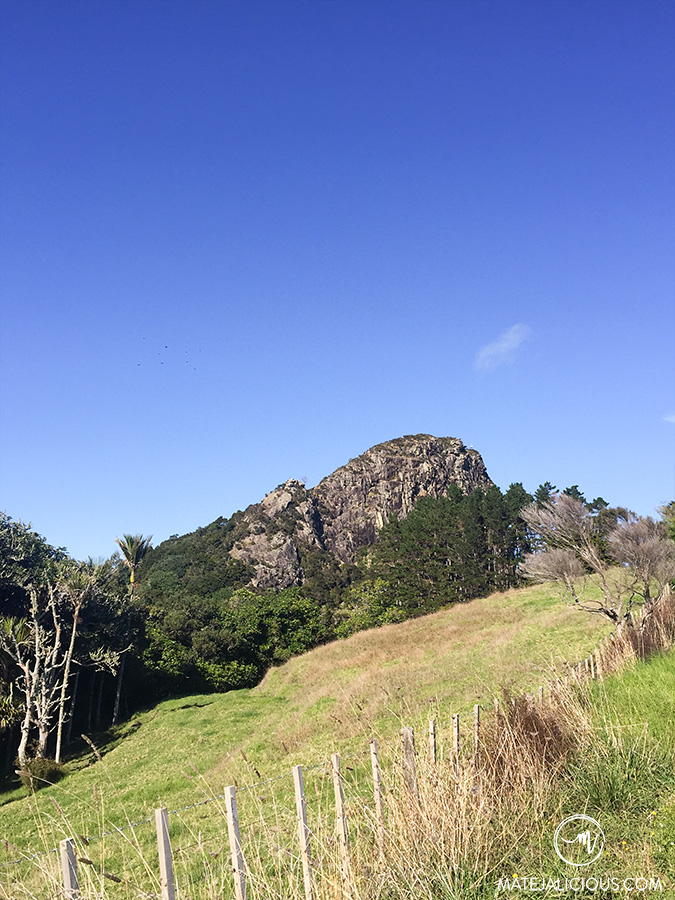 Mount Tutamoe
Climbing Mount Tutamoe has always seemed quite an exciting thing to do. After all, it's the second-highest peak in Northland and the highest point of the Kaipara Region! The track leads through diverse terrain. First, there's an extensive forestation going on along the gravel road at the beginning, which is then followed by a dense Kaihu Forest and a steep climb close to the summit.
An almost 360° summit sight is truly breathtaking. A clear day opens up the extensive view all the way out to Kai Iwi Lakes, Maunganui Bluff, and the Tasman Sea to the west. The Mount Tutamoe hike is also one of your best chances to get the peak all to yourself if that's what you're after. There'll be no crowds up there.
It was a bit hard to find the starting point location online before I headed out for this hike. Do check the coordinates below if you're struggling to find this place.
Why I like it: Kaihu Forest is gorgeous and still pretty unspoiled.
Starting point: -35.736909, 173.825245
Elevation: 770m
Time: 1.5h – 2h one way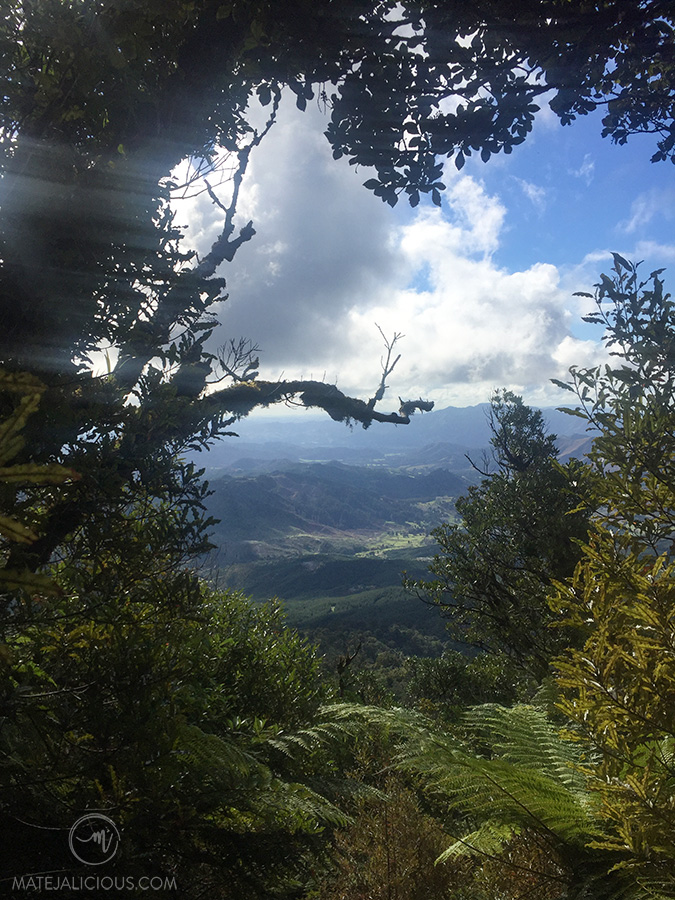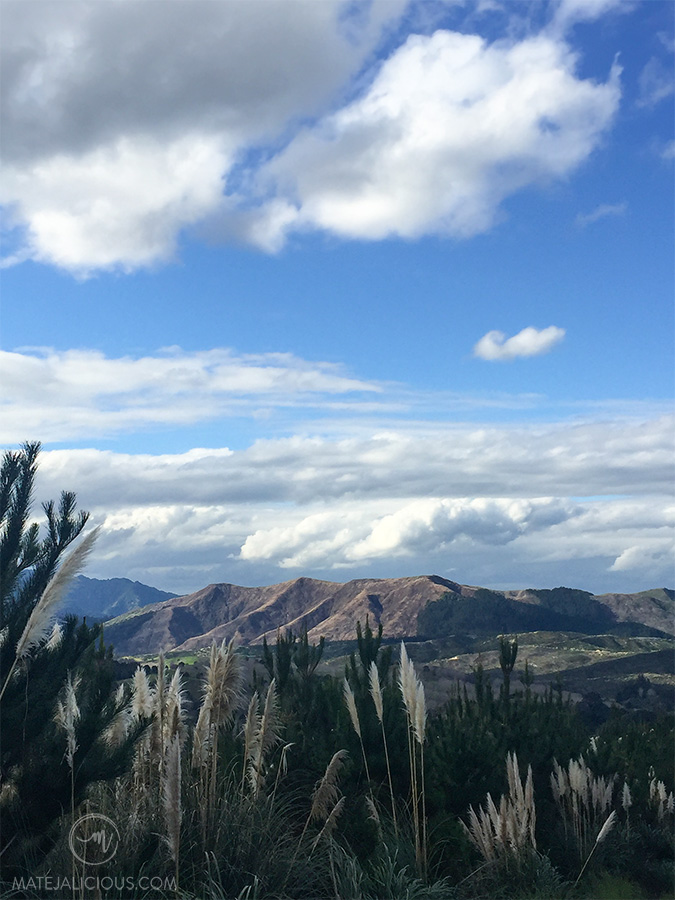 Pouto Lighthouse
Pouto Lighthouse is one of the most special places I have discovered around the Kaipara so far. It's located at the south end of the Pouto Peninsula with Kaipara Harbour to the south and the Tasman Sea to the west. Most of this area is unpopulated and covered by giant sand dunes that are continuously being reshaped by strong winds.
I'll be honest here and tell you that this is not the easiest of hikes. Sand (and sand dunes) is, in my experience one of the hardest terrains to walk on. The thought of reaching the sight of this cute lighthouse sure kept me motivated when battling the 7-8km long sandy trail and harsh winds!
Also, you're able to drive to the lighthouse (4WD and low tide only) because it's positioned along the longest NZ beach road which begins at the Pouto Point. That's something I'll definitely look into the next time I head out to enjoy a sunset at this gorgeous location. There have been many shipwrecks along this coastline and it pays to be careful when you drive because here's no shortage of the wreck remains scattered in the sand.
Why I like it: This place is totally off-grid!
Starting point: -36.363023, 174.181619
Distance: 7-8km
Time: 2h one way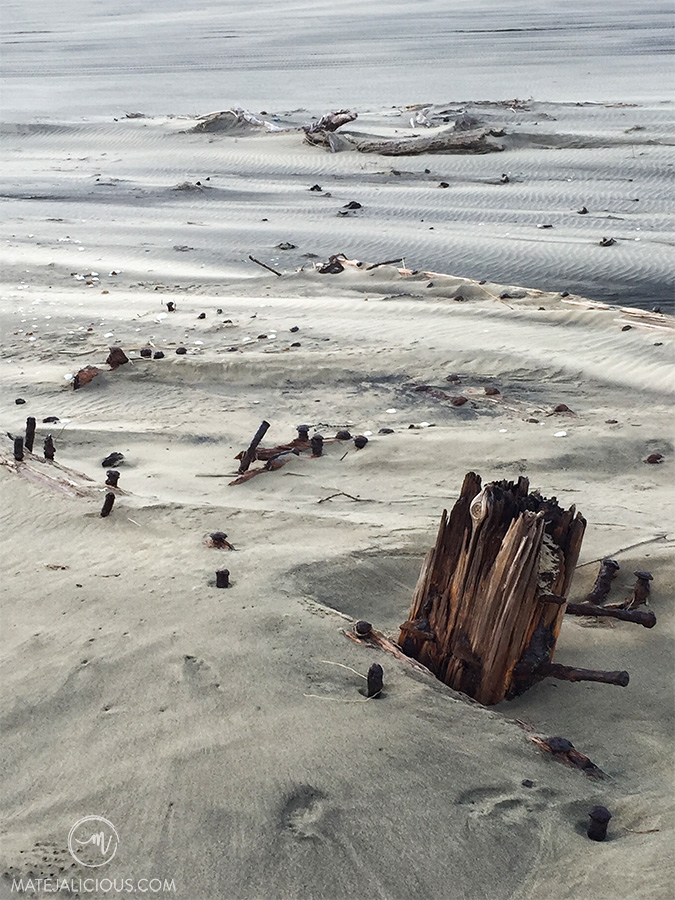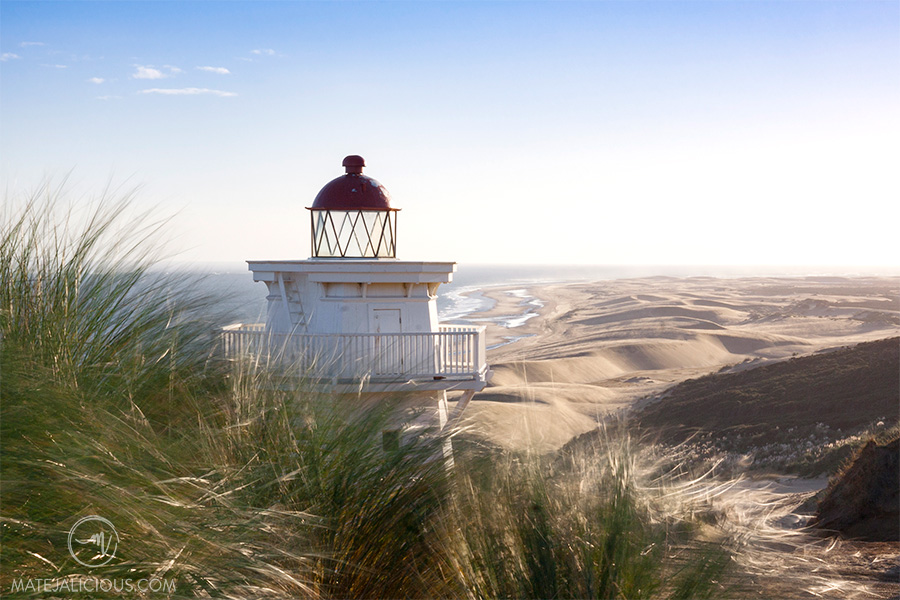 → Also check: 5 Must Do Hikes in Tasmania
Maunganui Bluff
There's a good chance this hike will leave you speechless. It starts at the beach, then continues above the cliffs, through coastal forest, and across farmland. The rise is steady and the path can be slippery and muddy in places. Just remember that whatever the effort you put into the hike – the reward will be multiplied with endless views up and down the coast. At the top of Maunganui Bluff, you're able to continue further to Waitapu Saddle and Waikara Beach or return the same way back to Aranga Beach.
Why I like it: Extensive views right above the Tasman Sea. Do it!
Starting point: -35.769625, 173.573936
Elevation: 460m
Time: 1h – 1.5h one way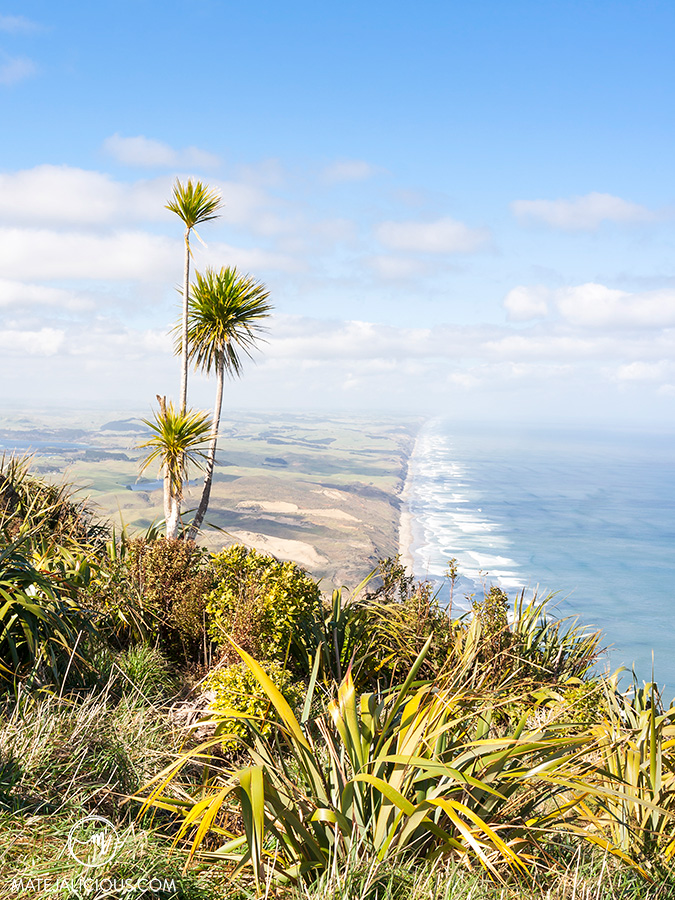 Mangawhai Cliffs Walkway
Mangawhai Cliffs Walkway is located on the east coast of the Kaipara Region compared to all other hikes mentioned here that take place on the west coast or inland. This circular track starts at the beach and reaches around 100m at the highest cliff point. All along you get to enjoy the views out to the ocean as far as Whangarei Heads and Great Barrier Island.
What's cool is that the walk back can be done along the beach (low tide only) which is great if you want to bring in some variety or come closer to the ocean. Two totally different experiences! Also, there are some leaning archway rock formations right at the coastal turning point where you might want to stop for a bit. This is an easy but rewarding hike.
Why I like it: Beautiful nikau palms along the track.
Starting point: -36.071693, 174.593203
Distance: 9km
Time: 2h – 2.5h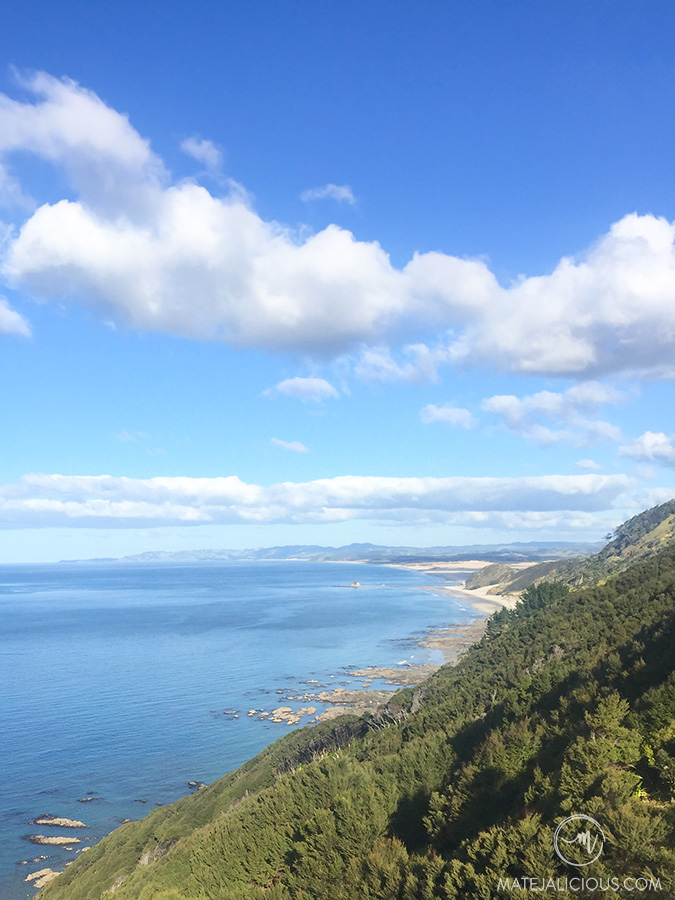 Tanekaha Falls Track / Puriri Track
Tanekaha Falls Track is such a rewarding hike! The track winds along the stream and is so amazing to have sounds of running water present all along. So calming too! You will come across three distinctive waterfalls and numerous pools and cascades. You can turn into Puriri Track on the way back to make a loop and get some top ridge views over the region beyond the forest. This is a moderately easy hike that quickly transports you to a soothing forest reality.
Why I like it: Waterfalls!!
Starting point: -36.082362, 174.534365
Distance: 3kms
Time: 1.5h – 2h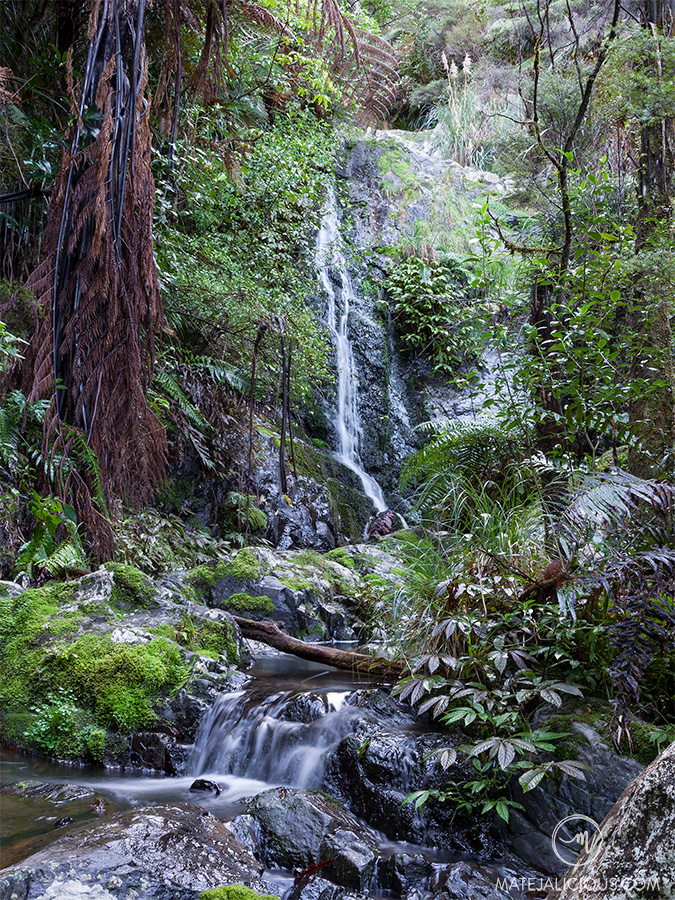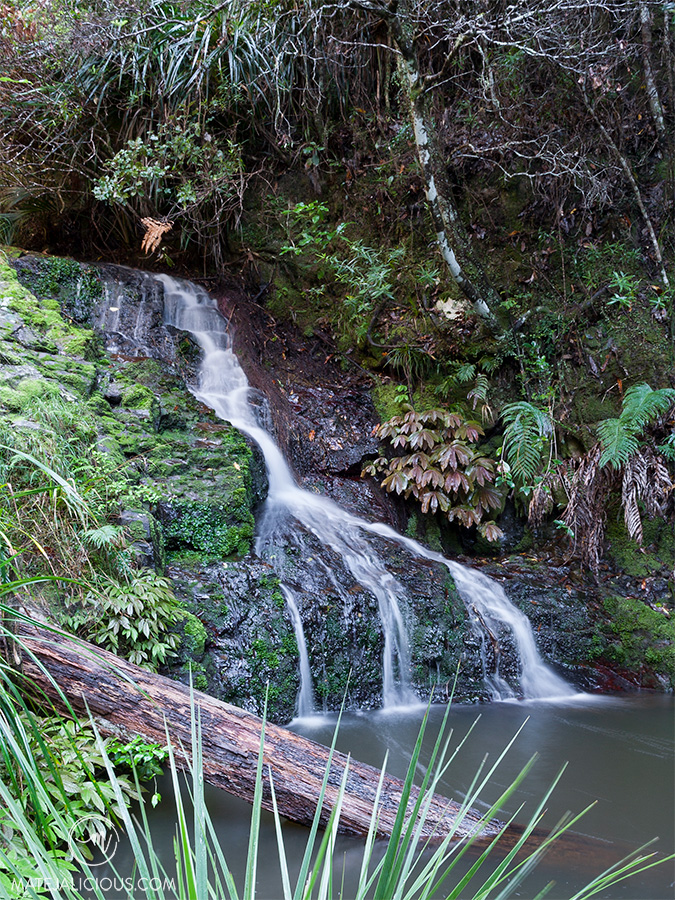 Mount Auckland
In addition to these hiking ideas also keep your eyes open for Atuanui (Mount Auckland) trail which is at the moment closed to prevent kauri dieback disease. The track to the top of the mountain is not a strenuous one and is perfect for families to complete.
The summit didn't offer a full 360° view some time ago when I hiked here, but that might have changed. Nevertheless, you'll definitely be rewarded with some amazing views over the Kaipara Harbour along the track before you reach the forest. One to check out for sure when it reopens!
Why I like it: Gorgeous views over the Kaipara flats.
Starting point: -36.452319, 174.434503
Elevation: 304m
Time: 1.5h one way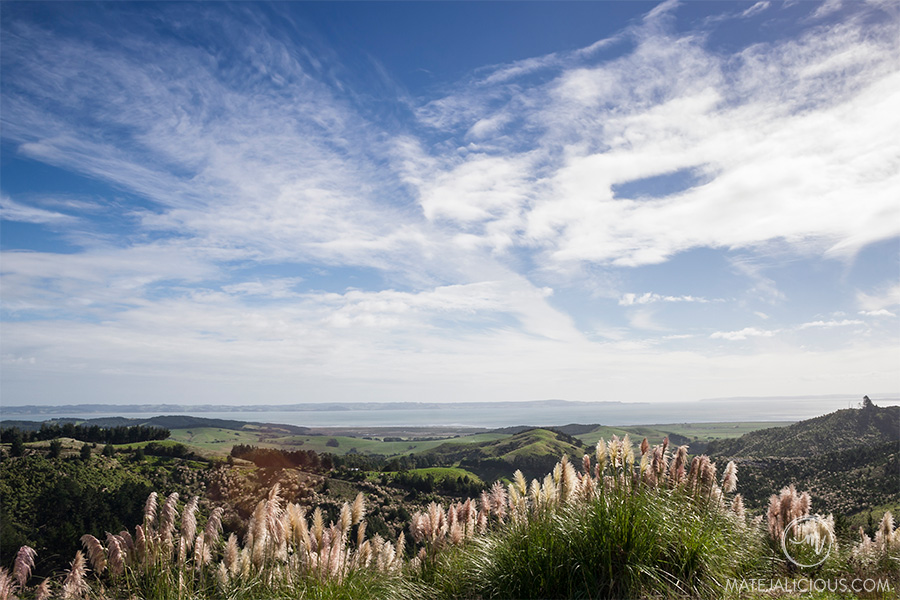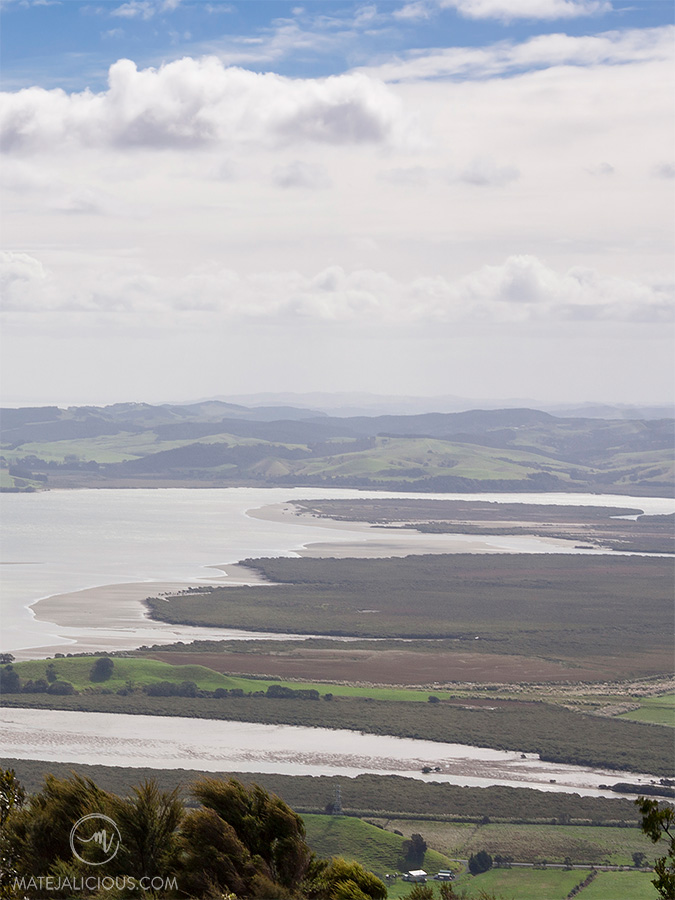 Kaipara offers some pretty amazing hiking options and views, and exploring the region on feet is honestly the best way to get to know it. Although it might first seem that the region is just too flat (ie boring) and there would be no summits to conquer here whatsoever, that's just not true. Climbing and hiking will bring you to some unique places and spots that no driving through this landscape could possibly be able to do.
→ Have you explored New Zealand's Kaipara before? What's your experience? What's that one underrated place/region that would in your opinion need more exposure and why? Let me know in the comments below.
Like it? Share it!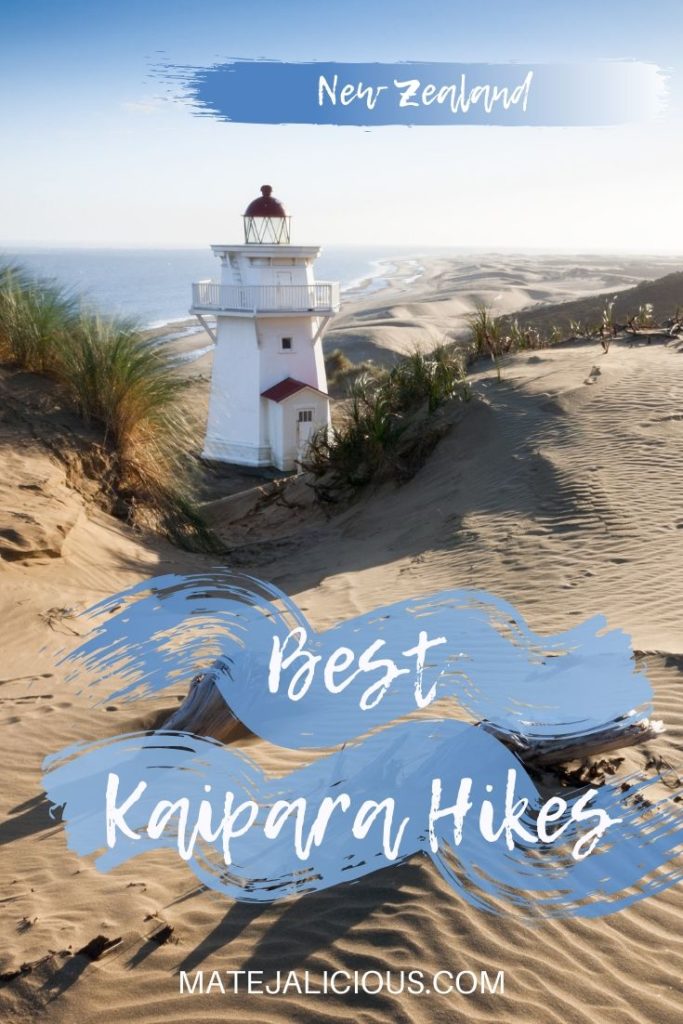 Leave a reply