Let me start by saying that writing this post is emotional for me. You might also find it a bit all over the place and definitely biased. And I might also be a bit nervous. There are many reasons. This is my first time writing about Slovenia, my home country. Slovenija, as we call it, firmly holds my roots and memories, is full of beautiful places, experiences, and above all, my people. The ones who know me and who helped me shape into the person I am today.
Whenever I'm back home, my priority is to spend as much time as possible with the loved ones, my family and friends. Those moments are most precious to me. So I hardly ever go out and explore the backyard. However, this past summer I finally made my way up to Triglav, Slovenia's highest mountain, and am now absolutely captivated by the gorgeous landscape here. Just as I sensed.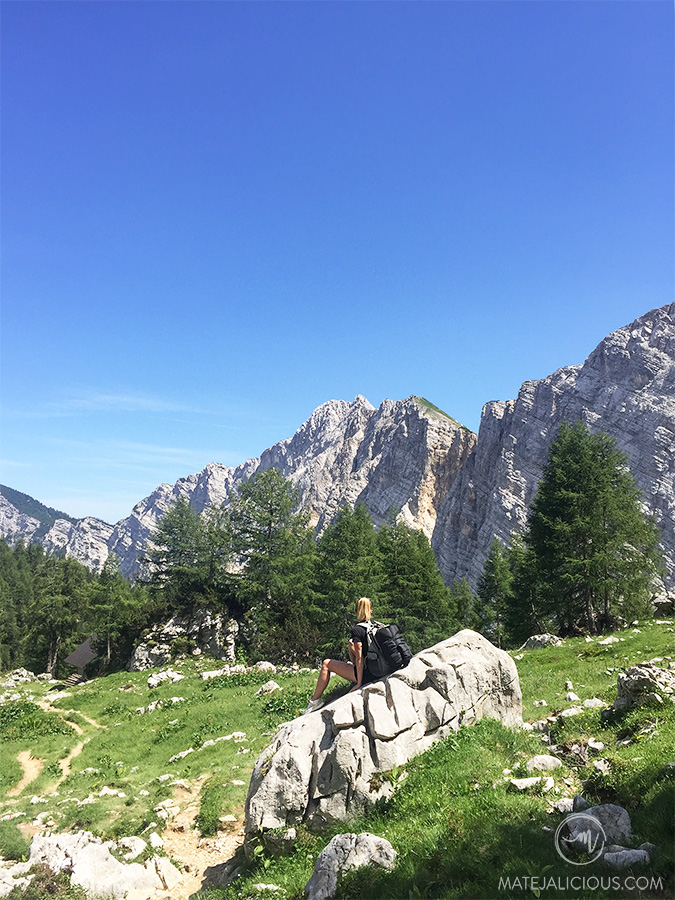 So here's the deal my lovely Slovenians. I want to hike and climb with you every time I'm home from here on. Coffee dates are passé! Gremo v hribe! I honestly can't wait to explore and make outdoorsy memories with you guys!
But for now, I'm sharing my Triglav climbing experience and want to shamelessly promote the beauty my home country is full of. I can only hope to do it justice. So here it goes: Climbing Triglav via Krma Valley.
About Triglav
Like Japan's Fuji San, Triglav is Slovenia's national symbol (minus the deity element). It made a way to the flag as the national coat of arms and is the country's pride and glory. At 2864 metres it's the tallest Slovenian mountain and the name 'Triglav' itself means '3 heads/peaks'. It's safe to say that if the catchphrase "you're not a true Slovenian until you've summited Triglav" was, in fact, true, the population of about 2 million citizens would drastically drop.
Triglav is nestled in the NW part of Slovenia, in the middle of Triglavski Narodni Park (Triglav National Park), which also happens to be the country's only national park. The area covers most of the Julijske Alpe (Julian Alps mountain range), and many of the nation's highest mountains can be found here.
Triglav is from all sides encircled with deep valleys (Krma, Vrata, Trenta, Bohinj). They branch outward, collect water and fill large river systems that spring in this alpine area and end in either Black or Adriatic Sea.
Krma Valley that I chose to hike through is a glacial alpine valley fully immersed in the Julian Alps. It cuts into Triglav with it's deep and long valley floor that gradually rises for about 10km which makes it an ideal hiking ground, especially during the wintertime when some other routes can become more challenging. The valley is mostly dry and doesn't have a constant water flow.
Before you go
The following are a few quick tips to consider as you begin planning your Triglav adventure.
Be sure to decide on the route and stick with the plan. You need to know the approximate time needed to reach the top (or the hut). Ideally, you wouldn't want to climb during the night unless you're experienced. Make those calculations and give yourself some breathing time – just like with any other climb.
I recommend you set aside 2 days for this adventure. The round trip is technically doable in one day, which I was first contemplating. Now I'm so happy I didn't go through with it. I'm sure I 'd have to push the limits. Trust me, it's so worth spending the night in one of the huts and properly breathe in the abundance of clean mountain air. Sunset from the foot of Triglav was one of the most gorgeous ones I've ever witnessed!! And sunrise must be just as epic (I slept in on that one).
Huts usually need to be booked upfront and that especially applies to summer months. Planinska Zveza Slovenije is the go-to place. There is, however, no online booking system available at the moment, so be sure to give them a call and reserve your place. Payment is done on the spot, and I suggest you show up during your hut's operating hours.
Because I'm so used to hiking around New Zealand, I always bring a sleeping bag for all my overnight hikes. I learned that in Slovenia you don't really need it when you're staying in the hut. You're well taken care of. There are a pillow and a blanket waiting for you on your bed. Such a positive surprise! Of course, you can still bring your own sleeping bag if that's what you prefer. Also, bear in mind that there is no camping allowed inside the Triglav National Park area.
Keep your eyes on the weather forecast if you're climbing around one of the shoulder seasons or during the wintertime. Forecasts are usually on point because of the more stable conditions, but mountains can on the other hand also be quite unpredictable. Come prepared and pack some warm clothes. Also, bring all other essentials: water, food, snacks, and sunscreen.
Krma Valley Route
What's truly awesome is that you can summit Triglav from many different directions and routes, and you are able to adjust the climb to your capabilities. Each of them is unique as it takes you through a distinct landscape, but today I'll focus on Krma Valley Route that I completed. First, here is a quick outline:
Starting point: Krma Valley, 930m (46.385174, 13.907075)
Elevation gain to Triglav Lodge at Kredarica: 1650m
Total elevation gain: 2050m
Time (one way): 4-7 hours
Main climbing season: June to September
This route actually provides one of the longest ascends but is on the other hand also one of the easiest ones. I specifically chose it though. I attended a wedding celebration the night before and being overconfident just didn't feel ok right after the night of partying. Triglav is after all the highest Slovenian peak, and it's all about respect for the mountain in my opinion. However, the path generally won't be too strenuous if you're a regular hiker or climber.
Let's start
The trail is well marked right from the beginning and is quite easy to follow. As you progress through the initial thick and lush forest you also get to gain elevation. However, the climb is steady and quite enjoyable at this point. Plus, the pleasant shade is keeping you safe from the sun. Woods always get me on a high. They have this power of filling the lungs with a purified and familiar air.
As you progress further up the trail a gorgeous view of the valley opens up if you look back. Do it often because it's an unreal sight! Hundreds and hundreds of years were required for this u-shaped Krma Valley to be carved and created by glacial activity. The sense of an unbelievable historical impact natural elements around here have made is just humongous! On your way down you really get to enjoy this open view with your every step.
And just as you come out of the thick forest there are a couple of large alpine meadows exposed in front of you, dotted with wildflowers and numerous boulder rocks. The view opens up to some absolutely breathtaking high walls, cliffs, and peaks along the left-hand side (Debela peč, Veliki Draški Vrh, Mali Draški Vrh, Tošč). I'd be quite happy to finish the climb here as it already felt and looked like a paradise to me. This might be your perfect moment to stop, have a sip of water and start a small talk with local cows. They just know how to source out the most gorgeous place for an abundant meal.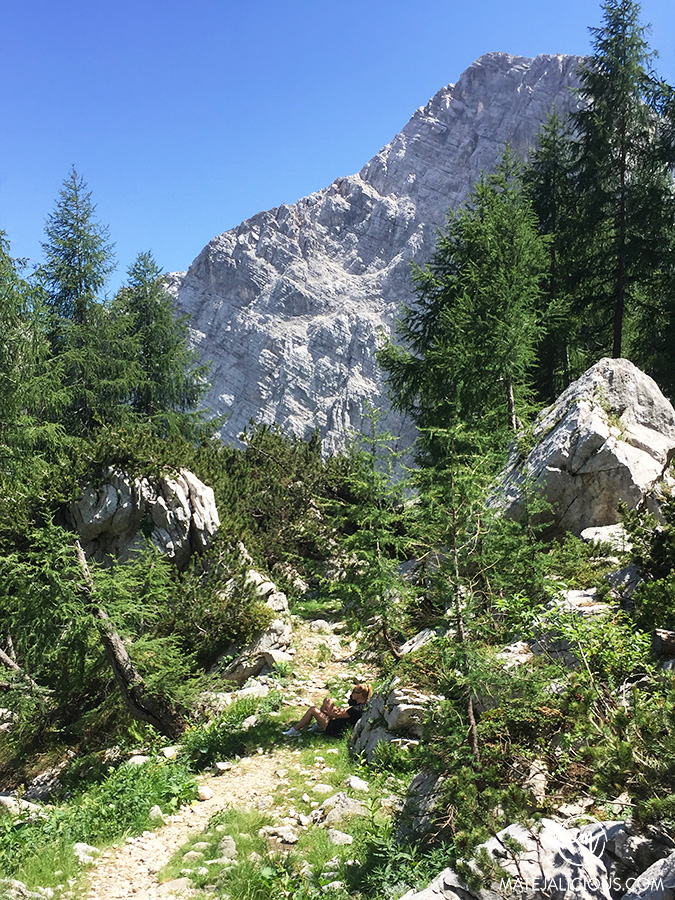 Further Up
You will come across the Prgarca shepherd hut quite soon as you move further up, and there is a concrete water spring built into the hill located nearby where you are able to collect fresh drinkable water. This is actually quite a good idea at this point because the steeper part of the uphill climb starts here. Just as I passed above the tree line edge I found it a bit harder to spot bullseye markers on a few occasions. Here they are mostly painted on rocks. As per usual, there's really no other way but up, so I got through just fine with a bit of improvising.
The real leg burning starts right about here. You know, that fun part of the climb you know you can't escape. This is an exposed rocky area (apply sunscreen!!) with an awesome panorama behind and the promising outline of Mali Triglav in the distance. If you use hiking poles, then this is an ideal time to bring them out. I personally find them restrictive and can never find the right rhythm, so I don't bother anymore.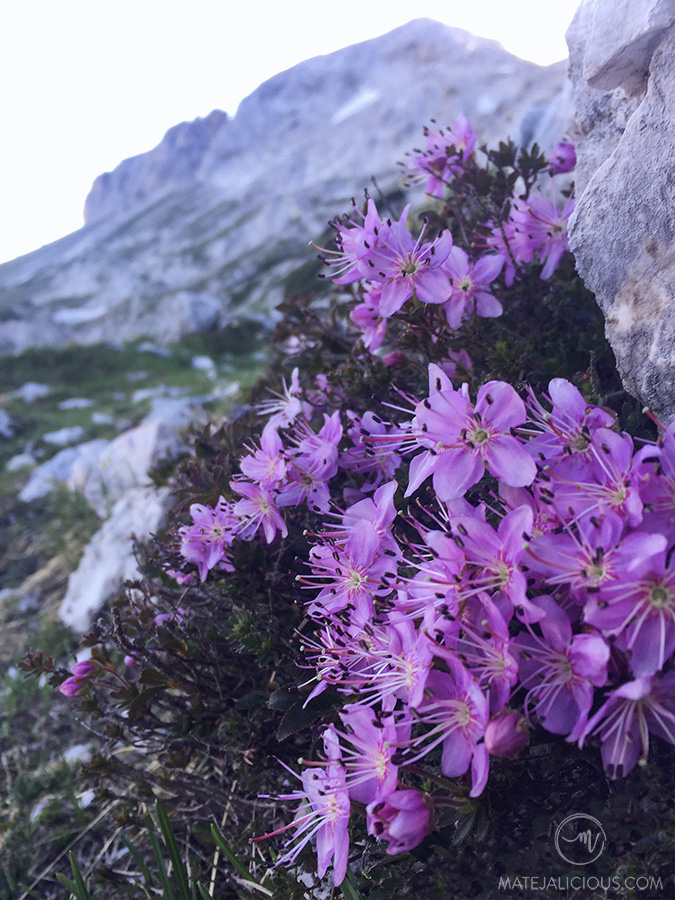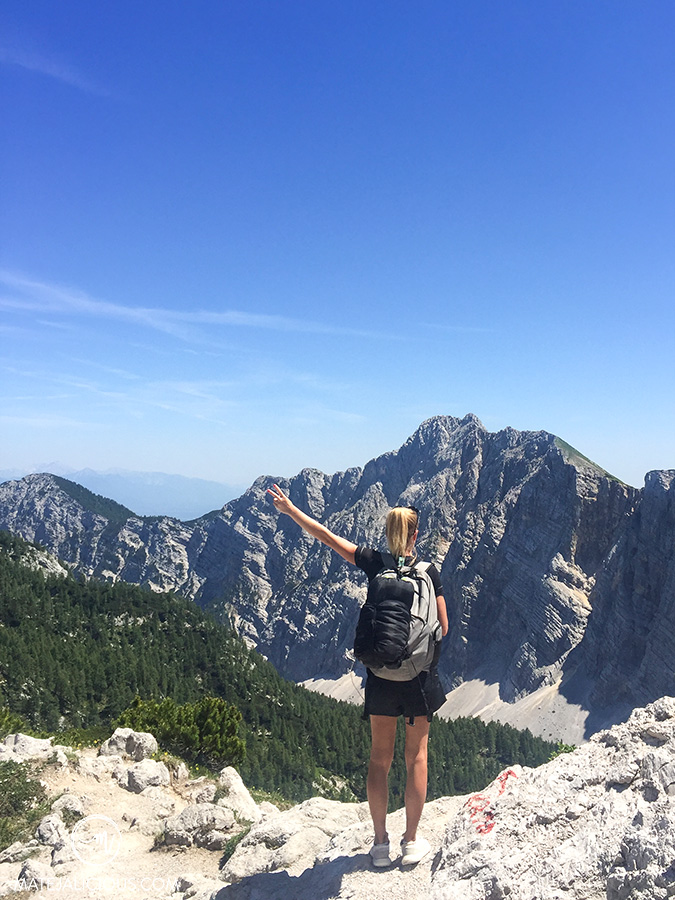 There's also a tiny snowfield here that has to be crossed before a challenging zig-zag path covered with limestone and scree begins. The climb along this ridge leads towards the Triglavski Dom na Kredarici (Triglav Lodge at Kredarica) at 2515m. You absolutely have to make the stop here, either for an overnight stay or some delicious food that they serve. But above all – the view!! It's absolutely m-i-n-d-b-l-o-w-i-n-g!
→ Also check: Gola di Gorropu Europe's deepest gorge
Triglavski Dom na Kredarici
Reaching Triglavski Dom na Kredarici (Triglav Lodge at Kredarica) at this high lying plateau offers a clear view of Mali Triglav and Triglav summit on the left side, then Pihavec (2,419m), Prisojnik (2,547m), Razor (2,601m), Stenar (2501m), and Kredarica (2541m) towards the right side with all the high peaks you've already left behind. From here I could already spot people climbing up and down the highest Slovenian slope. The same one I would tackle the next morning.
There are a few alternative high lying huts around Triglav (Dom Valentina Staniča pod Triglavom, Dom Planika pod Triglavom), but Triglav Lodge at Kredarica is usually the top overnight choice with hikers that want to complete the climb in 2 days. Also, it's the highest located mountain hut in the country that is operational from June to September. Kredarica Lodge is definitely the 'mother of highland huts' and accordingly often overcrowded. It sleeps up to around 340 people.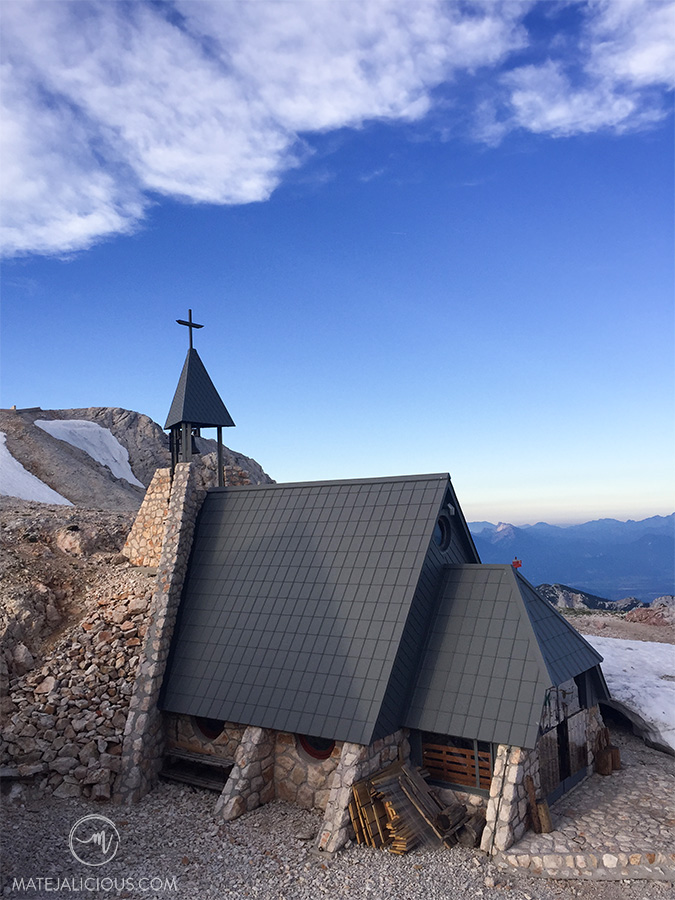 There's also a meteorological station located here and this is where the first snow reports come from every year. You'll also find bathrooms, large dining rooms, sleeping rooms, and a kitchen that serves some yummy meals and drinks. The logistic runs smoothly by helicopters of the Slovenian Armed Forces that supply lodge with all the necessities. Kapela Marije Snežne na Kredarici (the chapel of Our Lady of the Snows) is also located here, as well as winter shelter, wind turbines, and extensive outside sitting deck.
Witnessing either the sunrise or sunset at this place is a must! Experiencing the sunset here was definitely one of the highlights for me. The view from this open space is vast and simply magnificent, almost 360 if you take away the obstruction of Mali Triglav and Triglav. Add the rising or setting sun to this perfect picture and your heart won't be able to handle the bursts of happiness. Layers and layers of mountains reflect the most incredible colors of the rainbow. True magic!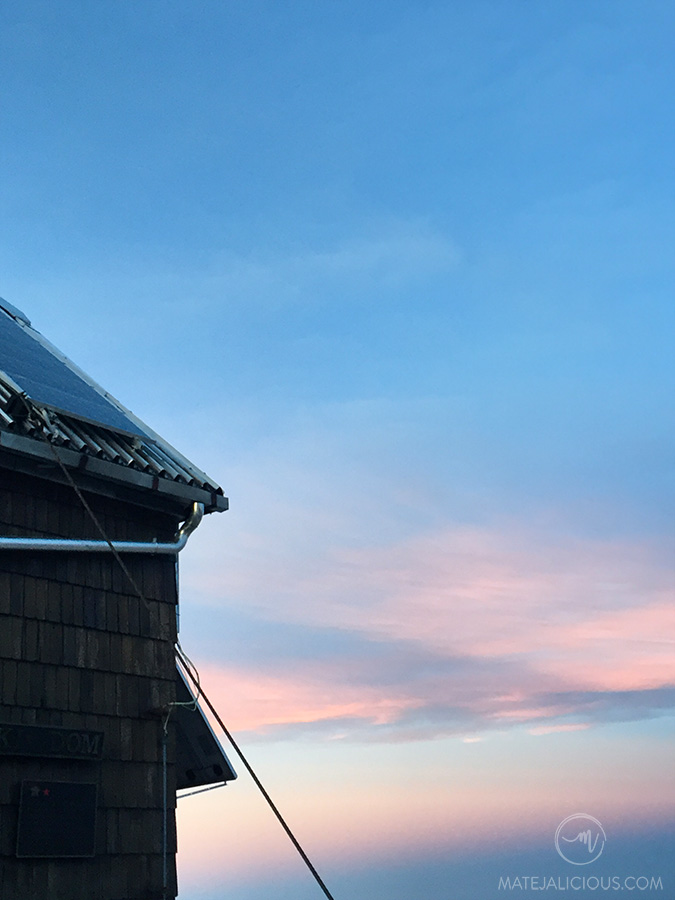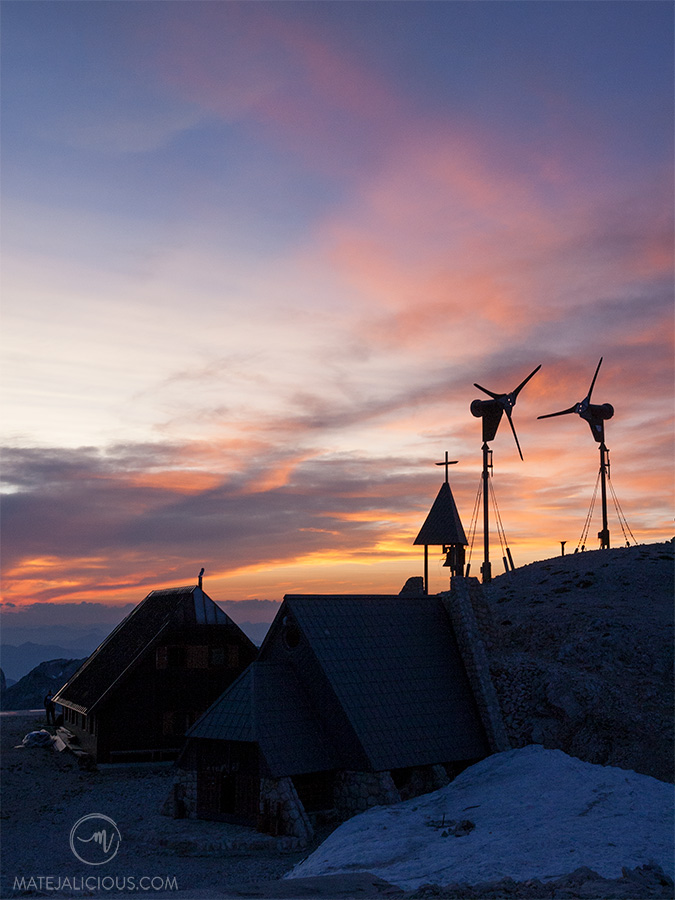 To the Top – Via Ferrata
The last bit, known as 'via ferrata', is more or less the only classic path to the very top along the Dom Planika route. It runs along the exposed ridge with another 400 metres to ascend. 'Via ferrata' translates to 'iron path' and indicates the part of the climb that involves the use of steel ladders, cables, chains, and pins – all these to aid and secure the climb, especially in places that narrow to less than a metre in width with a vertical drop on both sides.
Traffic here can get absolutely congested and there are often long lines of people waiting to ascend/descend the mountain. When there are snow and ice still covering the path, it can become pretty slippery. Particularly when two people meet. And that's one of the reasons this steep climb can sometimes take a bit longer to complete. The other is of course safety along this cliff face, which means that people are extra careful here. Without a doubt, that's how it should be. Most climbers choose to wear via ferrata kit (helmet, harness, carabiners) which can be borrowed at the hut.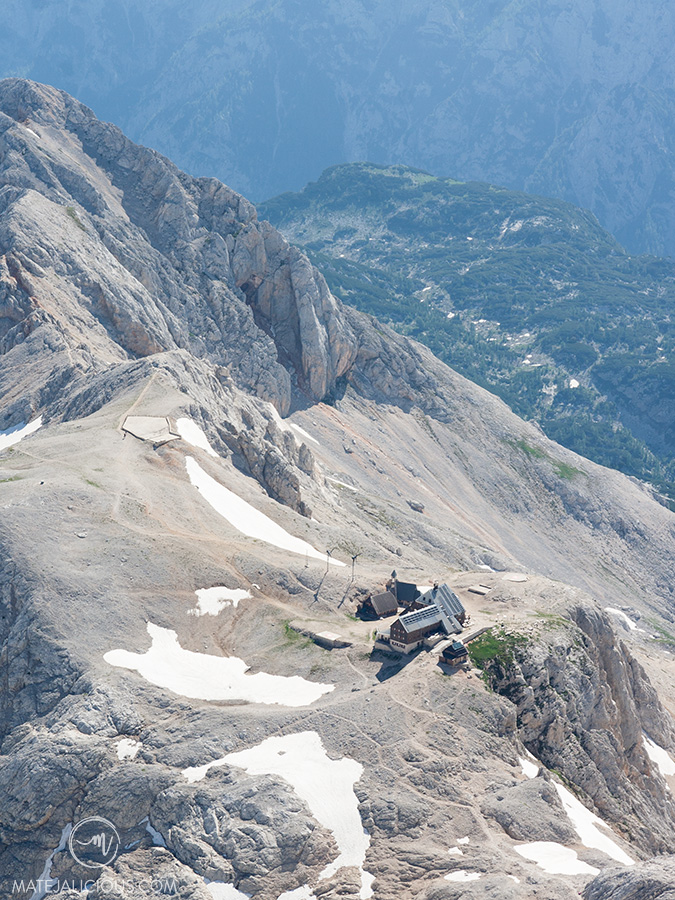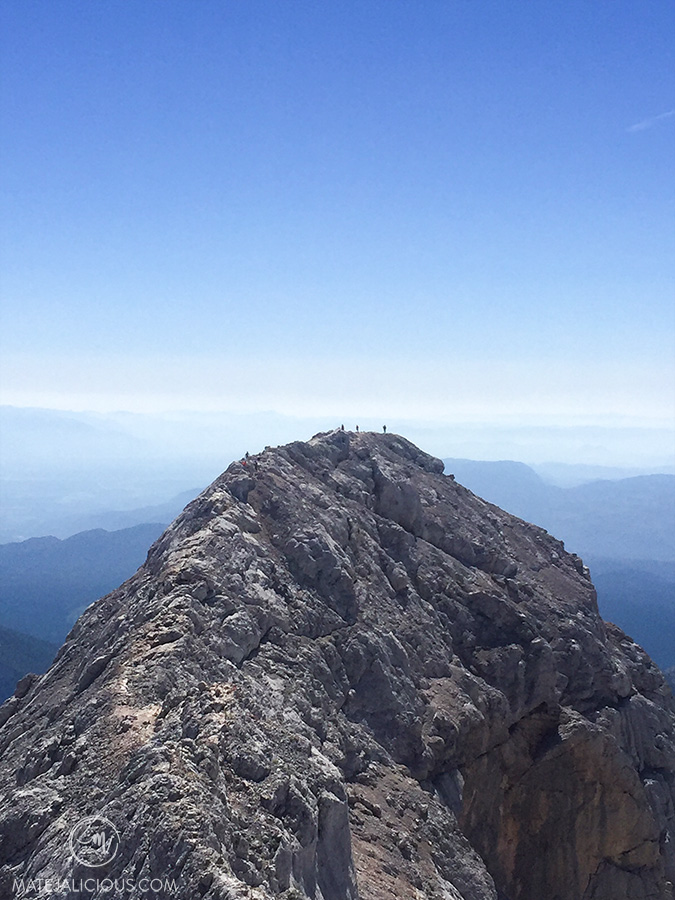 On the day of the climb, I had this last part of the route practically all to myself and it took about 40 minutes to complete it, if not less. I am still very much thankful for the easy breezy experience because no one needs yet another impatient person that I can sometimes become in the type of situation mentioned above.
The first stop along the via ferrata was Mali Triglav, a 2725 metres tall peak that totally won my heart. With the highest point clearly within sight I almost ran towards Aljažev Stolp (Aljaž Tower) that proudly sits on top of Slovenia. Aljaž Tower is a small metal structure that's one of the country's most prominent landmarks. It was initially built in 1895 by Jakob Aljaž, a famous priest and mountaineer. The tower also acts as a storm shelter.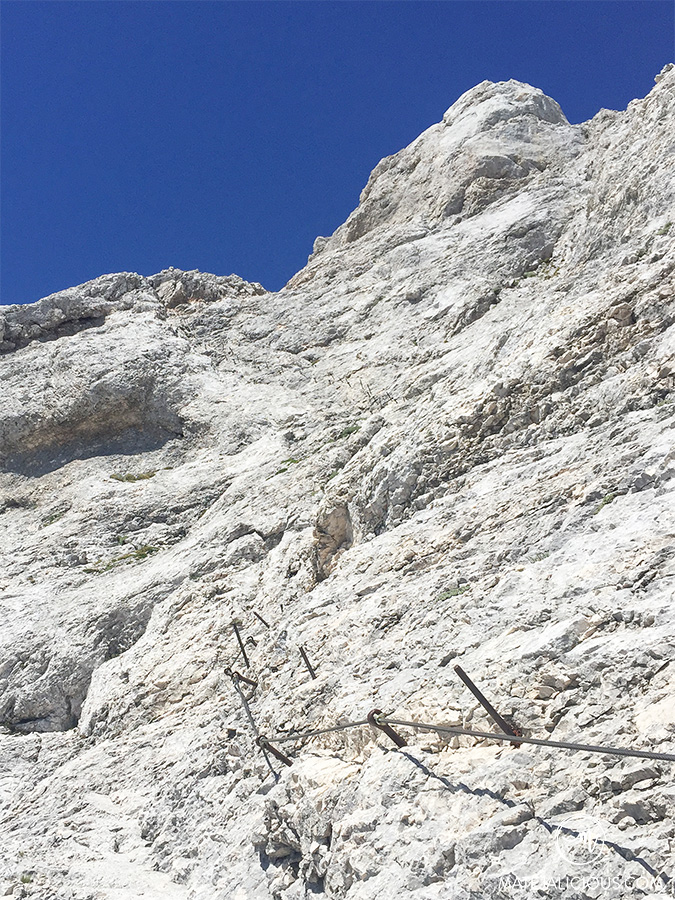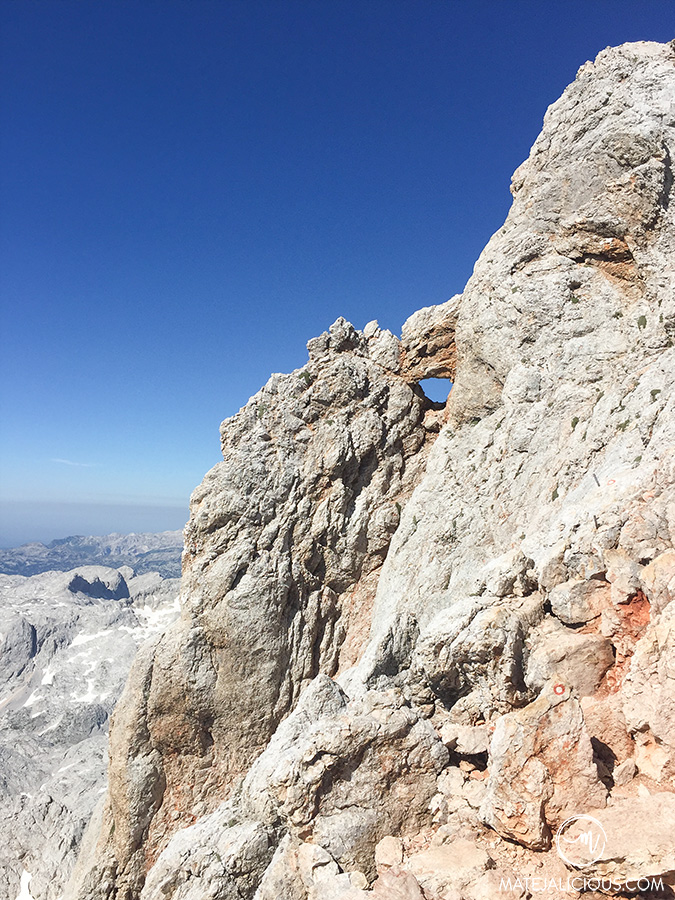 So this was it – nothing really stood between me and gorgeous panorama at this point where it felt I was on top of the world. Sunny day displayed the widest possible landscape in front of me. On such day, you are able to spot the Slovenian coast with the Adriatic Sea, Italian and Austrian hills and mountains, and the ocean of other tall peaks and green valleys dotted across the Julian Alps. To me, summit views were incredibly stunning and mountain sure made me feel that I belong to this land. I admit, there was a tear or two shed during these two days (žuta minuta) but it was all out of joy and happiness.
What goes up
Must go down. And so it was. The descent along the same route was pretty straightforward. Those can sometimes be strenuous and take a toll on the knees or joints which tends to happen to me. Again, some swear by the hiking poles to combat rocky and slippery slopes. I, on the other hand, obviously opt for gravity to do its thing by grounding me.
I kept finding myself in an awe of the immense panorama that stretched in front of me on the way down. There are mountains here that I right on the spot decided I want to climb next, and they all looked pretty darn good on my descent. I'll definitely be back, not only to climb Triglav via some other a bit more challenging route, but to explore other mountains that are calling my name and happen to dominate this landscape.
Final Tips
If possible, try to avoid climbing on weekends and your experience of Triglav might be one of the most joyful ones.
If possible also avoid climbing during the high season (August tends to be packed). Slopes can become absolutely crowded.
Be prepared to potentially be the receiver of unpleasant and judgmental stares of disbelief if you climb Triglav (especially the last part) without a helmet and a proper climbing gear (via ferrata set), or, God forbid, in running shoes. I was actually the one who didn't practice what I now want to preach. The truth is, rolling rocks are never the exception when there are masses of people trying to reach the top at the same time. Safety first, (over)confidence second, I guess.
Be sure to try out (at least) one of the hearty and delicious Slovenian meals like goulash, kraut, sausages, stews or soups at the Kredarica Lodge. They absolutely match with a 'short one' (something in line with schnapps or slivovica) as a combo. Definitely don't forget about those, you've deserved it. Na zdravje!
The Krma Valley route is supposed to be one of the more popular routes to Triglav, however, on Sunday afternoon I didn't meet any other hiker which actually got me worried I might be lost. I did begin with the hike late in the afternoon, but do start earlier and give it more time if you plan to stop often to catch the breath or do some photography. Summertime gives you good visibility until about 9 PM.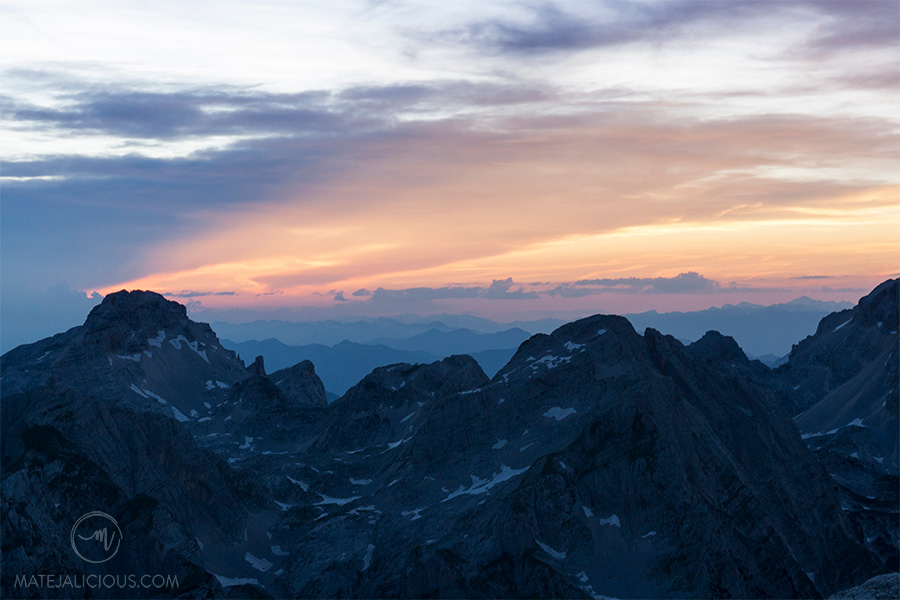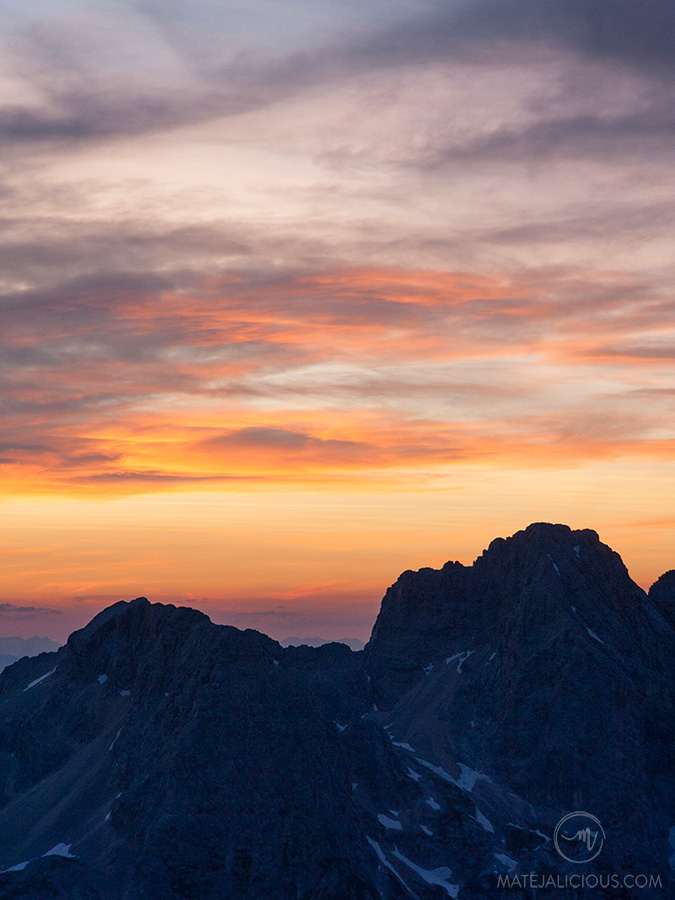 Final Thoughts
What did I like the most about the experience? The whole time, apart from the slightly busy evening at Kredarica Hut, I felt I had the mountain to myself. There were no crowds whatsoever. I know, unthinkable. And I loved it! What might have made this possible, I believe, is that I began the ascent on the last Sunday of June and descended the following Monday.
Also, with every step up the mountain, I tried to be present and grateful for the experience, the view, all the beauty, mountains, clean air, and wonderful people (mostly Czechs and Slovaks on the second day) that crossed my path.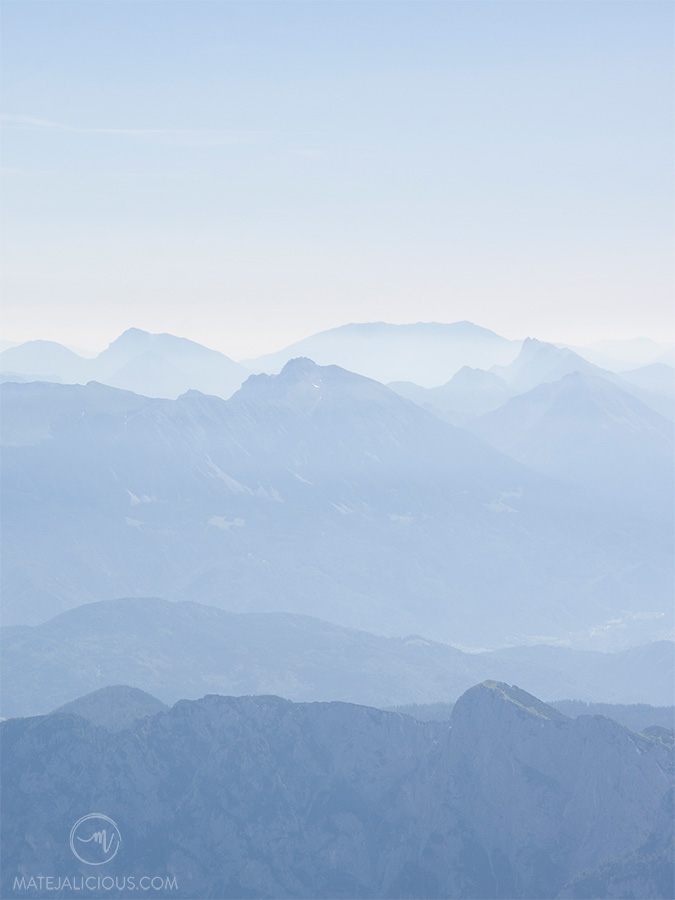 Living away from home for a while now sometimes feels I'm a tourist whenever I now get to visit and explore new places in Slovenia. It's a good feeling though, because I also get to fall in love with my own country again and again, seeing all her beauty with fresh eyes.
I hope to be able to write more about my Slovenian adventures in the near future as I (not so) secretly want to spend more time on the sunny side of the Alps. She's a jewel that's still a bit hidden to the average eye. And also, I would love to advertise my gorgeous Slovenia more and be a part of the tribe that's raising the awareness of her gorgeous landscape, natural beauty, and deep reserves of peace and tranquility.
→ If you live abroad, what's that one place you want to explore back home that you haven't before?
Pin this and get 7 years of good travel luck!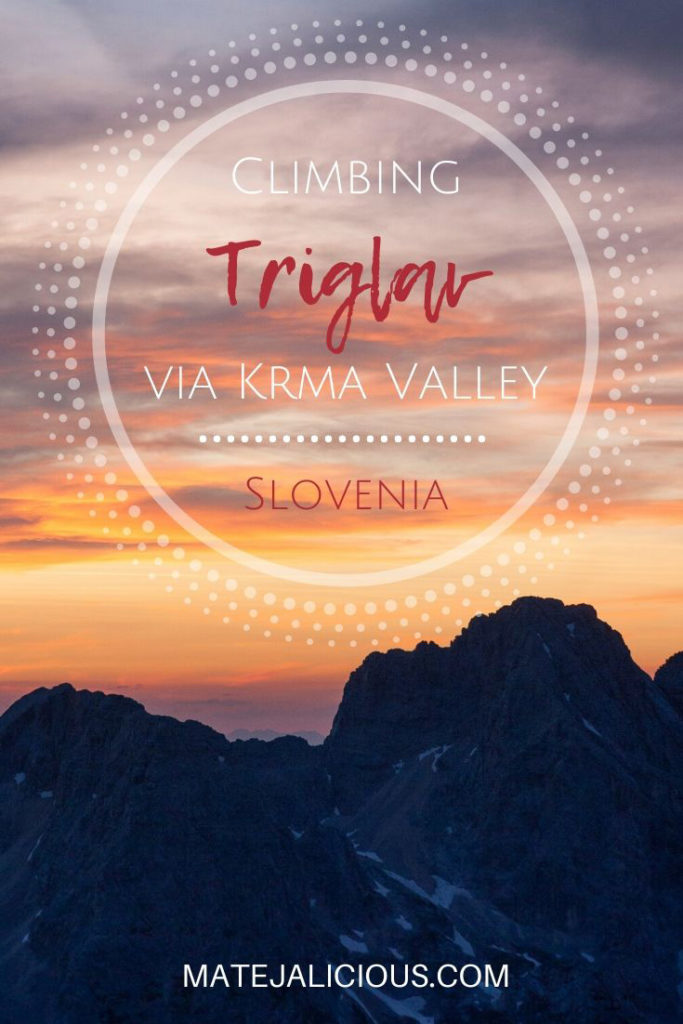 Leave a reply