TRAVEL DESTINATION: Kings Canyon, Northern Territory, Australia
Visiting and exploring Kings Canyon was such a rewarding experience during my Australia's Northern Territory road trip. It's amazing to look back and realize how the excitement levels went up when approaching the Red Centre. This part of Australia is covered with gorges, but if you decide to only visit one gorge or canyon here, then this is the one: Kings Canyon! The name says it all.
You will be absolutely stunned by the vastness and the grandeur of Kings Canyon. The biological richness will surprise you and you will unmistakably feel tiny in this landscape. Today I'm inviting you to Discover Australia's Kings Canyon with me. So let's go!
About the Kings Canyon
Kings Canyon is located in the heart of Watarrka National Park, around 240 km southwest of Alice Springs and about 130 km north of Uluru (air distance). Geologic activities in this area played a major role during the past 440 million years. Today's landscape is consequently quite dynamic, powerful and exposed. There's not much this place hides. It's boasting with all the majestic elements a truly beautiful canyon can display.
Beehive domes, protected chasms, permanent waterholes, 330 million years old sandstone cliffs, traces of continuous erosion – the Canyon today is truly impressive and tells many stories of this ancient Australian landscape. Try to imagine the true scale of these past transformations that took place here. Proportions are mind-blowing!
I was mostly impressed by the red and orange color of these huge sandstone creations. But, I was equally and even more surprised to learn they are iron-free on the inside. They are only coated with iron-rich dust that was chemically fixed to the sand grains by fungi. That's what gives these beautifully orangey-red sandstone cliffs their color. So stunning!
How to get to Kings Canyon?
There are several different routes you can follow to reach the Canyon, mostly depending on the vehicle you're driving.
From Alice Springs via Stuart Hwy
If Kings Canyon is your last stop before the Uluṟu-Kata Tjuṯa National Park (just like in my case), you'll most probably be traveling from Alice Springs via the Stuart Hwy, Lasseter Hwy and Luritja Rd. 6 hours and 470 km later you'll reach Kings Canyon. The landscape becomes more and more amazing as you're eagerly approaching the National Park. Getting the first glimpses of the Kings Canyon is truly remarkable. Set aside half a day with all the stops. The road is appropriate for all types of vehicles.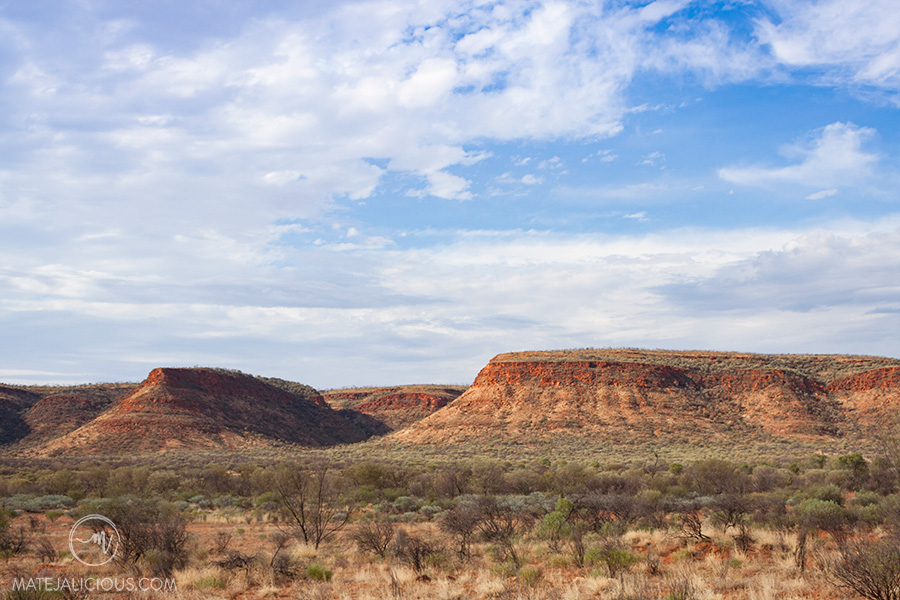 From Alice Springs via Ernest Giles Road (4WD only)
With 330 km this is the shorter but more adventurous option to reach the Kings Canyon from Alice Springs. You have to turn right after about 130 km south down the Stuart Hwy. 4WD is essential here for an off-road experience.
From West MacDonnell Ranges (4WD only)
Continue driving on the unsealed Mareenie Loop on the Red Centre Way if you're exploring the West MacDonnell Ranges. That will be the fastest alternative for you, but again, attempt this route only by a 4WD vehicle.
From Uluṟu-Kata Tjuṯa National Park
You can also reach the area from Uluṟu-Kata Tjuṯa National Park, which takes about 3-4 hours (300 km). Follow the Lasseter Hwy and Luritja Rd.
Where to stay?
Due to the long driving, you'll most likely need to book an overnight stay somewhere close to the Canyon. While there aren't many settlements around here, you're still able to find a few places near Watarrka National Park that offer accommodation.
The Kings Canyon Resort, located 6 km west of the Canyon, is one of the more popular locations with a few choices for the overnight stay. Being one of a couple of providers in the area, expect the prices to be a bit higher here. In this outback oasis, you're able to choose from deluxe rooms, lodge rooms, camping grounds and caravan sites. There are bathroom facilities and shared kitchen, a pool, laundry, as well as a BBQ. You can also find a bar and a restaurant, a petrol station and a shop within the resort.
Kings Creek Station is another possibility to consider for your overnight stay in the Australian desert. This cattle and camel station is situated 35 km south of the Kings Canyon, sitting at the foot of the George Gill Range. Here you can choose from different camping sites, safari cabins, and luxury glamping tents. You can find a café, kitchen area, BBQ, small shop and petrol on site.
Kings Canyon Walks
Getting among this giant is what everyone wants to experience. Not just for the awesome views, but also for the whole journey of surprising discoveries along the different tracks.
Kings Canyon Rim Walk is the most popular choice with visitors and for good reason. The walk brings you to the very heart of the Canyon, getting you among the giant sandstone cliff faces and eroded domes. The Rim Walk is a 6km loop that takes around 2+ hours and does require some effort to complete. Initial steep cliff face climb is actually the most challenging, but it gets easier once you reach the summit. From here on you only need to watch your steps so you stay safe and don't go too close to the edge of the unfenced orange cliffs.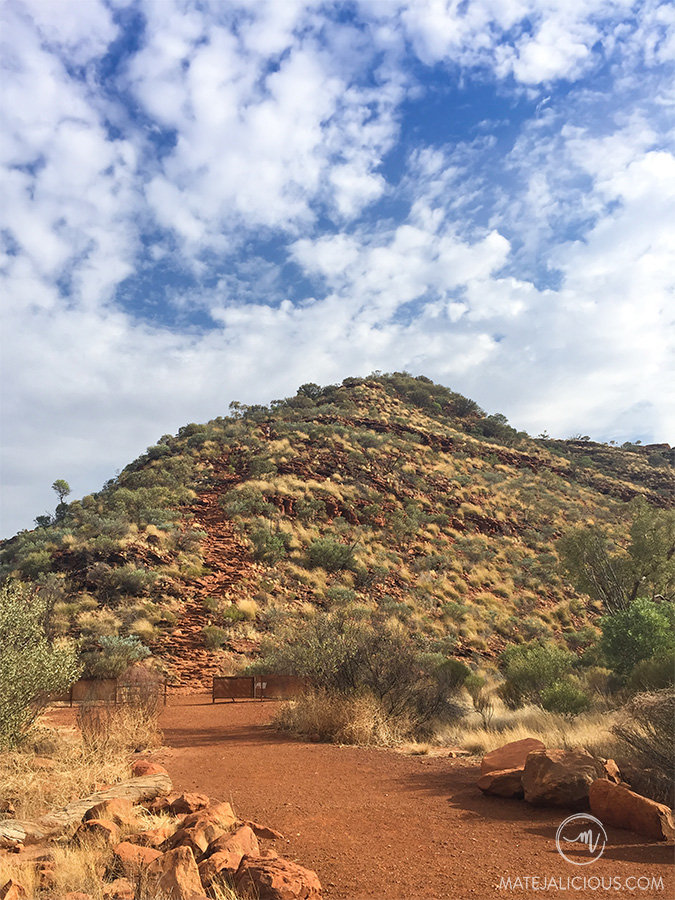 Once you conquer natural stone stairs you're rewarded with the first top panorama over the wide Watarrka National Park. Just there you can realize how truly breathtaking this place is! Now all the fun begins: the walk around the canyon rim. This is your time to truly enjoy and take in all the beauty of the enormous space that opens up before you. 270 metres tall sandstone walls, numerous cliff faces, grottos, and chasms make you feel you're being part of a unique landscape. Pure amazingness! All the park information boards along the rim help you understand how incredible this place really is by pointing out the processes of canyon formation and explaining the current landscape.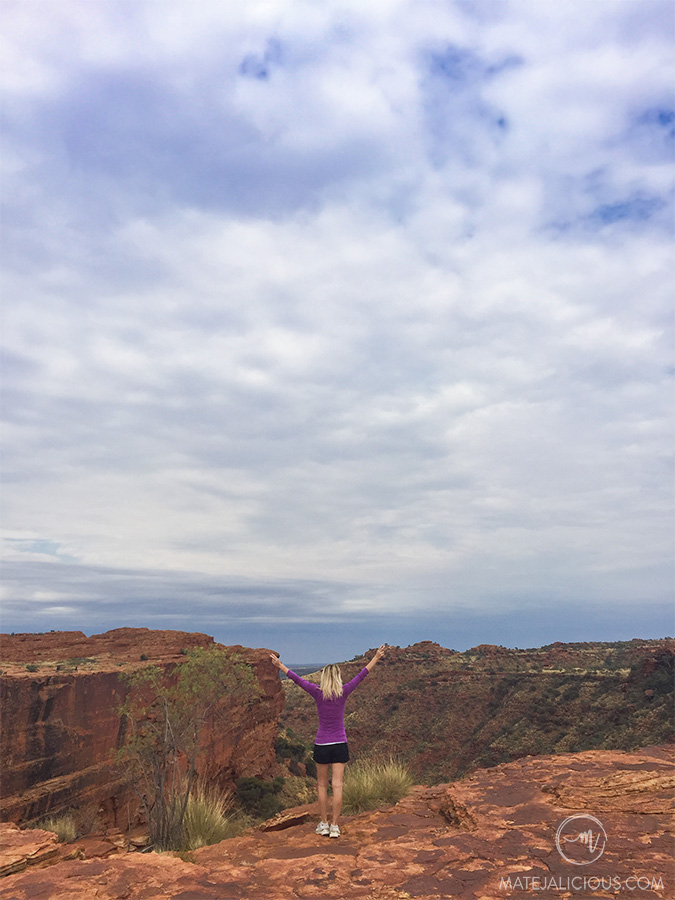 Your explorations will bring you to the bridge and stairs from where you can gaze down between the tall cliffs to spot the permanent waterhole in the Garden of Eden. This is a half point detour that leads deep inside to the heart of this bursting natural green oasis. The natural spring waterhole is keeping canyon's floor sheltered and alive, obviously being a vital life source. Picturesque plants managed to find the refuge from the burning sun here. Green vegetation is very rich in this place, with the abundance of exotic plants, including prehistoric ferns, palm trees, river red gums, fig trees and lush cycads.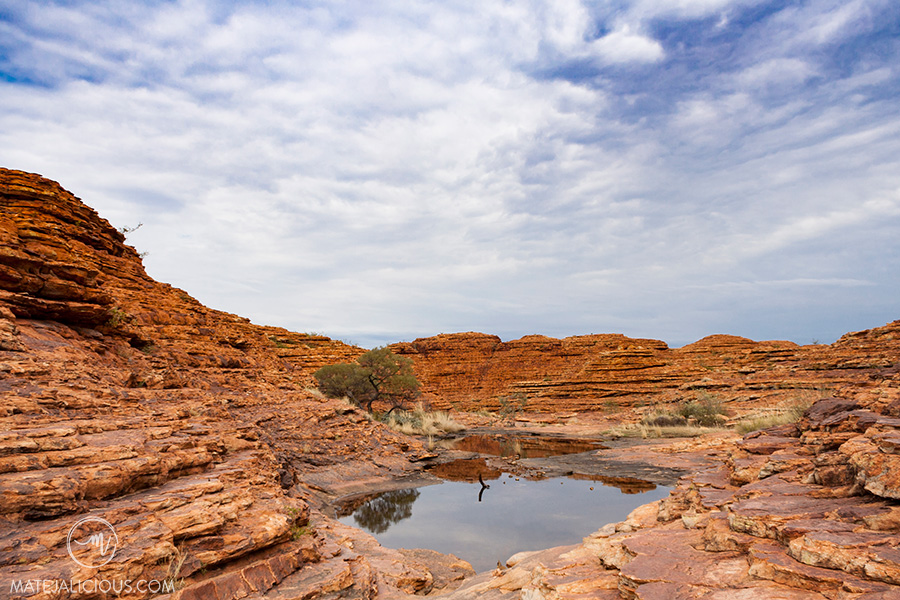 Some of the most spectacular views of the Lost City with honeycombed cliffs, weathered rock formations and eroded stone domes open up as you make your way further along the track. You get a new perspective from this side of the canyon and realize that the walk was well worth your time and effort.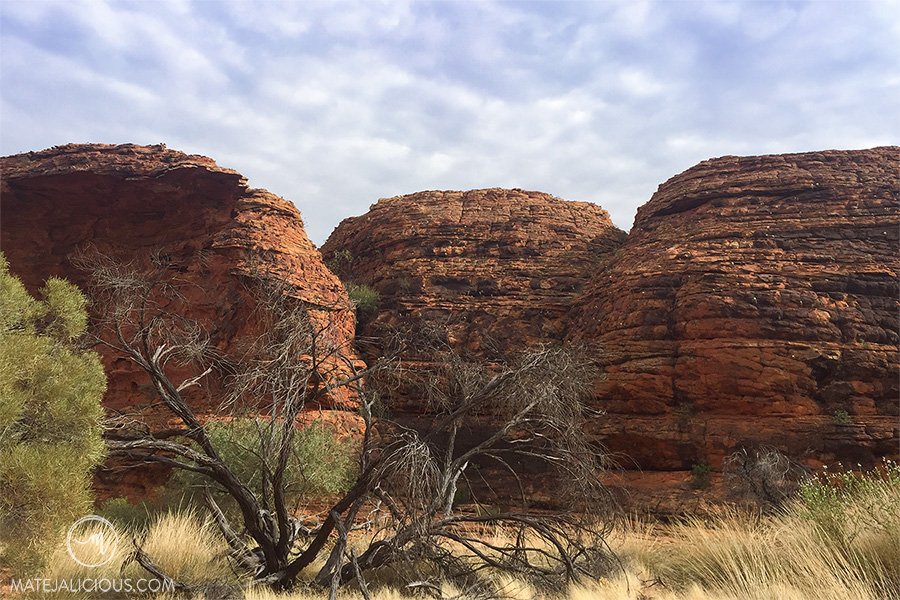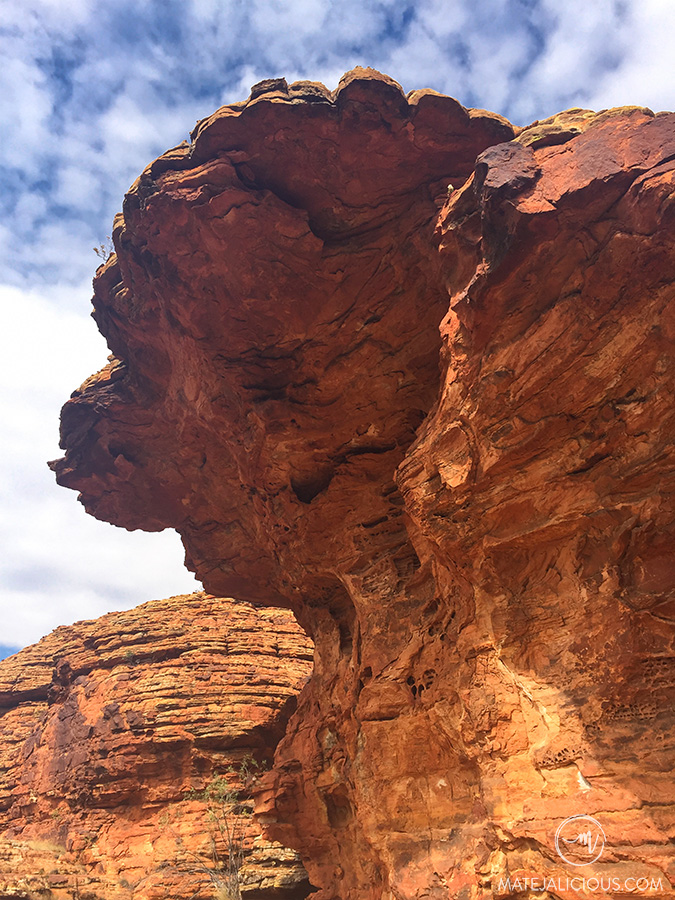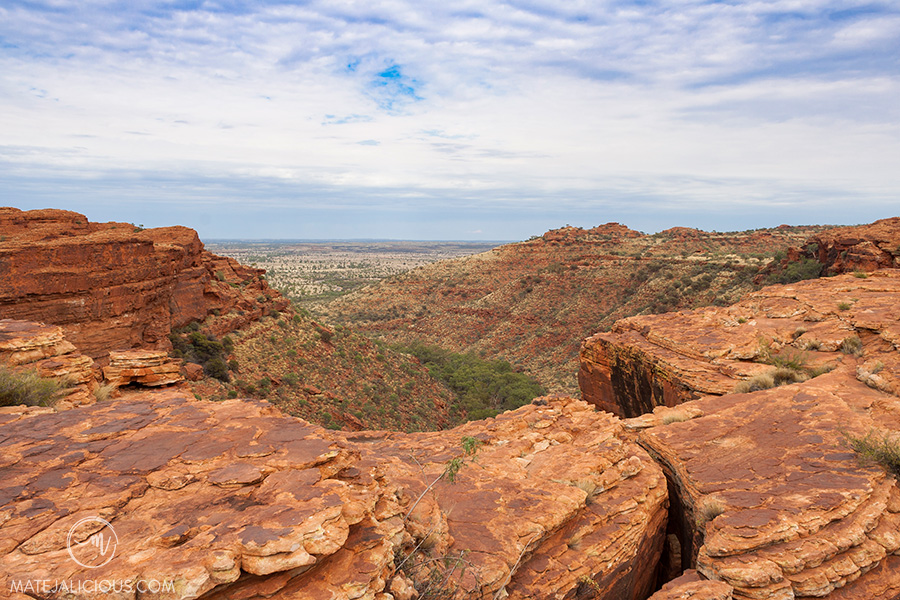 An alternative to somewhat challenging Rim Walk is a shorter 2 km Kings Creek Walk. This shady walk is a relaxing way to take in the sights of the impressive canyon rim along the creek bed. You'll reach the raised platform top from where the views open up across the towering canyon walls.
Another opportunity for explorations that starts at the Canyon's entry is a 22 km (one way) Giles Track that follows the canyon ridge all the way to the Kathleen Springs. This marked hike will set you off for a day full of adventure. Needless to say that you need to come prepared. Start early in the morning, bring lots of water and appropriate gear to tackle this challenging quest.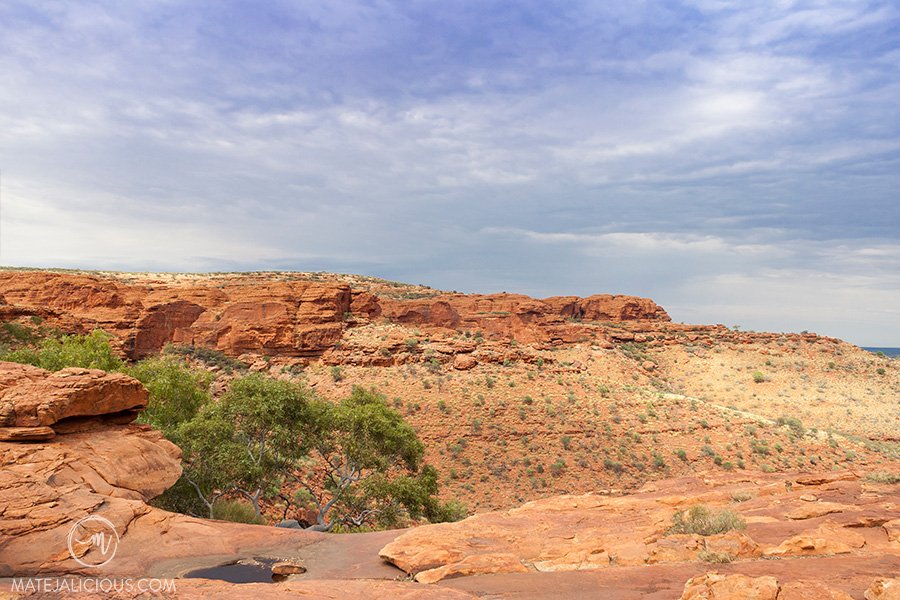 Important!
It's essential to start all Kings Canyon walks early in the morning to avoid the (sometimes) extreme temperatures of this area. Gates for the Rim Walk are shut after 9 AM on days when the forecast is 36 degrees or above. Other than that, wear sunscreen and load on water. The area is exposed and you won't have many opportunities to find any shade along the track. The Kings Creek Walk is, on the other hand, open and accessible all year round.
Other activities in Watarrka National Park
Apart from exploring the Kings Canyon, Watarrka National Park offers many more opportunities for an adventure. You might want to tackle a 2.6 km return hike to the nearby Kathleen Springs, where the shady waterhole attracts many local birds. For a different perspective, you can take a scenic helicopter flight (from both, Kings Canyon Resort and Kings Creek Station) over the Kings Canyon. It will leave you breathless, no doubt.
Additionally, both accommodation places offer quad bike rides, and you can also ride a camel or go on a camel safari. Staying the night at the Kings Canyon Resort will open some amazing sunrise and sunset views of the canyon for you. I enjoyed every moment of the rising and setting sun from the sunset viewing platform, watching the canyon come alive.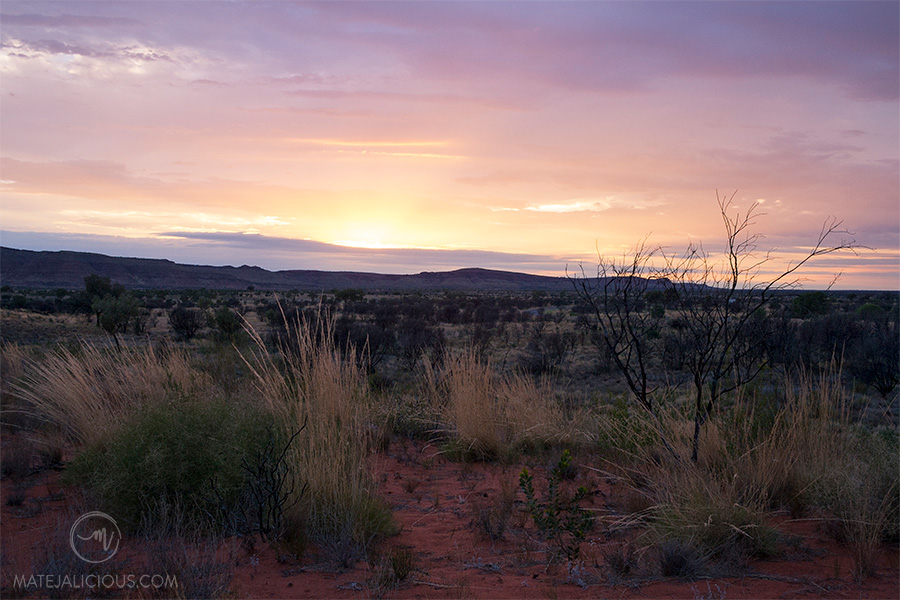 Southwestern corner of the Northern Territory is a truly unique place to visit and explore. It's quite unbelievable to me that these arid parts of Central Australia were in the past submerged by a shallow seawater. The area is huge and people seem so tiny and insignificant in this landscape in comparison to the majestic Kings Canyon walls. Scenic walks and lookouts around here bring you on the journey to the beating heart of this protected and ancient natural attraction within the Watarrka National Park. The remoteness only just intensifies canyon's scale, uniqueness and raw beauty.
Are you wowed by Australian canyons and gorges as much as I am? What do you find the most interesting about these red cliffs in the outback? Let me know in the comments below.
→ Also check: A complete guide to gorges of West MacDonnell Ranges
Liked it? Pin it!

Leave a reply