TRAVEL DESTINATION: Auckland's West Coast Beaches, North Island, New Zealand
TRAVEL DURATION: 1 Day Activity
Continuing with exploring Auckland's West Coast Beaches further north from Piha, I put together all the interesting facts and activity ideas for the remaining beaches.
Anawhata Beach
Anawhata Beach sits just north of Piha Beach. On Piha Road take a right turn to Anawhata Road and continue for another 10 kilometers on a gravel road through the lush forest, until you reach the car park. A quick workout downhill from the car park (partially gravel road and partially the bush) is needed to reach the seashore. It will take no more than 15-30 minutes.
You'll most often have the beach for yourself, so do head down from the car park if you're seeking some quiet time and solitude. So worth it! Because of the slight remoteness, this beach doesn't have a surf patrol, so be extra careful when swimming in these waters or catching the waves.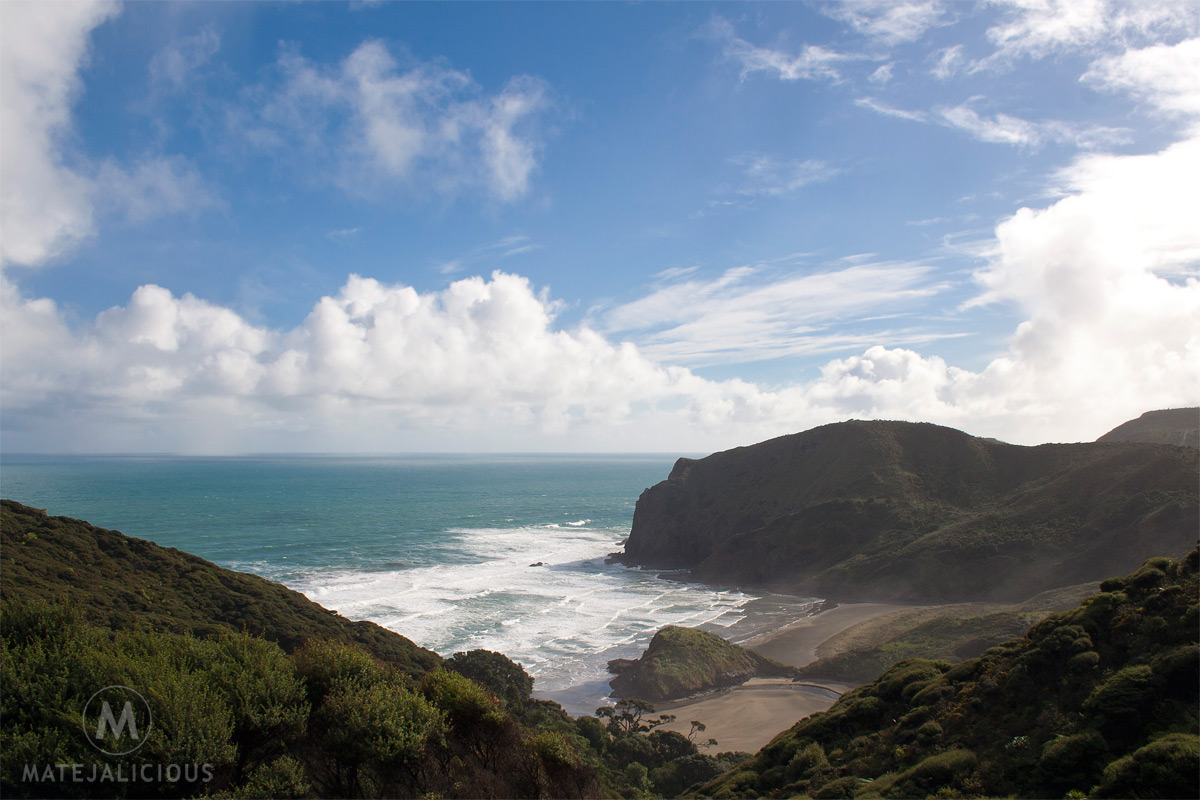 The beach is beautiful. There's a lot to explore. From rock formations and pools to estuary, river stream, and majestic Keyhole Rock. There are some amazing cliffs and viewing areas above the beach as well. Rock pools are popular with those that do some research on the area and make the effort to scout them out. I was so impressed with beautiful images of these rock pools, overlooking the beach below, that I had to check them out myself. They can be found off the main road to the beach, and accessing them requires some fence jumping and a short walk through the coastal bush. I will definitely return during the summer months and jump into these pools of water. One of the best possible views of the West Coast, for sure.
Bethells Beach (Te Henga)
Bethells Beach is a stunning beach to go to. Short 5-minute walk from the car park past the coastal dunes and the estuary opens up the view of the black sandy beach, quite popular during summer months. This beach offers the most amazing cloud reflections I have ever experienced. It can also be quite misty and mysterious when those high waves crash into the coastal dunes. Te Henga is perfect for surfing and swimming, but can at the same time also get quite rough. The Life Saving Patrol is here during summer months, keeping everyone safe between the flags.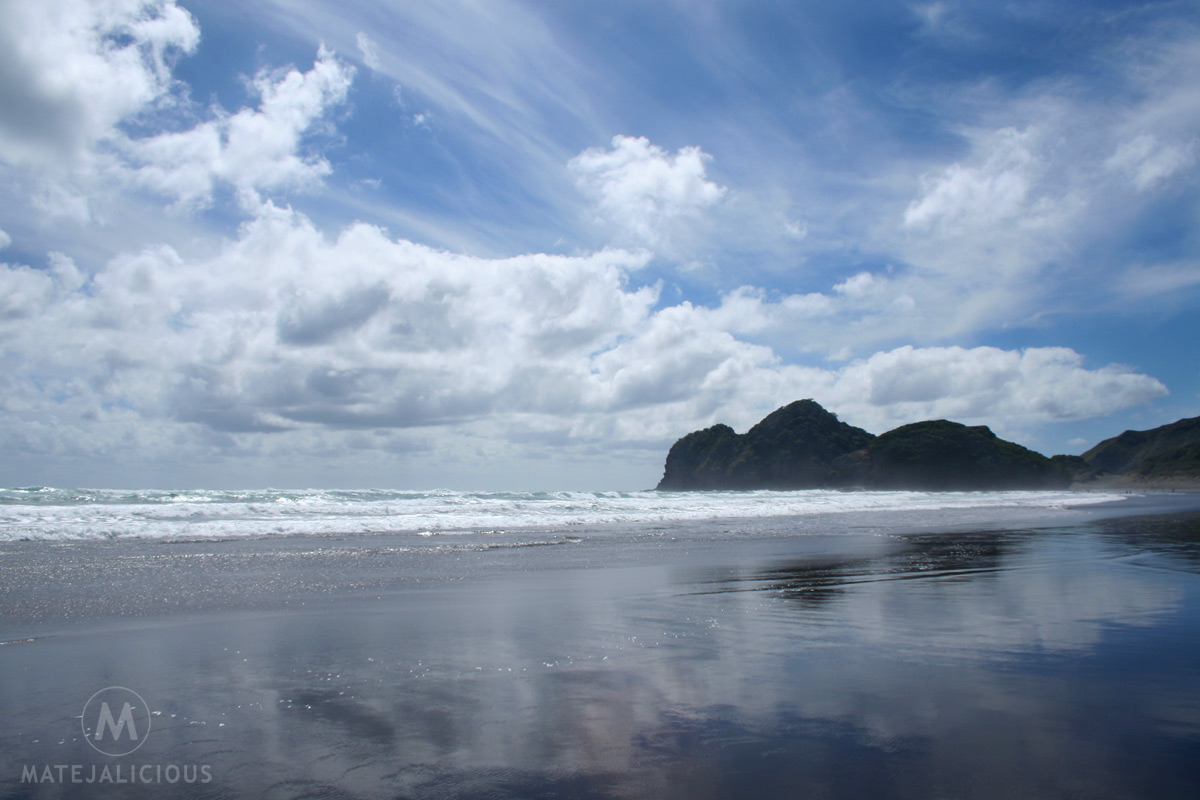 Te Henga Beach is also ideal for long strolls. Still, I would recommend bringing some warm clothes to battle the strong winds, while embracing the coastal landscape. When you reach down to the southern end of the beach, you'll find impressive sea caves and many rock pools. They are ideal for exploring.
Many exciting walks and hikes start in the area as well. One of them is Te Henga Walkway, a bit longer hike that I completed earlier this year. I would highly recommend it. It's what Auckland's West Coast is all about. If you're searching for additional thrills in the area, then head to the Lake Wainamu and enormous black sand dunes. And don't forget to bring your body board for some "sand duning" action.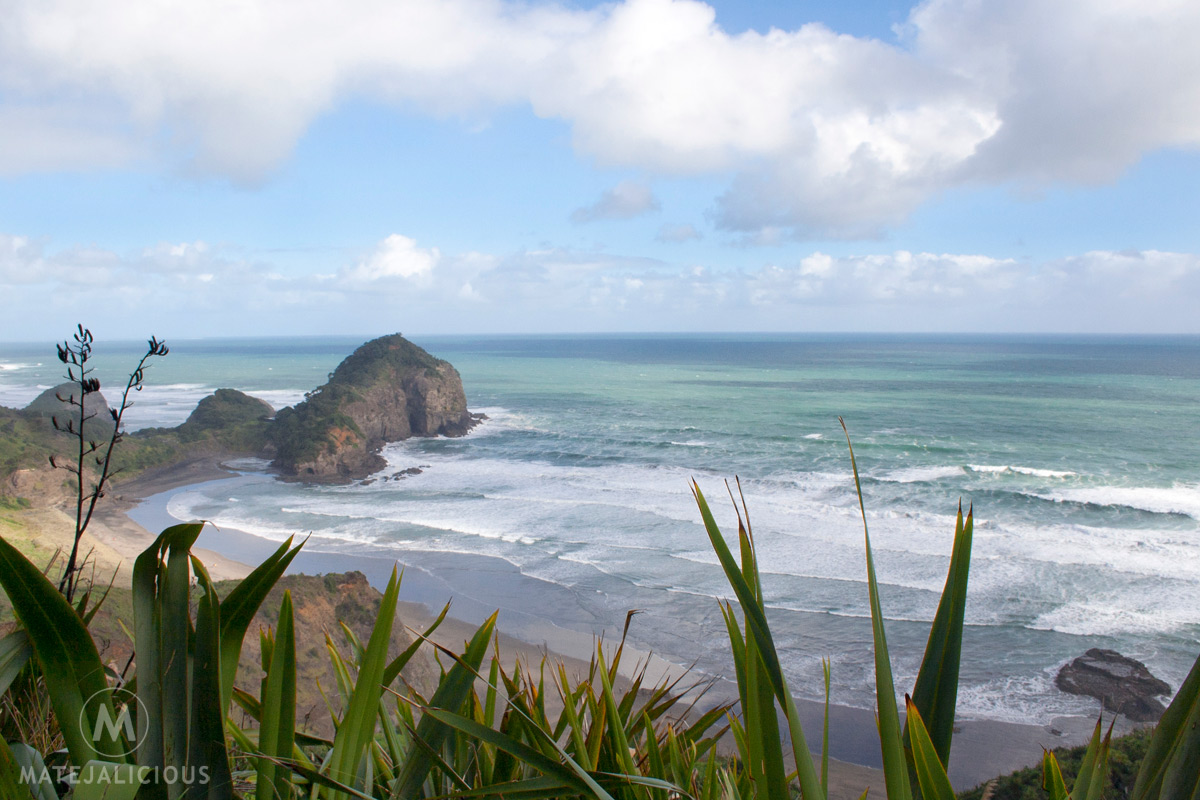 A short walk north from the Bethells Beach is O'Neill Bay with Kauwahaia Island, a bit smaller beach that is quite popular with surfers. It's equally as beautiful. You can truly get lost in this coastal landscape and find your own special spot.
Muriwai Beach with Maori Bay (Maukatia)
Muriwai Beach is yet another black sandy beach in the West Coast area. It was the first beach I visited when I came to New Zealand. For a long time it was my first choice and a go-to beach I stumbled upon weekend after weekend. It's the beach where I took surf lessons and where my feet got burnt from the hot black beach sand. Black color reflects the iron parts that the sand is containing from the busy volcanos of the past. It still amazes me how much sand I find on my shower floors after those long beach strolls and swims. Every single time.
It's quite sad to see how in this area the sea is moving further inland into sand hills, scraping pieces of land and dunes more and more with every new season. Sometimes it only takes one wild, stormy night to erase all the hard work environmentalists put in to preserve this coastal landscape. It seems that nature is winning this game.
The beach extends on and on towards the north for another 60 kilometers, so you're really able to experience the endless horizons, breath in the beautiful landscape and get some sand loving.
There are many activities you can engage in near or at the Muriwai Beach: surfing, swimming, kiting, fishing, BloKart sailing, golf, horse trekking, mountain biking, fishing, beach walks and many more. There is also a coffee place and a local shop nearby, so you are covered in this area.
→ Also check: Scenic Te Henga Walkway that starts/finishes here.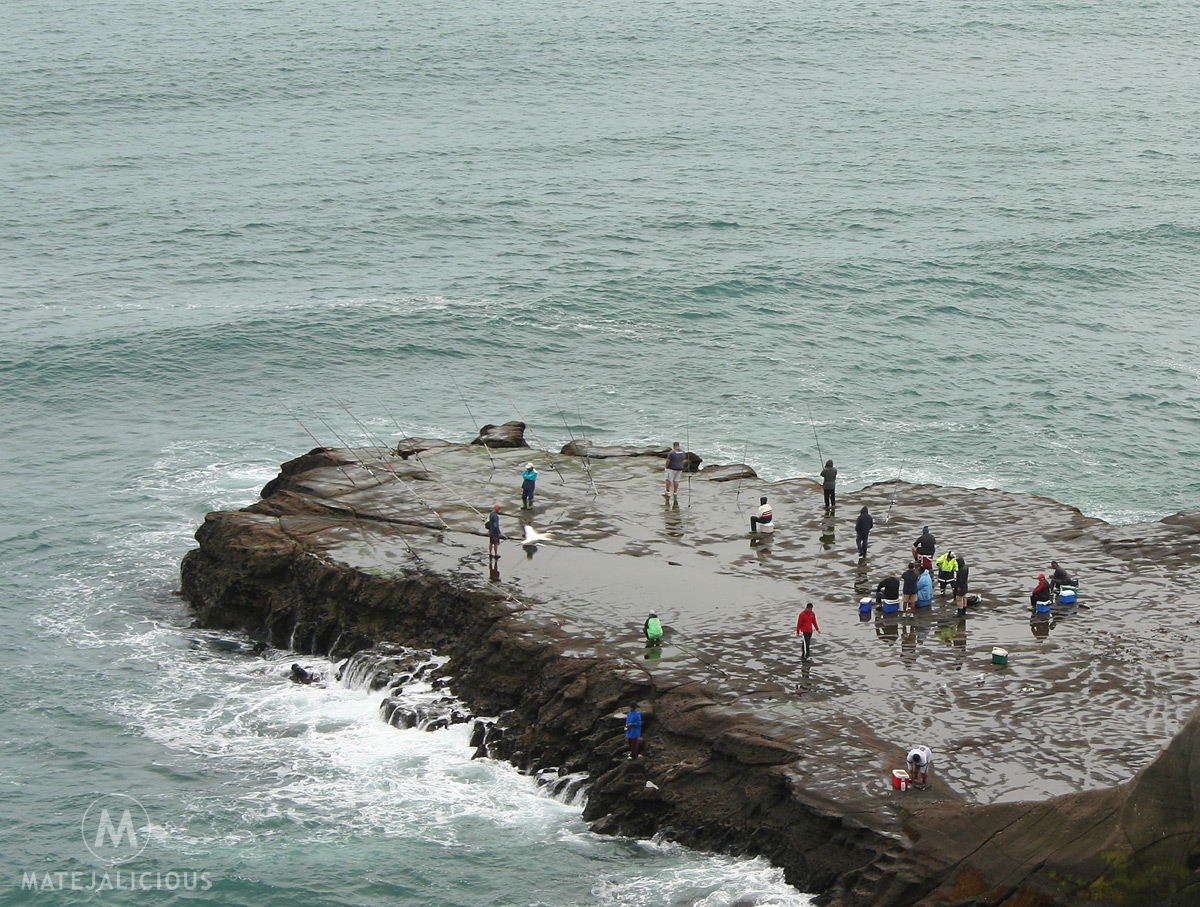 Maori Bay
If you take a short walk from the south end of the Muriwai Beach (Takapu Refuge Walk), you'll come across two Maori Bay gannet colony viewing platforms. The area can also be accessed by car if you turn left at the intersection just before the Muriwai Beach car park.
Maori Bay surely attracts many visitors who want to see beautiful Australasian gannets from up close. As an interesting fact, their wingspan reaches impressive 1.8 meters! Every year, more than 1000 pairs of these amazing birds nest here during spring and summer months. They fly from Australia across the Tasman Sea to lay eggs in this coastal area. Once the young gannets are ready to fly on their own, they leave the colony and head to the Australian coast. Truly impressive! Maori Bay is also known for a good surf, volcanic lava patterns, and cliff formations.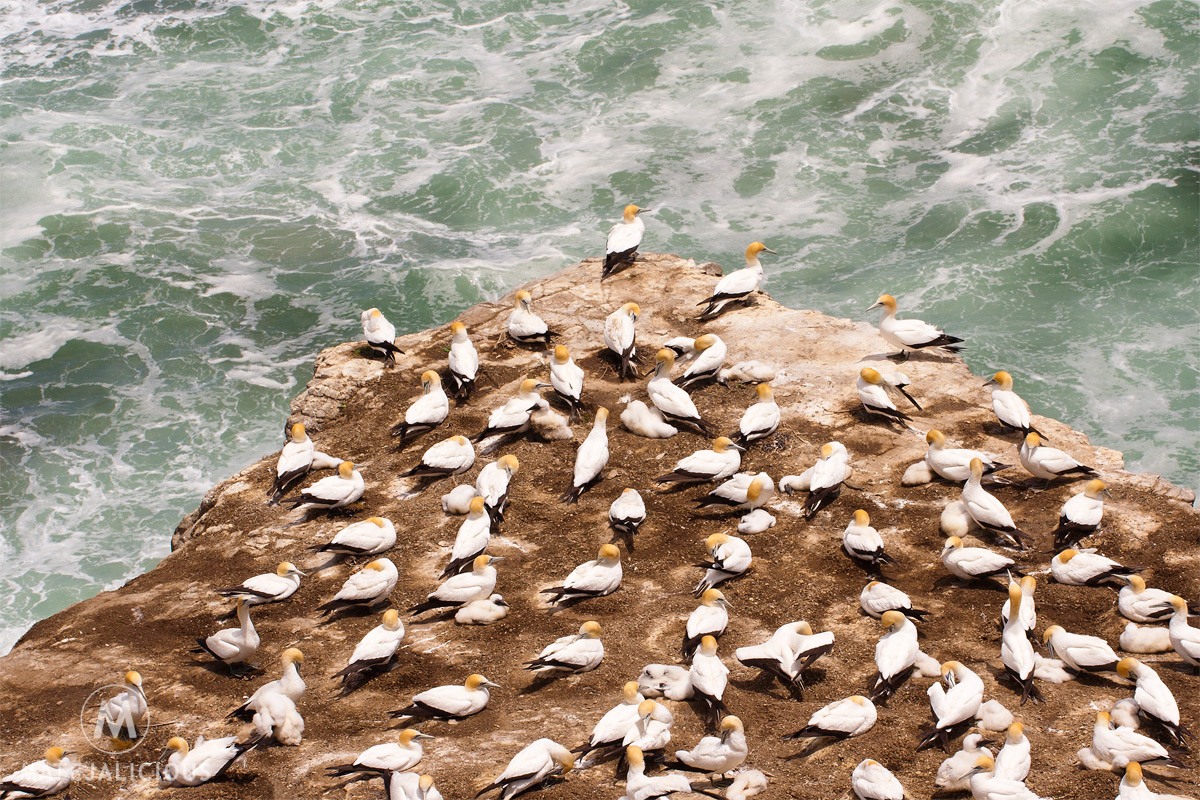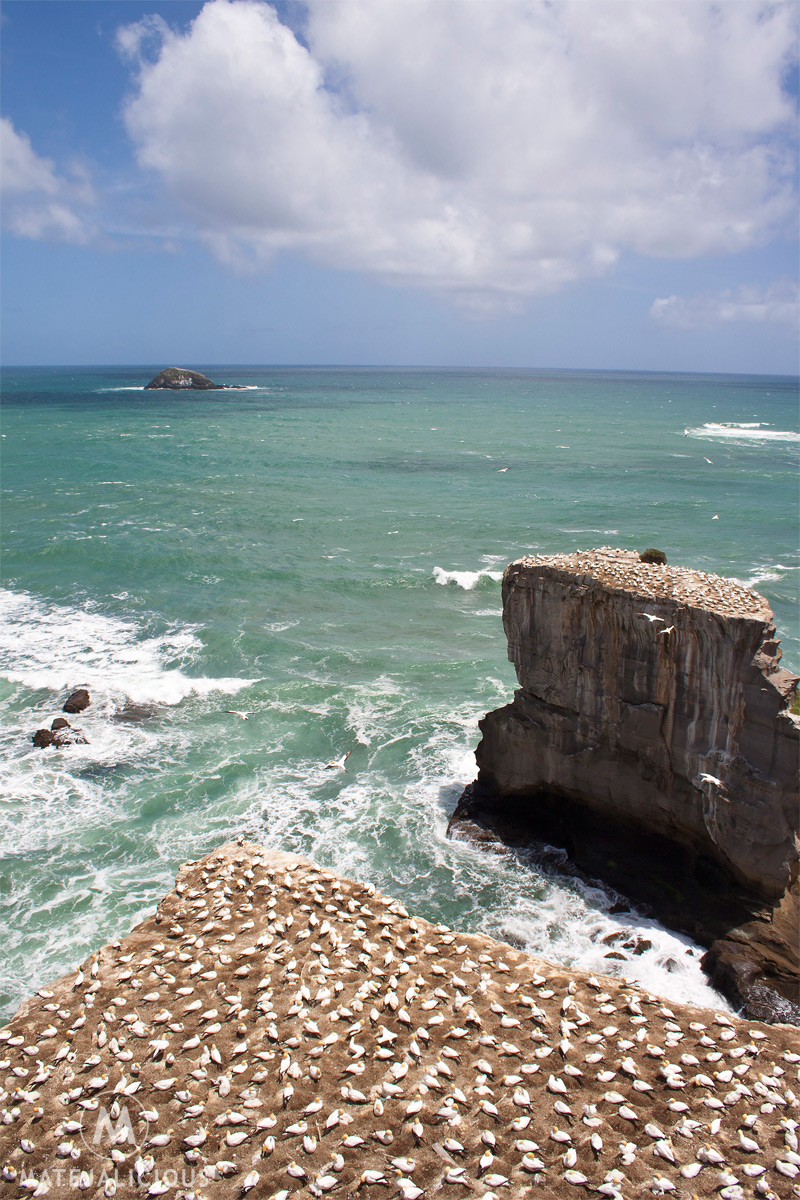 So, the question remains: which beach out of all West Coast Beaches to choose? Here are my tips for choosing the best beach for the preferred activities.
Best beach for:
SURF: Piha Beach
SWIM: Muriwai Beach and Piha Beach
PICNIC/FAMILY: Karekare Beach and Muriwai Beach
SUNSET: Piha Beach
COASTAL WALK: Bethells Beach with Te Henga Walkway
VIEWS: Piha Beach and Anawhata Beach
FISHING: Muriwai Beach
PHOTOGRAPHY: Bethells Beach
WHALE ENCOUNTER: Whatipu Beach (if you're lucky)
WILDLIFE/BIRD WATCHING: Maori Bay
Each of the Auckland's West Coast Beaches is different, breathing a special vibe and providing an unique experience. If you're a beach lover like me, then you'll want to see and experience them all, because you understand that they can ground you and connect you to the part of the world you are visiting. Be sure to have lots of fun when exploring West Coast Beaches next time!
→ Part 1 of Auckland's West Coast Beaches can be found HERE.
Pin this!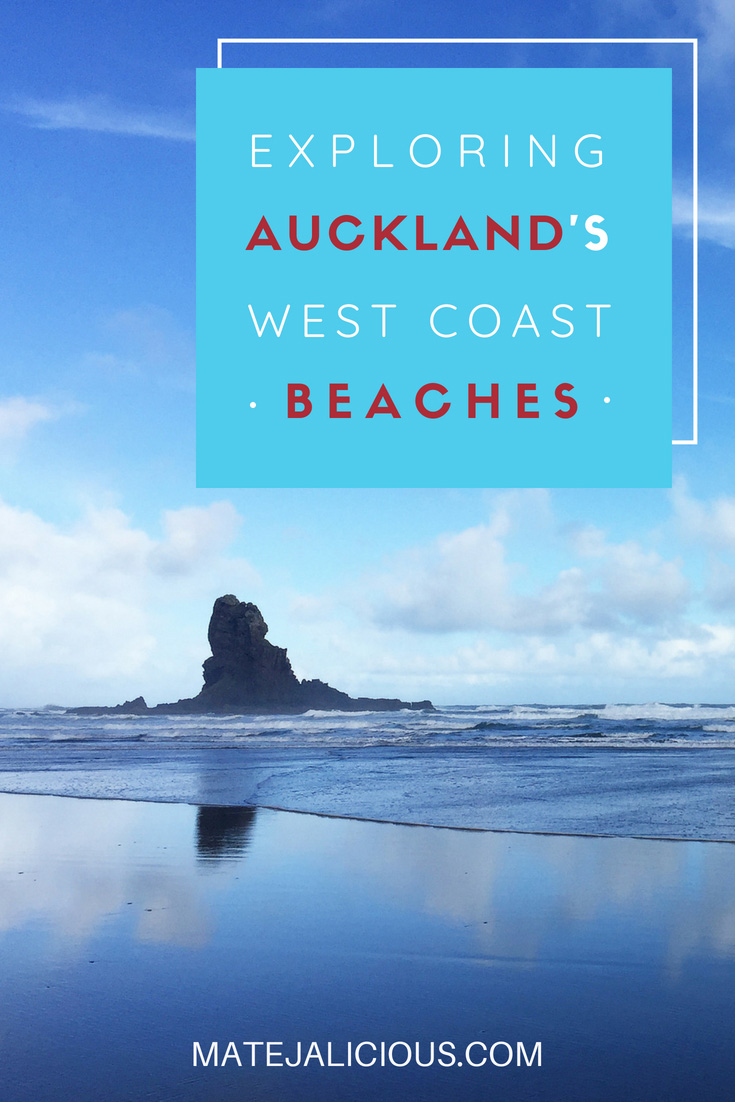 Leave a reply