TRAVEL DESTINATION: Islands of French Polynesia
Once in a while, it's just the right time to slow down and smell the roses. Literally. When I traveled to French Polynesia a month ago I was forced to take it a notch down because of my unplanned running injury. None of those are planned, I guess, and especially not the ones that happen while traveling.
Time to slow down
After overdoing the whole thing on a treadmill for two consequent days in the resort's gym, my toe was hurting so bad I almost wasn't able to walk or even step on my left foot. So I turned to Google for some answers and gave myself a laic diagnosis of 'Metatarsalgia'. That's a condition that can basically be treated by resting, slowing down and potentially getting new running shoes for the future runs. All in all, nothing too serious.
The rest of my time off in French Polynesia was just that: a time off while smelling the roses and witnessing the amazing and enchanting colorful flora of the Polynesian islands. I was actually blown away by the Polynesian landscape and was captured by its beauty from the moment I set my foot on one of the many islands. An abundance of flowers on these islands is present all year long. Many of them are quite rare and thus even more interesting for travelers and visitors. Plants are obviously a major part of this Pacific culture, so I wanted to learn more about it.
Vegetation of French Polynesia
Islands of French Polynesia are quite isolated. Consequently, the diversity of the vegetation there is limited. Still, the islands are abundant with greenery that is changing with topography, land altitude and position. High islands receive more rainfall and usually home around 1000 varieties of plants. They are mostly covered with luscious rainforests, native bush, grass and tree ferns in the highlands.
Fruit trees (mango, tamanu), coconut palms and breadfruit are found in coastal parts of the islands. Conversely, xerophytes (desert-type plants) thrive on the limestone soils of the low islands (atolls). Only around 100 different varieties can be found here due to sparse rainfall, sea spray and strong winds. The common vegetation thriving in such conditions is scrub bush, pandanus, tou, mikimiki and noni.
How it all started
Many species were first introduced by Polynesians during their early settlement on these islands. They brought bananas, taro, chestnut, sugar cane, coconut palms, breadfruit, yam, paper mulberry and kava (pepper-tree), among many. They mostly used them for food and medicine. Colorful tropical flowers (apart from the indigenous ones) were also introduced to Polynesian islands during early migrations. These were frangipani, hibiscus, ixora, water lilies, croton, flame tree, bougainvillea, and canna, to name a few.
Originally they symbolized love, rebirth and festivities. They were also used as a medicine. Other species like avocado, vanilla, tamarind, lemon tree and mango tree were introduced by Europeans, who started visiting and sailing to these islands from the 16th century on. Many plants were also used as a building material in traditional Polynesian architecture: coconut trees, pandanus, bamboo, niau tree, palm trees and others.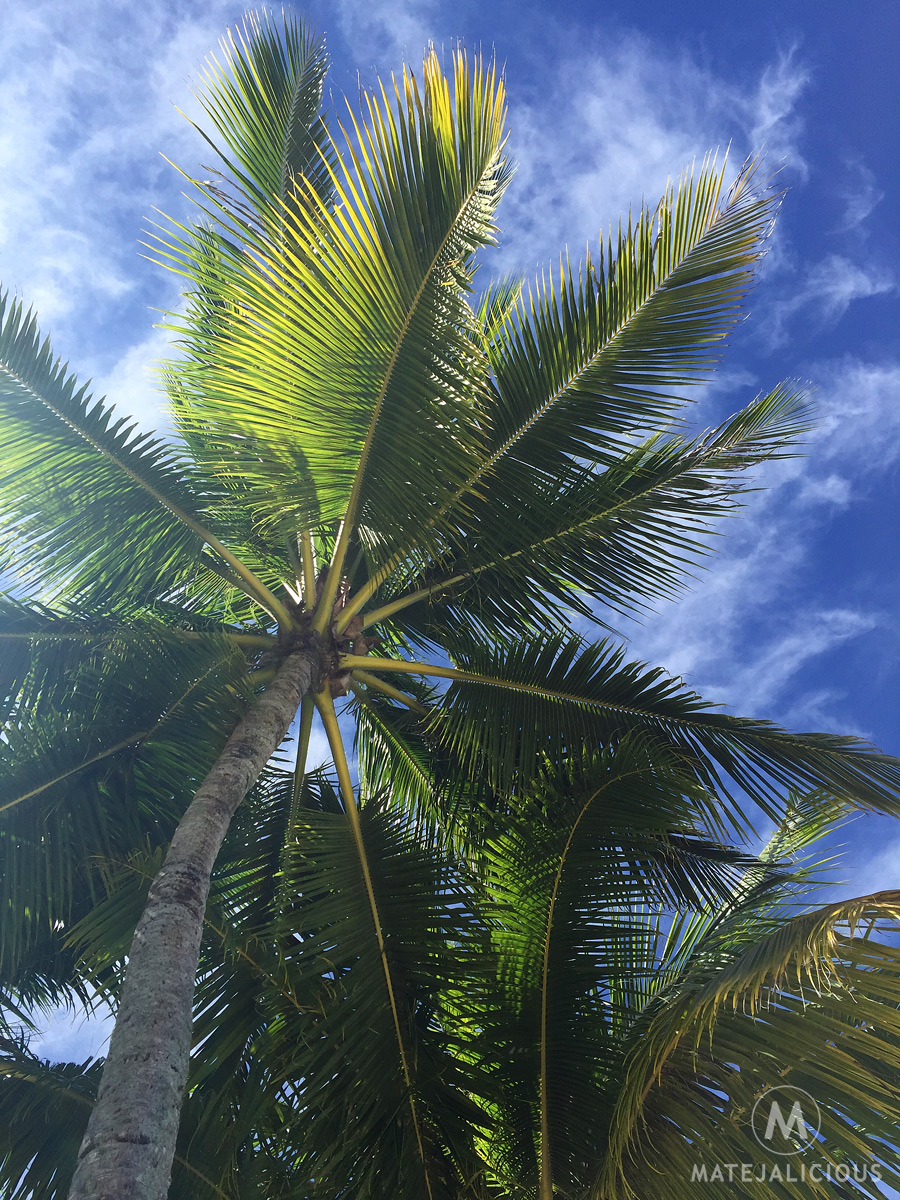 Flowers and symbolism
Today, French Polynesia welcomes you with beautiful fragrant flowers, just like many other tropical countries. Flower necklaces (lei) are placed around your shoulders and are given to visitors, travelers and returning family when arriving at the airport or resorts as a welcoming and greeting symbol (maeva). They represent friendship, love and affection between people. Flower necklaces are usually made of tiare (Tahitian gardenia), frangipani or orchids and are heavy scented. I experience a light headache whenever I wear it around my shoulders for a longer time.
As a rule, you shouldn't throw them in the trash when they start wilting. The petals should rather be scattered into the sea or to the ground. Floral head crowns (hei) are worn in French Polynesia on special occasions, such as wedding ceremonies and celebrations. Female dancers often wear them during the Polynesian night performances. They are braided with palm fronds and blossoms of frangipani, tiare, and hibiscus.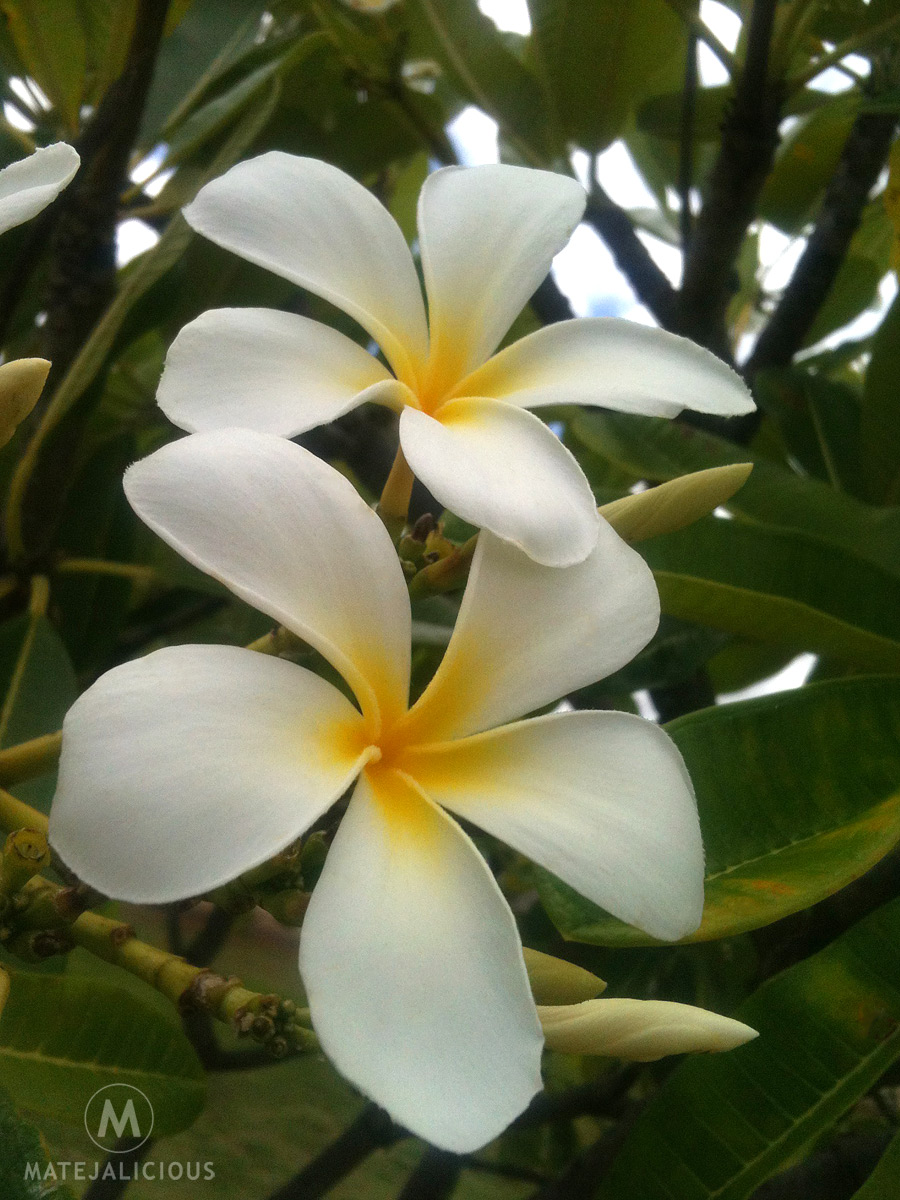 Tahitian Gardenia
Among many beautiful flowers and blossoms of French Polynesia I was most impressed and captured by Tīare Tahiti (Gardenia Tahitensis). Tiare or Tahitian Gardenia is perhaps the most known flower of these islands. It is one of the early introduced species to French Polynesia and truly is special. I first came across its scent a while ago through the Mōno'i Tīare Tahiti oil that originates from French Polynesia.
The fragrance was very sublime, powerful, unique and mesmerizing to me. I have since been using it as a moisturizer as well as the perfume. These small, white, delicate blossoms are quite fragrant, and are part of the well-know perfume and mōno'i making traditions of French Polynesia. They are also used in traditional medicine, either in infusions, crushed or steeped in water. All these have been known to relieve migraines, mosquito bites and cure earaches.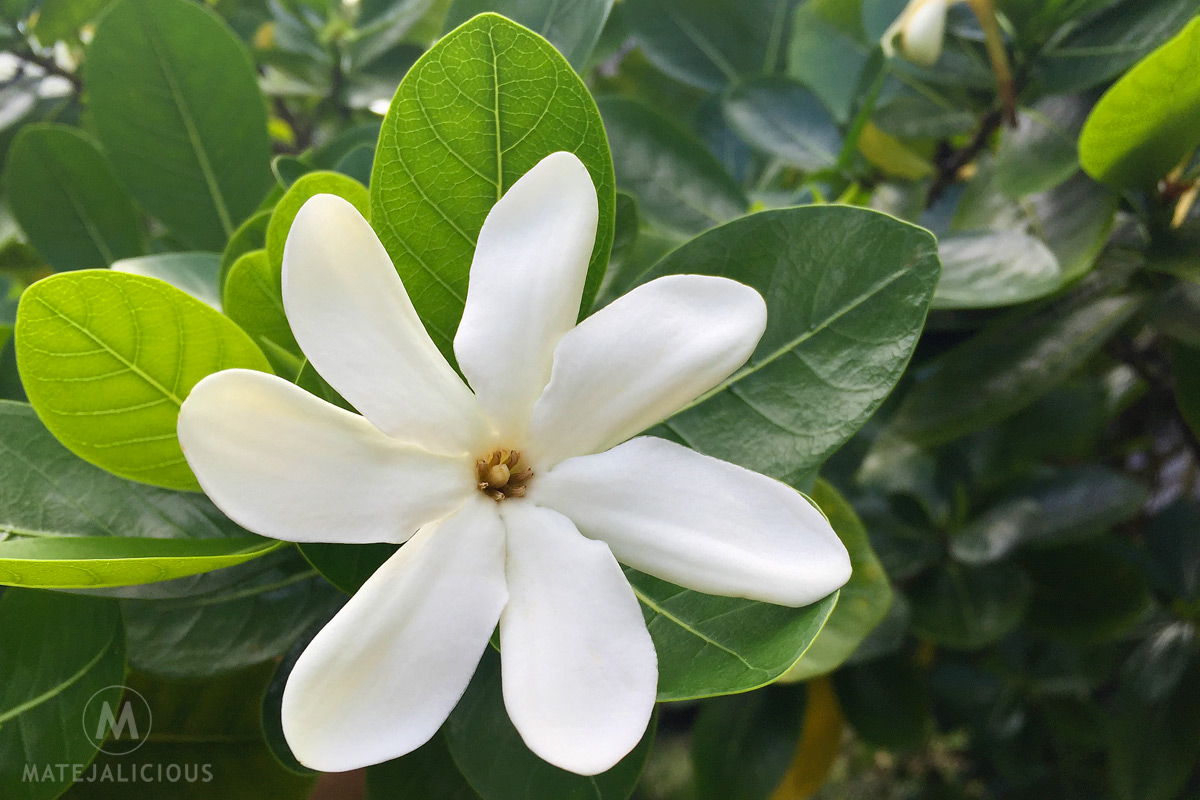 Tahitian gardenia is actually a shrub in the Rubiaceae family that can usually grow up to 6 meters. It needs full-sun position for thriving. Luckily, it flowers all year round and produces a number of white flowers. During the centuries it perfectly adapted to this environment, so it flourishes on high islands as well as on coral atolls. This tropical flower truly seems to be everywhere on the islands and has become the emblem of Tahiti and French Polynesia. It can often be found in the hair of Tahitians, worn behind the ear, in a flower crown or lei.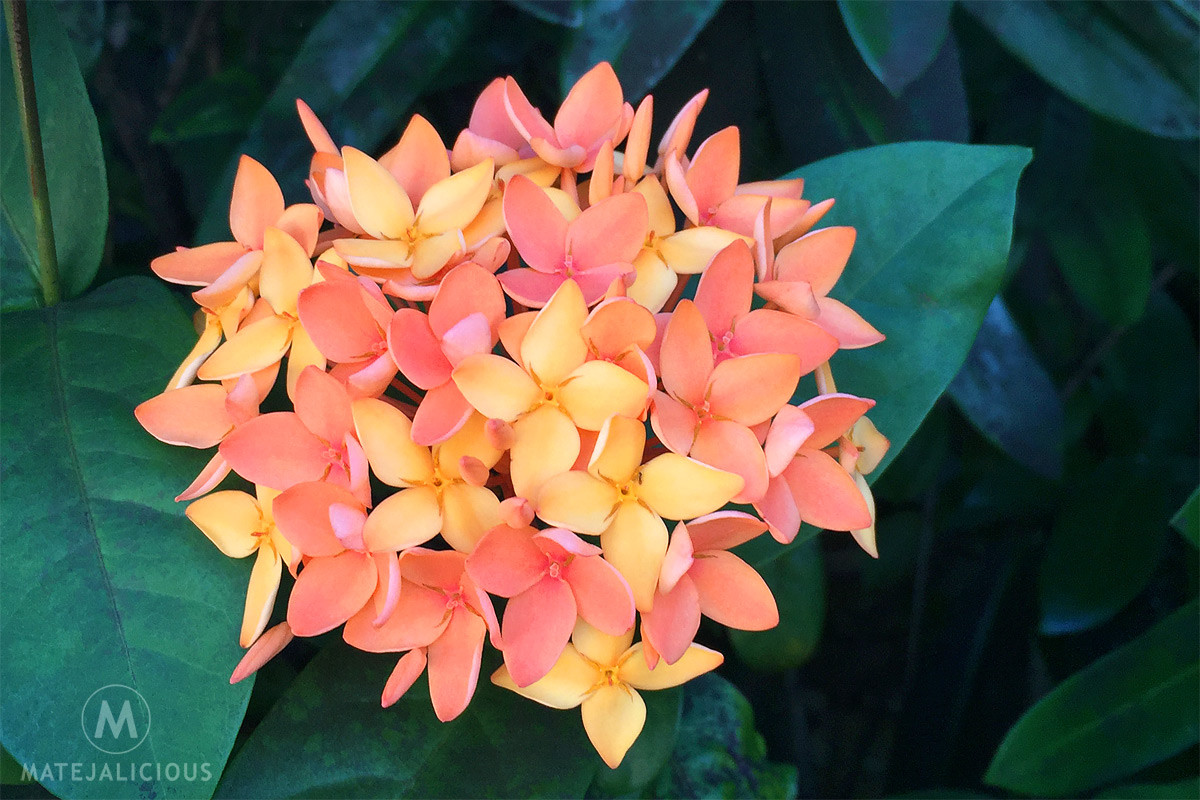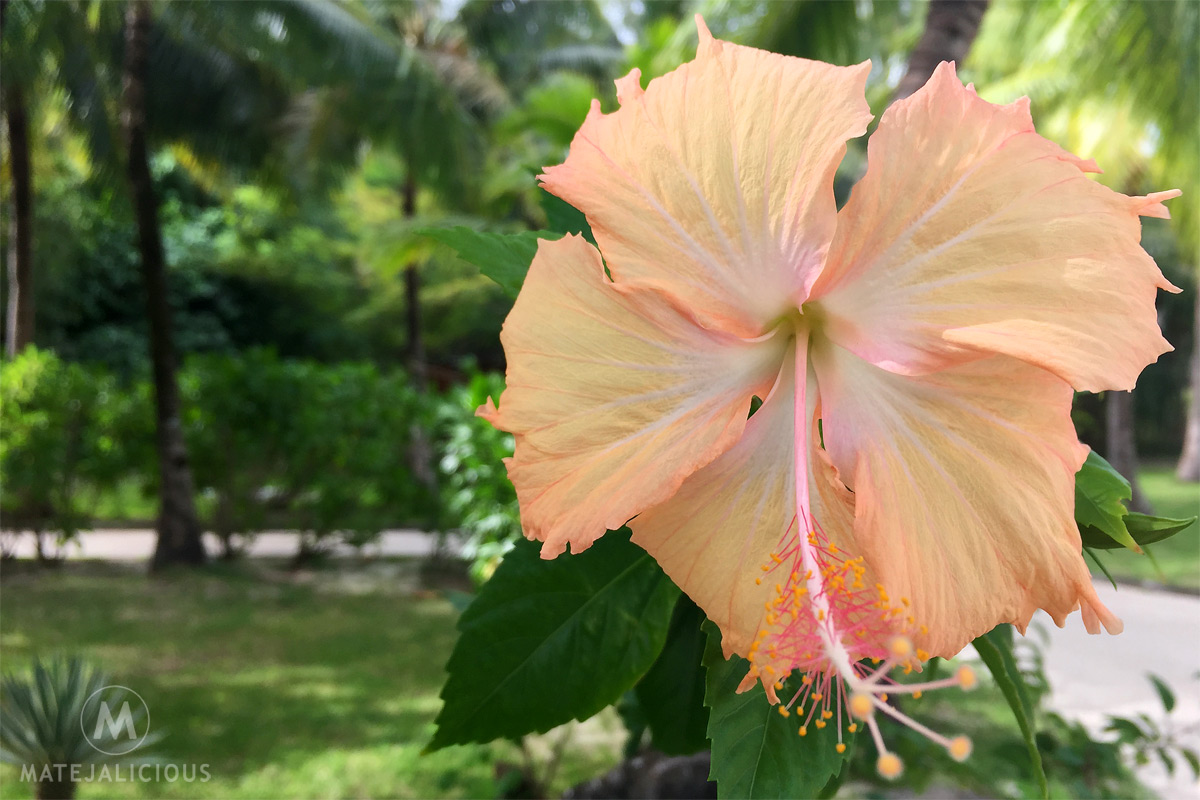 What else?
Hibiscus, Ixora, and Frangipani (Plumeria) are all very common in French Polynesia as well. They all come in various exotic colors and are incorporated into everyday arrangements and ornaments. Frangipani, especially, has a wonderfully rich and sweet aroma that is often used in perfumes. Orchid Tree (Bauhinia Variegata), Bougainvillea, Royal Poinciana (Delonix Regia) also caught my attention with their strikingly beautiful color blossoms.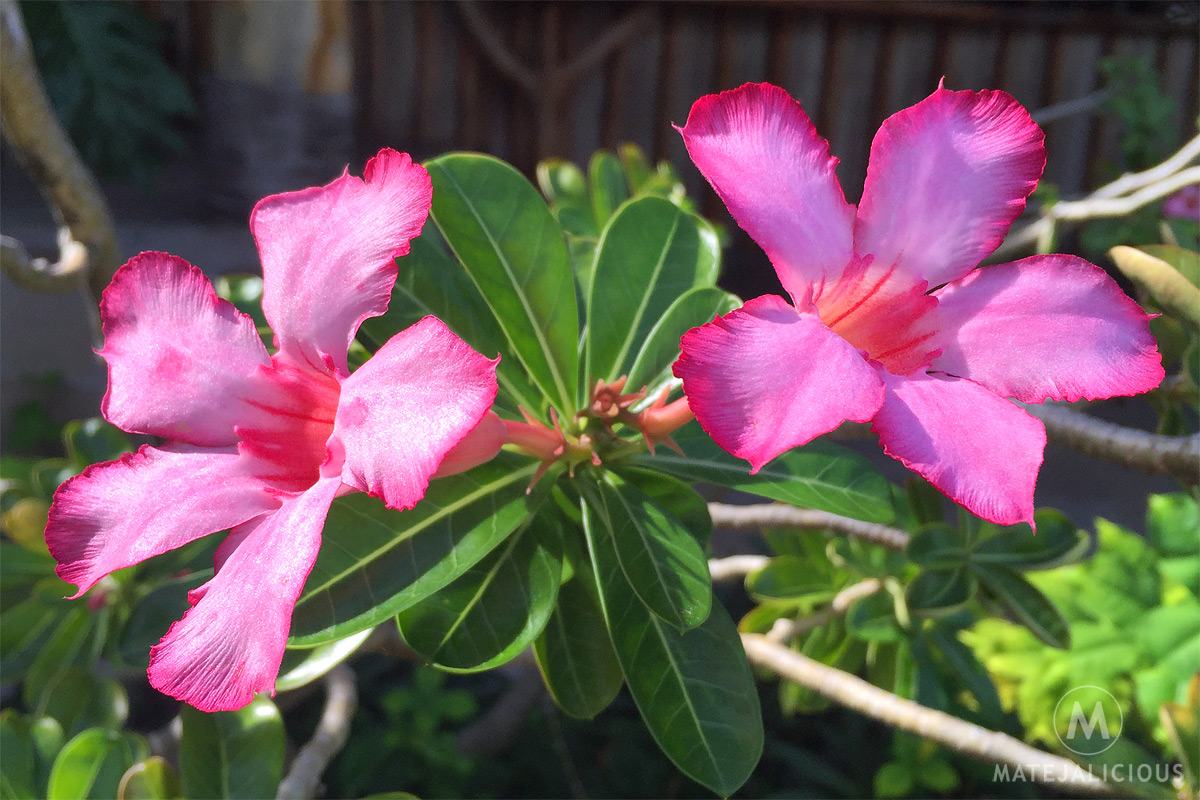 When traveling to French Polynesian islands you can discover fascinating tropical flora and stunning colorful explosion of flowers that smell like nothing of this world. Flowers are definitely a major part of French Polynesian culture and tradition. They are being incorporated into their everyday activities and lifestyle. They are omni-present in the gardens and the scenery.
Mostly, they are a beautiful mix of the indigenous species, the introduced plant varieties from the Polynesian migrations and the later arrival of the Europeans. Travelers and visitors today can be inspired by the kaleidoscope of colorful vegetation and are able to experience a unique sensory display.
My foot has since healed quite quickly and I retired my old running shoes. In the end, it doesn't really matter if you're active or more laid back when visiting the islands. Stopping and admiring the blossoms in French Polynesia is something you are drawn to. You'll probably return home with a SIM card and your phone full of flower images, just like I did. Maybe you'll even find your favorite flower scent among all the colorful tropical beauties found in Polynesia.
→ Also check: Cruising the South Pacific
Pin this for later…

Leave a reply