TRAVEL DESTINATION: Gola di Gorropu Gorge, Sardinia, Italy
TRAVEL DURATION: One day experience
Exploring Gola di Gorropu, Europe's deepest gorge, ended up to be the highlight of my road trip around Sardinia a couple of months ago. Up until then I only visited another gorge in New Zealand that has (besides the smaller proportions) a quite different feel to it. Without a doubt, there is something extraordinary about this particular one in Europe. It made me feel alive, filled me with inexplicable energy and also pushed the expectation bar quite high for the future canyons I now want to visit.
The setting of Gola di Gorropu is just perfect. Like with so many precious things in life, you need to put in some effort (a.k.a. hike time) to reach the entrance of this gorge. It's definitely not just sitting in the backyard of a fancy Sardinian beach resort. For me, that is a plus. It means you need to dive deeper into nature to experience and witness the specialness and the magnitude of it.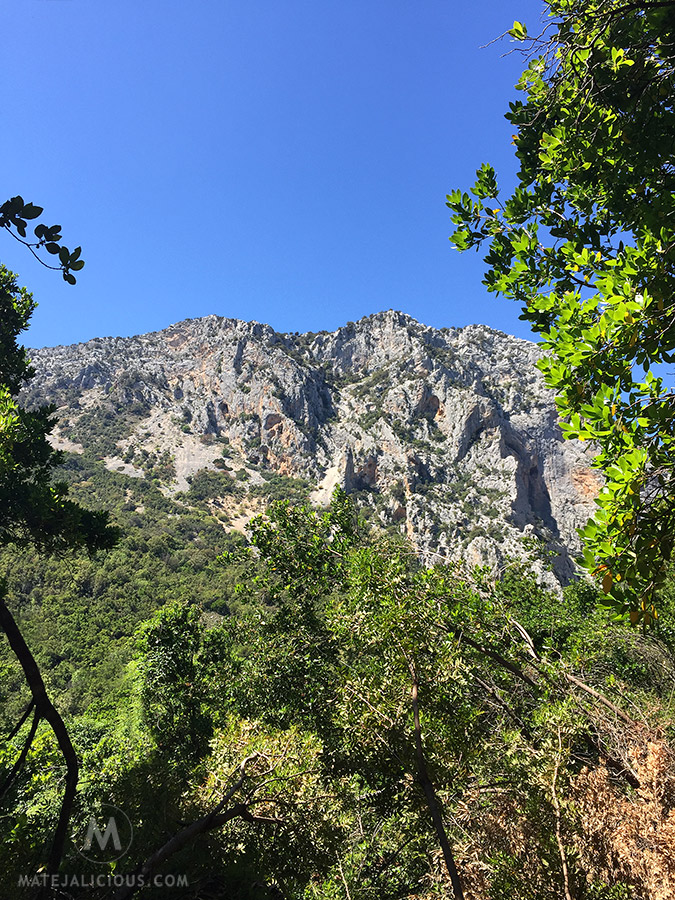 Right at the beginning of this post, I want to point out that this time I will mostly be sharing vertically displayed visuals (images in a portrait mode). It's basically the only possible way to go around the gorge – with your head and eyes turned up, reaching towards the sky, admiring the heights and wondering how the heck nature managed to create such deep traces in this place on Earth.
Yes, it's mostly up and even more up in this canyon, past the natural carvings, and deeper into the beautiful gorge. Openings in the sky are like distant windows as you rest your gaze on the greenery at the top of the tall edges. And that's where my camera mostly took me on this journey. Towards the sun rays that continuously battle their way down into the canyon's core.
Are you thinking of visiting this unique gorge in Sardinia? Let's step into it and see what it has to offer.
What is Gola Di Gorropu?
Gola di Gorropu is the most profound gorge in Europe, cut deep into the Sardinia's Supramonte karst massif, located between the provinces of Ogliastra and Nuoro. It's been shaped by the strong force of the river Flumineddu as it eroded through the limestone rock and created high vertical walls. The canyon is only 4 meters wide at its narrowest point, while cliffs rise up to almost 500 meters. Gola di Gorropu is without a doubt a geological monument and site of high natural value.
How to Reach Gola Di Gorropu?
Getting to Gola di Gorropu can turn out to be quite an adventure. As I mentioned before, entry to the gorge can only be reached after completing a hike. Well, at least partially (I'll tell you more about the jeep transportation a bit later), to be precise. So yes, there are options with this hike. Considering your physical capabilities, you might want to choose from a number of routes. I'll here focus on two of the more popular starting points.
Ponte S'Abba Arva (40°13'29.0″N 9°30'58.2″E)
This is an easier option of the two, and this is where the hike started for me. I completed another hike the previous day and wanted to save some energy for the actual exploration of the gorge once I reach it. So I went with this easier 6½ km long scenic trail that parallels river Flumineddu. The walk alongside the Rio Flumineddu provides some amazing views of the green pools and large white boulders that bring a foretaste of the gorge where such limestone formations are only magnified in size and numbers.
There is basically no major elevation on this route, so it can truly be completed by anyone. All fitness levels should find it doable. No excuses. It takes around 1½ hour on foot to reach the mouth of the gorge.
Jeep Ride
If this is still something that would be too much of a challenge (remember, you can easily spend around 2+ hours inside the gorge itself), then you can decide to take a 20 minute jeep ride. You'll be dropped off along this track next to the river, and will have to walk an additional ½ hour to reach the entrance of the gorge. The jeep ride can be arranged both ways or one way only to cut down the hiking time. This is especially popular during the hot summer days when the temperatures become unbearable. Do a Google Search to find service providers.
Passo Ghenna Silana (40º09′32.0″ N 9º30′29.0″ E)
This is a bit harder hiking option that begins at the car park across the Hotel Silana on the SS125 road. Starting the hike here, at Passo Ghenna Silana, means you'll need to overcome 650m elevation gain. Even though the trail is shorter in length than the previous one, do set aside somewhere between 1½ to 2 hours for one way. The climb back up to the starting point turns out to be the biggest challenge for many hikers. Amazingly dramatic views on this route, however, should counterweight the obstacles and all the effort you'll be putting in. That's what makes this track so very popular.
Inside Gola Di Gorropu
Journey inside the canyon begins with a brief from the guide and an entrance fee (€5). You receive the info on how the gorge is basically broken into 3 sections (green, yellow and red), each consecutive more demanding and difficult to progress through. There is more climbing needed the further in gorge you go. Eventually, you need the ropes and climbing kit to overcome some vertical cliffs. That area is obviously reserved for the skilled and experienced rock climbers. Without the additional climbing equipment, you're only able to penetrate into about 1/3rd of the gorge.
The gorge officially opens at 10:30 AM. Right away it offers shockingly amazing views: huge limestone rocks and boulders everywhere, deeply carved vertical walls, blue opening 400 meters above and of course, the anticipation of what may lay ahead. There is fresh air and there is silence. All that makes you want to stop, admire and just breathe. As I started to progress further into the gorge, I quickly found myself using my hands as much as my feet in my attempts to hop across the boulders. All along I was able to follow the painted spots that mark the optimal way through the enchanting maze of rocks.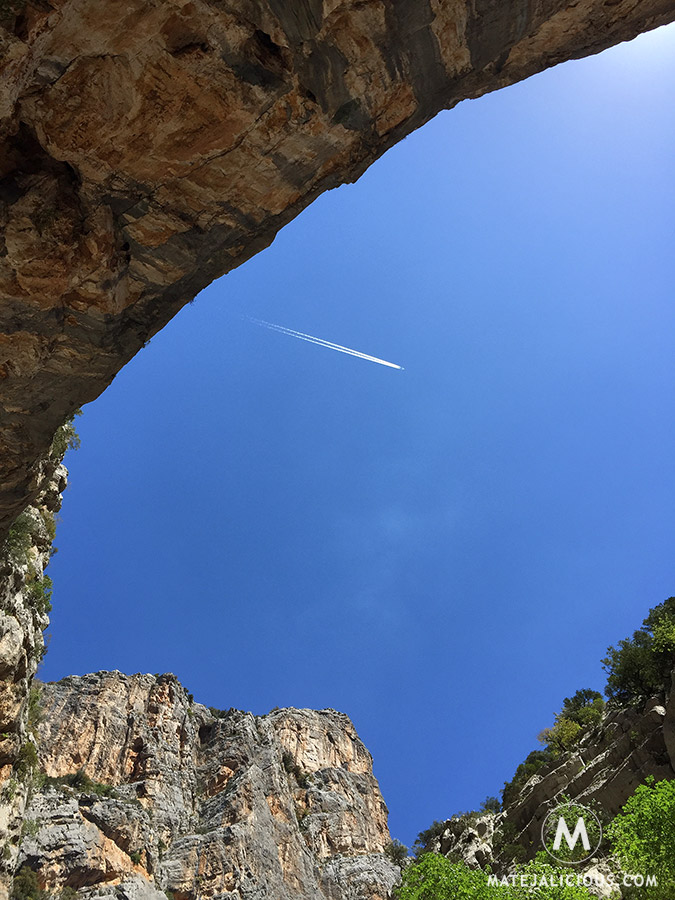 As I mentioned in one of my previous posts, it's good to have a hiking partner for this exploration trip into the gorge. You'll be able to help each other with climbing and manage to overcome those huge white rock boulders more swiftly. You'll also progress much further into the canyon that way. People were actually quite friendly here and we randomly helped each other whenever someone got stuck. There were also many fixed ropes along the trail (especially in the "yellow section"), which turned out to be quite a helping hand on more challenging parts of the gorge.
Quite near the entrance, about 15 minutes in, the canyon narrows to about 4 meters and this is the spot where the limestone walls reach the highest level at around 500 meters. Ahh-mazing place, a nearly vertical cliff, where many fearless climbers tackle one of the hardest climbs in Sardinia. Views past this vertical limestone wall towards the sky were dizzyingly beautiful, as I kept finding myself exhaling uncountable "ooh"s and "aaah"s. Natural patterns of the cliffs and overhangs here are just so surreal.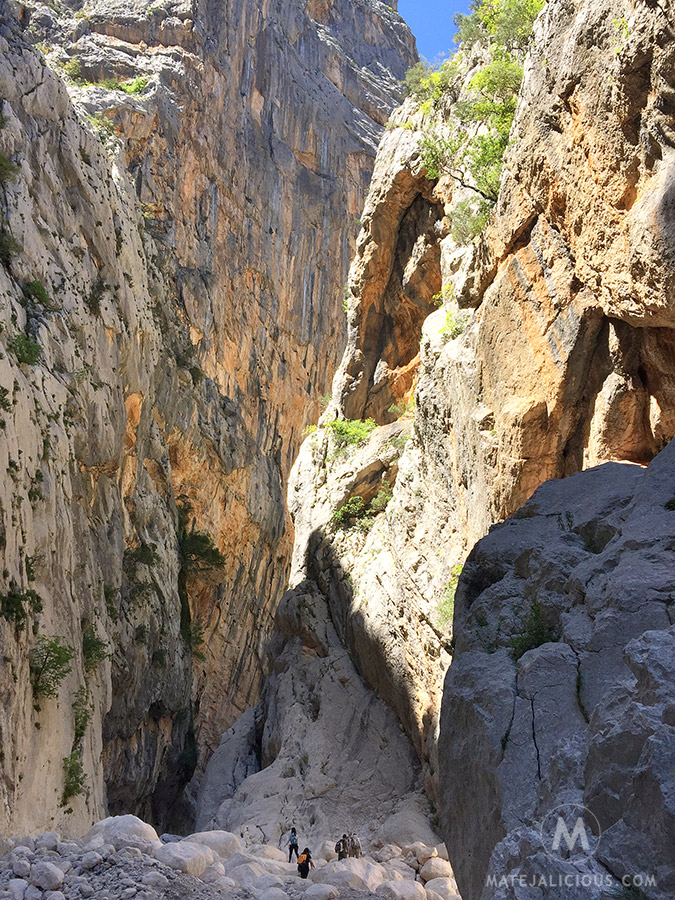 My Experience of the Gorge
Exploring the Gola di Gorropu gorge was something new and extraordinary for me. Honestly, I've never imagined it would have left such an imprint on my whole experience of Sardinia. I couldn't have chosen a better day for this adventure, with the cloudless blue sky lingering around the whole time.
Of course, my imagination ran wild the whole time, as I pictured the astonishing power of nature that must have sculpted this impressive gorge. I felt such an appreciation for being part of the gorge at that specific space and time and I couldn't help but feel tiny and fortunate at the same time. Yes, nature sure knows how to display its impressive powers and creations, and how to provide yet another magical experience.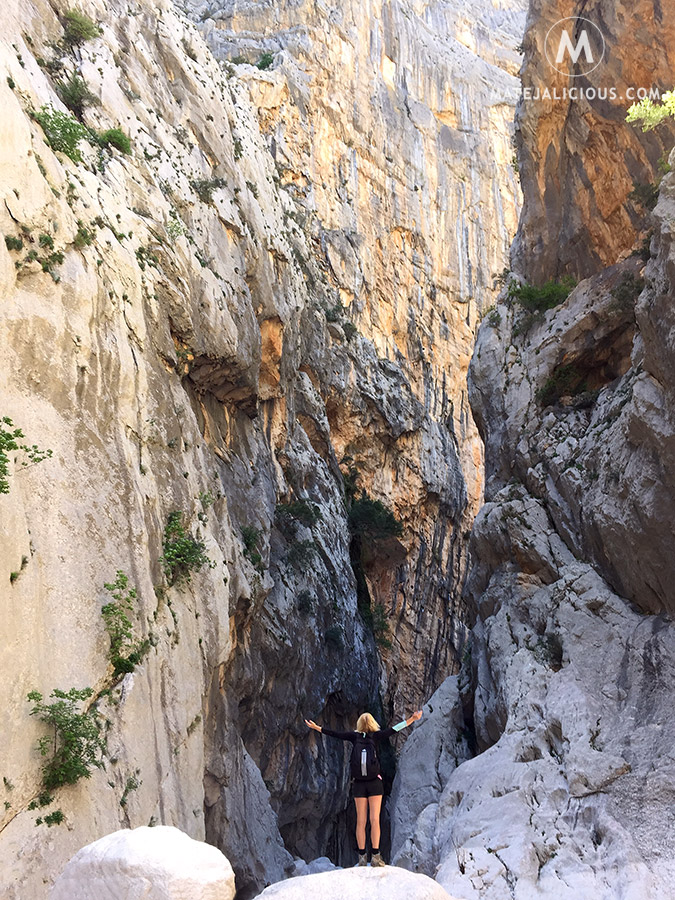 Important Bits and Pieces
These are my tips that could make your journey to Gorra di Gorropu a bit nicer:
– I recommend starting with the hike in the morning, so you can begin exploring the gorge as early as possible. High limestone walls block out the sun from the canyon quite soon in the afternoon and you don't really want to experience the gorge in a deep shade.
– Bring some money for the entry to the gorge and a bit more if you decide to leave your car at the Ponte S'Abba Arva car park.
– Bring sufficient water for the day (especially during summer months) and fill your backpack with snacks and some lunch food.
– I recommend sturdy footwear with a grip for this hike as you'll possibly be climbing and scrambling over slippery boulders in the canyon.
– Also, be very careful while walking and climbing in the gorge to avoid sprains or other injuries. There was a rescue helicopter stopping here on the day I visited. Things can, unfortunately, go wrong quite fast.
– By all means, bring with you the widest camera lens you own, and you'll rock this place (pun intended). It's the only way you can fully capture all the beauty and the height of this place.
– I suggest you set aside the whole day for this adventure and fully dive into this amazing experience.
Gola di Gorropu is often described as the "Europe's Grand Canyon". What I am sure of is that the journey amid massive white limestone rocks in the heart of Sardinia's Supramonte will surely make a long-lasting impression. The experience is almost sobering. You can truly silence the outside world and witness nature's unique expression in the midst of the head-spinning perimeters of these tall walls.
Pin it for later!

Leave a reply