HIKING DESTINATION: Torre del Poetto and Sella del Diavolo, Sardinia, Italy
HIKING DURATION: 2-3 hours
Did you ever get lost or couldn't find the way to your planned destination or landmark while traveling and exploring new horizons? Did you need to turn around on a whale watching excursion the very last minute because the ocean all-of-a-sudden became too rough, and at the same time watched another boat just leaving? Yeah, that weather element. It probably ends up getting most of the blame with travelers.
Does it sound familiar? The thing is, it's happened to all of us. In one shape or another. At least, that's what I'm saying to myself. On such occasions, we're left with a funny aftertaste of incompleteness, and either deep desire to do it better and right again the next time, or completely shattered with no intention to ever return to try again.
My first hike in Sardinia was one of the "almost did it the way I planned" ones. You know, the ones with an incomplete ending. Things didn't really unfold the way I imagined. Instead, I can only make a half-tick next to the experience. That's especially why I'd like to share it here. In some way, it might just help someone else to actually reach a beautiful coastal landmark near Cagliari as there is so little written about it online.
So, let's put some perspective on this hike to Torre del Poetto, so you know what to expect if you visit the area.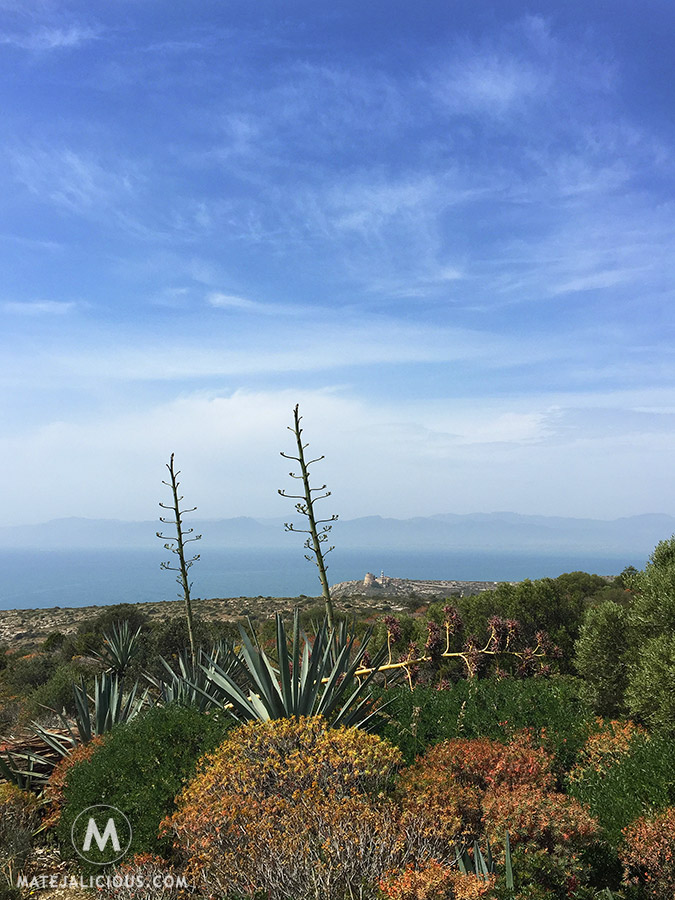 What are Torre del Poetto and Sella del Diavolo?
Torre del Poetto is a coastal tower on the promontory of the Sella del Diavolo, located near Cagliari. Today we can only witness the remains of this small 17th-century limestone watchtower structure. The dome gradually broke over the years and now only consists of two separate truncated cones.
The structure used to be part of the coastal defensive system in the area, playing a vital part in protecting the island from foreign attacks from the sea. For a short period, it also served as a lighthouse. At 87 meters above sea level, it sure offers amazing views of the city, surrounding landscape and beaches.
Sella del Diavolo (Devil's Saddle) is a distinctive rock formation, located not far from Torre del Poetto. It can be seen from the nearby Poetto Beach, however, hiking trails along the promontory offer even more amazing panoramic views of this natural formation, distinctive by its shape.
How to reach the landmark?
Well, there's a "legit" way that doesn't actually bring you all the way to Torre del Poetto, and there is a bit riskier one that includes breaking some rules but does lead you right to the desired destination.
Access from Poetto Beach
Once you arrive to the Poetto Beach, you easily spot Torre del Poetto and Sella del Diavolo on a nearby hill. The climb seems achievable, however, finding the path is what is the real chore here. Let me tell you right away: it involves crossing the military land, so you might want to think twice whether you really want to pursue this option. Many people have done it, though. I know. I saw the images. Beautiful images. But is it worth the risk?
I've searched for all other, "legit" options to access the track that would lead up the hill to both formations. I've zoomed in on Google maps, walked around the area for more than an hour, and searched for any sort of sign or direction pointer to guide me. All without any luck. With each path I took towards the nearly collapsed tower on the hill, I bumped into the military fence that kept me away from my objective.
Right there and then I experienced one of the more frustrating moments in my life. I mean, the tower was there, I could see it clearly! I made a tough decision not to break the "rules" and chose not to jump over that military zone fence, even though there was a clear path on the other side that would lead me directly to both formations. Obviously, I am not suggesting you should do it yourself, but apparently, that's been done and has been practiced.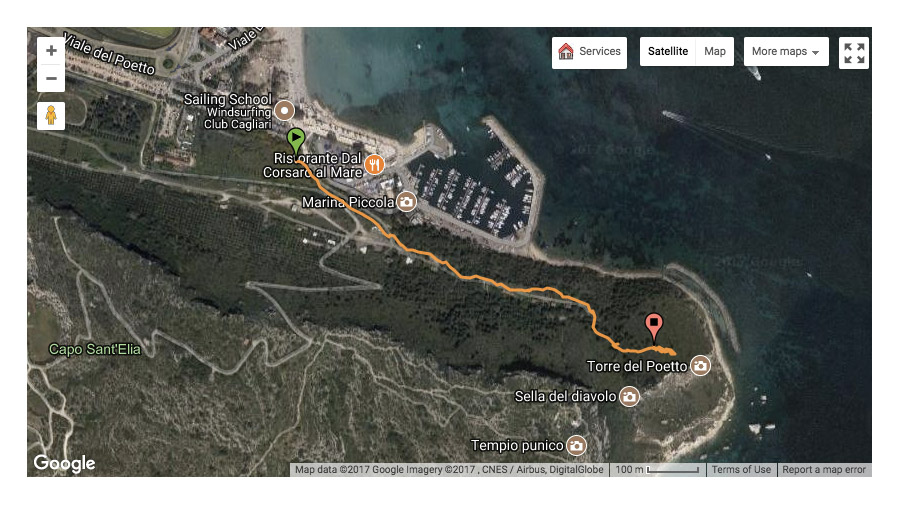 Map Source: WikiLoc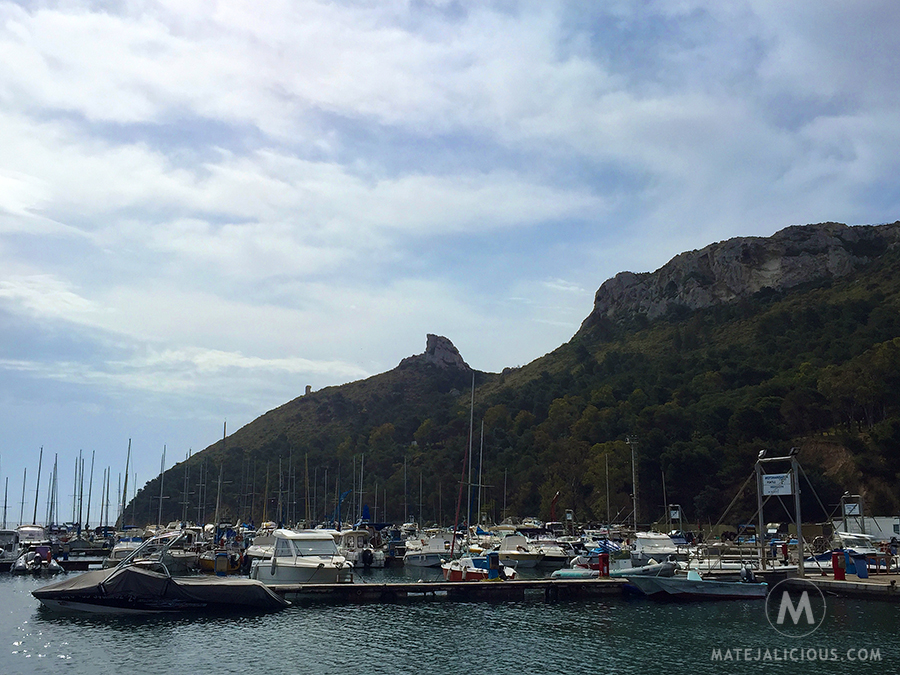 Access from Calamosca
After an hour of exhausting all the options and my relentless google-ing for a solution, I wanted to try approaching the top of the hill from the other side of the peninsula. There must be a way, right? Any sort of way? At this point I was willing to hang on to the idea there was a slight chance of actually doing some hiking.
Yes! This area seemed to be free from the military fences and I even found the hiking information board at the beginning of the trail near the car park. Painted marks on the rocks were easy to follow and I was happy to be finally able to proceed towards the hilltop on my feet. It turned out to be quite an easy hike with a steady climb, however, many small lizards were crossing my path, so be extra careful to not step on any.
The 360° views along this short one hour hike were just breathtaking: Cagliari, popular Poetto Beach (Spiaggia del Poetto), Calamosca and the endlessness of the Tyrrhenian Sea with Torre del Poetto and Sella del Diavolo in the foreground. I admit, I even tried to climb down the hill towards the Torre del Poetto, but quickly realized these steep slopes were just too dangerous to take any risks. Once and for all I stopped playing with the thought of reaching the landmark that day.
Map Source: WikiLoc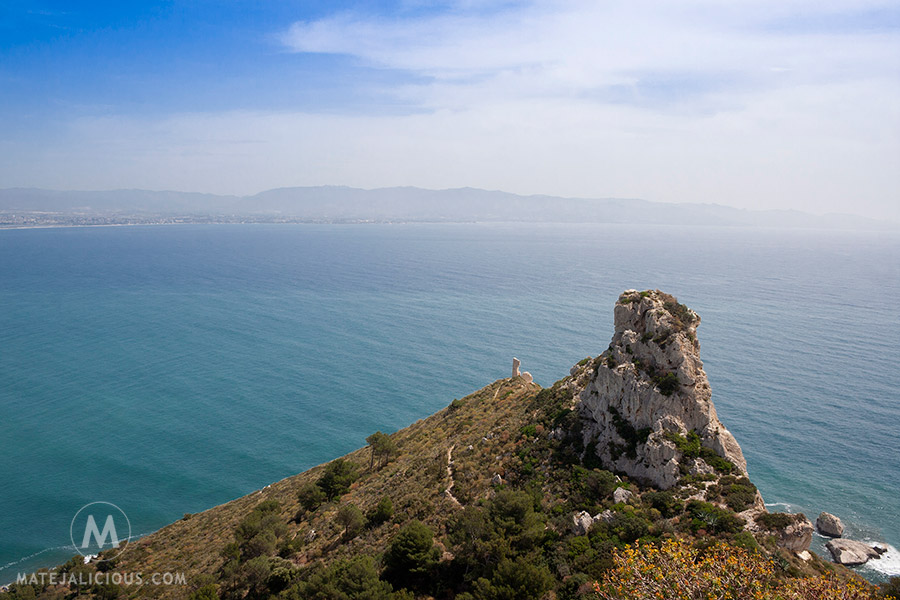 What else is there?
This area of Costa Sud is full of historical significance in addition to Torre del Poetto and Sella del Diavolo. On my hike, I came across Punic ruins and caves from the 6th century BC with the temple, dedicated to the Goddess Astarte. Other points of interest I was able to see are a Roman cistern, an 11th century St. Elias monastery and a defensive wall from the World World II. The promontory was obviously quite a busy area in the past, and you can easily spend an hour exploring all the historical sights.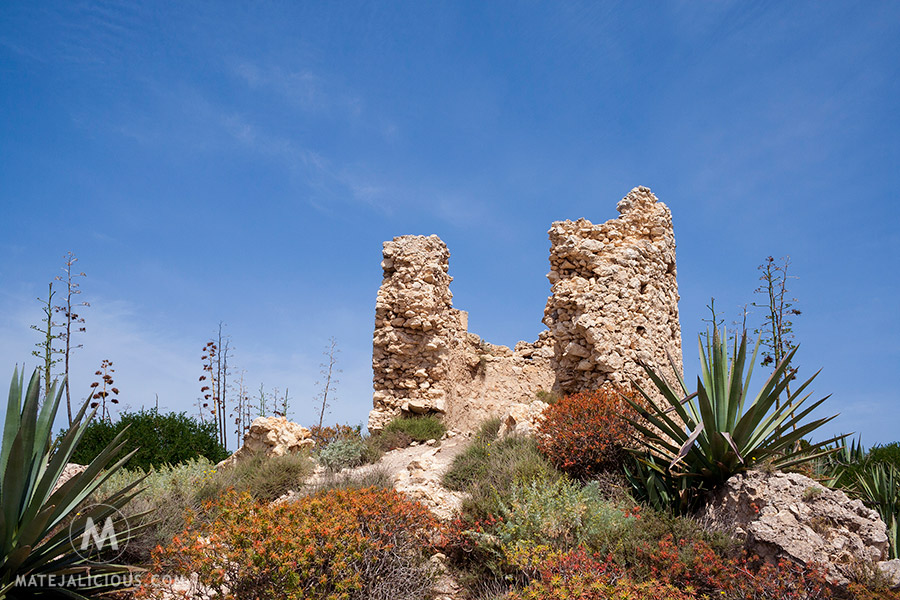 If you're coming to Sardinia through Cagliari (airplane or ship), then hiking to Torre del Poetto with Sella del Diavolo is a must. The panoramic views from the top of the hill are just amazing, and the hike is not too difficult to complete. Even if today this place seems to be in a state of ruin, you'll be surprised by its rich archeological heritage and natural beauty. Torre del Poetto and Sella del Diavolo are the icons of Cagliari that keep dominating the Marina Piccola and the nearby Poetto Beach right to this day.
HIKING TIP: When I took this hike to Torre del Poetto in Sardinia, I quickly realized it wasn't hard at all to get lost on the island. Hiking markers are in general very rare and paths are seldom clear. Later in the week I completed a couple of other tracks on the island but must say that the hiking trail to this one was particularly hard to find. So, by all means, do come here equipped (maps, phone roaming,..) and do a track research beforehand.
Pin Me <3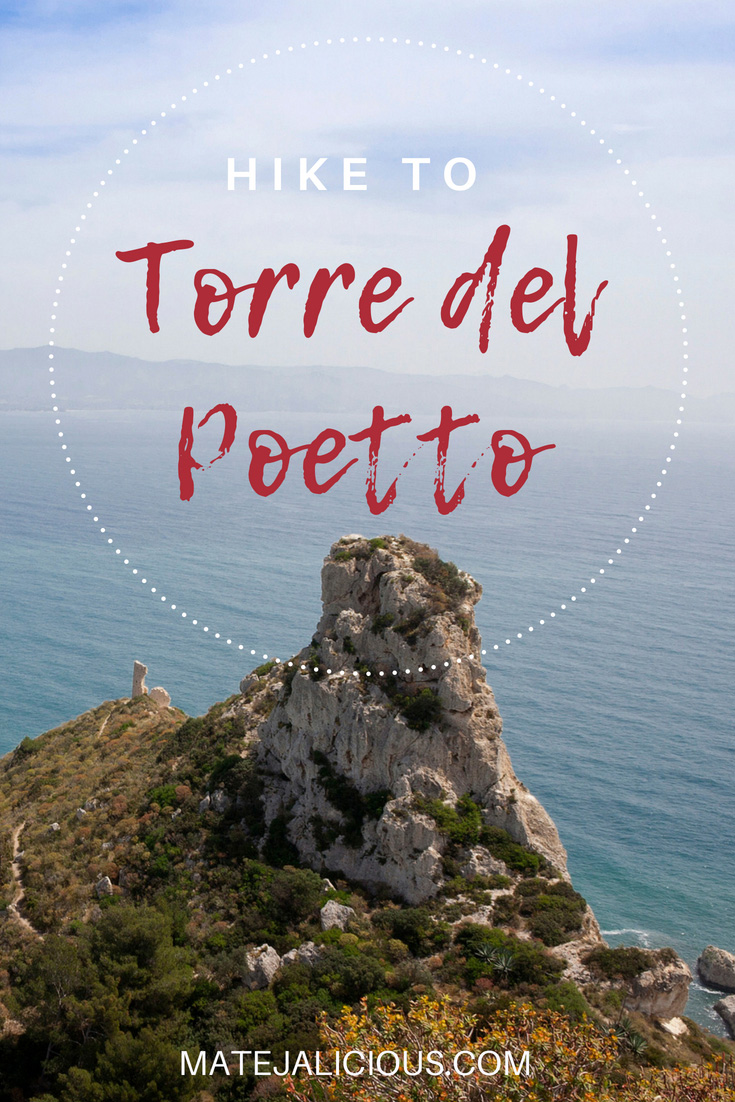 Leave a reply