I'll never forget the day I finally stood next to majestic Uluru and Kata Tjuta.
At this moment I am on the opposite side of the world, reminiscing about my past hiking adventures in Australia's Red Centre. Looking back, I find myself drifting between events that happened during those short three days. Memories are still quite raw. Visiting the area remains one of my most profound travel experiences.
The Red Centre is the place you either gravitate towards and badly imagine one day being part of, or you don't really care about it. There's no middle way there, in my opinion. I was dreaming about it for most of my life and hoped to explore it by the time I'm twenty [fail]. I'd moved around Australia quite a bit before I felt the time was right to step on the ochre soil.
Today I am bringing you along on a few hikes that can be completed in this central Australian landscape. I'll do a bit of comparing and point out some unique angles. More precisely, I'll be focusing on two major hikes that can be done inside the Uluru-Kata Tjuta National Park area: Uluru Base Walk and Kata Tjuta Valley of the Winds Walk.
Maybe this is the perfect time for YOU to put the red soil on your hiking bucket list for some future time when the Earth is ready to have us as travelers again. So let's explore: hiking the Red Centre – Uluru vs Kata Tjuta.
On a general note
Landscape here is simple. The predominant red(ish) color of the desert might make your heart chambers pump the blood a bit faster just as it happened to me. The natural edge that proudly stands out in the distance is only semi-defined, and the vision is quite often hazy around here. The line always seems to be moving a bit further away from the horizon.
Hikers and climbers might (justifyingly) be asking themselves what's there to do in this flat landscape. Climbing the high points of Uluru and Kata Tjuta is an obvious no-go. After all, this is not the place to conquer, but to connect with. It's a fact, hiking here is not the most challenging, however, it sure is rewarding and can be educational if you choose to take time and learn about the history and processes that have been shaping the area. On the other hand, high temperatures are definitely something that can be perceived as a challenge to some.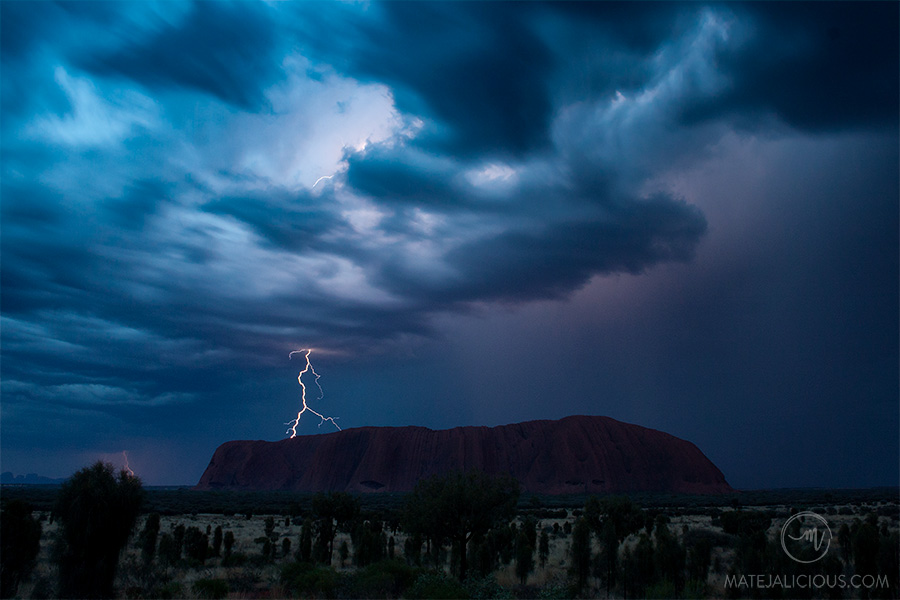 Uluru (Ayers Rock) Base Walk
Distance: 10.6km loop
Time: 3h 30m (+/-)
Entry Fee: National Park entry fee applies
Uluru Base walk takes you around the entire circumference of Australia's most prominent monolith. The loop track around the rock can be done in any direction, but we chose to make a clockwise circle. The progress along the 10km trail did seem a bit slow, but it's a reasonable impression because in reality, that's quite a distance to walk, considering you're making a loop around a single rock. There are so many things and experiences that you can take away from this hike.
First,
the landscape with surrounding vast and open sand plains and the rock itself is extraordinary. There are numerous unique and different sandstone expressions found if you look closely: wind-carved shelters, dramatic ochre slopes – some of them smooth and others gouged with gullies by erosion and time. There are also holes, umber cliffs, ridges, and overhangs that tell stories of natural forces (wind, water, oxidation, sedimentation) they were shaped and colored by.
Along the pathway, we also came across groves of lush spinifex grass, native green scrub, acacia woodlands, and tall eucalyptus trees. More than anything, I remember how surprised I was to learn and see for myself that waterways and waterholes are a big part of this central landscape. Kantju Gorge and Mutuitjulu Waterhole are important sources of water supply. If you look carefully, you're able to see traces of smooth water lines and patterns on rock faces carved by torrential rain.
Second,
there is so much to learn about the land and the history. Anangu, the local Aboriginal people, have been calling this place home for centuries. They have a deep spiritual relationship with the land. The walls of Uluru's sacred sites portray creation myths and tales about their traveling during the Dreamtime. This way, the Aboriginal oral tradition (real and mythical) has been preserved with the aid of rock art paintings.
Paintings tell stories that have been repeated and preserved from one to the next generation. They were created with minerals, natural chalk, charcoal, ochre, and even ash, and are protected by overhangs and caves. Uluru is quite often perceived as a living museum through which we have access to the remote past and knowledge continuation.
The Cultural Centre and Walkatjara Art Centre can be found near the foot of Uluru. I recommend you make a stop here if you want to explore and learn more about the place you're visiting.
A disclaimer: on numerous occasions along the track it is advised not to photograph or publicly share images of certain sites, large areas, particular details, and features. Out of respect to the Anangu people and due to the sensitivity some beautiful spots cannot be shared here.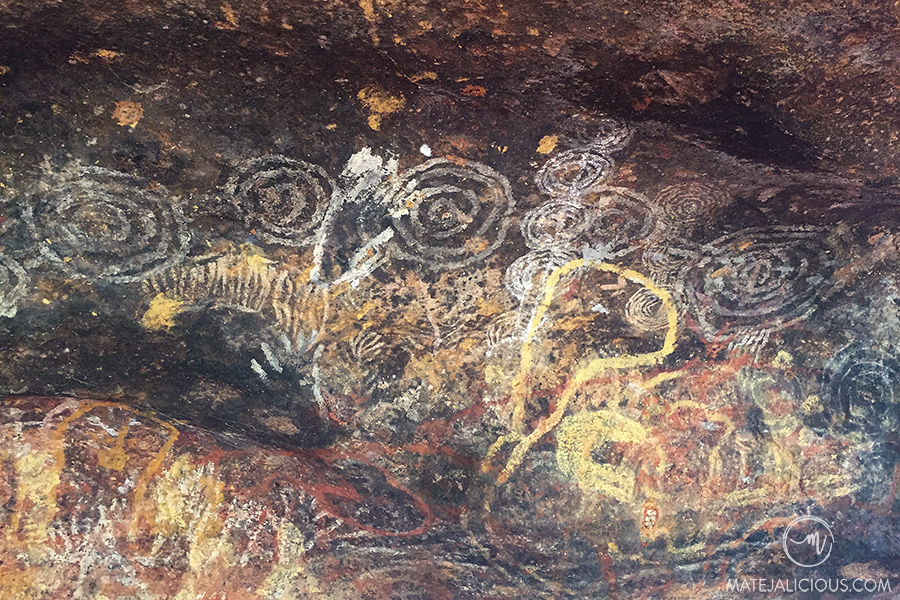 Third,
the hiking trail is flat and there is practically no elevation gain. It's advised to head out in the early morning hours to avoid the unbearable midday heat. Bear in mind that the track or some parts of the track often get closed in the afternoon during the summer because of the heat. And remember, sunrise and sunset bring out some of the most wonderful rock hues and colors.
Like always, bring enough water and (re)apply sunscreen as needed. Most of all, be extra cautious where your feet land and how you move around this area – even along the walking path itself. The red soil and sand plains are home to some of the most poisonous animals.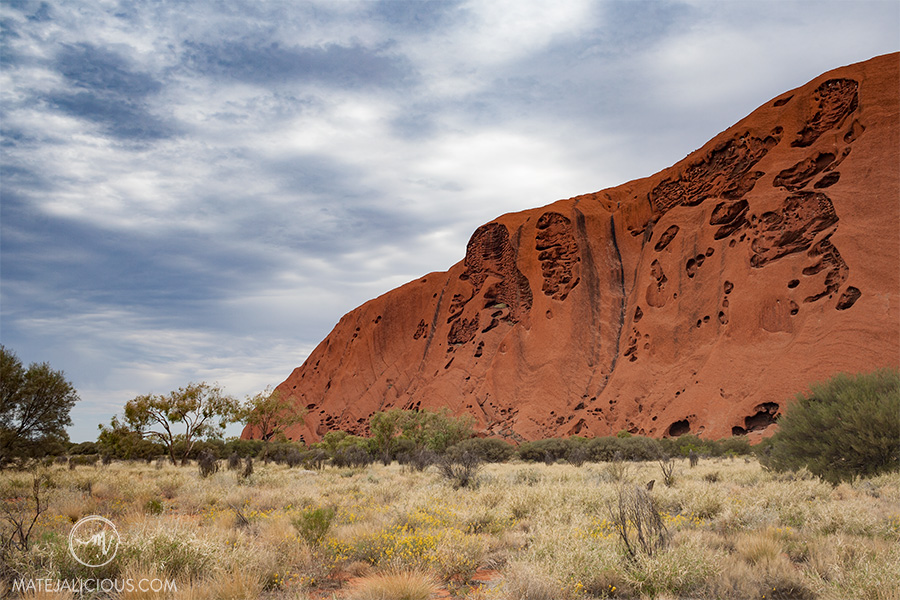 What else?
Depending on how much time you have on your hands, your fitness level, and weather on the day of your visit, you can either complete the entire Uluru Base Walk or focus on a specific section along the trail. Some of these trails (especially Lungkata Walk and Mala Walk) will bring you quite close to the monolith where you can physically connect with the rock.
These are short walks you can choose from (clockwise direction):
Mala Walk (2km one way) with Kantju Gorge
North-East Face Walk with sacred sites
Kuniya Walk (0.5km one way) and Mutitjulu Waterhole with creation stories
Lungkata Walk (4km) and getting close to the rock
Liru walk (2km one way) with Cultural Centre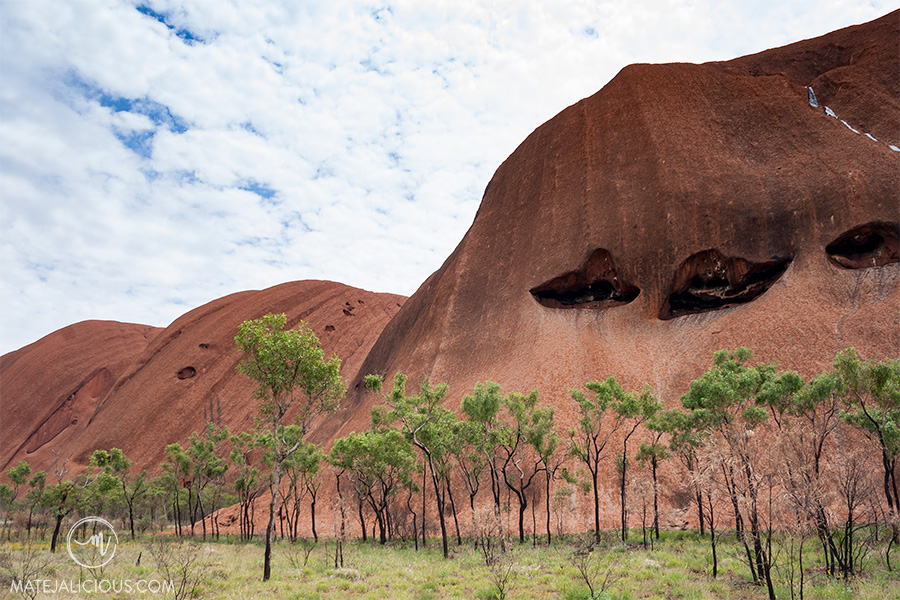 For me, the Uluru Base Walk has been one of the more profound and stunning hiking experiences in Australia so far. My hope is that you don't find it boring or monotone as you make your way around the ancient rock tucked into this numinous landscape.
→ Also check: Discover Australia's Kings Canyon
Kata Tjuta (Olgas) Valley of the Winds Walk
Distance: 7.4km circuit
Time: 2-4h (+/-)
Entry Fee: National Park entry fee applies
Kata Tjuta Valley of the Winds Walk takes you to the heart of 36 soaring red domes. These unique and fascinating rock formations provide a slightly more challenging experience. There's also a bit of climbing involved. In return you get rewarded with absolutely spectacular views from two of the lookout points along the track. While Uluru Base Walk seems to be more popular, this one brings more variety and provides more excitement as you wind your way through the canyons.
Understanding Today's Landscape
Like many natural features in this part of Australia, Kata Tjuta has been shaped over an extended period of time. 500+ million years ago this central Australian landscape was dotted with mountains. Rainwater then washed down sediments to form large rocks. Later on, however, this area got covered by an inland sea. Just how cool is that? I can never fully comprehend that this central Australian landscape was once home to fish! Can you? This fact is truly mind-blowing.
Without the ocean, water pressure, wind, erosion, and sediments, conglomerate rocks like Uluru and Kata Tjuta wouldn't be able to form. Domes of Kata Tjuta are composed of hard sandstone and granite particles and their natural color is grey. It's the oxidation of iron in the rock that brings out the striking red coloring on the surface. How amazing is that today we get to experience and perceive Kata Tjuta in such unique shapes and colors!
Valley of the Winds
Kata Tjuta means 'Many Heads' and Valley of the Winds hike is suggestively quite diverse. It takes you through canyons, down into the valley, under massive rock faces, and across the expansive plains. The track here is predominantly rocky and jandals on your feet won't do the job.
The first kilometer of hiking to Karu Lookout is already quite rewarding. However, the next, Karingana Lookout, is where my breath was truly taken away. The saddle between towering rusty domes opens out surreal views of the valley and immense plains. This is one of those places that have the power to make you feel tiny and on top of the world all at once.
The descent down into the valley and creek beds is a bit steep and can be challenging in spots, but nothing too crazy. This is the section where you can truly enjoy an outback experience. We didn't meet too many hikers here. Most people choose to skip this part and turn back at the second lookout. I totally recommend you explore it though. The solitude here is quite evocative. You are being rewarded at each turn, you get to be engulfed in red immensity, clear blue sky, and soothing desert sounds.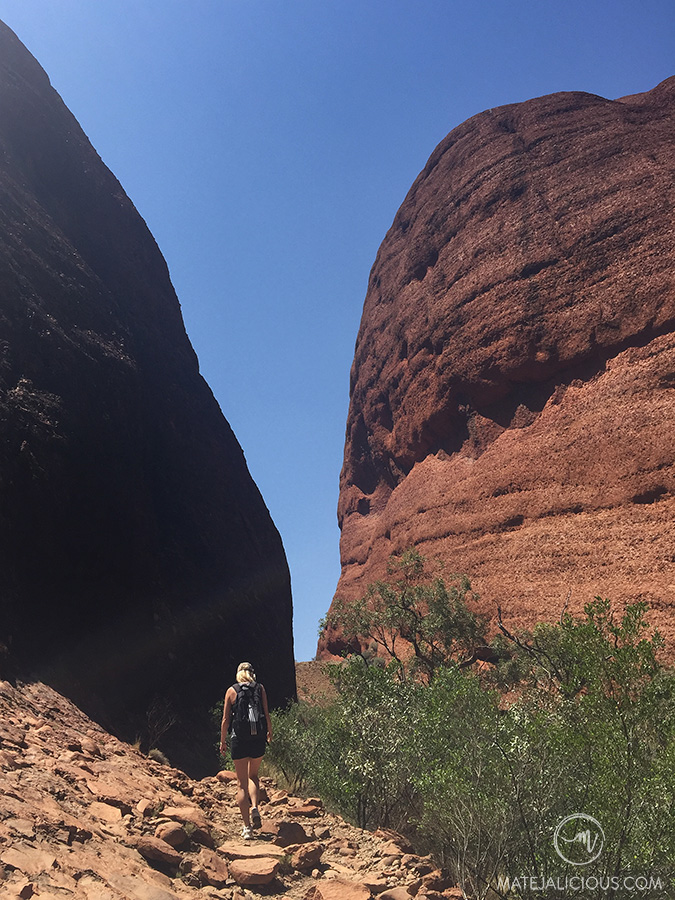 What else?
Apart from the Walley of the Winds trail, there's only one other hiking option available around Kata Tjuta rock formations at the moment. Walpa Gorge Walk is a bit shorter return hike along the natural creek (2.6km return), full of lush life.
Just like Uluru, the sight of Kata Tjuta during the sunrise or sunset stops time for a moment and makes for some unforgettable memories. Both, dune viewing platform and sunset viewing platform are great choices to witness changeable fiery red hues of the dome formations.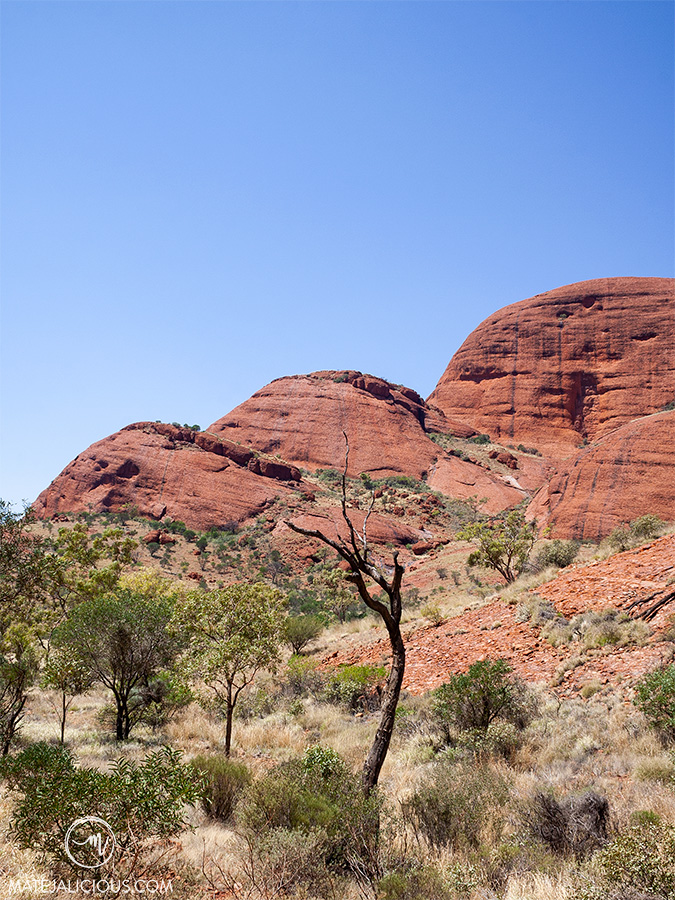 → Also check: 10 photos to make you want to visit Uluru
Epilogue
You must be sensing how two walks are similar but also so very unique and different. While circling Uluru, you're able to soak in a great amount of history, stories and the fullness of color. On the other hand, Kata Tjuta has been for me just so full of soul and rejuvenation. I felt immediately pulled in by the spirit that's been lingering around this ancient desert and I wanted to stay around her sheltering walls forever.
You should definitely explore them both if you can. Circle them and come as close as you can. But please don't climb. It's so important that you don't! To me, it meant so much to be able to spend a few whole days in the Uluru-Kata Tjuta National Park area. Just to slow down from the road trip and give myself the chance to really feel this place and its unique energy. Witnessing sunrises and sunsets with the view out to these majestic rocks was so otherworldly and grounding.
While Uluru happens to be the focal feature of this seemingly arid landscape, I didn't imagine Kata Tjuta would eventually be so striking. It often gets overshadowed by the glorious Uluru monolith. Uniqueness and similarities of both fascinate me, and yet, together they make perfect sense.
→ Pin me!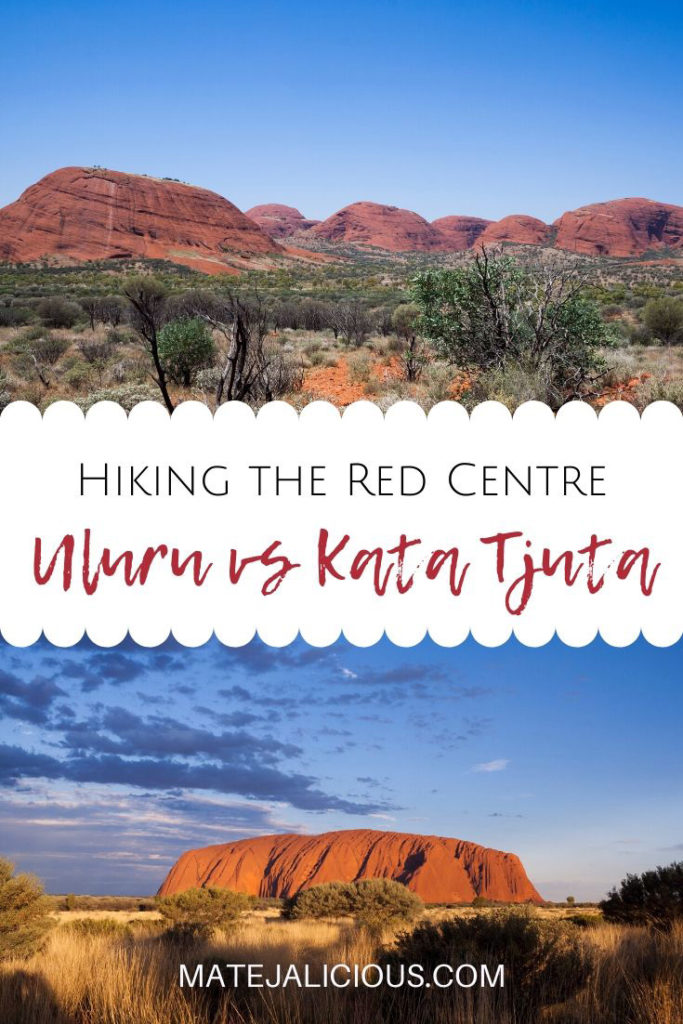 Leave a reply