Piran. It seems it's always in view, peeking through, on the edge of Madona Cape, showing off to be marveled. This charming Slovenian coastal town pulls you in from afar and gets you under its spell the very moment you step inside its limestone walls.
Piran is special to me. I've been taken under its wings whenever I'd need a shelter, a quiet place to unwind, recharge, or get inspired. This blog post is my open invitation for you to go and explore the town. If you get to experience its pulse on an uncrowded day, consider yourself lucky. While busy summer/weekend days and nights give you a sense of being a part of something bigger, I was actually able to connect with the town on a much deeper level when I had it all to myself.
Put aside (at least) one full day to explore Piran. In reality, you won't really need the whole day to be captivated by its beauty. Love is immediate. So let's explore. This is my take on this gorgeous town, and the following are a few ideas on how to spend a day in Piran to leave with the most beautiful memories. Just a note, you probably won't be able to squeeze all these activities into one day, but I hope you still find them helpful and get to experience some of them.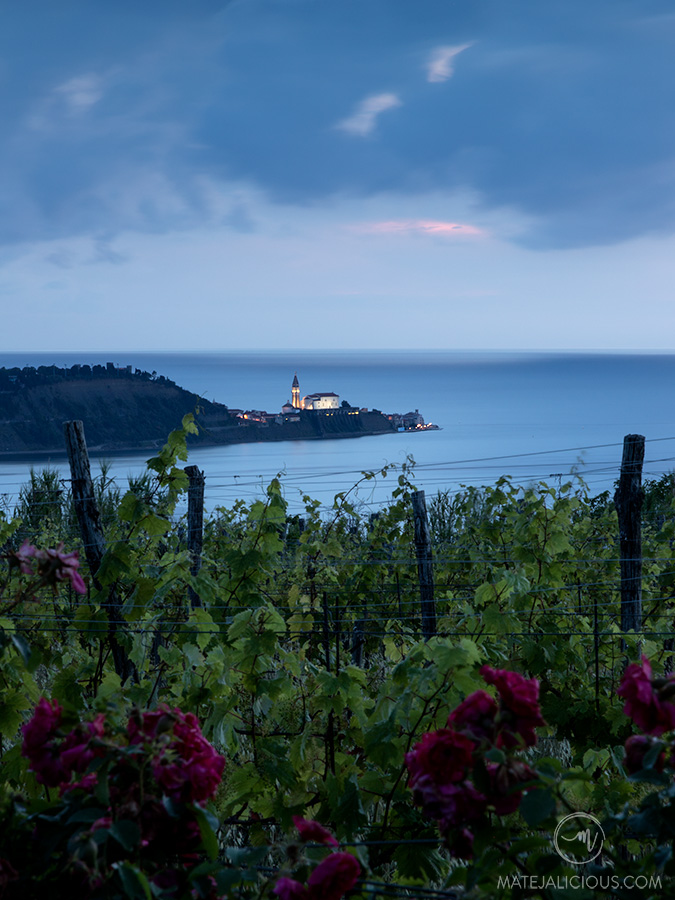 Art and Piran
It's the artistic side of Piran that is most striking about this small coastal Slovenian town. As you move through beautifully pebbled streets and begin to discover all the hidden corners, you can't escape the inspiration the town is infused with. Piran instantly awakens your creative flare and opens you up for imagination. Art is one thing I'd encourage you to explore when you visit Piran.
It comes as no surprise this seaside town has been a home or working base of many artists and creators over the centuries. Go and visit at least one gallery or museum – whichever calls your name at the time. Next are a few of my suggestions.
Mestna galerija Piran (Piran Town Gallery)
Mestna galerija Piran (Tartinijev trg 3) is one of the paramount exhibiting gallery spaces in the Primorska region of Slovenia. It's a place where younger and established Slovenian artists come to showcase their work. Ex tempore competitive visual art event is one of the more prominent international gatherings that occur each year at this location (August 29th to September 5th, 2020).
Mestna galerija Piran can be easily found. It's located just off Tartinijev Trg (Tartini Square). The exhibition space itself is airy, modern, and breathable. I had it all to myself, which I absolutely loved. The central exhibition at the time of my visit was dedicated to the work of Slovenian fine artist and sculptor Erik Lovko.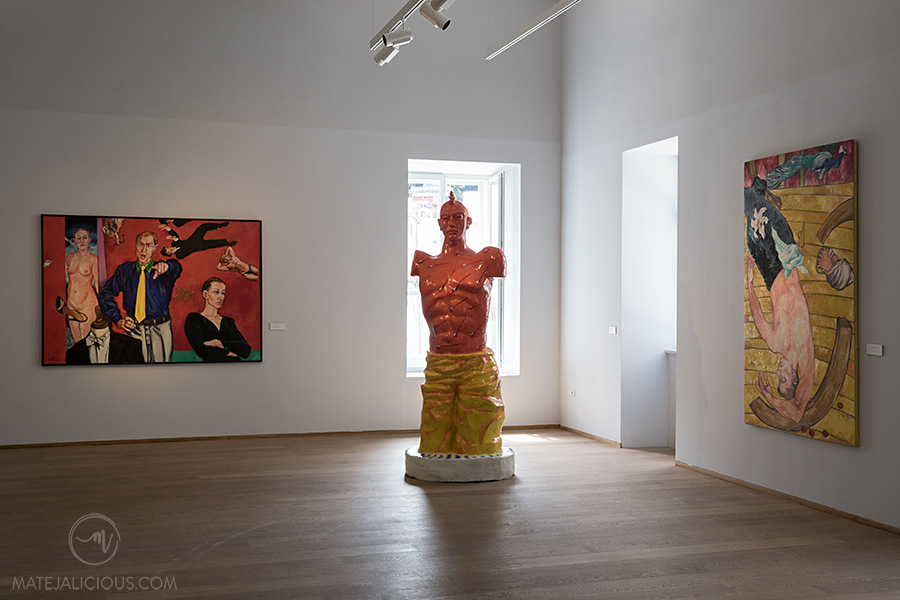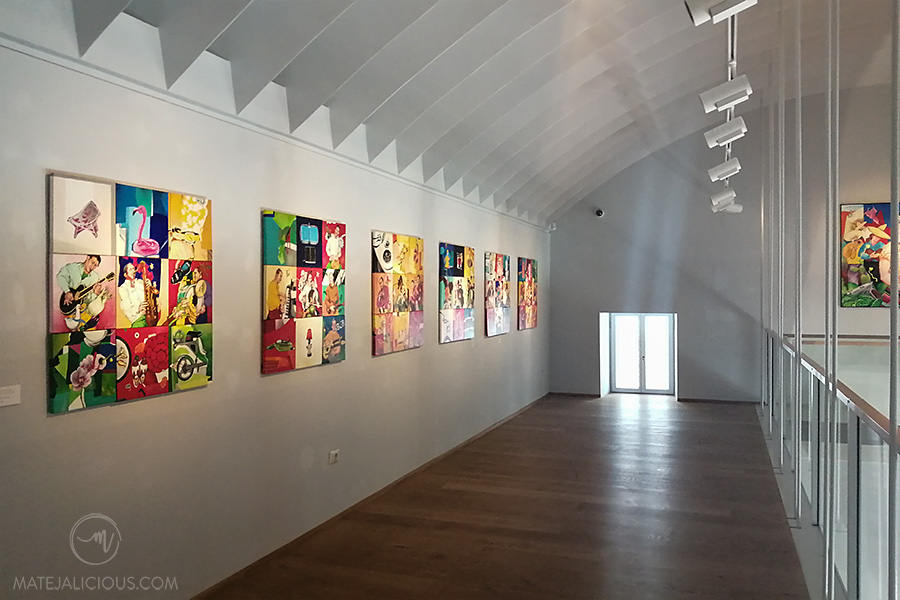 Galerija Monfort (Obala 8) is a unique exhibition space, a part of Piran Coastal Galleries. It's located just outside of Piran, and you can easily stop here for a visit during your walk to Portorož (more on that can be found below). The building was used as a salt storehouse in the past, but now serves several functions. A part of this vast space is occupied by Monfort Contemporary Art Space. The inside of this impressive building homes an array of exhibitions and festivals, and various contemporary painters and sculptors get to be showcased inside its walls.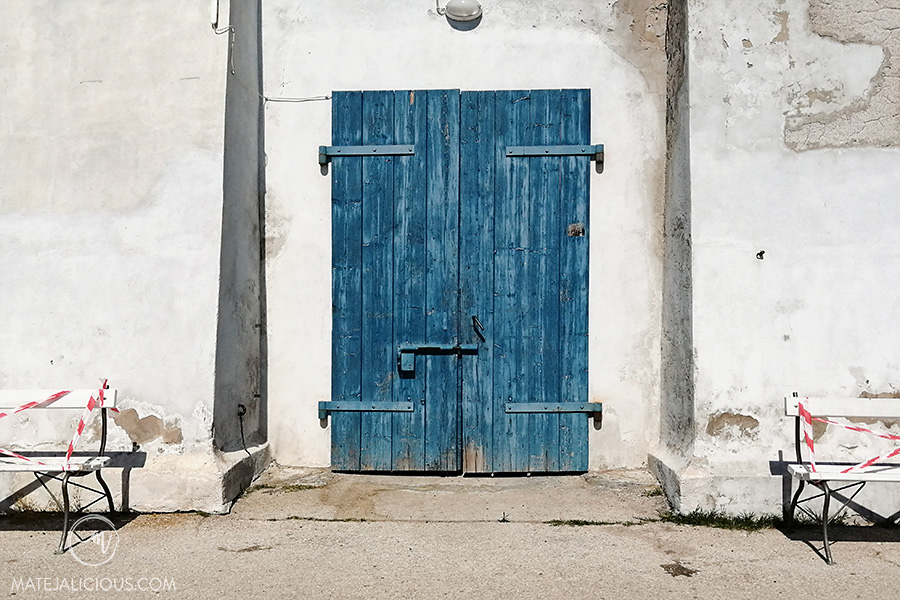 More Art in Piran
Galerija Herman Pečarič (Leninova ulica 2) and Galerija Meduza 2 (Cankarjevo nabrežje 7) are few other places in Piran where smaller solo exhibitions are often featured. Also, don't forget to look out for theatre performances, concerts, and cultural events at Gledališče Tartini (Tartini Theatre), located on Kidričevo nabrežje 6.
But, more than anything I suggest you take random walks and explore Piran's narrow streets. That's where you'll find cozy ateliers and private exhibiting studios of many local artists. Those are THE real gems. It's what makes this place so special and unique! Endless inspiration captured in colors.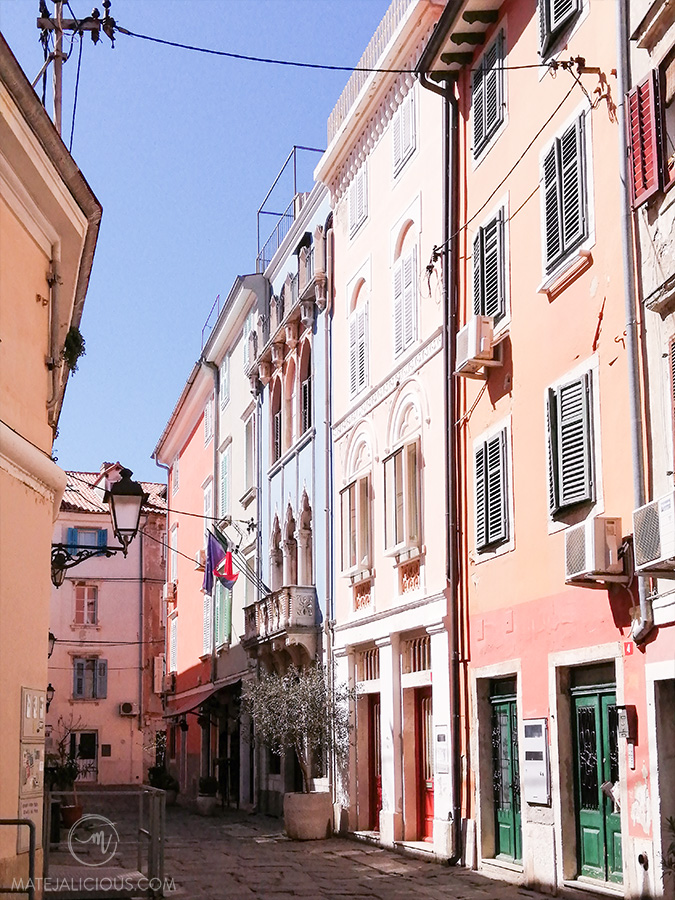 Stay Active in Piran
Piran town looks quite compact and at the first glance, it seems it can be hard to move around and be active. However, because there are no cars allowed within the old town area, it's become a perfect place to bring in some movement. Here are a few of my suggestions:
Walking in Piran
The number of steps recorded by your tracking device at the end of a day in Piran might surprise you. It's so easy to get lost in colorful winding alleys, narrow corridors, and side streets, connected with the main square. You don't even realize the distance you make by walking and simply enjoying the architecture with all the hidden spots, accessible only by feet.
So, walking the Piran's streets is the way to go if you want to bring in some exercise, but you're not quite ready to put on a real, full-on sweat. An easy go-to walking path that I often choose is a footpath from Piran to Portorož that follows the coastline. What's amazing is that it's also ideal for running, cycling, rollerblading and similar. Perfect to be done with the music in your ears, or even better – by enjoying the ocean sounds.
Another quite popular track is actually a circular path that leads past Cerkev sv. Jurija (St. George's Cathedral), Punta, Pomol (Pier), and Cerkev sv. Bernardina (Church of St. Bernardine). You get to experience both, picturesque streets of the town as well as a few of the beautiful panoramic sights on Piran's outskirt. This map visually demonstrates the length and all the spots you get to enjoy along the track (colored in orange).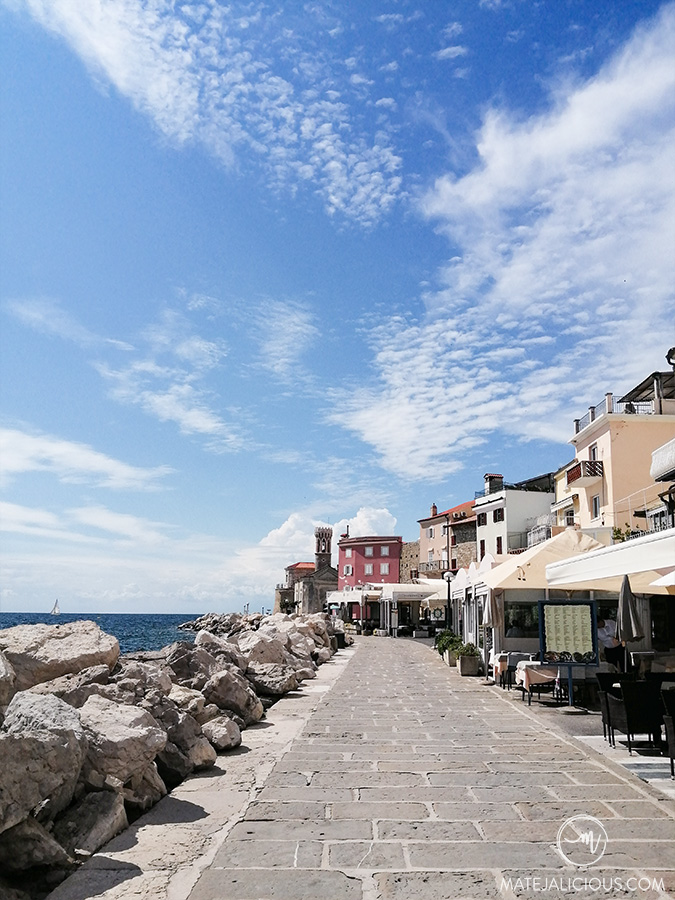 Water activities in Piran
Swimming is another activity that is a must on your day spent in town. Adriatic sea can be comfortably enjoyed from June to September (you are able to stretch the season from April to November if you're used to colder waters like I am). The sea in this part of the Mediterranean is quite pleasant for swimming, paddle boarding, or rowing, and you can't go wrong with any of the places mentioned next.
Plaža Fornače (Fornače Beach) is a popular and easily reachable coastal stretch, mostly consisting of pebbles and concrete. It comes with all the infrastructure like parking, toilets, restaurants, and even ice cream, so the clear blue water can be fully enjoyed. Perfect place for you to kick back and relax! The rocky coast along Prešerenovo Nabrežje (Prešeren Beach) with Piran Punta is another popular area that is being chosen by many during the hot summer months.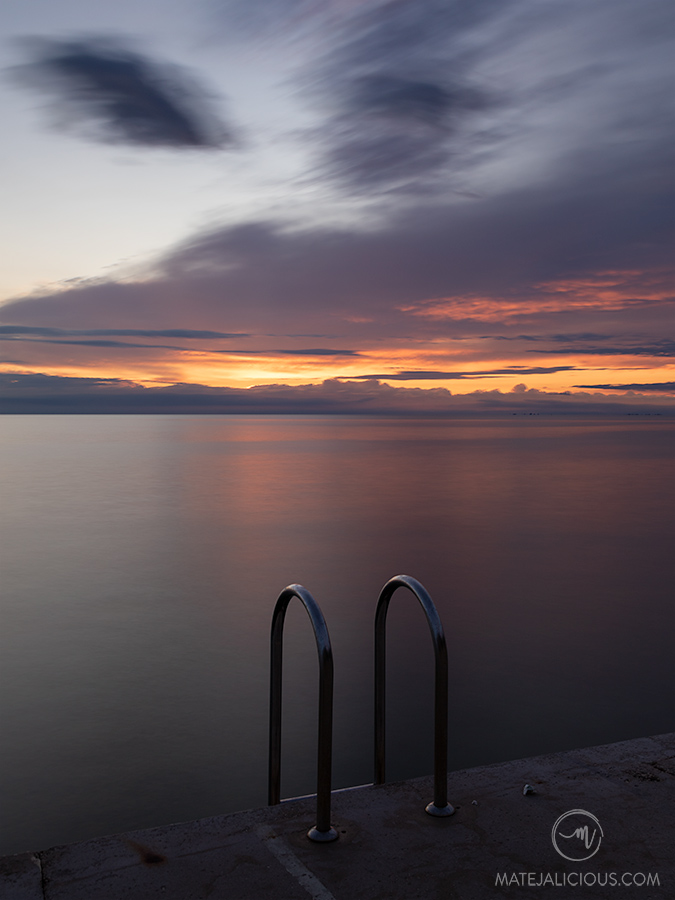 However, my all-time favourite is the beach sheltered under the St. George's Church and tall cliffs of Piran. Unfortunately, it can sometimes get quite crowded (although I could bet everyone that comes here is looking for some alone time and privacy). Also, note that there are no sand beaches in Piran, but don't let that stop you from enjoying all the water activities.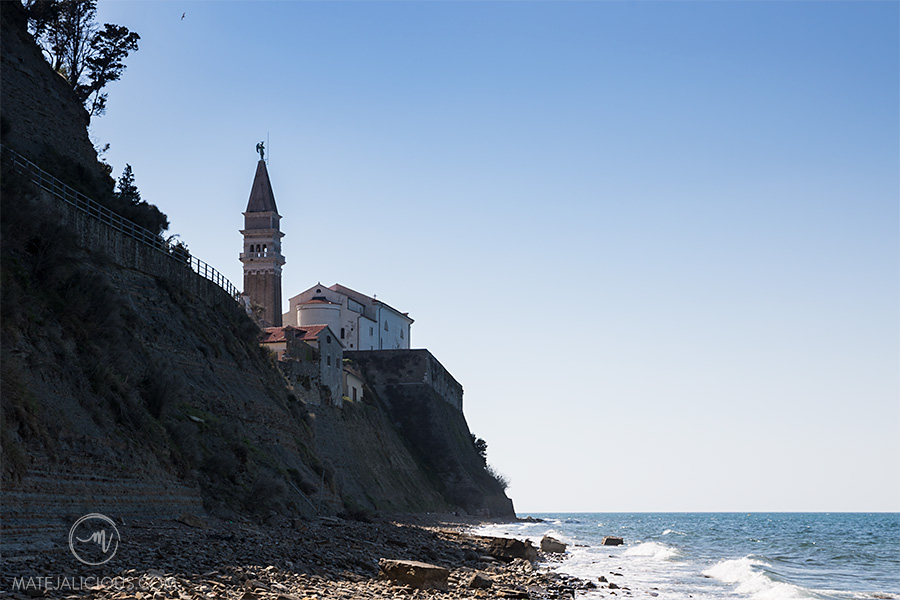 → Also check: 5 Things to Do on Sardinia's East Coast
History and Piran
Oh, where should I start? History is such an important part of the town. History pierces deep into Piran's identity, and whether you want it or not – it's there. It goes way back to the pre-Roman era. This was a busy coastal town, a part of various geographical influences and historical entities, which is showcased in numerous expressions. The labyrinth of predominately narrow streets with medieval architecture is this town's most distinctive element.
Piransko Obzidje (City Walls of Piran)
The original Piransko Obzidje dates back to the 7th century. Over time the limestone fortification grew and moved further and wider as the town expanded, especially under the Venetian ruling at the end of the 13th century. Piran was added fortification towers to protect the town from Ottoman invasions during the medieval times. To this day there are 7 city gates (entrances) and 7 fortified towers preserved.
Old City Walls and watchtowers perched upon a steep hill behind the town centre can easily be reached and can also be climbed on (there's a small entry fee). Panoramic views from the top platforms towards the peninsula and further out to the Adriatic Sea on the horizon are quite rewarding. Perfect for sunset watching!
Tip: do double-check the operation time with the provider. I've missed it twice because of their flexible evening visiting hours.
Tartinijev trg (Tartini Square/Piazza Tartini)
Tartinijev trg is perhaps the most recognizable characteristic, landmark, and feature of Piran. The heart of the town. The main square. The central point. The meeting place. The "having the morning coffee" place. It's a magical spot, that's for sure. In the past, this used to be an inner harbor and was later transformed into an oval-shaped square.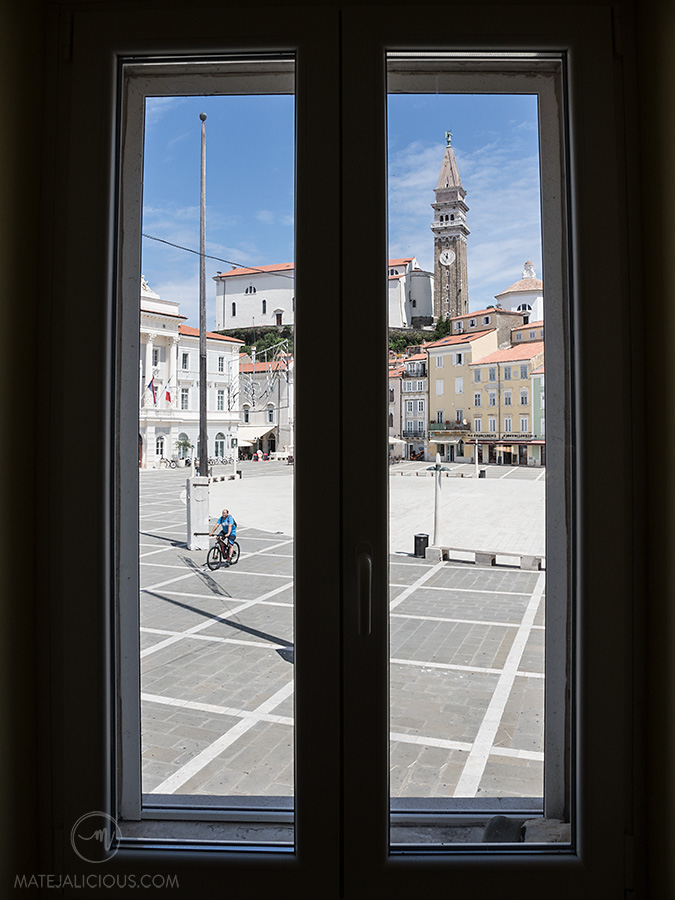 Ideally, you'll want to stop here and just be. Breathe in, watch the world go by, observe people, smell the coastal air, feel the town's rhythm, sip on a coffee. There's always something happening here. Here you're able to absorb the Venetian vibe that is very much present in gorgeous buildings around the square and especially portrayed in the beautifully renovated Town Hall.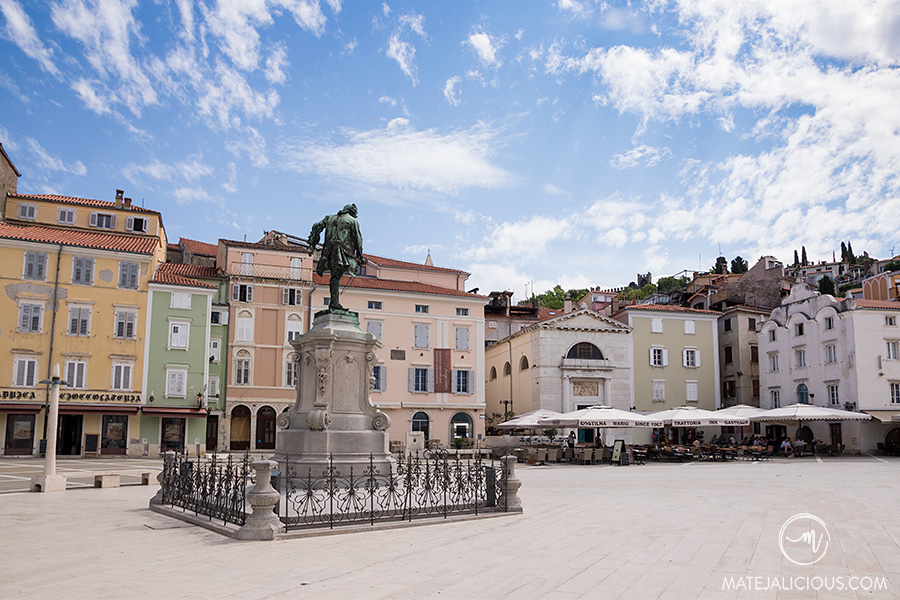 Visiting the square, you can't go past the Giuseppe Tartini's bronze statue raised in the middle of it. The famous virtuoso violinist, composer, and classical music contributor was born and raised in Piran. During summer months there are cultural performances and free music festivals held right under his statue. Other than that, there is also a yellowish Tartini House with a memorial room located on the square, along with numerous cafés, small shops, and lively restaurants with colorful house fronts and cozy seating areas.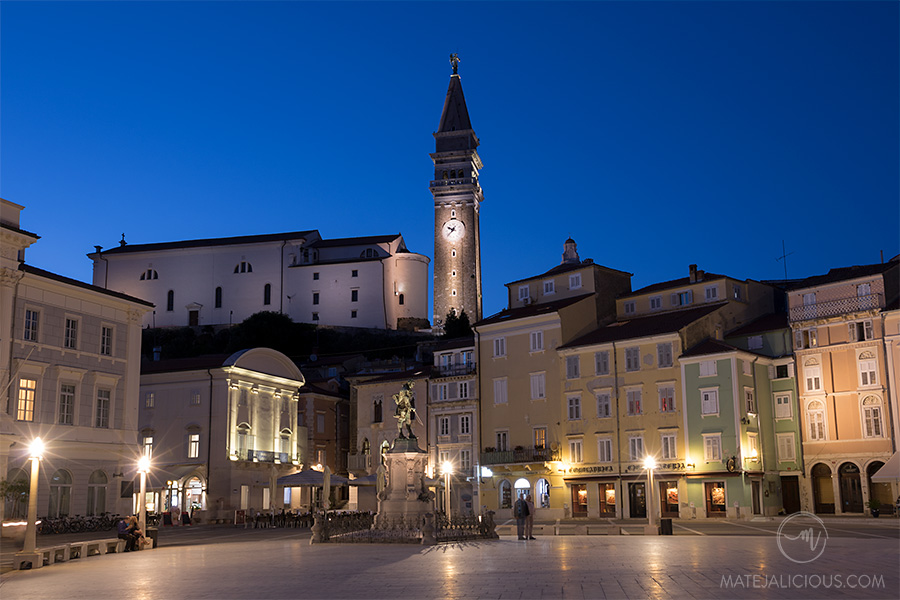 Piran's Historical Buildings
Among the more distinctive buildings and architectural features of the town worth the special mention are Sodna palača (The Court Palace), Trg 1. maja (1st of May Square) with a large fountain (this place used to be Piran's administrative centre), Palača Apollonia (Apollonio (Zaccaria) Palace), Baročna hiša (Baroque House), and Benečanka (Venetian House), which is a beautiful example of Venetian Gothic architecture that holds a special story. They each stand out, representing the town's different historical influences and aspects. Piran's identity can truly be sensed and found among the narrow alleyways prominently dotted with crowded houses. You must bring a camera – a picturesque Piran is very photogenic!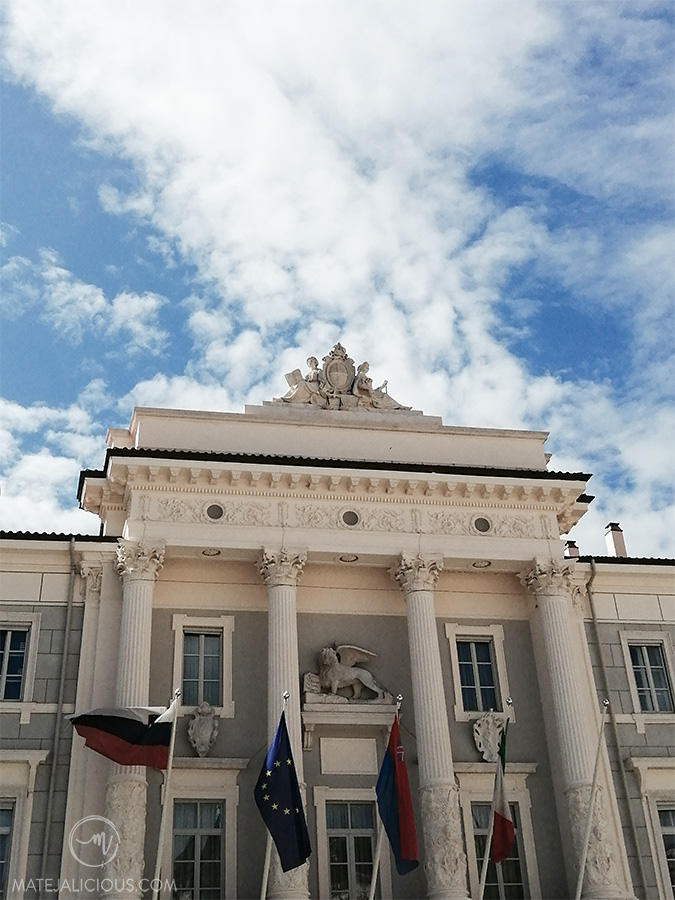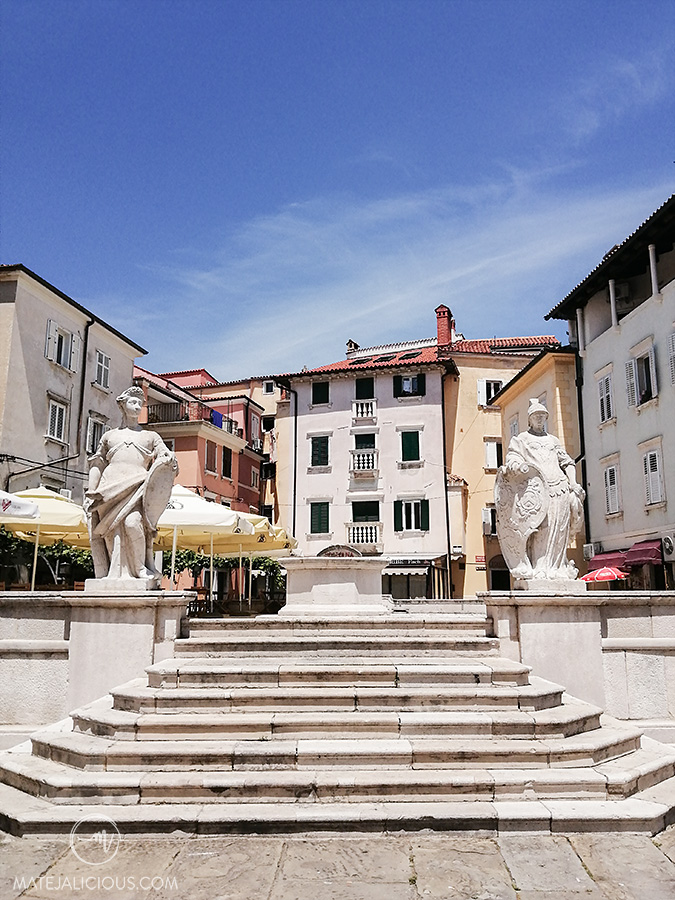 Adriatic Sea and Piran
As a coastal town, Piran cannot be considered outside marine frames. Slovenian shoreline is quite tiny (46km), and for Piran to have the privilege to be surrounded by the sea on 3 sides is a big thing in my eyes. It means it needs to be in sync with the wind, salt, and tides. On the other hand, it is also accompanied by a certain sense of freedom. The town manages to beautifully embrace all these contrasting elements.
While Piran isn't primarily known as Slovenia's fishing metropolis and doesn't have the most prominent port, the Adriatic See has always been a vital part of this Istrian town over the centuries. There are many places in town where you are able to learn about the history and the influence salty water has had in this area. Next are a few of my suggestions.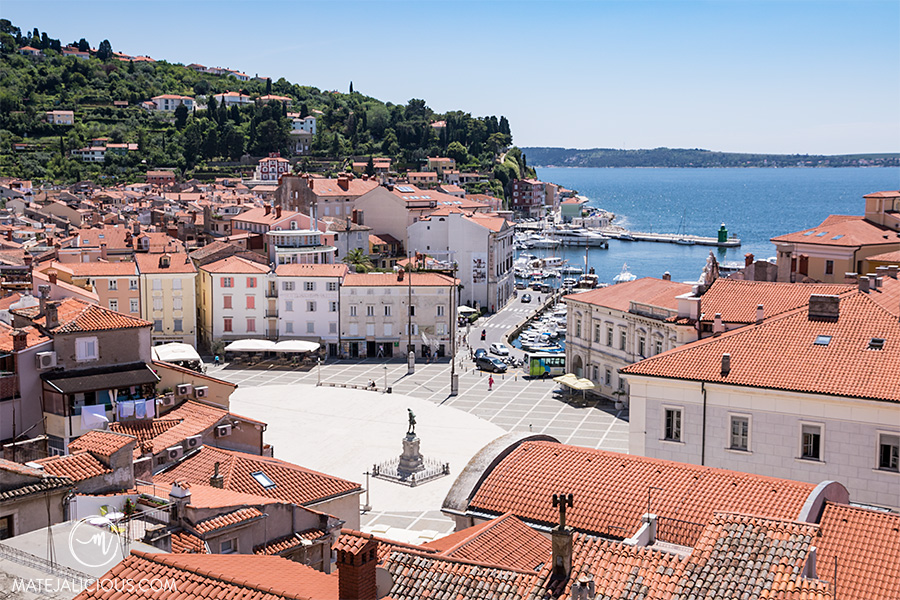 Akvarij Piran (Aquarium Piran) is a small place where you can explore and discover the underwater life and organisms that inhabit the water around the Slovene coast and other parts of the world. Kids especially will love it.
Muzej Podvodnih Dejavnosti (Museum of Underwater Activities), located on Župančičeva ulica 24, is all about the diving, the submarine activities, and the early exploration years that weren't short of challenges. If you want to dive further into the fishing, salt pans, and sea salt harvesting, the maritime heritage, and the archeology in the region, then visit Pomorski Muzej (Maritime Museum) housed in the Gabrielli Palace right on the waterfront.
As per me, I have always been fascinated with the underwater world and if that's something you're fond of as well then you absolutely need to stop at Muzej školjk in polžev (Piran's Shells and Snail Museum). The museum is quite informative and there is so much to discover. It covers not only the specimens of the Slovenian sea, but amazingly represents an endless collection of the world's most significant and unique shells and snails. Go and explore this special spot, there is so much beauty in one place!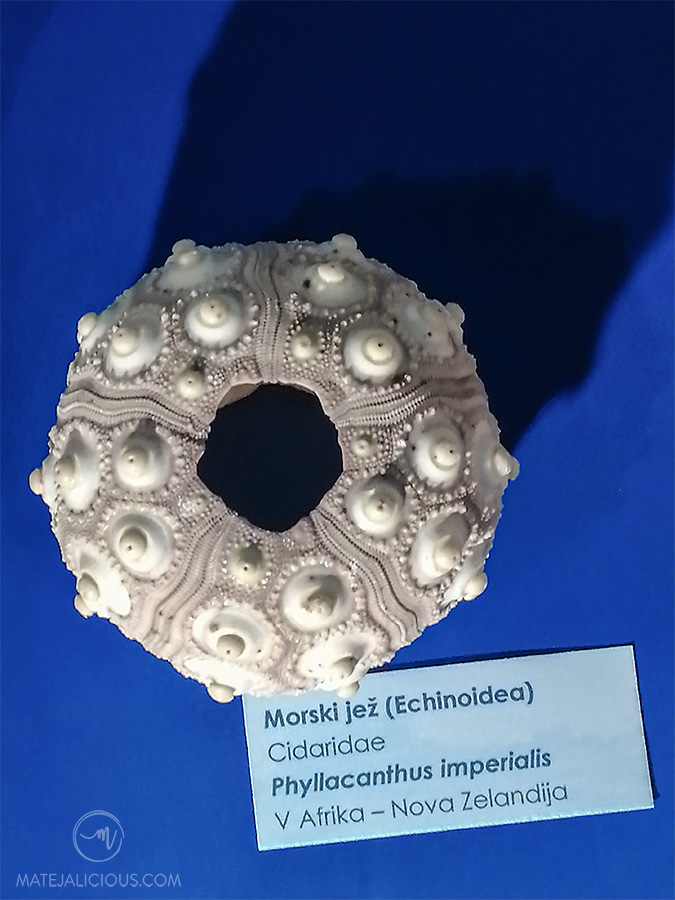 → Also check: Climbing Triglav via Krma Valley
Sacral Expression and Piran
Piran has a very strong sacral presence. You will sense its omnipresence the very first time you interact with the town. How could you not – Piran is dotted with detailed religious architecture and monuments. Over the years, it has had more than 20 churches (!), most of them built during the 13th and 14th centuries. Next are few more prominent ones.
Minoritski samostan in cerkev sv. Frančiška (Minorite Monastery and Church of St Francis)
Visiting the Franciscan monastery has been one of the more memorable experiences while strolling around and exploring the back alleys of the town. The monastery and the church date back to the end of the 13th century, and the Franciscans are still living here to this day. The basement holds a fine collection of artwork by Venetian painters, and the monastery keeps lots of books and music literature dating back to the 15th century.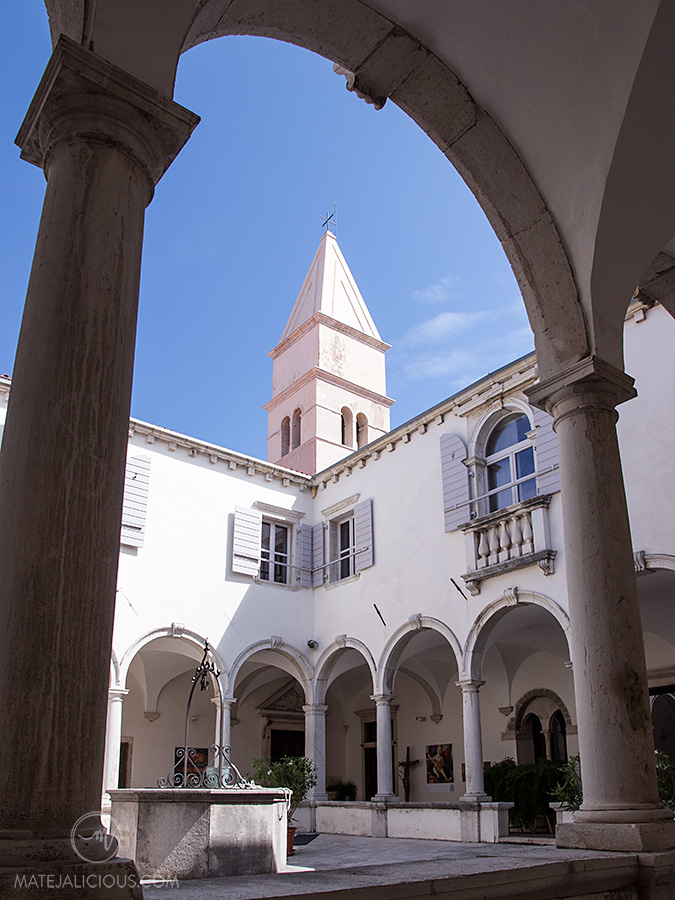 I was absolutely captured by the morning beauty of the monastery cloister. I found it to be such a peaceful and inspirational place and could stay there for hours. One can only hope to someday witness one of the musical events that are often held here due to the outstanding acoustics.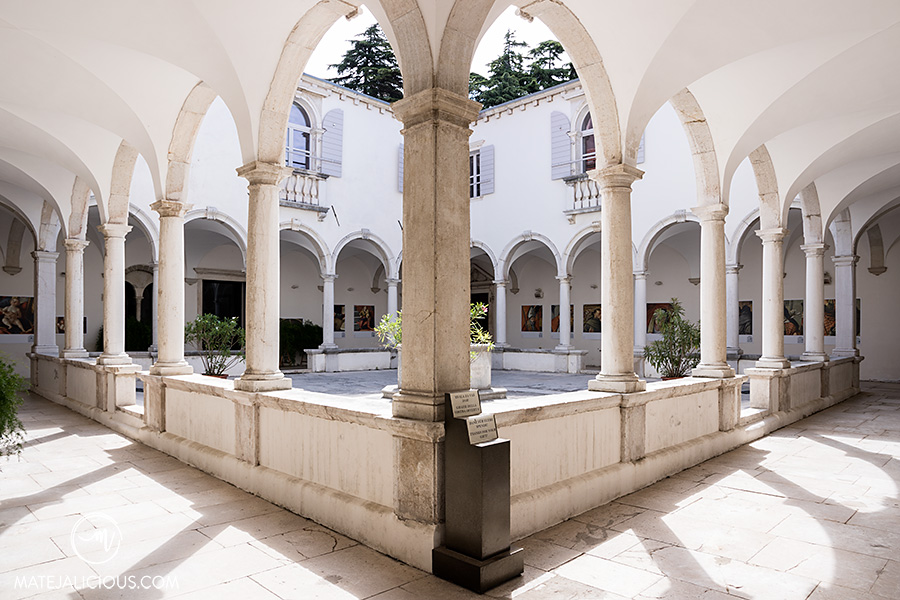 Cerkev sv. Jurija (St George's Cathedral)
If Minorite Monastery stays a bit hidden, one cannot miss the sight of impressive St George's Cathedral, located atop a hill, watching over the town. It was named after St George, who's become Piran's patron saint. This is a 14th century church building with 17th century Baroque renovations that the nearly 50m tall freestanding Bell Tower was a part of. On a good day, you are able to walk to the top of the tower and admire the stunning view over the town, Adriatic Sea, and far out towards Croatia and Italy. A copper weathervane statue of Archangel Michael sits on top of the cathedral's pyramidal spire, watching over the town.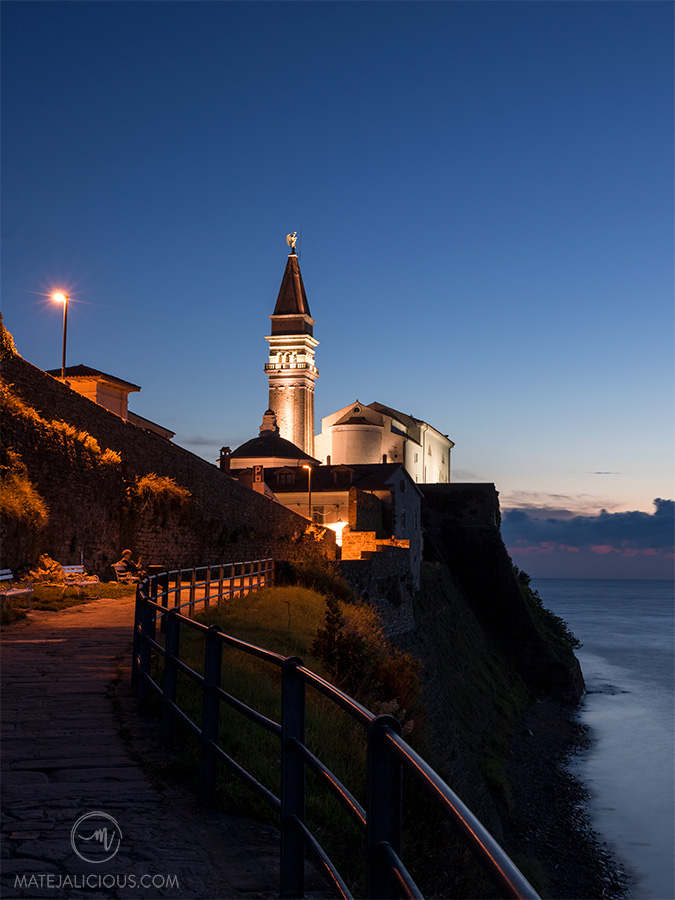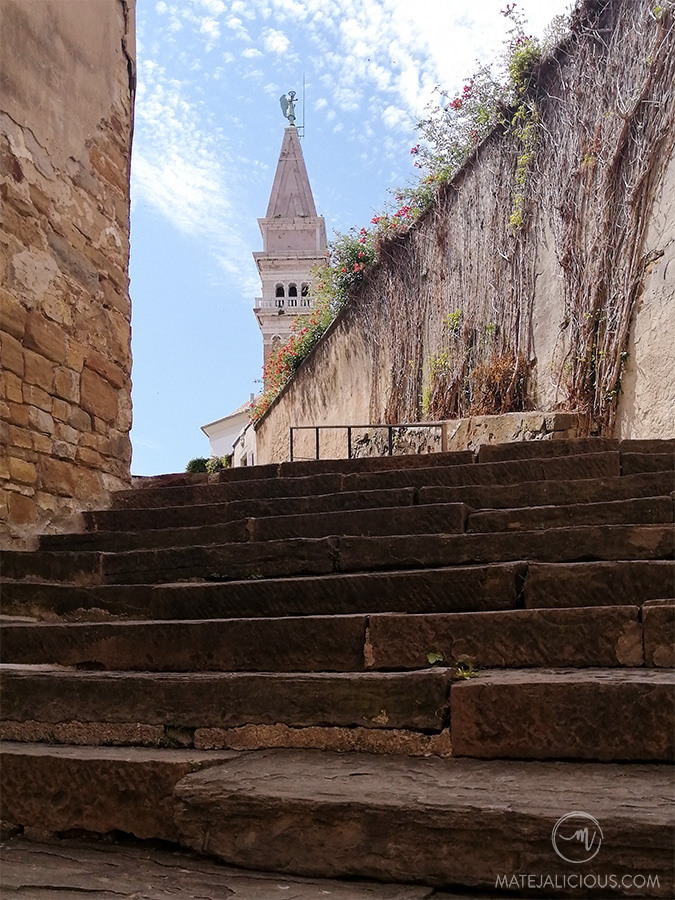 The cathedral's interior is quite impressive, especially the carved out wooden ceiling, marble altars, and Venetian inspired and influenced frescoes. A small museum in the presbytery is also a part of the cathedral. It homes relicts and artefacts that are accompanied with Romanesque and Gothic art. Another addition to the Church is the octagonally shaped Baptistery of St John the Baptist with baptismal font and medieval crucifix from the 14th century. It is located right next to the church.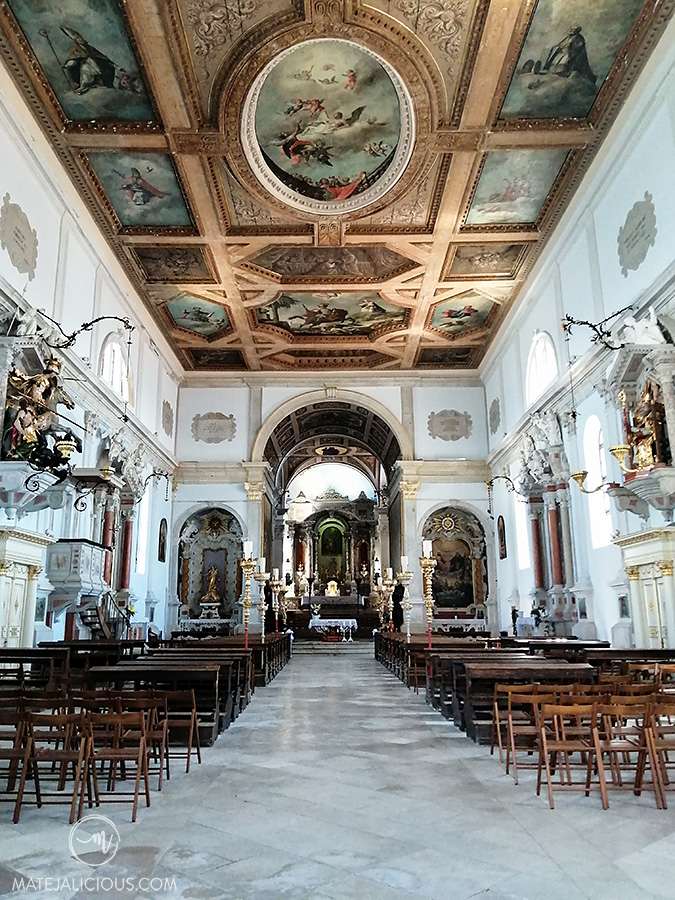 Sunsets and Piran
Staying in town to witness the sunset is an absolute must. You wouldn't want to miss that! It's one of my favourite things to do here and anticipation always fills me with a certain buzz. I could be exaggerating and am probably biased, but sunsets have always been spectacular around here. There are only so many places along the Slovenian coast that allow you to watch the big shiny ball fall into the sea. Picturesque Piran happens to be one of them.
You really can't go wrong with any of the spots along the waterfront to enjoy the dreamlike sunset mood. Cafes and restaurants along the promenade are popular choices with many. You can also move a bit further up the hill, visit the Walls of Piran or the church tower (season permitting), and experience that extra magic from above. Also, bring your camera to make lasting memories of all the oranges and reds lighting up Piran's evening sky.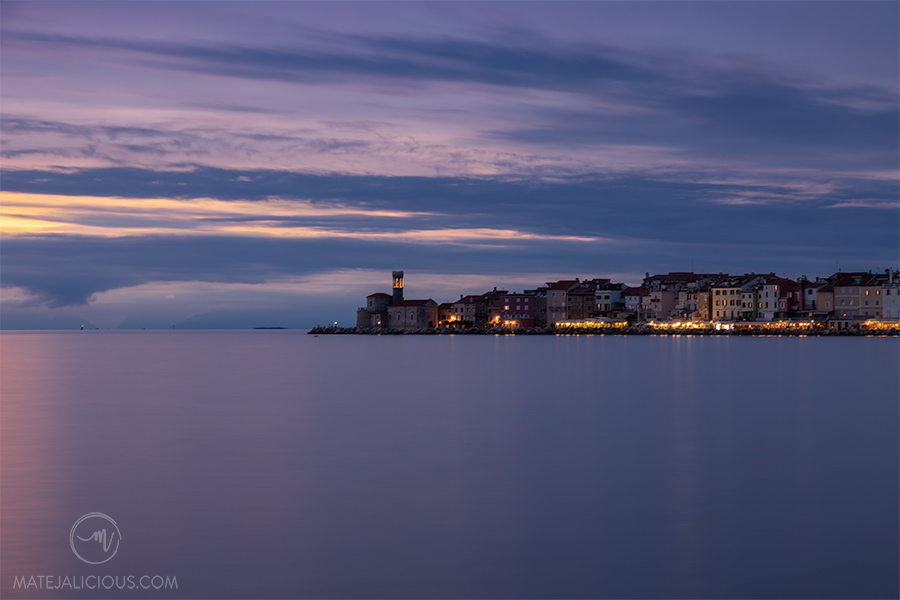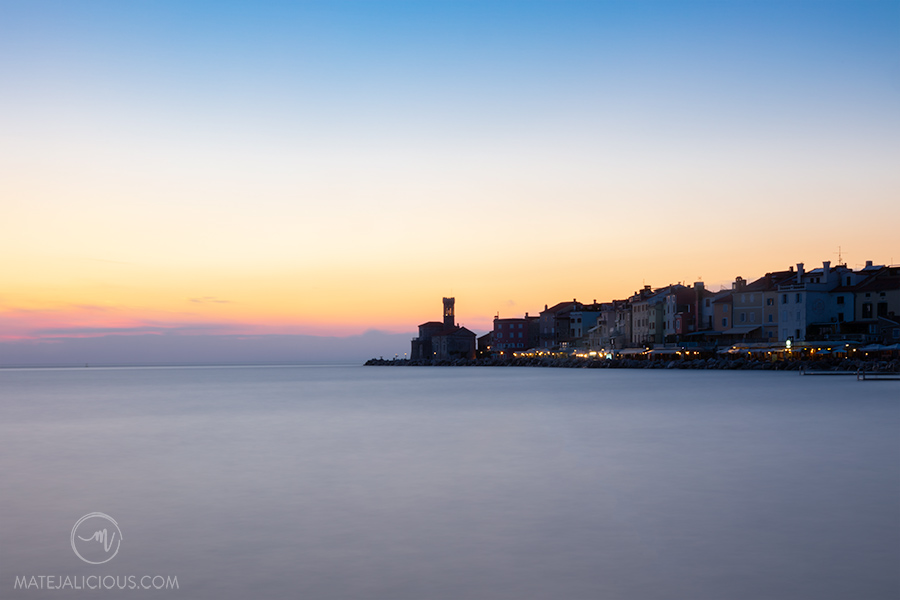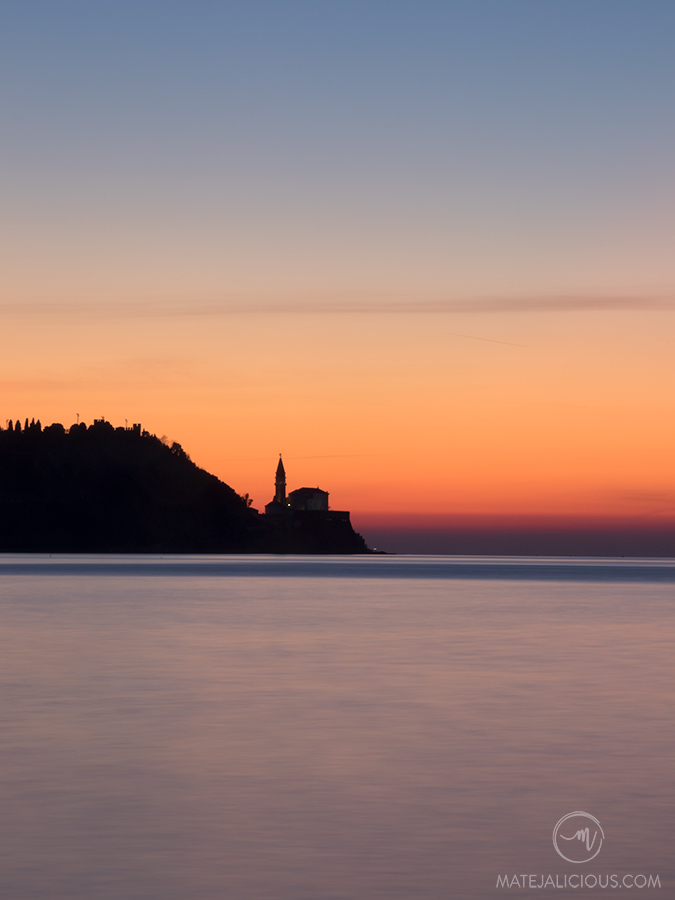 My checklist of things and activities you can do in the picturesque Venetian town of Piran is quite overwhelming, I know. I wanted to present you with options, and options are always good to have, right? They are especially welcome on days of unpredictable weather when you might find yourself spending more time inside. Why not make your way through galleries and museums, and learn about the rich cultural heritage?
Medieval Piran is all about the vibrant historic charm, pastel-coloured Venetian buildings rising in cascades, cobbled narrow alleyways, orange rooftops, and blue Adriatic water. Without a doubt, it's full of uplifting and laid-back Mediterranean atmosphere. By now you've probably noticed how fond I am of this town that's grown on salt. If we ever happen to be in Piran at the same time, I'd happily take you to a few more [not so secret] spots.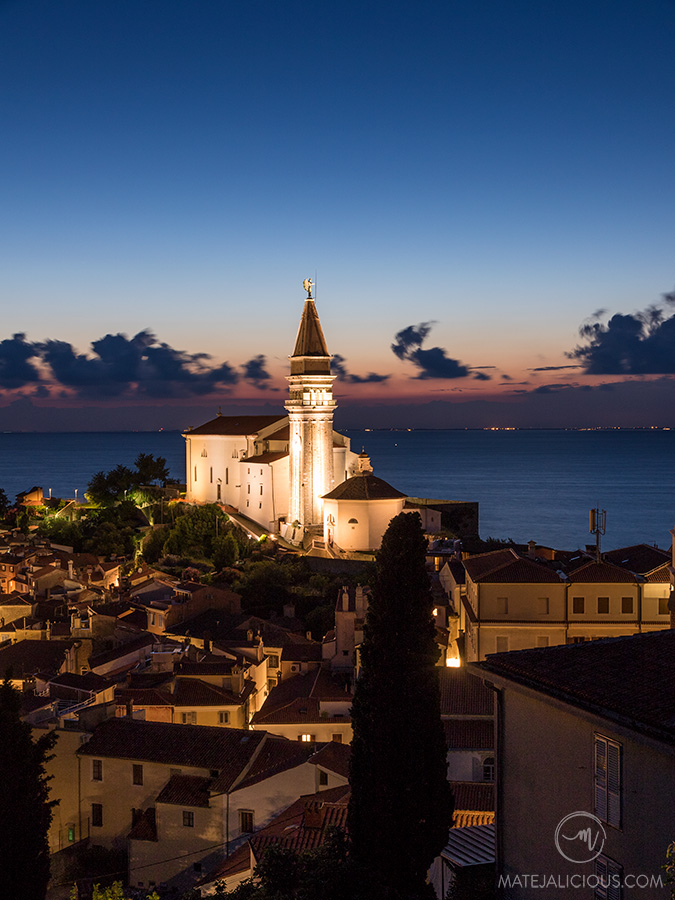 And finally, whether Piran ends up being your one-day affair, a beautiful season's sanctum, or home for a lifetime, try to really stop for a moment when you're there. Breathe the coastal air, infused with salt, and get lost in stories that history has written within his alleys. Go and add your own story.
Liked it? Pin it!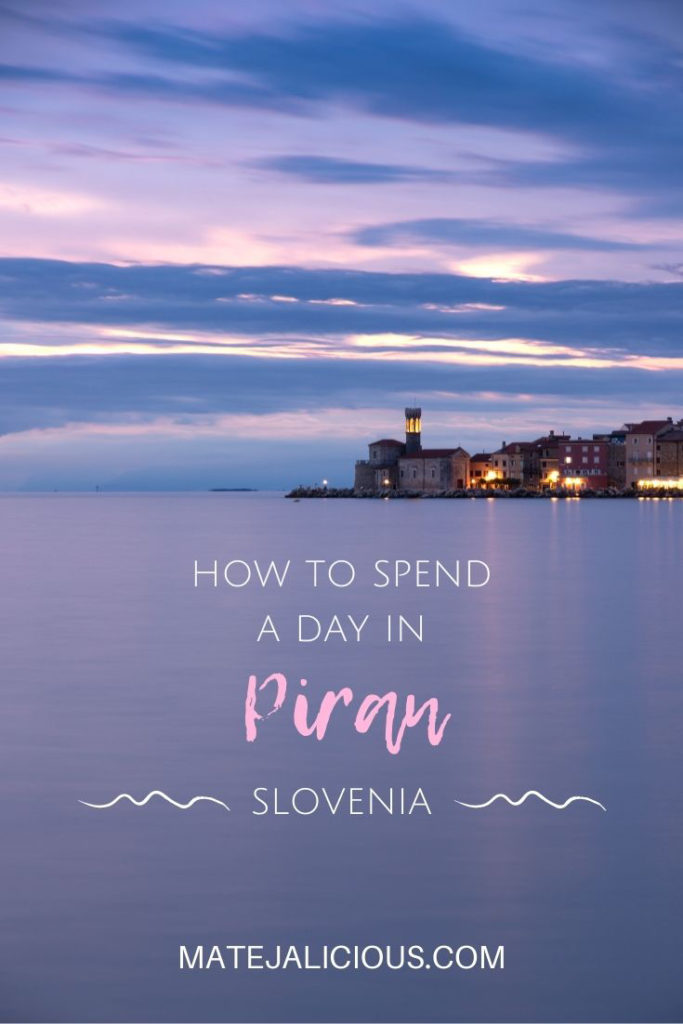 Leave a reply