I used to love flying long flights. To be exact, I enjoyed it the first couple of times, when things were still new and fresh, and I believed circling around the globe for 25+ hours was something special. It is. It truly is – to be able to be transported such distances in such a condensed time! You must but feel special, with all the new technological advancements popping up every day.
However, after those first couple experiences of flying long-haul, things quickly turned from an adventure into something I would nervously prepare myself for.
I quickly started associating long-haul flights with getting headaches and colds from air conditioning, with being jet-lagged, tired and exhausted, and overall irritated. Of course, a couple of days later those same feelings would somehow vanish and be forgotten as if they never happened in the first place. That blurry bubble reality would only appear when I would go on such long journeys. It would feel as if I'm there in it, living it, but not quite.
Traveling these days is nearly impossible without the long-haul flights, so we should find ways to make it easier on our minds and bodies. Today I'll be sharing my survival strategies that are actually much more than just about staying alive. Realistically, we don't really need to create that bubble reality to survive long airplane travels, and can even manage to make it enjoyable.
These are my tips and ideas on how to survive a long-haul flight.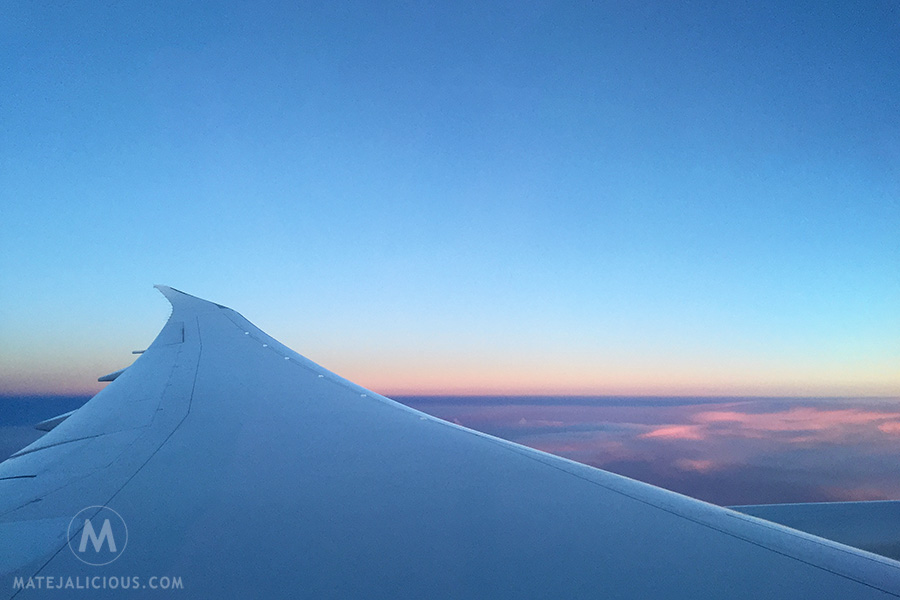 Let's Prepare
The flight starts much earlier than being seated in your place. There's packing, then driving to the airport, a check-in and baggage drop off. Add 1-2 hours waiting window before the plane actually departs. That is if you're lucky and there are no complications. If the flight is late, the worry and the anxiety about the connecting flights can be the start of your nightmare.
Quieting your excitingly nervous mind in the midst of this pre-flight routine can become your saving grace. You can actually train yourself to set the tone for your travel. Do what you need to do to engage in these preparations relaxed and a bit unbothered. Don't overthink it. Don't leave everything (packing, bookings,..) to the last minute. As you pack your hand luggage, try to put the items like tickets, passport and laptop somewhere that's easy to grab when they need to be removed or shown.
It's an advantage for you to have a plan laid out for those few days before the departure. Stick to it. It does take time and a few flights to nail it all down, but it will be so worth it.
Get Comfy
I'm talking T-shirts, loose-fitting pants, leggings (or even pajamas if that's your thing), blankets, scarfs and neck pillows. Definitely, avoid wearing stiff jeans and clothes that are so snug they won't let you breathe. Also, bring something warm and layer up when needed. Airplanes tend to get chilly from the air conditioner. I've learned to never fly with my contact lenses in as my eyes tend to totally dry out during the flight. Glasses are a much better choice!
For the ultimate comfort of my economy class sitting, I always sneak into warm socks right at the beginning of the flight. That way I give my feet some room to move around freely and don't end up feeling restricted in tight shoes. Eventually, long-haul flights are all about the comfort and very little about dressing up.
Water
Drink water and stay hydrated when flying. It doesn't mean you have to drink excessively, but do drink water regularly to keep your energy and mood levels elevated, and to avoid potential headaches. Drink it even more if you've indulged in alcohol, tea or coffee, to additionally combat possible dehydration. Water is your friend on a long flight (and generally in life).
Entertain Yourself
Long-haul flights will most often, if not by a rule, provide an extensive selection of entertainment found right at the tip of your fingers: movies, music, games, and reading. This is a great way to kill some time and forget about the world around. Remember to bring your noise-canceling headphones if you have them. They are a game changer and will nicely keep you in your bubble.
If you suspect there won't be any screen entertainment options on your specific flight, then bring your own alternatives. Load your computer or some other device with music, movies, and books, or bring a physical book. Also, be sure to power up your devices and external chargers.
Be Positive
The stress can build upon our minds during the actual flight. It's often self-imposed especially if we're bored and stuck with nothing to do, or having a hard time to fall asleep. By the third hour of the flight, we're deep into the dreadful thoughts of the 25+ hours we're losing, we complain and obsess, and ask ourselves if it's all really worth it. We find ourselves in that vicious circle of the negative headspace and thought process. It requires a strong will to fight it.
When this happens it helps to shut those thoughts and feelings down by replacing them with positive ones:
"Flight is gonna be a breeze."
"I can't wait to go on an adventure."
"Something amazing is waiting for me on the other side."
"Let's do this and push through."
Learning how to always grab for a higher, more positive thought when we catch ourselves going down that spiral, will eventually lead to an overall better attitude and flight experience. Try it and you might be surprised.
Work It Out
The combo of a window seat + having the access to my computer often makes me forget about the air time that's passing by. Long-haul flights frequently put me into a productive mode, help me spark that creative flow, and make me get the work done. That might be great news for you as well if your work is mostly done on a computer. Who knows, flights could become one of your most productive times, so give it a go and see if this works for you. Believe me, you'll be so happy to have (some of) your work done while traveling.
Move
You'll find that a preflight workout and stretching might be beneficial to you as you'll be sedentary for most of the 25+ hours. I actually find myself to be able to fall asleep during the flight whenever I include some type of exercise around the departure day. Also, it's good to take all the chances to move around the plane when they show up, to keep the circulation flowing in your legs. The aisle seat is perfect for that, so aim to choose it at your check-in.
→ Also check: How to stay healthy and active while traveling
Bring Snacks
Yes, I am that person who for such a long time never thought of bringing her own food to long-haul flights. Somehow I kept thinking there were the same rules applied to food as there were to liquids, so I didn't even look into it. Being completely dependable on airplane food is not always the best idea as you often don't get the privilege to choose the things you wish to fuel your body with.
I don't actually cook whole lunches and dinners for long-haul flights, but rather bring healthy snacks, nuts, fruit and sometimes even a salad, and combine these with airplane food. For me, it does make a difference, as the airplane meals often make my stomach all sorts of funny. This is only a small adjustment, but can truly help you in battling your stomach discomforts.
Take a Break
One or two-day stopover on your long-haul flight is a perfect opportunity for you to take a short break during your travels and potentially even explore the city. This way you'll be able to continue your journey well rested and will also become richer for another sight-seeing experience. Be sure to plan ahead and check whether you require an entry visa for your stopover country.
Get Those ZZZZ's in
What helps you fall asleep? For me, only a horizontal position does it, so unless I have 3 seats to myself (or unless I get an upgrade) there's almost no way any sleep is happening. Some people swear by a glass of wine or beer, others can practically sleep anywhere, in any position. Reading, movies, and music can also be helpful, while coffee is better to be avoided. Sleeping all through the long flight is many travelers' dream, and if you find out that something works for you, consider yourself extremely lucky.
The First Class Promise
Long-haul flights are an ideal time to burn up your frequent flier miles and to get that promise of a better overall flying comfort. It's the legroom, your own breathing space, service and most of all – fully reclining seats and consequently one of the best naps. It hasn't happened to me yet, but when I get that chance of a business or first class upgrade, I'll grab it and turn it into one long sleeping and dreaming experience.
I hope you find some of my tips on how to survive a long-haul flight helpful. I believe it won't be that long until we know how to teletransport ourselves into another place in a moment, but until then, why not try to make the most of the long-haul flights. Maybe even to the point of a slight enjoyment, just like the first couple of times.
→ What are some of your strategies for a long-haul flight? Please share in the comments below.
Pin This To Share On Pinterest!

Leave a reply