Hiking Island Pag's trails has been my favourite activity to do here, along with exploring the beautiful turquoise waters. Throw a slice of Paški sir (Pag cheese) into the picture and you get yourself a nice picnic at one of the secluded coves after a day of hiking and swimming.
What's so unique about exploring the land on foot is that it brings us to places that are otherwise hard or impossible to be reached. It gets us out in nature and rewards us with spectacular views and experiences. Island Pag isn't abundant in high peaks, but instead manages to substitute that with a few lengthy trails. And while the beautiful beaches happen to be the first choice with summertime tourists and visitors, hiking usually gets more attention during both shoulder seasons.
I want to get you excited to consider taking a hike when you visit Pag Island. Try it – at least one of the trails! You'll quickly find whether you enjoy being among the white stony landscape or you prefer sticking to beaches. But do have in mind that some of the most amazing (and secluded) beaches require walking effort on your part, so you just might end up combining these two activities anyway.
Today I'm writing about my top 5 trails on the island that I got to complete. Here they are, my top 5 hikes on island Pag.
Sv. Vid (St. Vid)
Sv. Vid is at 350m the highest point on Pag Island. It abruptly rises above the Adriatic Sea. This trail will definitely bring the sweat out of you, especially if your starting point is at Dubrava. You'll come across the 14th century ruins of St. Vid Church located right on the summit, and be rewarded with majestic 360° views across the landscape below. This elevated place can be accessed either from Dubrava (a more challenging route) or Kolan/Šimuni side of the island.
Dubrava Route
Starting Coordinates: 44.4805737942866, 14.999088888276894
Time required: 1h – 2h
Difficulty: Moderate/Advanced
You can be up and down Sv. Vid's scree slopes on Dubrava Route in under an hour in case you're after a really intense workout (and if you know what to expect on this trail). But if you want to make stops along the track, marvel at the surrounding landscape, come for a breath, and linger on top for a while, then give it anywhere from 1.5 to 2 hours for completion.
There's a bit of climbing steep rock face and cliffs involved here, however, you'll find red and white bullseyes along this track so you really can't get lost. There are no ladders or ropes placed in these walls, so you might find yourself on all fours at times, reaching for the next grippable rock as you keep pushing for those 360° top views.
Hiking these eastern walls and precipices can be a bit of a challenge that can leave you out of breath. You'll have many opportunities to stop and enjoy the amazing view – no one will notice you've actually been out of breath, hahaha. If you get dizzy from the heights, I suggest you consider one of the other two routes explained further down below.
Also, afternoon shadows reach the trail on this side of the slopes quite early, so have that in mind when you're making your plans. Attempting the descent during the night might not be safe – crumbling down is already a slippery adventure as is.
While you're here:
– stop at Dubrava-Hanzina natural vegetation reserve nearby to experience a calming downy oak forest, the only deciduous forest on the island.
– learn more about the remnants of Sv. Vid church located on top.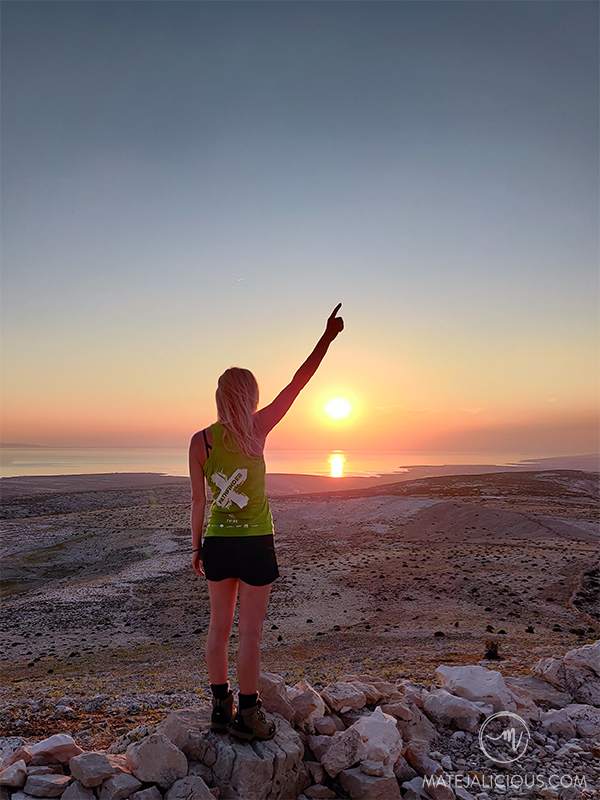 Kolan/Šimuni Trail
Starting Coordinates: 44.48641622836757, 14.967089053049916 (from Kolan), 44.46597001470223, 14.967746731836947 (from Šimuni)
Time required: 2h – 3h
Difficulty: Easy/Moderate
Kolan and Šimuni hiking trails are slightly more scenic and let you steadily progress uphill towards the top. They start along the main road and the two actually merge just before the final climb. The path zigzags through the rocky karst plateau on a narrow road next to the dry stone walls, among the sheep pastures, and past a small body of water. There are markings put along the trail that are easy to follow.
The hike starting from these two locations vouches for a wonderful leg stretch. Despite being easier to tackle, you won't be able to find any shade along this track during the summer, so bring water and SPF protection. The views are amazing if you descend along the same way during the sunset hour – witnessing the sun falling into the sea is always so rewarding! Also, you'll be spoiled with amazing views out to the surrounding islands.
St. Vid hike is the most challenging one on the island in terms of elevation gain. If that isn't a good enough reason to put it on your list, then the unobstructed 360° view from the top should definitely convince you to complete it. You're able to spot many of the island's settlements from the summit: Mandre, Šimuni, Pag, Kolan, as well as the nearby islands of Lošinj, Rab, Olib, and Maun.
Vjetrenjače
Starting Coordinates: 44.44728643131685, 15.061205270977476
Time required: 1h – 2h
Difficulty: Easy
Vjetrenjače (wind turbines) are one of the most recognizable features of town Pag's surrounding landscape. As you're approaching the island you quickly spot them sitting on top of the ridge above the town. Vjetrenjače have been a part of this landscape for almost two decades now. A constant strong wind (especially bora) provides that needed spin. They sure have been given an optimal position to catch merciless wind that rules this area.
While I've met people that strongly oppose the production of wind energy – for whatever reason, I personally love seeing wind turbines sitting within the landscape, spinning, and cooperating with free natural forces. So it was only a matter of time for me to check them out from up close. In the last few years, there have been works on the trail named 'Zagrljaj kamena i vjetra' (An embrace of stone and wind) completed that leads up to the wind turbines and further.
The route begins in the old town and continues along the Put Sv. Karina street, past the cemetery up the hill. This trail is also appropriate for bikers. It makes for a quite nice challenge, especially the uphill part. From the top and along the ridge towards the wind turbines you'll be rewarded with some of the most wonderful 360° views of the island, the Velebit Range, as well as the Pag town. There are also a few resting areas along the route for you to stop and properly enjoy the view.
The trail is well marked and has been nicely maintained and I believe the proposals have been put out to make it even nicer. What I especially like are the magnificent stone pine trees dotted across these hills above the town. They speak of perseverance and resilience. Plus, they look so beautiful to me (can't pinpoint it). Also, look out for fragrant herbs and vegetation among the surrounding stony landscape. In summary, this hike is ideal if you're after some spectacular views for not that much effort input.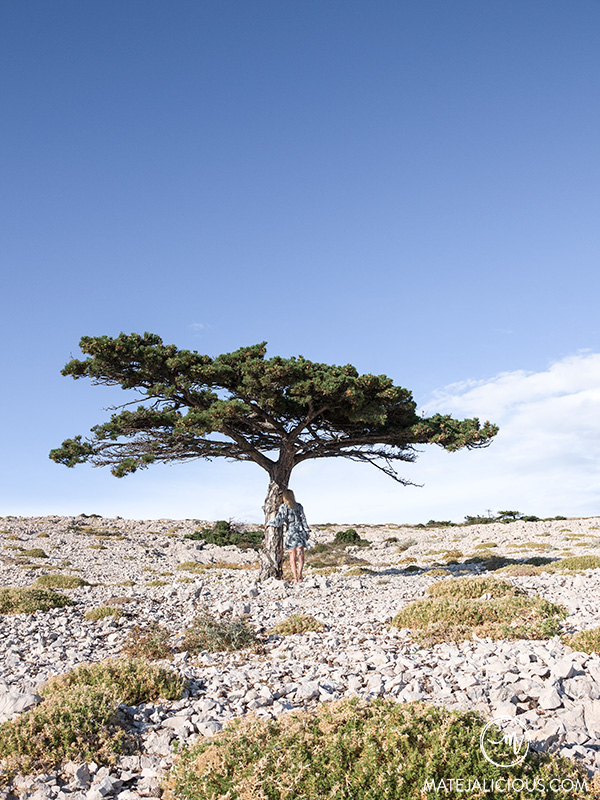 Life on Mars Trail
Starting Coordinates: 44.50841745346083, 15.010164302108798
Time required: various, anywhere from 3h to 7h, depending on the length
Difficulty: Moderate to difficult in parts (via ferrata)
Life on Mars trail is perhaps the most known and popular hiking/running route on the island. It's been officially opened since 2019 and with the recently established yearly event, it gets a bit more attention, which it honestly deserves. It's not attractive only for some of the most beautiful beaches the island boasts with, but also for the magnificent raw nature and landscape you get to be immersed in.
If you're interested in attending the event, you have 23km, 14km, and 7km options to choose from, with the starting point in Metajna village. This year (2021) it falls on the 2nd October and more info can be found here – trail maps included. If you're making Life on Mars your very own hiking adventure, then you can follow one of the above pre-established marked routes, or alternatively, easily form and adjust your own trail length.
Along the track you can stop at some of the most breathtaking beaches in the area: Ručica, Beritnica, Slana, Seline, and Malin. If not pressed with time, then you absolutely must jump in the sea and enjoy the salty underwater paradise. Additionally, rugged stony landscape, rocky wind-shaped karst formations, remnants of a WWII concentration camp, and sedimentary climbing rock Stogaj are just a few other highlights of this trail.
Also, the track has recently been expanded by 100m via ferrata, connecting Slana Bay with Cape Sušac to form the loop, and bringing a bit of a challenge into the game. The upper side of the trail opens up amazing views overlooking the mainland and Velebit Channel and eventually brings you back to your starting point in Metajna. As you can tell, there is a lot happening on this trail. My advice is to go at your own pace, bring sturdy shoes, SPF, and lots of water. And definitely go for a swim.
Svetojanj Hike
Starting Coordinates: 44.60359719762706, 14.87293152502284
Time required: 2h
Difficulty: Easy
Start this hike at the marina in Stara Novalja and then continue up the gravel path across the white stony hills. The road here is quite wide and easy to follow for about 3.5km. At this point, there is an intersection where you need to turn left. Shortly after the path disappears. The goal from here on is to sort of find your own way through the steep stony hill towards the opposite side of the island, the one facing the Velebit Mountain Range.
As you reach the top of the ridge you have the peninsula with the remains of the 6th century Byzantine fortress and a few secluded coves in view, so the walking direction is much easier from here on. The views from the ridge are already so beautiful. With the mighty Velebit as a backdrop and early afternoon shadows coming in, you get to experience a slice of mysticness this place exuberates.
Svetojanj fortress was of strategical importance during different historical eras (especially during the Eastern Roman Empire) on the island and wider Adriatic. There are even records of a small church of St. Agnes being founded here by the old Croats.
As I was approaching the peninsula on the day of the hike, coming closer to the fortress, I was welcomed by very strong bora winds. I imagine it's often like this due to the exposed location. Bear in mind that bays around here are a marine protected area – a Site of Community Importance (SCI), which significantly contributes to the maintenance of biological diversity.
One hour (one way) hiking adventure is so fulfilling. However, if you have a small boat, the visit to these beautiful coves tucked under the Svetojanj fortress is a no-brainer, considering you can reach them even faster. You definitely have to experience it.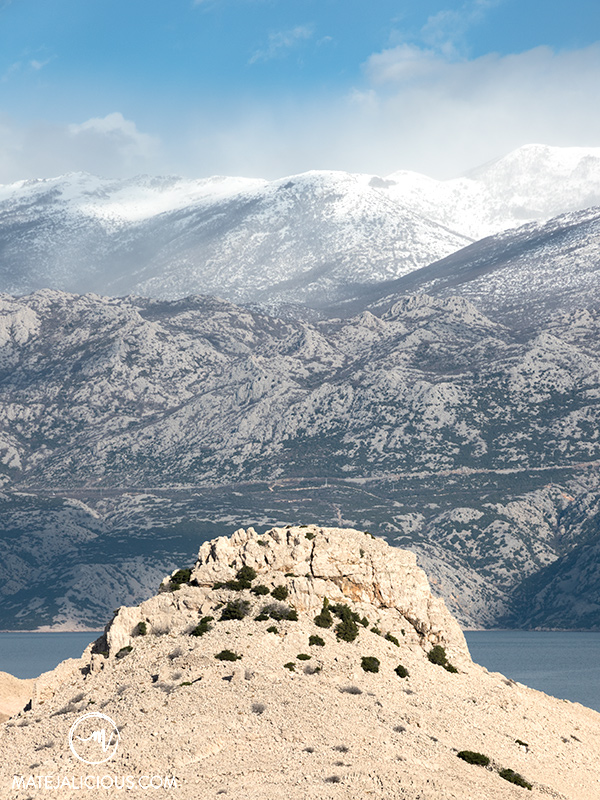 Hike to Paška Vrata and Svjetionik Sv. Nikola
Starting Coordinates: 44.44453352829627, 15.052819022906855
Time required: 3h
Difficulty: Easy
Paška Vrata (Pag Passage) is a wonderful walking or even running trail that I usually start in Pag Town. I love it for the numerous little surprises I come along this route – like the church of Sv. Mikula or the lighthouse (Svjetionik Sv. Nikola) at the end of the peninsula. Most of the time I am greeted by roaming sheep that are always up for a chat.
The trail is not too demanding in terms of elevation gain. The final part requires some improvisation while you move further to the peninsula's edge among the white rocks. However, I've just learned that apparently the trail has been recently marked, which is such a plus! This hike offers some amazing views out towards the town, to the Velebit Channel, Paška Vrata, and out to the beautiful Paški Zaliv. Also, the first part is perfect for running – if you're into that. I would definitely recommend it.
While it is hard to find a nice place for night and astrophotography close to the city due to the light pollution, this spot brings you a bit closer to the Milky Way. I find it quite decent for capturing the dreamy night sky.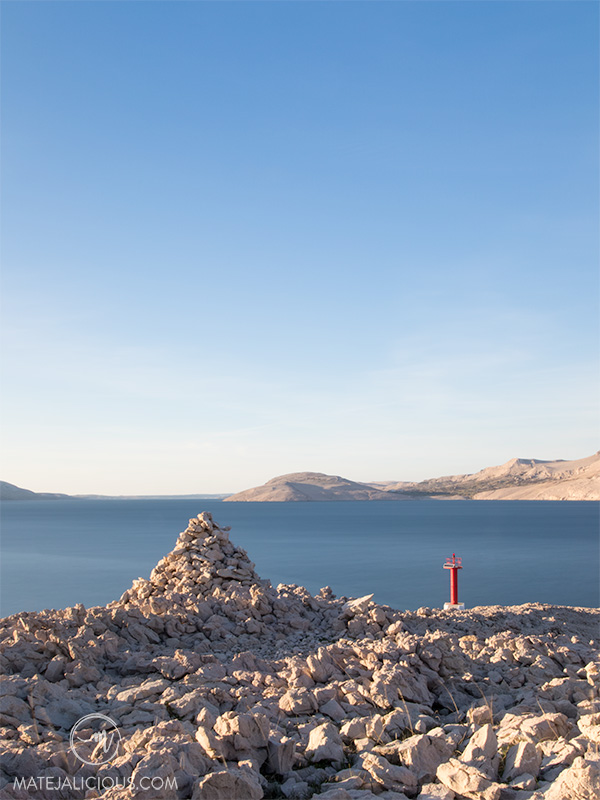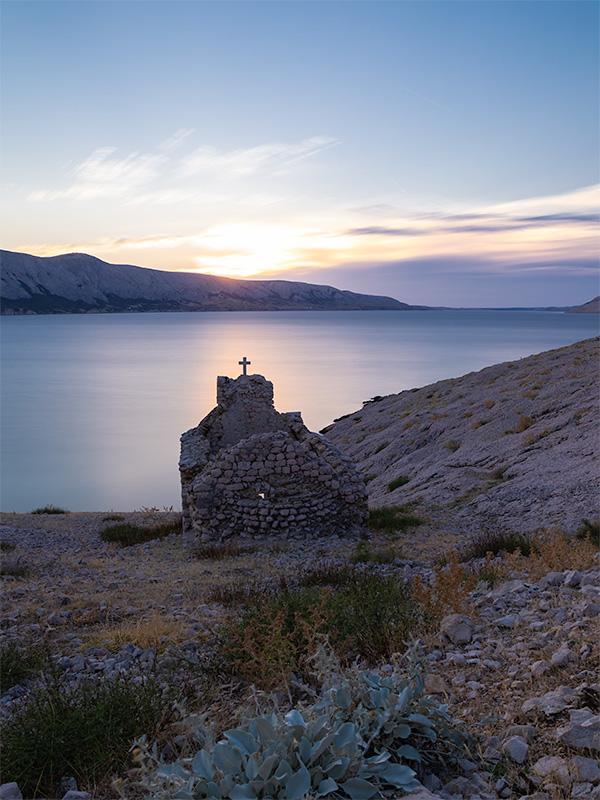 As you first visit Island Pag, it quickly becomes evident there aren't that many elevated points peeking through the landscape, seeking the attention to be conquered. And while the view out across the Velebit Channel towards the Velebit Mountain Range looks much more appealing in terms of hiking adventures, a good leg stretch can still be experienced here on the island.
I am far away from seeing or experiencing the whole of Croatia, but I can guarantee that Pag Island will fill your inner corners up to the brim. With soulfulness, beautiful landscape, and more than enough reasons to return. It's a very unique place to explore, especially on foot. What's so cool about this stony landscape is that you really can't go wrong with improvising and choosing your very own route.
So, these are my top 5 hikes on island Pag. A few of them bring you to elevated vistas, others to secluded beaches and unique spots. For me, every hike I take is a journey. First, a journey into the inner stillness and silence where I can reconnect with my own thoughts. And second, a journey into the beautiful surrounding landscapes. I always feel I am on a certain quest whenever I walk Pag's established and self-created paths. And isn't that the beauty of the journey?
TIP: If you're visiting the island during the hot summer months and you want to spend your days active while exploring the rocky landscape, my advice is to tackle your hiking adventures early in the morning or later in the day when the air has cooled down a bit. The heat is real.
→ Liked it? Pin it!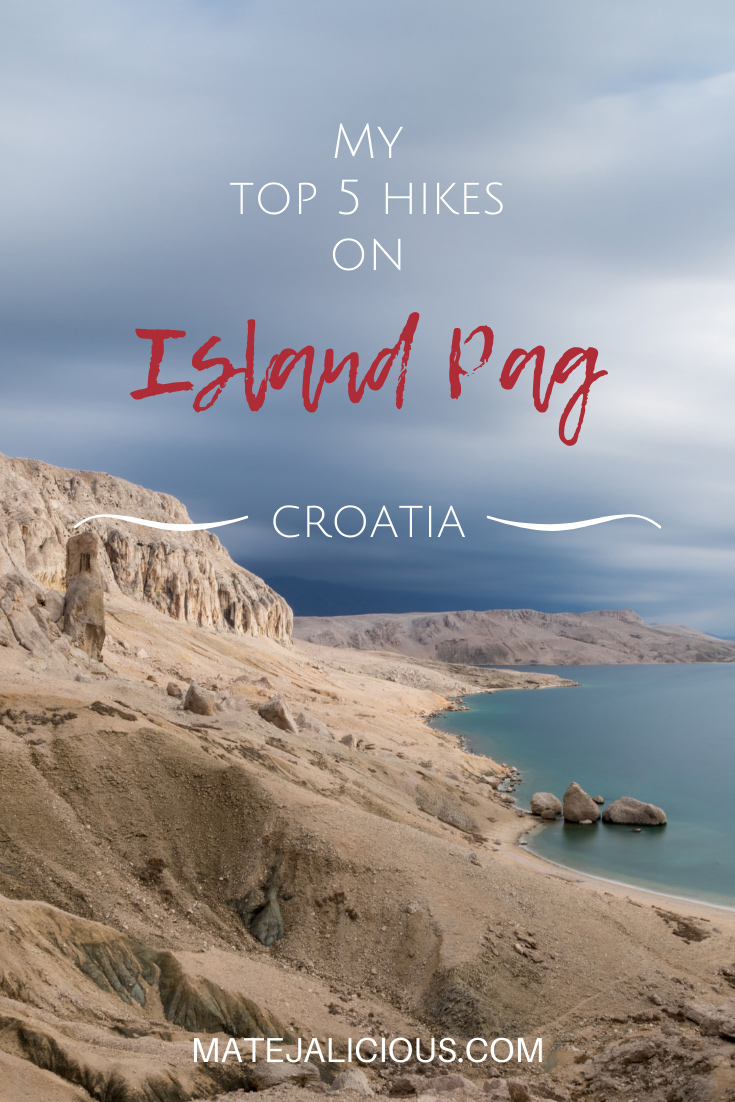 Leave a reply