TRAVEL DESTINATION Dunedin, Otago, South Island, New Zealand
TRAVEL DURATION Long Weekend
Dunedin is beautiful. I was struck by the city, magnificent landscape and the feel of this part of New Zealand. Keep reading for my tips on how to spend the perfect long weekend in Dunedin, so you make the most of what the city has to offer.
It's been more than a month now since I took the trip and spent the long weekend in this area. The memories are still quite fresh. I was able to fill the time with many activities and adventures and almost ran out of days to do and see it all.
Being in Dunedin reminded me how beautiful New Zealand's South Island was. People, nature, wildlife, general vibe. You might also want to check out and read about my encounter with the incredible wildlife that is within the boundaries of the Dunedin District (here).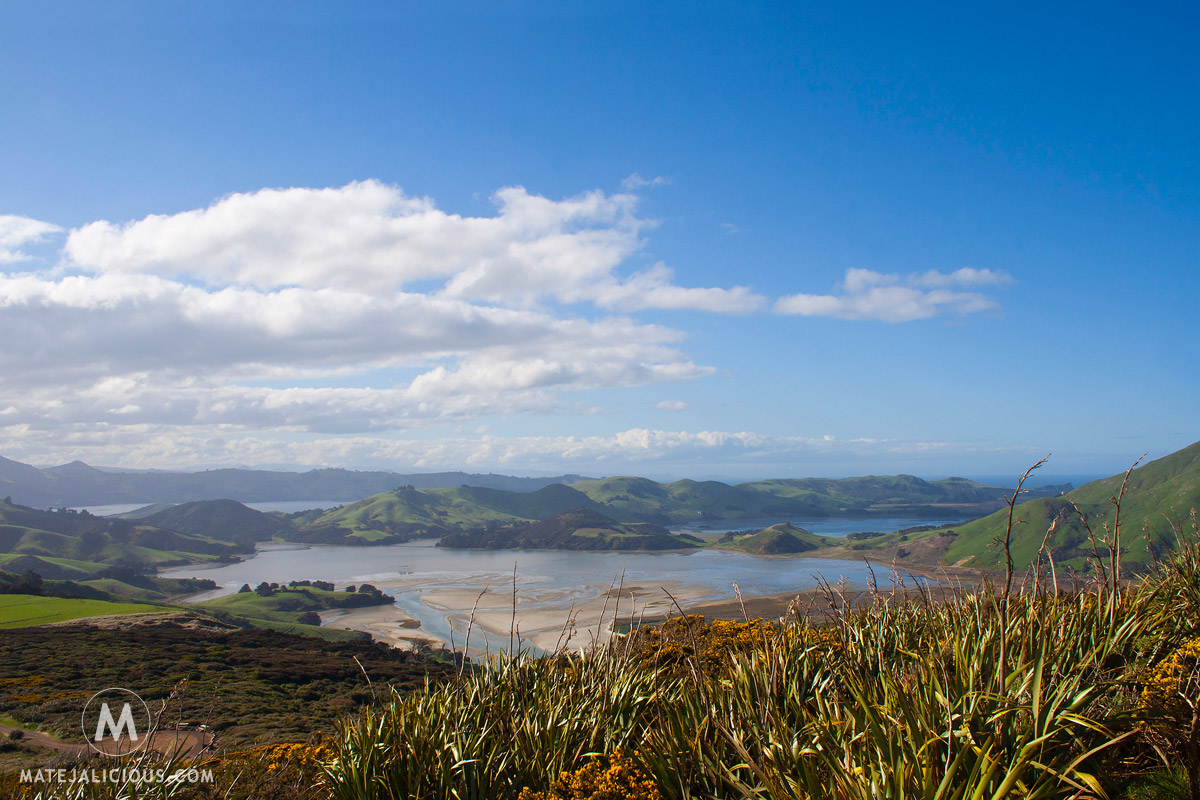 Tunnel Beach
Visiting Tunnel Beach is a must when in Dunedin. It's located just a short 15-minute drive south of the city. This is the rocky part of Otago's coastline with some high sea-carved cliffs and arches. I was catching the late evening sun setting down behind the high beach cliffs and was unable to capture the full beauty of this place with my camera. The views here are amazing. You can become mesmerized just by gazing out to those crashing waves that break in from the Pacific Ocean.
It's a perfect spot to visit not only for stretching your legs (a walk back up to the car park is a bit of a workout). It's also ideal for exploring the huge sandstone boulders, cliffs and the secluded beach that you can reach through the short tunnel. I recommend checking the tides before heading here. With the evening high tide, I wasn't that lucky myself this time and couldn't explore the beach.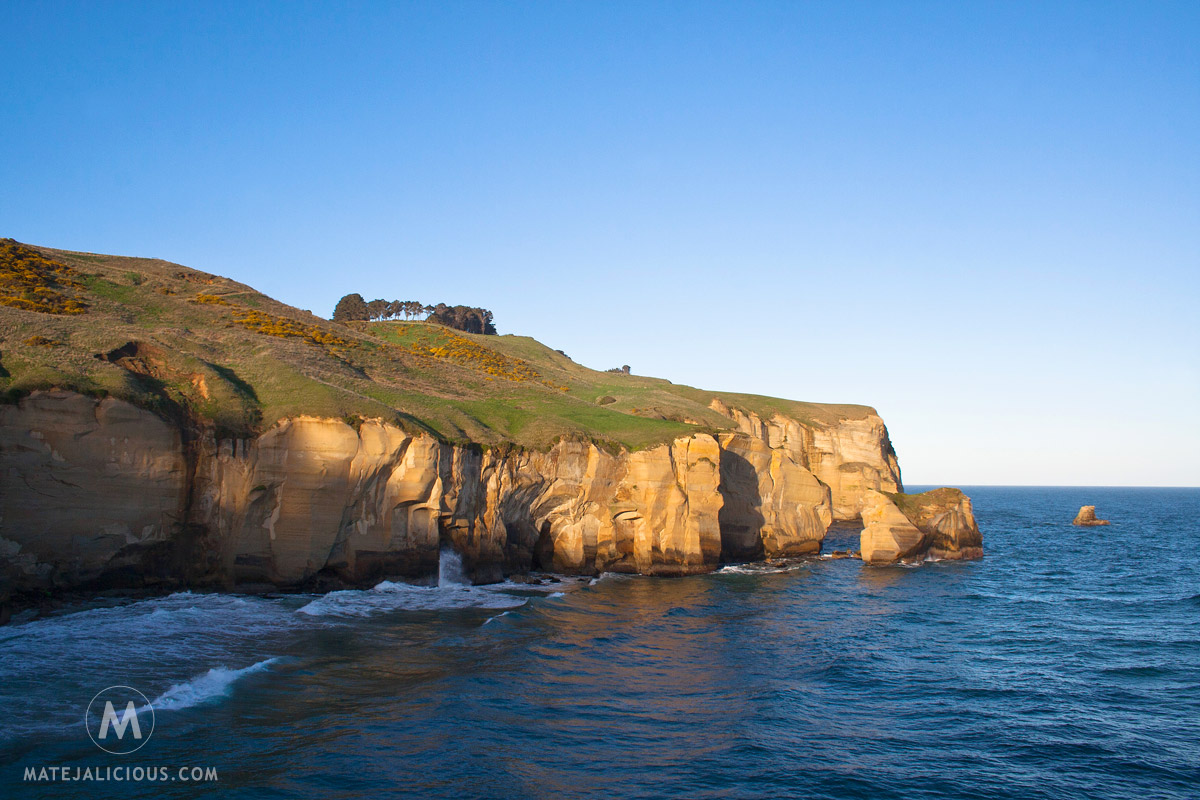 Majestic Architecture
New Zealand is by world standards still quite young in its overall architectural expression. When I first arrived in Dunedin it certainly felt like coming home in a way because of the grandiose Victorian and Edwardian buildings scattered throughout the city. Europeans (mostly Scottish people) settled in Dunedin during the Victorian era which was consequently reflected in their stone and brick buildings. It's hard to overlook the monumental Edwardian Dunedin Railway Station when taking the stroll across the city centre. It is said to be New Zealand's most photographed building.
You can easily be impressed with the Gothic-style University of Otago, First Presbyterian Church or St Paul's Cathedral located on the octagon. Even though I didn't spend a lot of time in the city during this travel, I could still sense how the historic buildings and architecture reflect Dunedin's Victorian heritage in a way that is unique to New Zealand and this part of the world. If you have more time on your hand or prefer architecture to landscapes, then you'll certainly have lots to explore.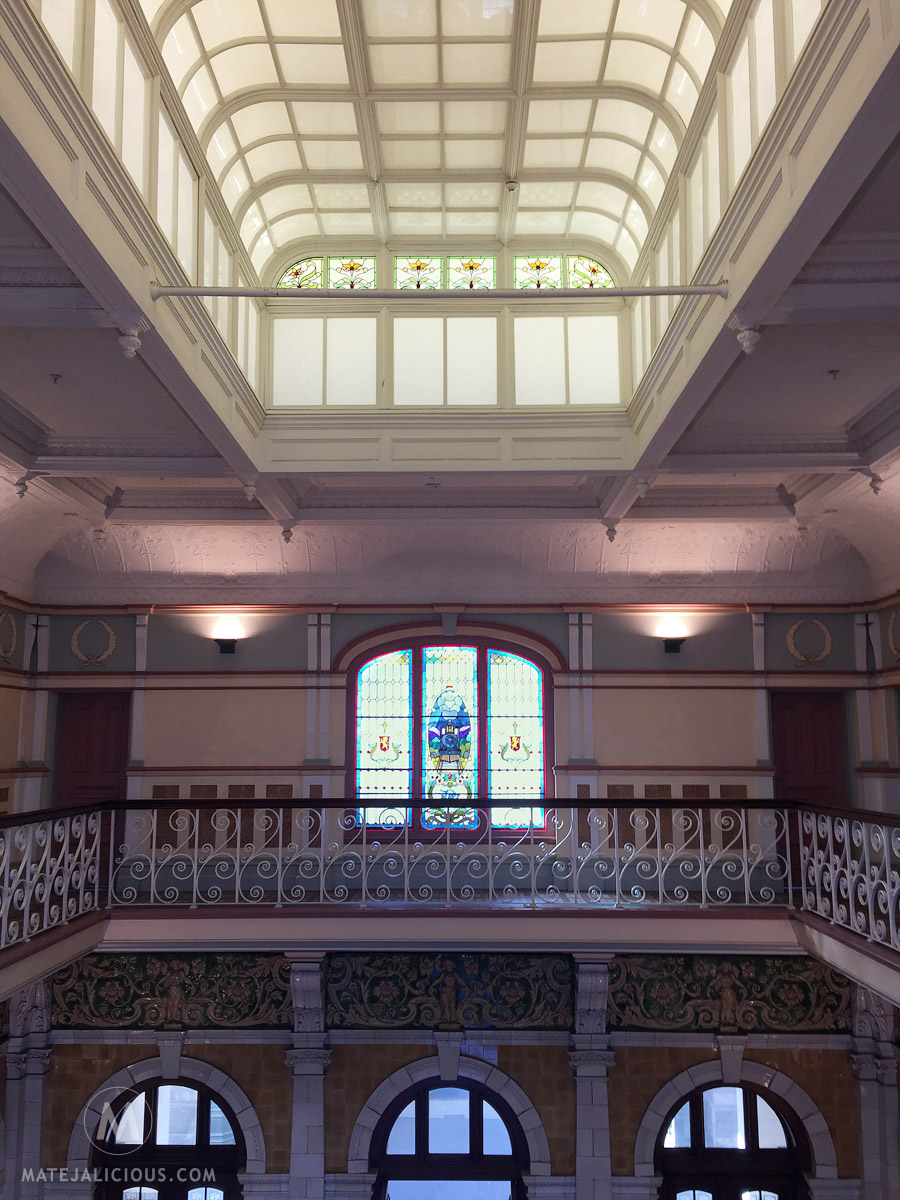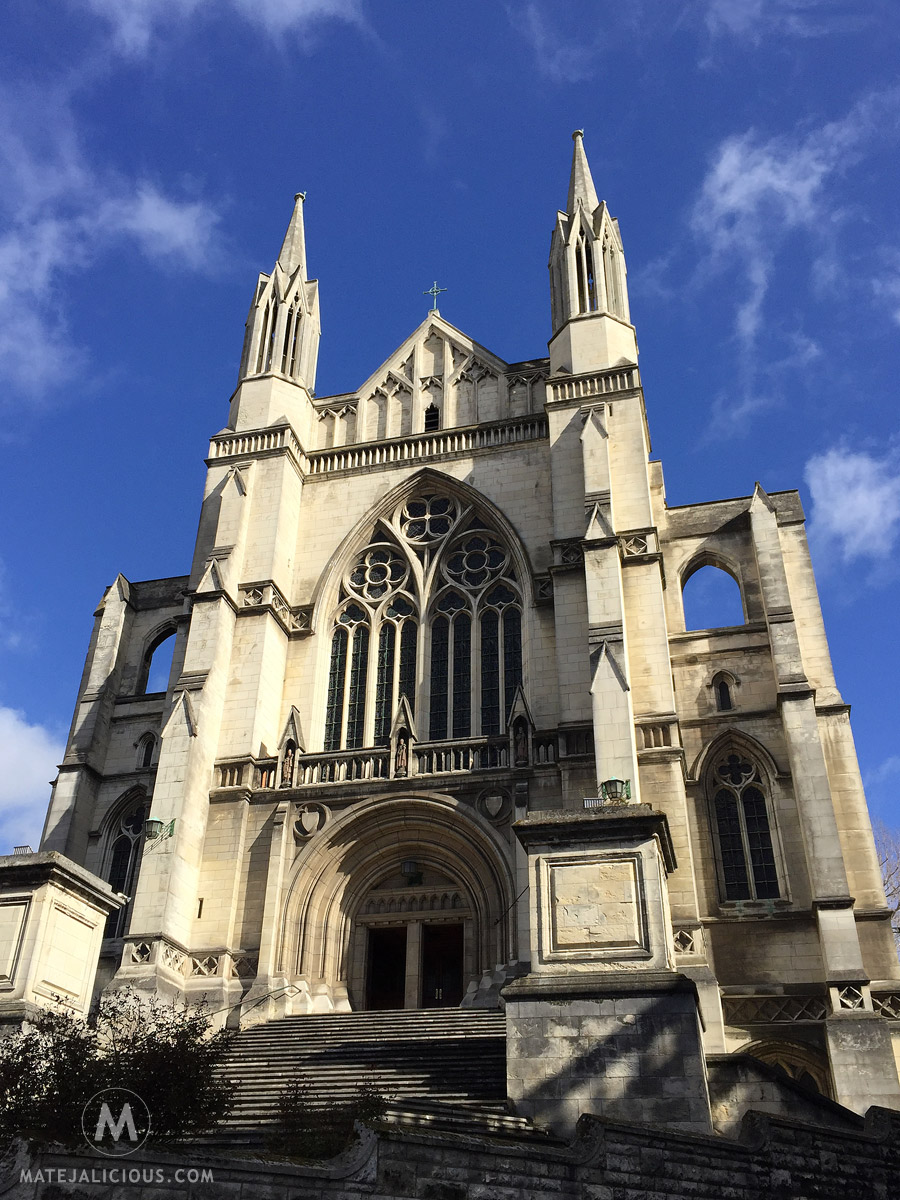 Moeraki Boulders
Moeraki Boulders were something I looked forward to seeing the most before traveling to Dunedin. These spherical boulders were formed over millions of years on the sea floor by a cementation of the Paleocene mudstone through a layering process. They later became exposed and scattered across Koekohe Beach by the constant coastal erosion. They measure as much as 2.2 m in diameter and become fully exposed on a low tide. Boulders are wonderful to see and are truly a great photographic motif to explore with your camera as well.
Pyramids
Pyramids of Otago Peninsula are formations that I accidentally discovered while being on a search for sea lions and other animals of the Otago Peninsula. They are located in Okia Reserve, on the way to Victory Beach. You'll need around 15-20 minutes to reach them from a car park. Geometric basalt columns give the distinctive appearance to these pyramids that were volcanically formed.
A short climb to the small pyramid gives an amazing 360 view of the coastline, surrounding wetland and grasslands. A walk further to the beach is a bit longer than I expected. Come prepared and set some time aside for this, and you might just spot some sea lions, penguins and seals.
Organ Pipes
The other similar jointed basalt formation is Organ Pipes. Organ Pipes are located in Mount Cargill Scenic Reserve, just a short drive north of Dunedin. This is a short walk, somewhere half the way to the summit of Mount Cargill. Interesting hexagonal shaped rocks first started showing up on the side of the walking path as I was making my way up through the forest. But I was soon able to see them fully, with high rock columns rising straight up in front of me. They were just majestic.
From close they truly seem like man-made and it's hard to believe that through the volcanic activities and natural processes in this area they obtained almost perfect hexagonal shape. Unfortunately, rain suddenly came in, stopping me from going for that top view. Slippery rocks just didn't seem safe enough to pursue that. I certainly hope to return here again in the future.
Nugget Point (Tokata)
Afternoon flight back to Auckland gave me the chance to fill the morning with one more activity I wanted to squeeze in before leaving Dunedin. Nugget Point is located around 100 km south from Dunedin and sits at the northern end of the Catlins coast. With the lighthouse sitting at the tip of the headland, it's one of New Zealand's iconic landforms. It's surrounded by approximately 20 rocky islets (The Nuggets) that can be best seen from the viewing platform at the lighthouse.
The area around the Nugget Point is rich in wildlife. You might be able to spot sea lions, New Zealand fur seals, yellow-eyed penguins, gannets and other seabirds. This place is a popular photographic spot. Early mornings and late evenings bring out the best opportunities to capture the dramatic coastal landscape. Nevertheless, night sky with illuminated lighthouse would still be my favourite view of this popular spot.
Dunedin's Superlatives
The oldest: Dunedin is a students city with New Zealand's oldest university (founded in 1869). It's known as a city of culture and education.
The steepest: Baldwin Street (North East Valley) is considered the world's steepest residential street with the incline of 35% (19°) at its maximum.
The only: Larnach Castle was built in 1871 and is the only castle in New Zealand. It's located on the hills of Otago Peninsula and surrounded by beautifully maintained gardens and also offers great panoramic views.
TRAVEL TIP: Do rent a car if you have the chance. Dunedin as a city is quite beautiful and there are many attractions that can be explored by foot or by local transport. However, being truly mobile will make such a difference in the whole experience. You'll be able to explore the beautiful landscape, wildlife and hidden gems that can only be found past the strict city limits.
→ Also check: Animals of Otago Peninsula
Pin for later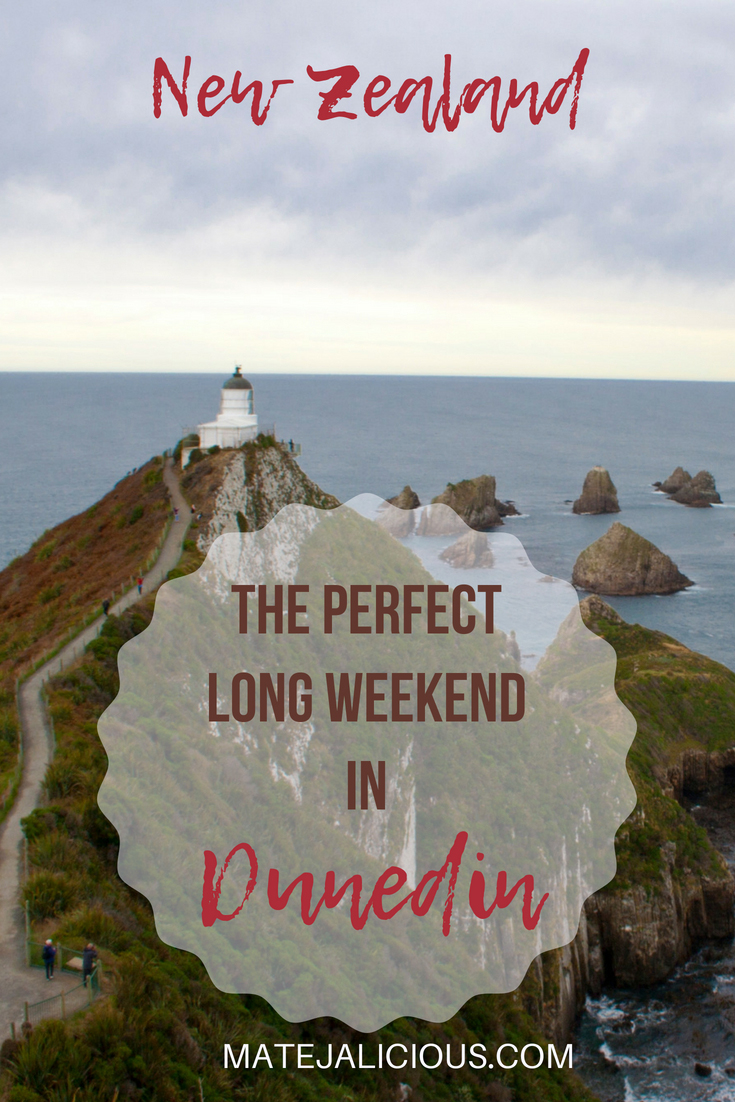 Leave a reply