2020 was almost a dream. A dream of all the places that could not be reached and traveled to. 2020 was also an opportunity to explore and reconnect with our homes and backyards – as much as permitted and within the limitations. For me, Tasmania's been another daydreaming reality, one that kept popping up in my thoughts from time to time. Road-tripping Tasmania was actually my last longer solo travel experience, already back in 2019! I reckon this only means it's time for another alone adventure.
If I had a chance to re-do the whole 3-week road trip, I wouldn't change a thing. I would still circle around the island the way I did. However, if your time in Tasmania is somewhat limited and you wish to make the most of it, I would recommend you explore the East Coast. Why? Because it's diverse and as beautiful as it gets. It's also packed with numerous hiking opportunities that will take you on an adventure!
Here are some of my top spots and places I came across on my road trip. This is Tasmania's East Coast.
Binalong Bay and Bay of Fires Conservation Area
Bay of Fires will blow your mind. This is where nature's rich colors get to really shine through. Especially oranges, reds, and ocean blues. So, if you are in search of the world's beautiful pigments, you're in the right place. Bay of Fires beaches, lagoons, and bays are all so gorgeous, secluded, idyllic. Their powder-white sand makes a wonderful contrast to pure turquoise waters. The area stretches for over 50 kilometres, from Eddystone Point in the north to Binalong Bay in the south.
The stunning beaches of the Bay of Fires Conservation Area with the most famous Binalong Bay Beach are dotted with dramatic granite red rocks and boulders. What gives them their distinctive burning red color and texture is actually lichen that's encrusted and grows on them. Mammoth size boulders, scattered around this coastal stretch are just so perfect to be explored! Maybe even hopped on. Actually, you should definitely try it. You probably traveled quite far for them, so you might as well have some fun.
As it happens on lengthy road trips, there's quite some driving involved, which often means you don't get to photograph and witness every single sunrise and sunset. Binalong Bay was one of the places I wish I'd planned better in my itinerary. It must be so wonderful to capture nature's contrasts and orange-hued granite rocks under those magical conditions. But, whether you stop in the area for surfing, a swim, a long beach walk, or rocks hopping, one thing is guaranteed: for a moment you are a part of some of the most stunning and peaceful coastal landscape out there.
→ Also check: 5 Must Do Hikes in Tasmania
Freycinet Peninsula
The Freycinet Peninsula is such an amazing natural playground. There is a lot to do and explore here! Anything you really wish – from swimming, snorkeling, and diving at Australia's most breathtaking beaches, to some of the most exhilarating hikes. This coastal area, which is also Tasmania's oldest National Park, is quite diverse and dramatic. It's a place of wild beauty. Here are some of my favourite spots I've come across on the peninsula.
Wineglass Bay Beach
The stunning Wineglass Bay can be enjoyed from one of the many lookout spots on your hikes around the Freycinet Peninsula. However, the iconic beach can also be reached by boat or on foot. Lock in half a day for a return trek plus some more to soak it all in. Swim, snorkel, discover its abundant marine life, or explore the sandy stretch of whiteness. This perfectly curved beach, surrounded by incredible turquoise waters, sure feels like a secluded paradise. Every moment spent here is precious. Make the most of it!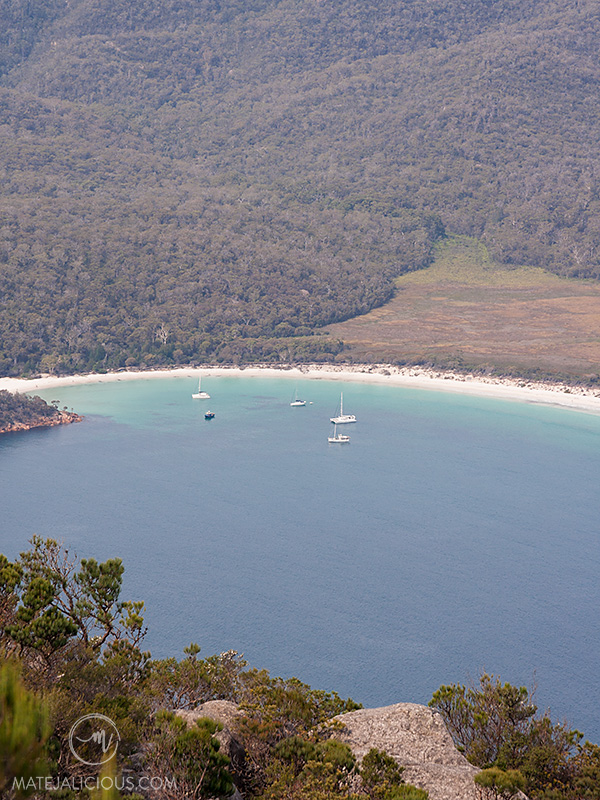 Cape Tourville Lighthouse and Lookout
A short 20-minute loop walk to Cape Tourville Lighthouse and lookout point can be a nice short break from your travels around the area. The lighthouse was built in 1971 and is actually automated. The track follows a mostly constructed boardwalk along the cliff edge that opens up some amazing ocean views out towards the offshore Nuggets (4 granite islets), Wineglass Bay, Hazards, and the rest of Freycinet National Park. The area is part of the East Coast Whale Trail and there is a good chance you could spot some ocean giants and other wildlife here. Make sure to pop in for such an unreal vista.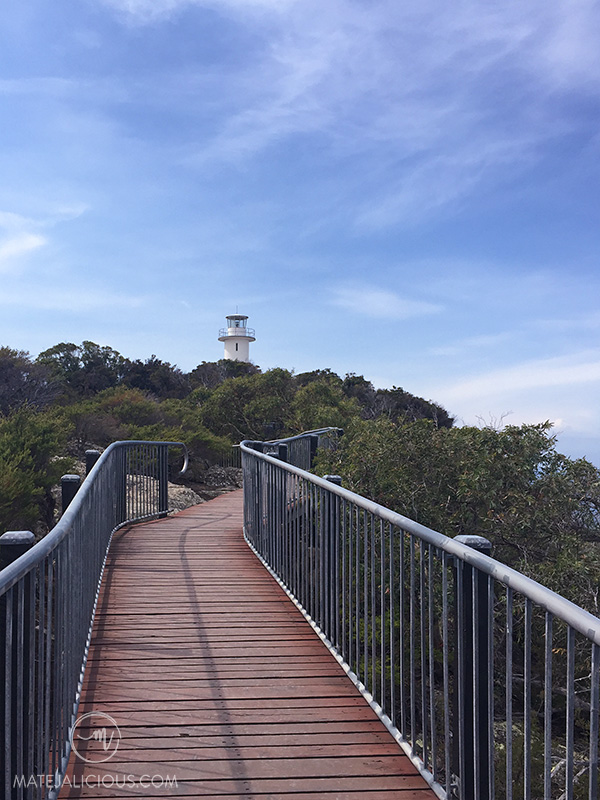 Friendly Beaches
This is that random beach I stopped at to take a break from my travels with the intention to get some white sand between my toes, have a snack, and just let my breath become one with the crashing waves. However, this became THE beach on my Tasmania's exploring trip. The beach I fell in love with unexpectedly. The invitingly gorgeous beach and ocean I am still sorry I didn't swim in – that one time the 'unpredictable currents' sign put me off from going against the rules, hahaha. This long, rugged beach is magic, though. The white squeaky sand feels like walking on another planet (or so I speculate). You absolutely have to stop here, because just like the name suggests – it's friendly.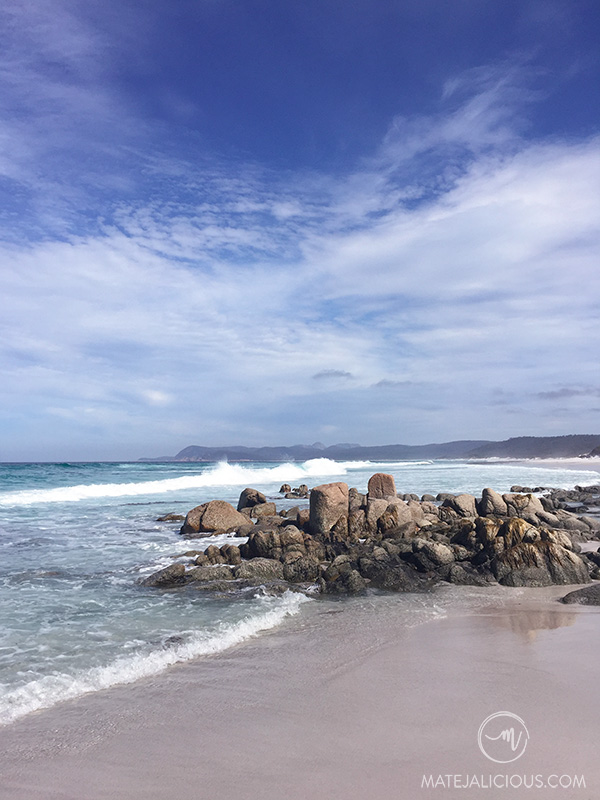 Honeymoon Bay
Honeymoon Bay is an easily accessible beach located within Coles Bay. It is decorated with colorful rock formations and surrounded by intoxicating eucalyptus forest and majestic Hazards mountains as the backdrop. The waters here are shallow, but ideal for snorkeling. Do stop here for some peaceful vibes.
Mount Amos
Hiking/climbing to the top of Mount Amos is an absolute must do activity when exploring the Freycinet National Park. Not only for the breathtaking views that have the power to keep you on the summit for hours, but also to stretch your legs from all the driving. I won't lie, the climb can be a bit challenging. And if you're like me – then a steep and sometimes slippery descent will be an even bigger challenge. The only advice I can give you is "take it slowly, one step or slide at a time" and you'll be fine.
Set aside around 3 hours for completion, bring lots of water and sturdy shoes. The top panoramic (almost hypnotizing) view out to the iconic Wineglass Bay will surely steal your heart. It will be worth every deep breath that brings you here.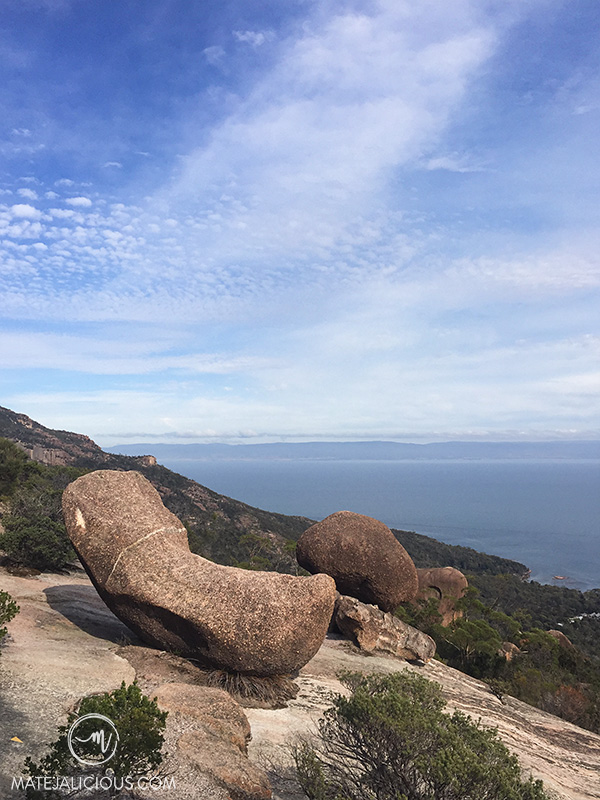 Sleepy Bay
Sleepy Bay is an enclosed rocky shoreline that can be reached on foot (10 minutes walking required), following a high clifftop. The most striking features of the beach are fiery orange rocks, dramatic boulders, rock pools, and sheltered coves – perfect for exploring. Factor in some peaceful time here during your Tasmania's East Coast journey, maybe even a lunch stop with an incredible coastal landscape laid in front of you.
What else?
The Freycinet Peninsula offers many other short walks and long hikes. Consider these:
Wineglass Bay Lookout (1–1.5 hour return)
Wineglass Bay and Hazards Beach Circuit (4-5 hours)
Freycinet Peninsula Circuit (2-3 days)
Please note: Entry to places inside the Freycinet National Park requires you to have a park pass.
Bicheno Blowhole
Bicheno might just be another place on Tasmania's East Coast that blows your brains! Literally. This seaside fishing town is most famous for the blowhole. The anticipation at this place is real and you can get carried away, realizing you've been sitting and gazing towards the hole for more than an hour, waiting for the next surge. Such fun (and free) natural entertainment!
Over the thousand of years the crashing ocean waves managed to carve out a cave under the granite coast, and with the persistent force created a ceiling hole through the surface. The swelling water comes rushing into the cave with pressure and erupts through the gap. The result is just amazing – water fountain shooting up in the air, making a big splash! Be sure to make some photos here.
St Helens Point
If you're into sunsets in secluded places, then St Helens Point, located in the St Helens Conservation Area is the perfect place. You can drive as far as Beer Barrel Beach, and this is the spot I loved visiting and spending a few evening hours at! It's quiet and subtle. I got to share those moments with local fishermen, but they were quite into their rods, so it felt I got the place with the accompanying fiery boulders, gorgeous sunset, and pastel sky all to myself. This is a little gem, perfect to unwind from the day.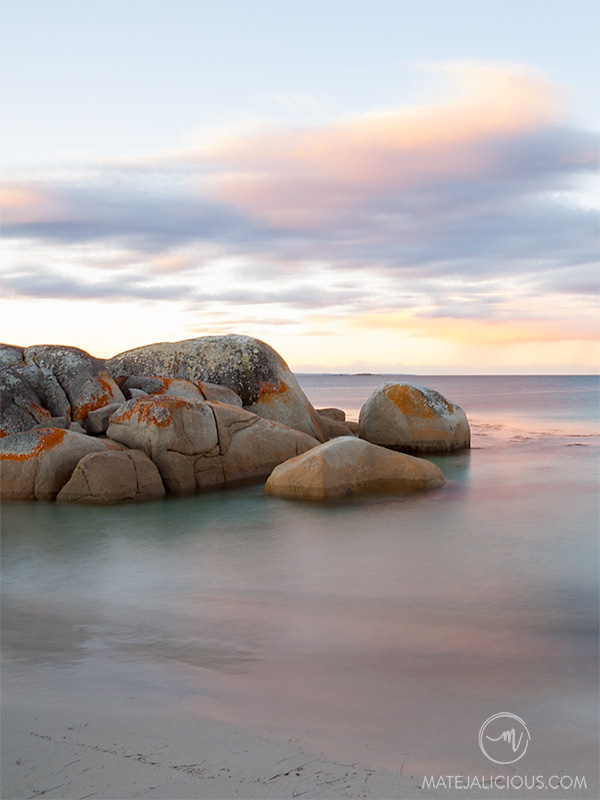 That's it
Tasmania is a wonderful place. Memories of the stories from the road trip have somehow managed to stay fresh. The island down under reminds me of my beautiful homeland Slovenia. It must be because of the prevalent greenery, temperate climate, and down to earth people. I guess we gravitate toward familiar places. And while the central and western parts of Tasmania receive quite some amount of moody weather, the return to nature on Tasmania's East Coast is more pleasant, abundant in sunshine, and blessed with beautiful beaches that you can easily have all to yourself.
With the upcoming travel destination(s) that are probably on our minds for the year ahead, I recognize that sometimes we are scared to make that next step in our lives' journeys, worried while moving towards our next big travel stop that is calling our name.
We often fear that the illusion in our minds which we've built up to unachievable levels of beauty would be crushed by our arrival. Fearing that we wouldn't meet the place's expectations. Sometimes also scared to fail the anticipated reality by spoiling it all. And fearing it all wouldn't be as 'glamorous' as the dream that we've invested so much time and imagination into.
But, I guess, our envisioned journey's desires and dreams require from us only to be continuously cherished, supported, watered, anticipated, clearly communicated, and worked towards. That's how reality can easily catch up and finally meet our dreams without the fear of failure. As we eventually arrive to our desired final destination.
Pin Me For Sure <3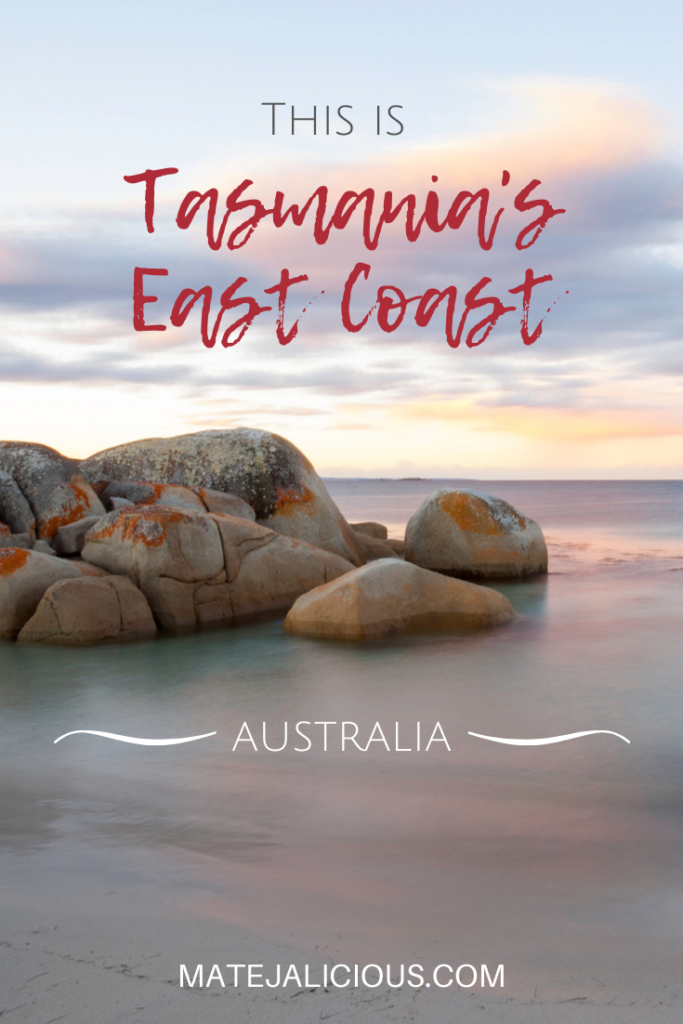 Leave a reply